As kids grow and develop, it's essential to encourage activities that promote hand strength and dexterity. These skills are essential for day-to-day tasks such as tying shoes, writing, using scissors and using utensils. Here's a list of 30 unique hand-strengthening activities to help children improve their fine motor skills!
1. Make a Balloon Fidget Tool
This simple activity requires children to use their hand strength to stretch open a balloon and then practice fine motor skills by placing each stone into it. When finished, the balloon serves as an awesome fidget tool!
Learn More: The Inspired Treehouse
2. Stretch Rubber bands Around Pool Noodles
Wondering what to do with all of the extra rubber bands laying around your house? Find a pool noodle and you're in luck! Have your child use their hands to pick up the rubber hands, and stretch them to fit over the pool noodle. For a fun challenge, see how many rubber bands can fit on the pool noodle before it starts to change shape.
Learn More: And Next Comes L
3. Make a Fun Munchy Ball Character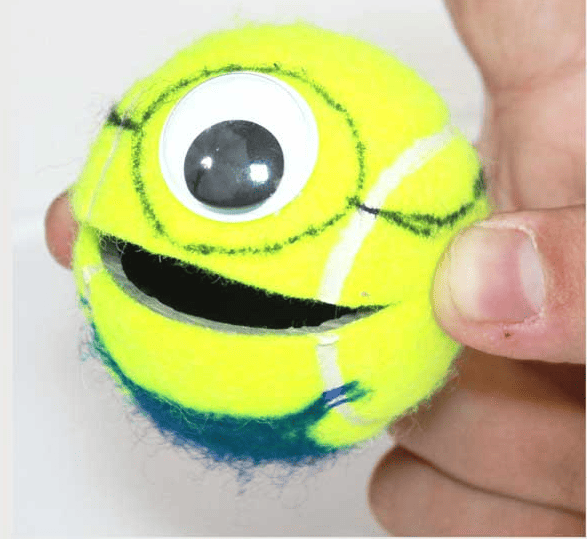 Using a tennis ball, all you have to do is cut a mouth and add eyes to create a cute munchy ball character. This is a great tool for children to practice strengthening their hands as well as improving their fine motor dexterity.
Learn More: Therapy Fun Zone
4. Make a Marble Racetrack
Using just a few simple supplies, you can guide your child to create their very own racetrack for a marble. Applying pressure to the dough helps strengthen children's fine motor skills while creating the shape in the dough helps to improve hand strength.
Learn More: Your Therapy Source
5. Use a Dropper to Fill Shapes
This awesome experiment not only challenges children to work on their hand strength by using basters, but also challenges their minds; prompting them to make predictions. Children must guess how many drops can fit in the circle.
Learn More: Teach Beside Me
6. Noodle Threading with Straws
The best part about this activity is that you probably already have the supplies at home! Threading straws through pasta helps children work to refine their fine motor skills as well as exercise the muscles in their hands.
Learn More: Meraki Lane
7. Pom Pom Pick Up Using Tweezers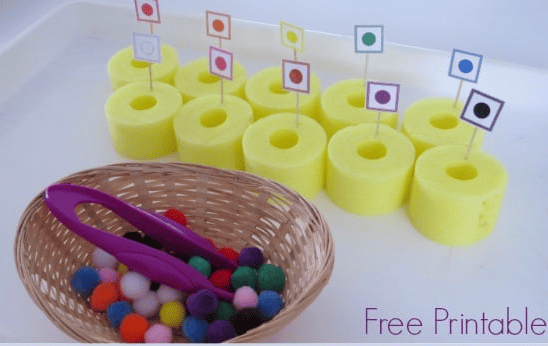 Another great use for pool noodles! Help your child sort pom poms by color, size, quantity, etc. Using tongs, your child will improve their hand strength as they repeatedly grip the pom poms with the tweezers.
Learn More: Learning 4 Kids
8. Puffball Race
Tape, a small baster, and a puffball are all you'll need to participate in this great muscle-building activity. Encourage your child to blow air through the baster to move the puffball as fast as they can.
Learn More: Little Bins for Little Hands
9. Rescue Bugs from a Stringy Mess using Clothespins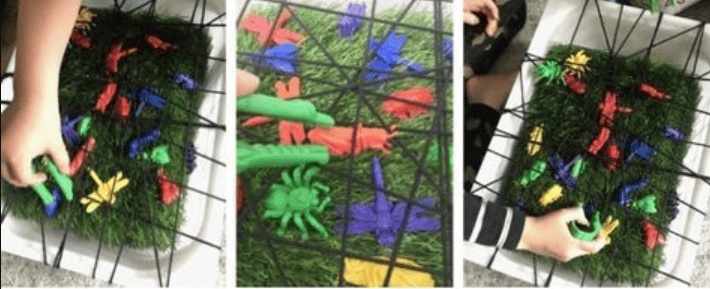 Help your child become a hero by having them rescue bugs from this string-filled trap. Your child will need to move the muscles in their hands to open and close the clothespin. Challenge them further by instructing them not to touch the string!
Learn More: Turner Tots
10. Hole Punch Paint Chips
Hand your child a paint chip with a number written on it. Guide them to use the hole punch to punch out the same number of dots as the number posted on the chip.
Learn More: Reading Confetti
11. Egg Carton Geoboard
Rubber bands and egg cartons are all you need to complete this fun activity. Children will use the muscles in their hands to stretch the rubber bands over the hills on the egg carton. Challenge them to make different shapes with rubber bands.
Learn More: And Next Comes L
12. Use Clips to Pick Up Paperclips
This activity is a double-whammy practice for kids as they can practice pinching open each binder clip (prompting them to use their hand muscles), as well as sorting the color of the paper clips they pick up.
Learn More: Tambo Rhythms
13. DIY Tweezers to Pick Up Puffballs
"Quick! Pick up as many puffballs as you can with the tongs before time runs out!" This is a great example of a way you can challenge your child to use these tongs to help strengthen their hands. Have children sort the puffballs by colors and size or even have your child count them.
Learn More: 7 Days of Play
14. Use Tweezers to Pick Up and Sort Pieces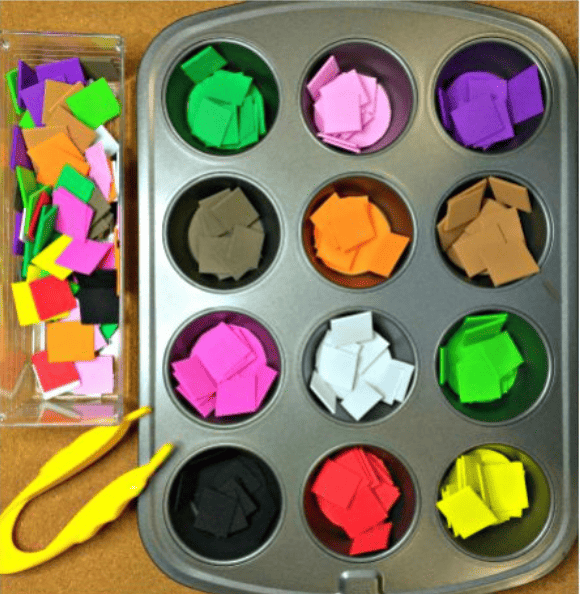 By cutting strips of foam into smaller squares and sorting them into different piles, your child will get plenty of chances to work their hand muscles. After piles are made, students can pick up each foam piece and put them back for extra practice.
Learn More: Childcareland
15. Thread Beads on Silly Straws
Silly straws are already so fun to drink out of, but have you ever thought about using them as a tool to strengthen your child's hands? All you need are colorful beads and straws and your kiddos can get threading!
Learn More: Kids Activities Blog
16. Use Rubber Bands and Pushpins to Create a Geoboard
By having your child pull the rubber bands over the pushpins, they'll work on strengthening their hands. Simply create a geoboard by pushing pushpins along the outer rim of a corkboard. 
Learn More: Mama Papa Bubba
17. Cut Play Dough with Scissors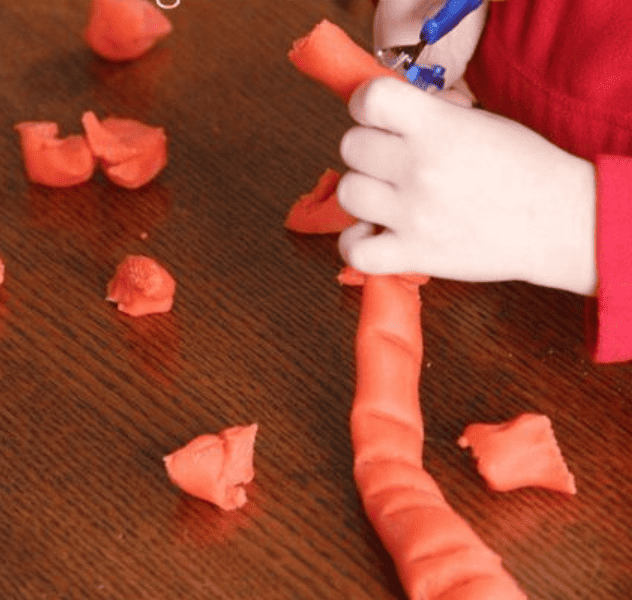 This is such a simple activity that helps to achieve amazing results! Rolling the dough helps with strengthening hand movements and using scissors helps children develop their fine motor skills.
Learn more: Sugar Aunts
18. Peel and Tear Tape
Place tape on a surface in different patterns. Assist your child in slowly ripping off each piece in the design. As your child works to grip and pull the tape, they'll be developing their fine motor skills and developing hand strength.
Learn More: Hands on as We Grow
19. Spraying Rubber Ducks with Water
Fill a spray bottle and a plastic tub with water before placing floating water toys in the bin. Guide your child to aim the spray bottle at each duck. Squeezing the spray bottle will help them exercise muscles in their hands.
Learn More: The Crafty Blog Stalker
20. Clothespin Color Sort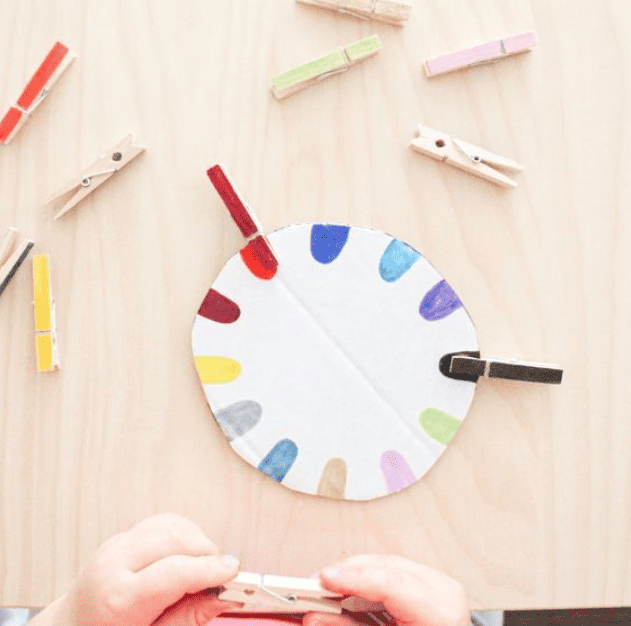 This activity challenges your child by having them use their hand muscles to open and close the clothespins as well as having them think about which color they need to match their clothespin to.
Learn More: Toddler at Play
21. Painting with a Dough Rotary Cutter
Most dough sets come with this cute little tool to help little ones cut the dough into strips. Why not consider using it as a painting tool? This activity requires you to pour paint onto a surface and then use the dough tool to pick up the paint. Your child can then paint whatever they'd like as they practice strengthening their hands.
Learn More: Fantastic Fun and Learning
22. Pipecleaner Pencil Grips
Who doesn't love playing with pipe cleaners? With this activity, your child will get the chance to practice and refine their hand muscles by wrapping different colored pipe cleaners around their pencil. When they're finished, the pipe cleaner will act as a funky pencil grip!
Learn More: Preschool Mom
23. Clothespin Monster
If you haven't gotten the hint by now, clothespins are an amazing tool to help children develop hand strength. This adorable activity allows children to make different monsters while clipping on different features of the monster's bodies.
Learn More: Tools to Grow OT
24. Press Legos into Dough
To work their hand muscles, have learners press Lego blocks into pieces of play dough. They can first roll the dough, flatten it, and then get to work making patterns using assorted Lego blocks!
Learn More: Special Life Learning House
25. Trap, Cut, and Rescue
Using a muffin pan or bowl, this activity allows your child to work with scissors; cutting pieces of tape and grabbing or 'rescuing' the small toys. A fun and effective activity to develop fine motor skills and build hand strength!
Learn More: Days with Grey
26. Use Pushpins to make a Maze
This activity requires push pins, a writing tool, and a surface that the pushpins can go through (such as cardboard or fabric). After placing pushpins into the surface, allow your child to trace a maze around each of them.
Learn More: Planning Playtime
27. Weave Paper through a Plate
Weaving paper is the perfect activity to challenge your child to use their hand muscles. The motion of pulling the paper up and through each section is extremely beneficial in developing dexterity and hand strength.
Learn More: Super Simple
28. Linking Chains
While children work their hand muscles to open each link and connect them, they will use cognitive abilities to match the color links to create designated patterns.
Learn More: Creative Kindergarten Blog
29. Thread Cereal onto a Pipe Cleaner
Another great use for pipe cleaners! Take any cereal that is shaped like an 'o' and have your child thread each piece onto a pipe cleaner.
Learn More: Oh Hey Let's Play!
30. Hammer Golf Tees into Pool Noodles
Using a toy hammer, your child will hold each tee on top of a pool noodle and hammer them in. They will love working their hand muscles to carefully place each tee into the noodle.
Learn More: Pocket of Preschool