Are you ready to embark on an exciting journey of creativity with your little artists? Get ready to dive into the wonderful world of handprint activities! These fun and unique ideas will not only ignite the imaginations of your students but also create memorable learning experiences. Whether you want to explore nature, create personalized gifts, or simply have a blast with colors, we've got you covered. So, roll up your sleeves, grab some paint, and let the magic of handprints unfold!
1. Handprint Garden
Let's cultivate creativity by turning those little hands into blooming flowers. Watch as your students dip their hands in paint and press them onto paper to create a vibrant garden. Don't forget to add stems, leaves, and maybe even some friendly ladybugs for a whimsical touch once the handprints dry!
Learn More: Pinterest
2. Handprint Family Tree
Celebrate the power of family connections with a handprint family tree. Each child can create a handprint representing themselves and write the names of their family members on the "branches"- their fingers. What a beautiful keepsake that reflects the bonds that matter most!
Learn More: Youtube
3. Handprint Animal Puppets
Get ready to bring the animal kingdom to life! Encourage your students to choose their favorite animals and transform their handprints into adorable puppets. With a few decorations and craft sticks, they can create their very own cast of animal characters for imaginative play.
Learn More: Kids Craft Room
4. Handprint Storybook
Watch your learners' creativity take flight as they create a handprint storybook. Each page will represent a different adventure with handprint characters leading the way. Encourage them to use their imaginations and write stories to accompany their illustrations.
Learn More: San Bruno Parents Club
5. Handprint Flag
It's time to show some national pride! Let your students dip their hands in paint and press them onto paper to create handprint flags. They can add stars, stripes, or any other patriotic symbols to complete the design. What a fantastic way to celebrate and honor their country.
Learn More: Our Kid Things
6. Handprint Olympics
Get ready for some friendly competition with the Handprint Olympics! Students can use their handprints to create medals, flags, and even torches. Organize mini-games and award handprint medals to encourage teamwork and sportsmanship. It's a winning combination of creativity and active play.
Learn More: Crafty Dojo
7. Handprint Cards
Spread love and appreciation with handmade handprint cards. Your students can create personalized cards by pressing their handprints onto cardstock and adding heartfelt messages. These cards make wonderful gifts for parents, friends, or special occasions. Get ready for smiles and warm hearts!
Learn More: Happy Toddler Playtime
8. Handprint Science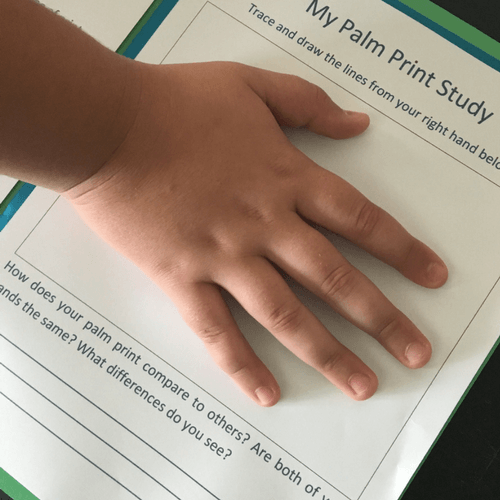 Let's blend art and science together to make learning fun! Watch your students experiment with different paint colors, textures, and patterns on their hands. They can then press their hands onto paper to observe the unique designs they create.
Learn More: Tinas Dynamic Homeschool Plus
9. Handprint Tote Bags
Let creativity shine with handprint tote bags. Students can decorate fabric tote bags using fabric paint and their handprints. These unique bags are perfect for carrying books, snacks, or personal treasures.
Learn More: Pinterest
10. Handprint Time Capsule
This activity will allow students to reflect on their growth and aspirations. Capture special memories in a handprint time capsule. Students can outline their handprints on paper and write a letter to their future selves. Seal them in an envelope or container to be opened in the future.
Learn More: Giggles Galore
11. Collaborative Handprint Art
Foster teamwork and unity in your classroom with collaborative handprint artwork. Each student can contribute a handprint to a larger piece of art; symbolizing the power of working together towards a common goal. Watch as their individual handprints blend into a beautiful masterpiece that showcases the strength of their collective efforts.
Learn More: Pinterest
12. Handprint Nature Collage
Connect art and the natural world with a handprint nature collage. Students can collect natural materials like leaves, flowers, and twigs, and arrange them around their handprints to create a stunning collage. This is a wonderful way to celebrate the beauty of nature, inspire creativity, and encourage students to explore their surroundings.
Learn More: Simple Every Mom