Geometry is likely one of those math concepts that you will use repeatedly throughout your lifetime. It is one of those subjects that you could easily come up with a multitude of examples any time a student has ever asked, "When am I going to use this in real life?" That said, knowing this does not make it easier for students to grasp. Help them by giving them some creative, interesting, and even fun, hands-on ways to practice this subject.
1. Interactive Math Journal
Every teacher knows there is nothing more effective than a fun activity that kids can manipulate with their hands. Teach, review, or learn angles from the start with a couple of paper arrows, a metal brad, and some notes!
Learn more: Runde's Room
A personal way to give some hands-on practice with measuring angles is through each student's name. Have them utilize graphing paper and a ruler to write their names and then measure the angles with a protractor.
Learn more: Runde's Room
3. Foam Blocks for Area and Perimeter
Area and perimeter is a geometry concept that never fails to stump kids. Using 3D cube manipulatives, they will be able to build and visualize math problems involving this skill. Sometimes that is all it takes to break through to understanding.
Learn more: Amazon
Intersecting planes is such an abstract concept that can be easily converted so that kids can "see" exactly what they look like in real life. This is a simple activity that is perfect for the classroom setting as it's low-prep and utilizes things you already have!
Learn more: Mrs. E Teaches Math
If you've ever taught the Pythagorean Theorem, you know that it isn't a simple concept to grasp. Using this extra resource - Perigal's Puzzle - will help middle school students see the theorem at work and understand this classic geometry tool.
Learn more: Miss Norledge
Artistic students will love this clever geometry activity. As mentioned before, students really struggle to visualize certain concepts in geometry. The pyramid is one of the things and this activity is the perfect solution! All you need are some envelopes!
Learn more: Mrs. E Teaches Math
Help middle school students review for a test or quiz with this popsicle stick review. Go through each of the angles and have them glue down the sticks accordingly, labeling them as they go.
Learn more: Mrs. Warner's Learning Community
This will quickly become your creative students' favorite geometry activity! Utilizing a variety of shapes, students will have to create a paper castle and then calculate the surface area and volume of their structures. Challenge students with this activity both mathematically and creatively.
Learn more: Taylor J's Math Materials
9. Transformations Foldable
This little foldable serves as a review, notes, and helpful tool for students to utilize throughout the learning process whenever they need extra support with their geometry problems.
Learn more: Common Core Material
10. Triangles Up to 180 Degrees
Teach middle schoolers the basic shape of a triangle and that the three angles of a triangle add up to 180 degrees using this cool visual puzzle. With pieces that fit together and come apart, they'll be able to easily understand the concept.
Learn more: Miss Ashita Diwate
11. Coordinate Plane Posters
Help students learn about coordinate planes with this bright and colorful poster. Make the learning experience fun by having them help make their own and then display them around the classroom to refer to.
Learn more: My Math Resources
12. Area of a Circle Investigation
This approach to inquiry learning gets students thinking on a higher level. Allow them to utilize collaborative learning to help one another and answer the questions together.
Learn more: Mrs. E Teaches Math
13. Digital Interactive Rotations
Rotations always seem to be a difficult math skill for kids to grasp. In part, rotations are a little geometry and a little algebra. This digital tool is a fun way for students to practice this skill because they get to physically move and manipulate the points on their coordinate planes.
Learn more: CK-12
Word walls aren't new to the classroom. Teach middle school students basic geometry terms with a word wall. Make it hands-on by having kids create a mini-version in their own interactive notebooks that they can repeatedly refer to throughout the year.
Learn more: Scaffolded Math Science
15. Angle Pairs Coloring Page

Peak the creative sides of your students by offering them a fun coloring page to help them memorize and understand angle pairs. With this poster, they can color-coordinate the way they fill in the spaces to make it personalized to their preference.
Learn more: Scaffolded Math Science
16. Slope-Intercept Stained Glass
When faced with a difficult math skill, students should be offered a variety of ways to learn it. This ensures that your account for all of the modalities of learning. Providing an artistic way to help students understand slope-intercept form is just one clever way to present the concept.
Learn more: Hello Learning Resources
After the kids learn about angles, use tape to mark off the various angles that the door makes the wider you open it. Having this hands-on reminder will help middle school students learn what angles look simply from seeing them repeatedly over time.
Learn more: Middle School Math Man
18. Angle Relationship Task Cards

After learning the basics, have students work around the room using these task cards to learn and reinforce angle relationships. Add these to your lesson plans for part of your lesson, early finishers, or as a center.
Learn more: Middle School Math Man
19. Design a Putt Putt Course
Another creative lesson plan where students get to use their imaginations and a bit of color to work in some math. This engaging resource offers kids a chance to make their very own putt-putt course using a variety of angles.
Learn more: Geometry Coach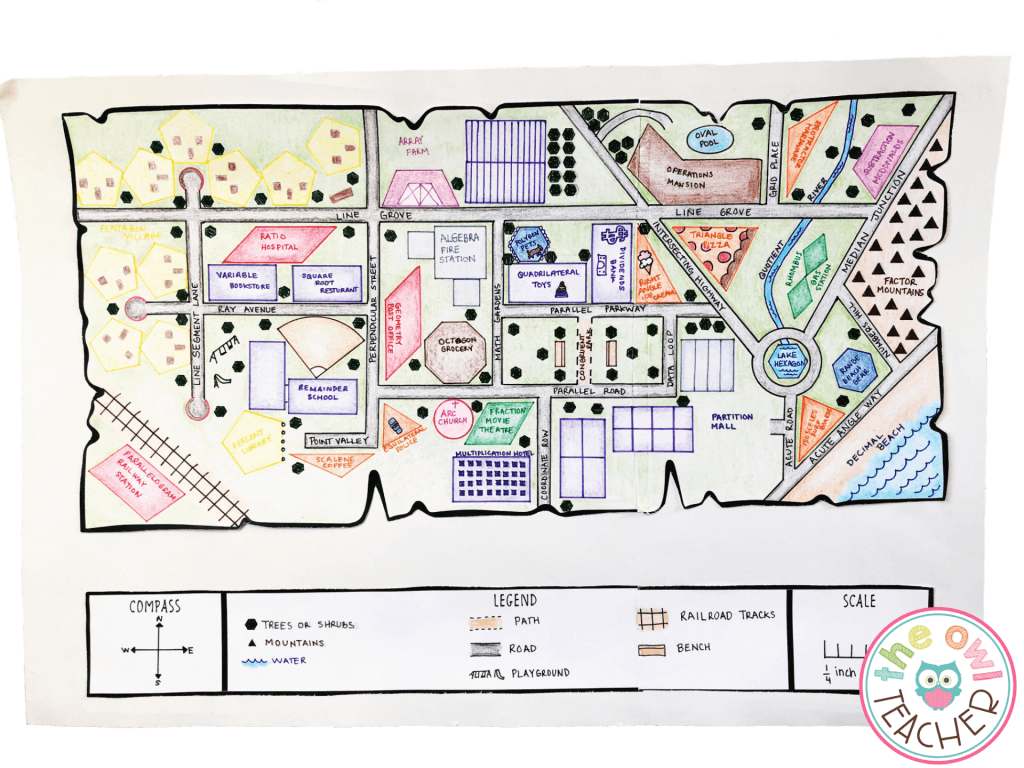 This would be a great resource for students to do a quick review at the beginning of the year in a middle school geometry class. It's a great review of vocabulary, angles, and more to see exactly what kids know and elicit their background knowledge.
Learn more: The Owl Teacher