At any age, hats are a fun accessory that can be incorporated into your children's classroom for imaginative crafts or role-playing games! When looking for inspiration, turn to your student's favorite books, songs, or movies that have characters who wear hats. There are so many different styles of hats from various time periods, cultures, and stories that can inspire learning and creativity. Simple crafts and activities using props like hats can excite students to come out of their shells and express their individuality in new and adventurous ways. Here are 17 cute craft ideas to try with your students today!
1. Ice Cream Hats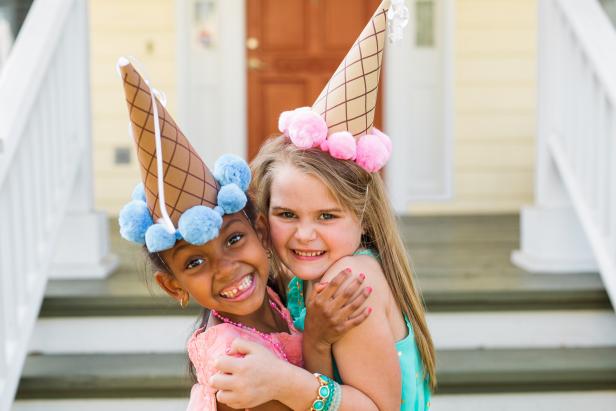 Looking for a new Summer party idea or a craft for kids to do in the classroom? These simple waffle cone hats are the perfect craft to improve your kid's motor skills; such as drawing straight lines, cutting, and gluing.
Learn More: HGTV
2. DIY Minion Hats
This resource has a downloadable hat craft template that you can access for free to easily make this craft. Young learners should manage to complete it on their own or with very little assistance. This design requires corrugated cardboard, pom poms, elastic, glue, and ribbon.
Learn More: Craft Passion
3. Elegant Paper Mache Hats
Feeling fancy or want to celebrate Spring with flowers and floral colors? These delicate hats are the perfect addition to a tea party, dress-up day, or simply to mess around with colorful tissue paper.
Learn More: Buggy and Buddy
4. DIY Chef's Hats
Watch and follow along with the tutorial video showing how simple it is to design and make these adorable chef's hats! This affiliate link uses plastic bags for the top, but you can use other materials if desired.
Learn More: 10 Minutes of Quality Time
5. DIY Newspaper Pirate Hats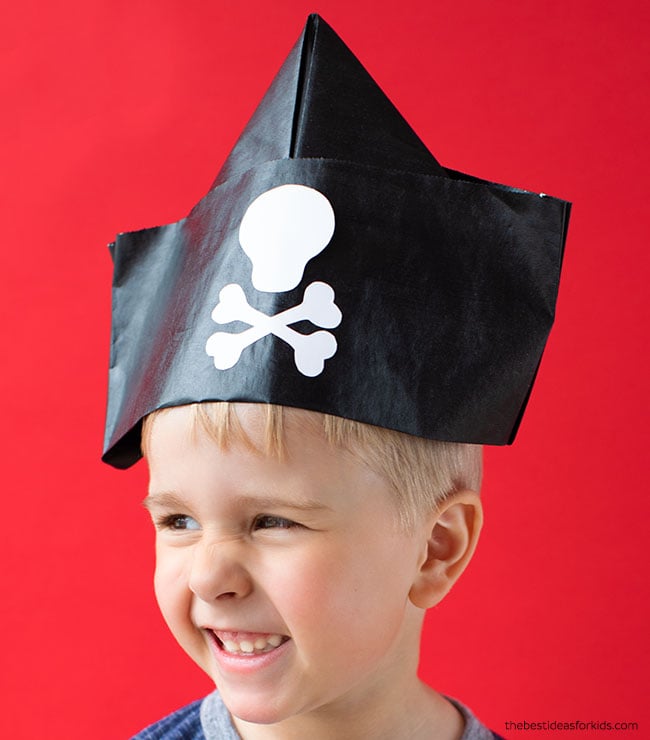 Help your little ones complete this craft step by step. First, they will need to paint both sides of their sheet of newspaper black. Then, help guide them through the folding steps, and have them paint a pirate logo on the front for extra character!
Learn More: The Best Ideas for Kids
6. Party Clown DIY Hats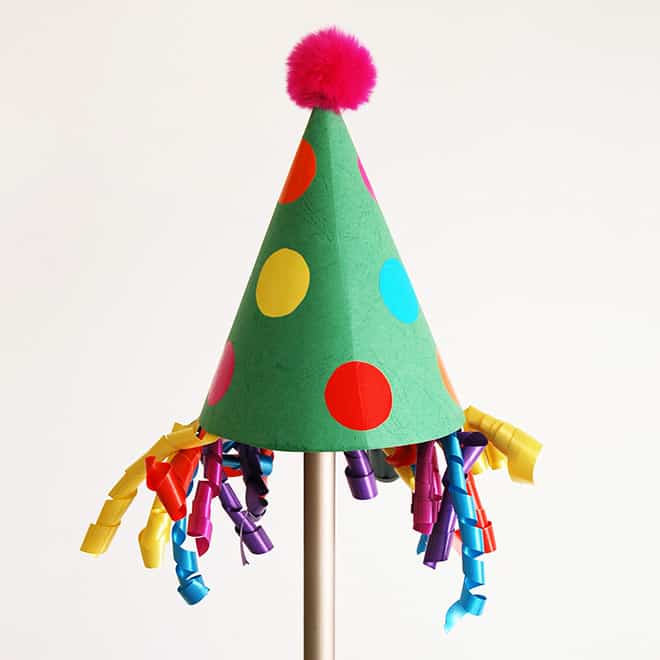 Silliness starts with craft time, and this clown hat is exactly what your little ones need to bring out the tricks and laughs. This is a cone-shaped hat design made using colorful craft paper, ribbons, and cotton ball pieces.
Learn More: First Palette
7. DIY Crayon Hats
This DIY printable hat pattern makes the cutest crayon tops your kids have ever seen! You can use colored construction paper or add an extra step by having your students paint white craft paper their favorite color before assembling.
Learn More: Simple Everyday Mom
8. DIY Princess Party Hats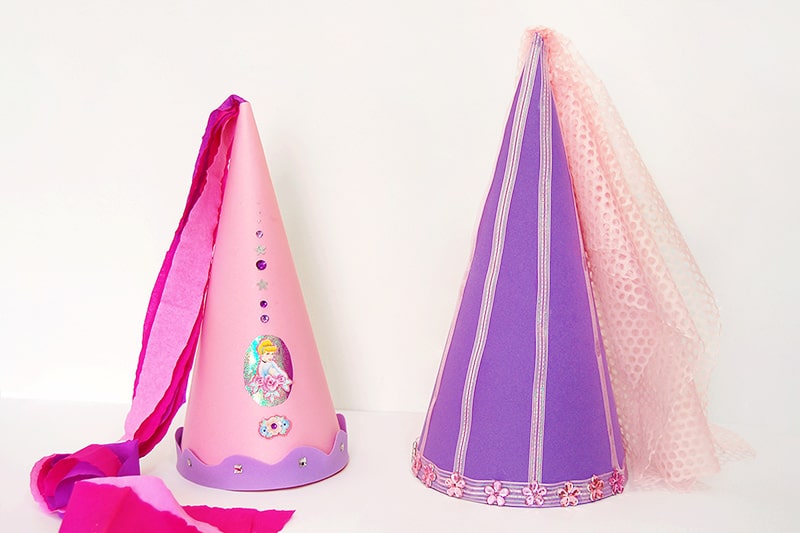 Grab your ruler and scissors and get to helping your princesses in training measure and cut out their cone shapes to design beautiful pink and purple hats! Besides construction paper to build the cones, you'll need crepe paper for the streamers and any other princess-inspired stickers/glitter you have available.
Learn More: First Palette
9. DIY Rainbow Fish Hats
Here is an adorable craft for toddlers that incorporates color recognition, motor skills, counting, and so much more! These giant, colorful fish hats are super easy to make once you provide your students with a fish template to trace and cut. Then they can make circles of various colors and glue them on as scales.
Learn More: Paula's Preschool and Kindergarten
10. Alien Plate Hat Craft
How cool is this paper plate hat design?? The cut-out alien figures look like they are emerging from a spaceship on top of your kiddo's head! Help outline the green one-eyed extraterrestrials, and let your little artists cut and color the rest to complete these "out of this world" hats.
Learn More: Pinterest
11. Paper Plate Spider Hats
Whether your class is studying insects and other creepy crawlers, or it's Halloween time, this fun craft will catch your student's attention in a web of creativity! You'll need paper plates, scissors, construction paper, and googly eyes.
Learn More: Education.com
12. DIY Jester Hat
Is your classroom full of students who love to clown around? These colorful and goofy-looking hats will put them in the mood for some jokes and learning! How many colors of paper do you have? Because you'll need all you can find to measure, cut, and put together these "J is for Jester" hats.
Learn More: Woo Jr.
13. Paper Bag Monster Hats
We love a DIY craft that reuses household materials at no extra cost. Ask your students to bring in a paper bag for this hat craft! Get creative with art supplies such as pipe cleaners, pom poms, googly eyes, and more!
Learn More: CBC
14. Paper Flower Hats
This craft is better suited for older kids that can measure, cut, and glue following instructions. These giant flowers can be made using any color paper, and the size of the petals depends on how floppy the wearer wishes it to sit on their head.
Learn More: Oh Happy Day
15. Easy DIY Dr. Seuss Hats
Maybe the most iconic cat in a hat the world has ever seen comes from this favorite Dr. Seuss book. There are many designs online to build this red and white striped top hat, but this one using paper plates and construction paper is the perfect practice pattern for young learners' motor skills and creativity.
Learn More: Pinterest
16. DIY Paper Fruit and Veggie Hats
How cool are these nature-inspired creations? The initial design takes some folding skills, so make sure to guide your students through the first steps. Once they have the basic boat shape they can add paper/plastic pieces and details to create any roundish fruit or veggie they love!
Learn More: Craftventure Time
17. Christmas Tree Hat
Tis the holiday season for arts and crafts! This cardboard cone is covered with strips of green construction paper, pom poms, a gold star, and any other decorations your little elves can find!
Learn More: Craftventure Time