Unleash the creative spirits in your classroom with our collection of haunted house-themed writing activities. Each exercise is designed to spook and stimulate the imagination whilst teaching key writing skills. So, gather your brave little authors, and venture into the world of supernatural storytelling with 17 frightfully good ideas!
1. Dreadful Dwellings: Spooky House Descriptions
Imagine creeping up to an old, abandoned mansion- creaking along with each step. Challenge your learners to imagine this trek and describe the chills running down their spines! They'll need to craft a spine-tingling description that brings a haunted house to life!
Learn More: Twinkl
2. Ghostly Diary Entry
Tap into the whispers from beyond and task your students with imagining how a ghost would narrate a day spent inside a haunted house. This quirky task prompts your students to step into the ethereal shoes of a specter; penning diary entries that echo with otherworldly insight.
Learn More: Writers Digest
3. Crafting a Tale of Terror
From the crackling fire comes a story… a story of terror! Here, students are tasked with writing a chilling short tale set in a haunted house that grips their readers with suspense.
Learn More: Normanby School
4. Eerie Estate Agent Listings
Who's ready to make a sale they'll never forget? Challenge your students to write an alluring estate agent listing for the spookiest of houses.
Learn More: Twinkl
5. Spectral Speech Construction
This activity tasks your students with crafting a tense dialogue between daring characters in a haunted house. Let the creepy conversations commence! We can't wait to hear the whispered words and muttered curses they construct.
Learn More: Imagine Forest
6. Ghoulish Graphic Novel
Unleash your students' inner artists as you task them with designing a storyboard and sketching a chilling graphic novel that's set in a haunted house.
Learn More: Deviant Art
7. Pen Pal Poltergeist
Pen pals with a poltergeist, anyone? In this imaginative task, students must write letters from the perspective of someone living in or visiting a haunted house. Snail mail just got a whole lot spookier!
Learn More: YouTube
8. Haunted House Reviews: Ominous Opinions
Ghostly roommates – a bother or a boon? Stir up a debate amongst your students by asking them to write an opinion piece on the pros and cons of living with the undead.
Learn More: Kids Puzzles And Games
9. Sinister Sonnets
Dare your students to channel the eerie atmosphere of a haunted house into the classic form of a sonnet.
Learn More: Poem Hunter
10. Frightening Flash Fiction
Your students' challenge is to write a brief yet bone-chilling piece of flash fiction that centers around a haunted house.
Learn More: Letter Pile
11. Mysterious Metaphors
Have your pupils experiment with words to paint an eerily abstract picture of a haunted house. Can they make the ordinary extraordinary using chilling metaphors?
Learn More: Nothing Here Is Vegetarian
12. Paranormal Playwright
Students, take your places! It's time for a ghostly drama to unfold. Task your students with scripting a one-act play that brings a haunted house to life!
Learn More: ESL Printables
13. Riddles of the Phantom
Challenge your learners to concoct riddles about a haunted house that will send a shiver down any reader's spine!
Learn More: Riddles
14. Creepy Codex
This one's not for the faint-hearted! Have your students compile a spooky directory of rooms and their spectral inhabitants. The result? A must-have for any daring ghost hunters in the area!
Learn More: CN Traveler
15. News from the Netherworld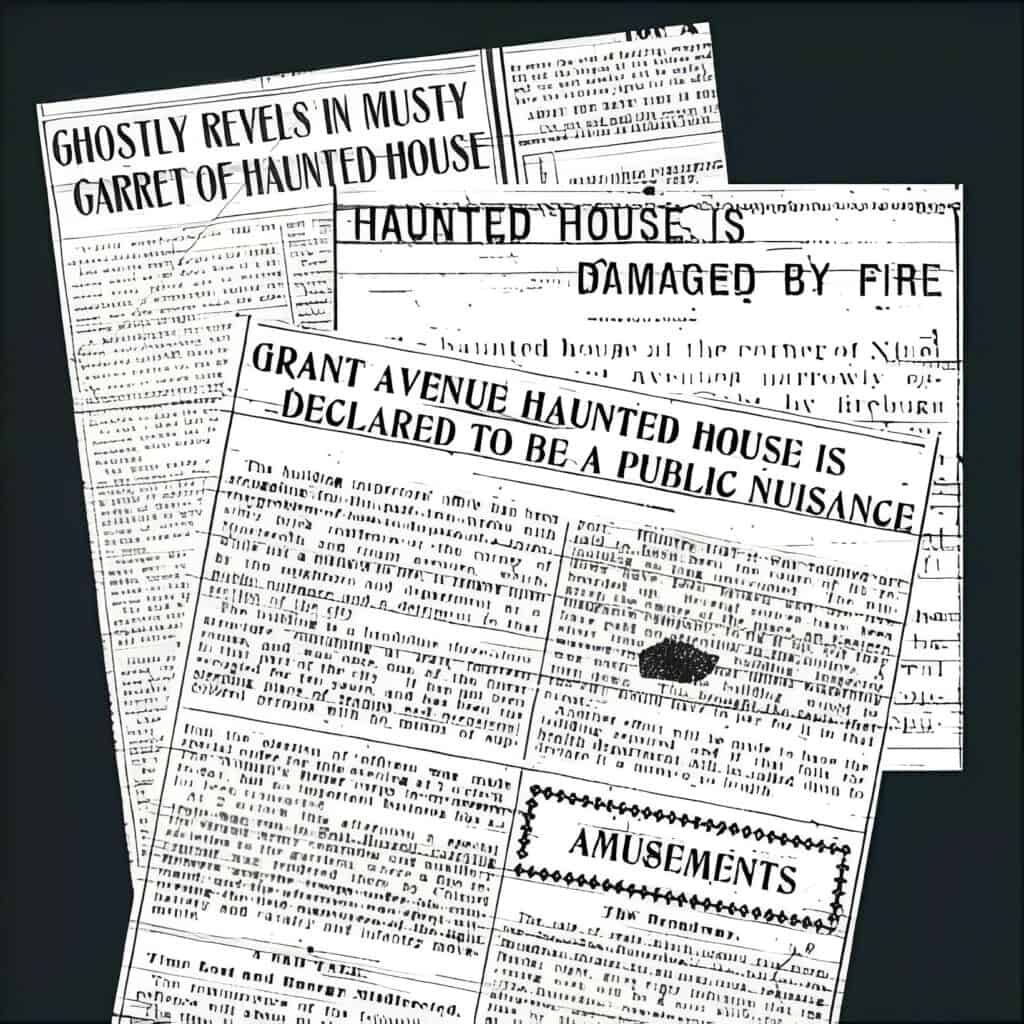 Extra! Extra! Read all about it! What's making headlines in the spirit world? Ask your students to take on the role of a reporter; jotting down strange occurrences from a haunted house.
Learn More: Denver Library
16. Haunted House History
Every creak has a story! Encourage your students to pen a historical account that traces the transformation of their house from mundane to haunted.
Learn More: Made By Teachers
17. Bewitched Biography
Every specter was once a person. Challenge your students to delve into the past life of a ghost; penning a biography that reminds us all that the undead were once alive, and living in houses just like us!
Learn More: Examples