We've compiled a top-class list of 17 unique hearing activities that focus on enhancing the listening skills of your littles. From sound scavenger hunts to musical storytelling, these activities will engage their senses and foster a love for sounds. As your preschooler begins to rely more and more on their listening skills, their grammar, vocabulary, and reading skills also develop in turn. Let us help you foster deep-rooted listening skills and enhance the overall growth of your little learners!
1. Sound Scavenger Hunt
Get your little explorers excited by getting them to search for different sounds in the environment. From chirping birds to honking cars, they'll get to develop their listening skills while having an adventurous time.
Learn More: Toddler Approved
2. Musical Storytelling
Combine the power of words and music by facilitating a storytelling session accompanied by relevant sound effects and musical cues. Watch their imagination soar as they actively listen and engage with the story.
Learn More: Let's Play Kids Music
3. Sensory Sound Bottles
Create captivating sensory experiences by filling bottles with various materials like rice, beads, or buttons. When shaken, they'll produce distinct sounds; allowing preschoolers to explore different auditory sensations.
Learn More: Twinkl
4. Guess the Sound
This activity is a playful approach to sharpening auditory discrimination skills. Use audio clips or live demonstrations to challenge preschoolers to identify different sounds, such as animal noises, musical instruments, or environmental sounds.
Learn More: YouTube
5. DIY Musical Instruments
Engage in a bout of creativity by getting your littles to craft homemade instruments using everyday objects like paper plates, rubber bands, or empty containers. They can then explore the sounds that they can create and form a mini orchestra!
Learn More: Artsy Craftsy Mom
6. Follow the Sound
Create a listening trail with various sound stations. Preschoolers will follow their ears; moving from station to station, and matching the sounds they hear to corresponding pictures or objects.
Learn More: Empowered Parents
7. Sound Puzzles
Design puzzles where preschoolers will have to match sound patterns or sequences. This is an engaging way to enhance their auditory memory and pattern recognition skills.
Learn More: Amazon
8. Musical Freeze
Play music and have a dance party. When the music stops, everyone must freeze in place. This game encourages active listening and helps develop students' abilities to respond to auditory cues.
Learn More: Play and Learn Together
9. Instrument Exploration
Set up a musical instrument exploration table where preschoolers can touch, play, and experiment with various instruments. Let their curiosity guide them as they discover the different sounds each instrument makes.
Learn More: Strong Start
10. Rhyme Time
Engage in rhyming activities that focus on listening and identifying words that share similar sounds. Sing nursery rhymes or create your own silly rhymes together!
Learn More: Education
11. Animal Sound Charades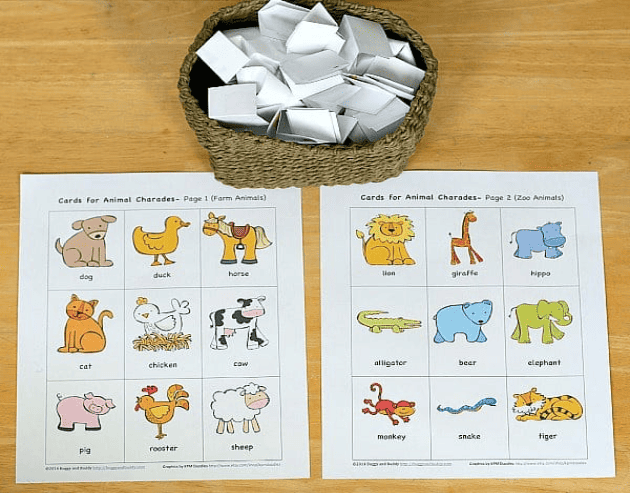 Encourage dramatic play by having your students act out the sounds of different animals while others guess which animal they're mimicking.
Learn More: Empowered Parents
12. Mimicking Sounds
Play a sound, such as a bell ringing or a car honking, and have preschoolers imitate the sound using their voices or body movements. This encourages active listening as learners need to concentrate in order to be able to reproduce a similar sound.
Learn More: 1 Special Place
13. Music and Movement
Incorporate music into movement activities, such as marching, hopping, or spinning. By prompting your littles to synchronize their movements with the rhythm, they'll refine their coordination and body awareness.
Learn More: Atlas Mission
14. Sound Sorting Relay
This is certainly a dynamic and interactive way to reinforce listening skills while promoting physical activity. Set up a relay race where students must listen to a sound and then run to the corresponding picture or object.
Learn More: Teach Your Monster
15. Body Percussion
Explore the sounds our bodies can make by clapping, stomping, snapping fingers, or patting different body parts. This rhythmic and engaging activity encourages creativity and self-expression and is the perfect way to give your learners a quick brain break between learning.
Learn More: Empowered Parents
16. Sound Bingo
Create bingo cards with pictures representing different sounds. As you play various sound clips or imitate sounds, preschoolers can mark the corresponding pictures on their bingo cards. The first student to get a full house wins!
Learn More: Teachers Pay Teachers
17. Storytime Sound Effects
During storytime, incorporate sound effects using various objects or instruments to bring the story to life. This is an easy way of creating a magical experience that captivates learners' attention and enhances their auditory imagination.
Learn More: YouTube