Auxiliary verbs, otherwise known as helping verbs, add meaning to the main verb in s sentence. They describe the action happening. This can be a tricky grammatical concept for students to grasp but with these handy 'helping verb' activities you can teach grammar in a fun and engaging way!
1. Watch That
This great instructional video will introduce children to exactly what a 'helping' verb is and how we use them in a sentence. Utilize this video even further by asking your learners to make notes on it whilst watching to display their understanding
Learn More: Mind Blooming
2. Word Bank
Displaying a word bank of the main helping verbs in the classroom or at home will be a surefire way to get the students to use them more regularly in their work. Use this easy-to-print graphic to start. Students could also make their own versions.
Learn More: Lessons For English
3. Whack A Verb
This great whack-a-mole-inspired game will give students the chance to 'whack' all the helping verbs they know whilst racing against the clock. With fun graphics and all the key vocabulary they need, this is a super engaging but simple activity as a consolidation or revision task.
Learn More: Word Wall
4. Live Worksheets
This activity would be great as a revision task or homework activity. Students can complete the answers online so there is no need for extra printing and they can then check their answers to assess their own learning.
Learn More: Live Worksheets
5. Sing-a-long
This catchy song has all 23 helping verbs played along to an exciting tune that will captivate younger students and have them learning their helping verbs in no time!
Learn More: Patty Shukla Kids TV – Children's songs
6. Workable Worksheets
Use these worksheets to show the difference between a man and a helping verb. There are several versions to suit a variety of learners.
Learn More: K5 Learning
7. Over To You
This activity gives students the opportunity to construct their own sentences using independent verbs. They can also share their sentences with a friend who can highlight where the verb falls in the sentence.
Learn More: Worksheet Place
8. Color Coding
This is a great starter activity or consolidation to show progress! This activity requires students to identify the different types of verbs and color them using different colors.
Learn More: Teachers Pay Teachers
9. Verb Cubes
This is a more practical activity for young minds. This fun idea gets students to make a cube with a selection of helping verbs. They throw the cube and construct sentences based on where it lands.
Learn More: Ashleigh's Education Journey
10. Maze of Verbs
This worksheet challenges students to find their way through the maze; choosing the correct linking and helping verbs as they go. If they get it wrong they'll get stuck in the maze!
Learn More: Word Press
11. Super Spellings
Learn to spell the key helping verbs with this easy-to-print word search. A great gap filler activity to show student understanding of a new grammar concept!
Learn More: WordMint
12. Naughts and Crosses
With this free printable from Scholastic, your learners can play the classic naughts and crosses game by creating their own sentences and then crossing the words off if they use the verb correctly.
Learn More: Scholastic
13. Play A Board Game
Students will love playing a simple board game to practice understanding helping verbs. They must roll a die to move around the game board and use the pictures to come up with a sentence indicated by the number on the dice. If grammatically correct they can stay on their square, if not they go back to their previous square.
Learn More: The Gaming Grammarian
14. Bingo
This easy-to-print Bingo card means you can practice the different types of helping verbs in a fun and competitive class activity. Come up with sentences that could include the verbs and students can cross them off if they have them. Full house wins!
Learn More: Bingo Baker
15. Anchor Charts
Create an anchor chart to quickly explain the concept and display it in the learning environment. Students could also have a go at creating their own version for themselves.
Learn More: Bing images
16. Task Cards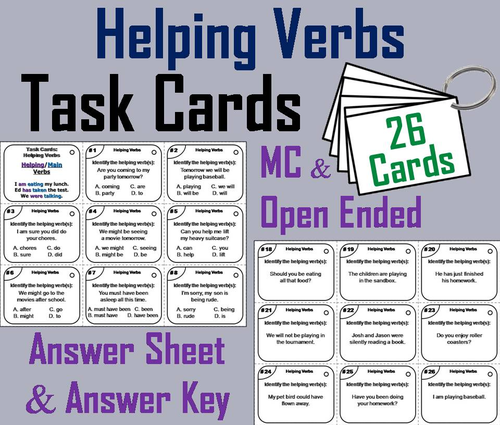 These easy-to-use task cards give learners the opportunity to develop their sentence structure whilst identifying the helping verbs in the sentence. These can be downloaded and laminated to use again.
Learn More: TES Teaching Resources
17. Research and Test
For more independent students, allow them to conduct their own research into helping verbs and then complete the test at the end.
Learn More: Grammar Monster
18. Cool Crossword
A useful revision task! This activity is a little tricky so would suit older students. Using clues, students work out which 'helping' verb is being described and then input their answer onto the crossword grid.
Learn More: WordMint
19. Escape Room
This pre-made digital activity gives students the task of 'Escaping the room!' whilst consolidating their understanding of different verb types. This lesson pack has everything you need to facilitate the challenge. Just print the worksheets and you're good to go!
Learn More: TES Teaching Resources