Katherine Johnson was an incredibly talented mathematician that played a crucial role in several space missions. Hidden Figures showcases Katherine's journey to NASA as an African American woman and all that she accomplished. After watching the film, or reading the book, inspire your students to explore these 21 diverse math activities that can take them just as far as Katherine!
1. Geometry Mission Control
The article describes a lesson where students play communication games requiring innovative problem-solving and 'new math,' akin to what Katherine Johnson pioneered for NASA. Like in the true story, students will reflect on overcoming frustrations and barriers, as well as how identities shape experiences with math.
Learn More: JCU
2. Algebra/Coordinate Geometry Mission Control
Your students will go on a space mission like Katherine Johnson. They will explore algebra and analytic geometry in their task of calculations for space missions. Students will practice communication and problem-solving skills on this incredible mission.
Learn More: JCU
3. Hidden Figure Problem Solving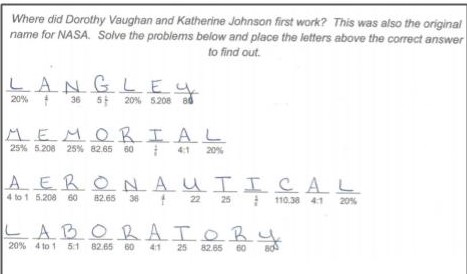 This activity connects math skills like ratios, fractions, and decimals to the movie Hidden Figures. Students practice these skills by solving word problems based on the accomplishments of Katherine Johnson and other African American women mathematicians who overcame barriers at NASA.
Learn More: Teachers Pay Teachers
4. Evaluating Algebraic Expressions
This engaging math activity has students evaluate expressions as 'human computers' to calculate data for a space mission; connecting to the inspiring story of Katherine Johnson and other African-American women depicted in the film Hidden Figures.
Learn More: Teachers Pay Teachers
5. Area and Perimeter Rocket Ships
You can use this activity for any extension of the Hidden Figures movie. Have your students solve math problems as they create rocket ships in the process. Students will love the real-life application of this activity.
Learn More: Amped Up Learning
6. Missing Numbers Coloring Page
Students will color in equations worked on by Katherine Johnson. This engaging activity follows in Johnson's footsteps, visualizing how she computed crucial data for space missions. Connecting math to her inspiring story is a great way to celebrate her achievements.
Learn More: NASA
7. Orbits and Conic Sections
This curriculum guide uses the film and the story of Katherine Johnson to teach students about the Cold War space race, segregation, Jim Crow laws, and women's contributions to science. Students will learn about these historical topics and their connection through lessons and activities.
Learn More: Journeys In Film
8. Sum of Squares
The Ohio State University's Hidden Figures lesson plan highlights untold stories of Black mathematicians who graduated from OSU, such as Theresa Frazier Svager. The project aims to inspire students by recognizing marginalized achievements in STEM and combating racial inequality.
Learn More: Ohio History
9. Modern Figures Toolkit
The NASA Modern Figures Toolkit honors the legacy of trailblazers like Katherine Johns, who helped NASA reach new heights. It provides educational resources to inspire students with the stories of human computers and mathematicians who helped launch America's space program.
Learn More: NASA
10. How Far Will It Go?
This lesson explores how varying air in balloons affects distance traveled, collecting data from students' graphs. Students thus experience mathematical modeling and data analysis key to NASA's space missions; including those Katherine Johnson calculated trajectories for.
Learn More: NASA
11. Let's Go to Mars
Using orbital dynamics and simple assumptions, students will determine when Earth and Mars will align to allow for efficient travel between the planets. This lesson helps students understand the mathematical calculations behind timing space missions.
Learn More: Jet Propulsion Laboratory
12. Moon Math
The articles explore Katherine Johnson's pioneering work- calculating Apollo 11's flight path. Students can appreciate her remarkable achievement by graphically representing the angles she computed to successfully get astronauts to space.
Learn More: Scholastic
13. Landing Back On Earth
This fascinating article lets you explore Katherine Johnson's pioneering NASA calculations that launched and landed spacecraft. Through interactive examples, students will experience the mathematical challenges Johnson overcame to calculate trajectories that were critical for early spaceflight successes.
Learn More: Teacher Desmos
14. Counting On Katherine Read Aloud
This article highlights Katherine Johnson, the NASA mathematician who calculated Apollo 13's safe return to Earth. Despite facing discrimination as an African American woman, Johnson pursued her dream of becoming a research mathematician. Her story inspires readers to overcome obstacles and achieve their goals.
Learn More: Hands-On STEM
15. Intergalactic Scavenger Hunt
This article outlines creative math and science lessons for 6th graders inspired by space. Students can discover how math enables space travel by connecting STEM concepts and hands-on projects, like in Hidden Figures.
Learn More: Seattle Pi
16. Exponential Experience
Here you will find engaging math activities relating to astronomy and the solar system. Using exponents to represent planet distances and creating scale models of the solar system, your learners will connect to the work of Katherine Johnson and other NASA mathematicians who calculated trajectories and orbits.
Learn More: Seattle Pi
17. Two Truths and a Lie
Celebrate Space Exploration Day with fun math activities inspired by Katherine Johnson's story. Like calculating trajectories to space, students must determine which of three statements about space travel is false and then justify their reasoning; building critical thinking skills in the process.
Learn More: Mashup Math
18. Outer Space Adventure
This engaging space-themed equivalent fractions activity connects math skills to Katherine Johnson's story. Students will work in teams to solve puzzles and collect space-themed rewards- practicing equivalent fractions in an exciting and motivating way.
Learn More: Appletastic Learning
19. When Computers Wore Skirts
This activity has students research Katherine Johnson and Christine Darden, pioneering African American women in mathematics and engineering at NASA. Through readings, videos, and discussions, students will learn about Johnson and Darden's accomplishments and the barriers they overcame.
Learn More: AIP
20. Asteroid Math Bundle
This bundle of space-themed math activities connects fractions, ratios, geometry, and algebra to critical problems from the space industry. Students will solve real-world math challenges and learn about STEM careers.
Learn More: Vivify STEM
21. Space Math
STEM UK has a collection of space math activities that can be used as extensions for the film Hidden Figures. Students will practice critical thinking, algebra, geometry, and other critical math skills that allowed the characters in the movie to achieve their goals.
Learn More: STEM UK