Take a look at your teacher's desk. Is it organized and ready, or is it a chaotic mess of papers and office supplies? In my case, it's always the latter! Open that drawer, dig around, and find your single-hole punch. You now hold in your hands a single tool that can be used to create hundreds of engaging learning activities for your students. The hole punch, when wielded correctly, can be used to make all sorts of fine motor activities and games for kids.
1. Hole Punch Lacing Cards
Download lacing cards and print them on cardstock. Laminate them and use your handy-dandy hole punch to punch holes along the perimeter of each shape- creating the perfect reusable activity to help your students build fine motor skills.
Learn More: Teach Starter
2. Read and Retell with a Hole Punch Booklet
Everyone loves The Very Hungry Caterpillar! Give your student index cards and a handheld hole punch. Have them retell the story by drawing the different foods the caterpillar ate, and punch holes in them to mimic the book. Staple along the edge, and you have a fun mini-book.
Learn More: In Love With Learning
3. Hole Punch Bracelets
Using decorated paper strips, have your students make a bracelet showing different numbers by punching holes. You can print cute ones or use blank strips. Activities like these are fun and help build hand-eye coordination.
Learn More: Pocket of Preschool
4. Hole Punch Puzzles
Practice counting and number recognition using a hole punch! Provide your students with numbered paper cutouts (like Easter eggs). Have them punch holes to show the numbers and then cut them in half to make puzzle pieces.
Learn More: Teach Starter
5. Hole Punch Creature Crafts
After a quick lesson or video on animals with spots, use construction paper and a hole punch to craft different creatures. Here we have a spotted snake and a ladybug!
Learn More: Fairfax Fundamentals
6. Hole Punch Fireworks
If you've got a holiday coming that includes fireworks, use hole punch confetti to craft your own holiday fireworks! Perfect for those New Year activities and lessons on celebrations.
Learn More: Woo! Jr.
7. Holiday Hole Punch Crafts
If you have shaped hole punches, put them to use in the classroom. Use them to cut out shapes for students to use in crafts. For example, a flower punch would be perfect for crafting a Mother's Day bouquet!
Learn More: Just Reed Blog
8. Manage Behavior with a Simple Hole Punch
Use a standard hole punch to help you manage behavior. You could use a simple punch card reward system or go bigger and use your hole punch to make your own brag tags! Check out this growth mindset brag tags!
Learn More: Teach Starter
9. DIY Classroom Confetti and Confetti Poppers
Is there a student's birthday coming up? Use those little circles of colorful scraps to make your own colorful confetti. It would be brilliant to use it to fill a balloon, write a name on the balloon with a dry-erase marker, and then pop it to shower the birthday boy or girl.
Learn More: Ultimate Confetti
10. Hole Punch Precipitation Projects
Give your littles a hole punch and some simple office supply paper to make their own precipitation pictures. They can use markers to color the paper and then punch out colorful dots to depict rain, snowfall, and more! A perfect activity to include in your weather unit!
Learn More: Books and Giggles
11. Hole Punch Literacy and Math Stations
Throw a hole punch and some printed hole punch activities into a container and you've got an easy and fun literacy or math station. Fine motor resources like these are simple to make and build hand-eye coordination in no time!
Learn More: Early Learning Ideas
12. Show Off Seasons with Your Hole Punches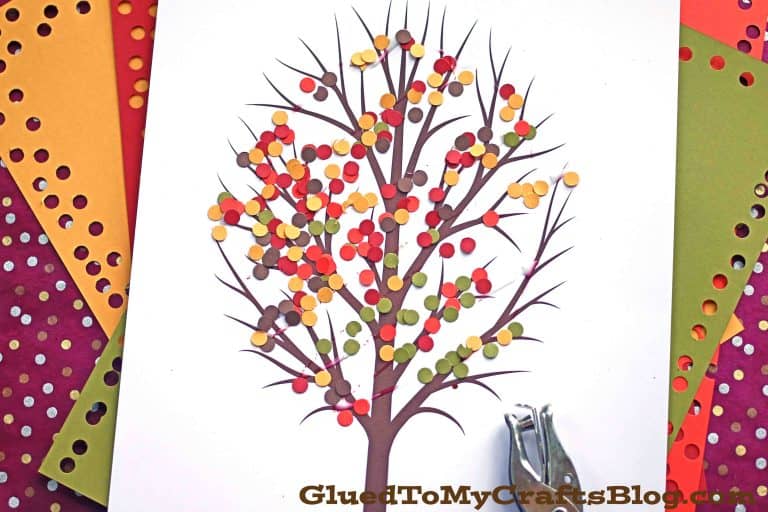 Have your students hole-punch different colored paper to match the leaves that appear during each season of the year. You could even use seasonal colors to depict the changing leaves. Put their creations in a frame and you have adorable parent gifts to give around the holidays.
Learn More: Glued to My Crafts
13. Mosaic Art
This one takes a bit of planning and prep, but the results are beautiful. Teach a lesson on pointillism (the art of creating images using single dots) and have your students create their own pointillistic painting. Paper circles can be punched from construction paper, wrapping paper, or even newspaper.
Learn More: Make It Artwork