The holiday season is around the corner and what a great activity to do with your kids now is to make Christmas wreaths to decorate and give as gifts. There are so many kinds of wreaths to make. Here is a collection of wreath craft ideas for kids of all ages. Enjoy the time together, making this beautiful symbol of eternal life.
1. Paper plate and little one's hand's wreath.
This is a classic wreath. Using a paper plate and some arts and crafts materials. Trace the toddler's hands-on red construction paper to make the big bow and with help from an adult, they will have a beautiful creation in no time.
Learn More: Pinterest
2. A easy 1,2,3 Christmas Wreath

Children love to do art and if you have some construction paper, a variety of colors, and some glue, this is an easy craft that will keep them busy.  Have children take the small bits of red and green paper and make a colorful paper wreath to decorate.
Learn More: Toddler Approved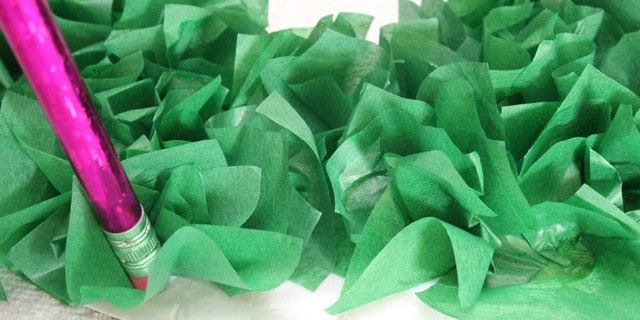 These are so much fun for kids, the texture of crunching tissue paper and gluing it onto the cardboard wreath is a wonderful experience for many children. And when it's done you have a nice green wreath to hang up or give to someone.
Learn More: CBC
4. Green Yarn Wrap around the wreath 

Yarn is a great medium to work with to help kids learn about measurement, feet, and inches kids can do.  some measurement activities to figure out how many inches or feet of yarn are needed to cover their cardboard wreath.
Learn More: Pinterest
5. Macaroni Christmas wreath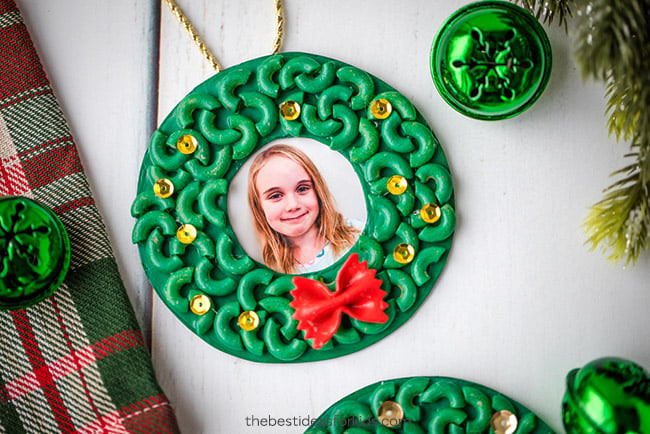 We all have memories of making macaroni necklaces or macaroni art at school. Dried pasta is an inexpensive, easy medium to use in crafting. This is a special wreath because it doubles as a picture frame as well, gluing any family photo in the middle.
Learn More: The Best Ideas For Kids

Christmas, family, and friends go hand `n hand and that's exactly what this wreath is about. Children trace their hands on green construction paper and cut them out and then stick them on a cardboard wreath cut out and decorate! A simple wreath that will bring the holiday spirit to anyone.
Learn More: childcareland
7. Red and White Edible Peppermint Candy Wreath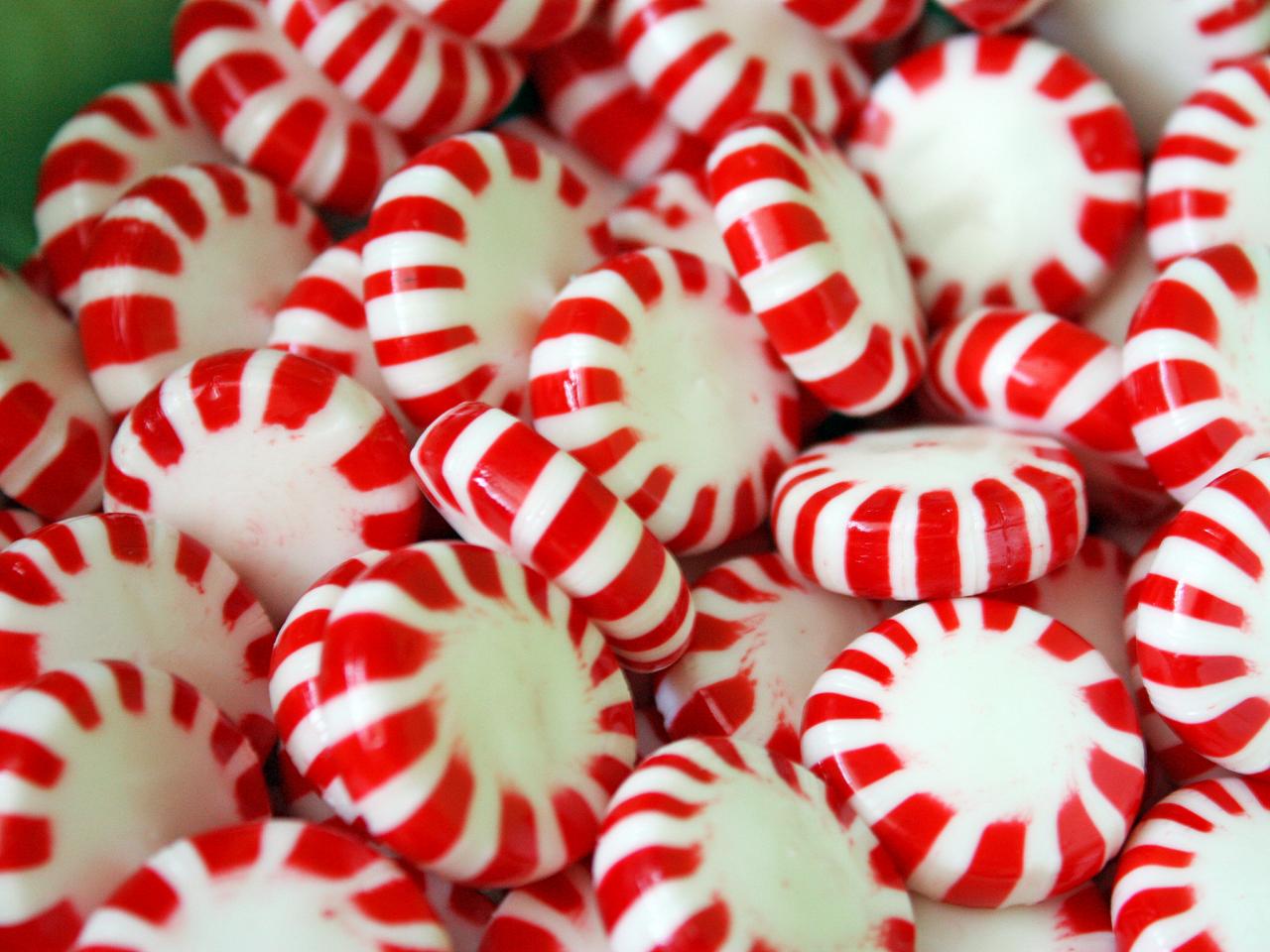 This festive wreath is fun to make and eat! Children will use individually wrapped candies, a cardboard wreath form, and strong glue or a hot glue gun. One by one they glue the candies all over the wreath until it is complete. Add some paper holly berries deco for an added touch.
Learn More: Katie Brown Workshop
8. Snowflake Theme Christmas Wreath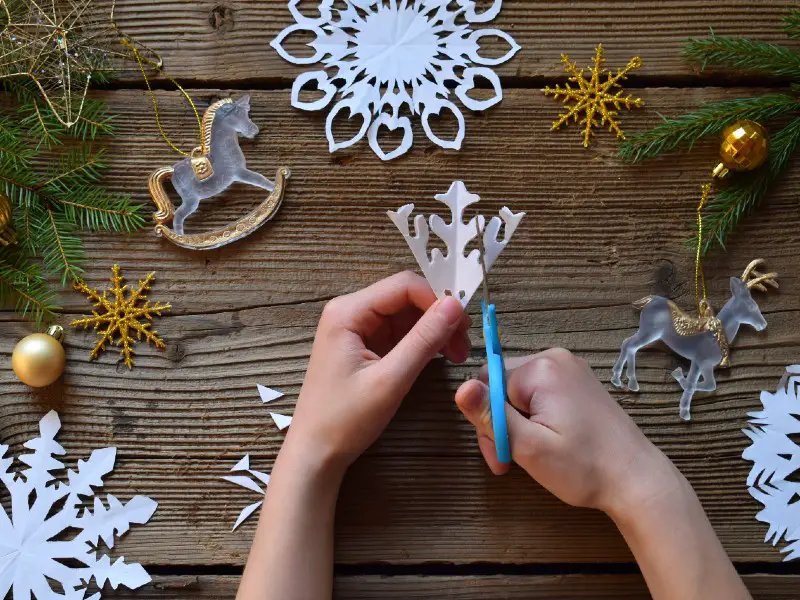 What better way to get into the holiday spirit than to make a paper snowflake wreath? using inexpensive snowflake ornaments DIY. Blue, silver, and snowy white paper snowflakes decorate the wreath. It is a non-traditional wreath that looks amazing.
Learn More: Pinterest
9. Evergreen Wreath with a bell
This is a dark green paper craft that is "easy peasy" to make and looks and sounds lovely. Using a plastic bowl, scissors, and some construction paper, kids can make this wreath with a real bell to ring in the holidays.
Learn More: Krokotak
10. Lego's 3D Christmas Wreath
Do you have a lot of old Legos lying around? Here is a great project that the whole family can get in on. A versatile Lego Christmas Wreath. It is simple to make with the help of an adult. Everyone can participate. When it's finished, you will impress your friends with your cool art!
Learn More: Mama In The Now
11. Pipe Cleaners can make beautiful things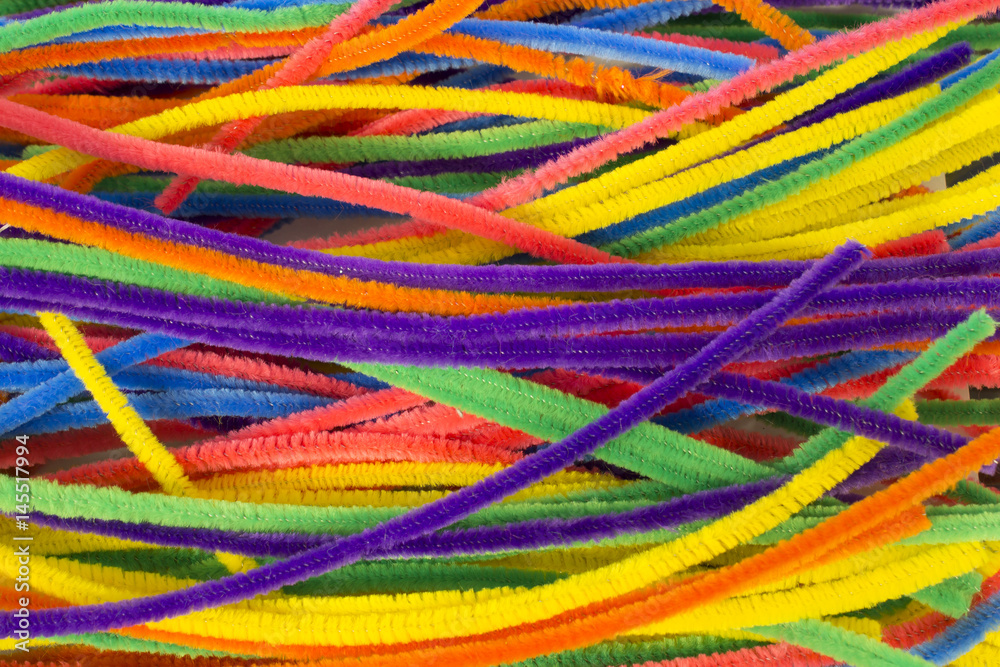 This low-cost craft is impressive. No real mess and everyone enjoys their time listening to Christmas carols and making our wreaths of different shapes and sizes. Pipe cleaners are inexpensive and make gorgeous wreaths.
Learn More: A Beautiful Mess
12. Garland revamp wreath

With simple wire around bases and some old garland and plastic ties, kids can make a beautiful new "recycled " wreath. They look like real pine needles and are a lovely decoration for the holidays.
Learn More: Echoia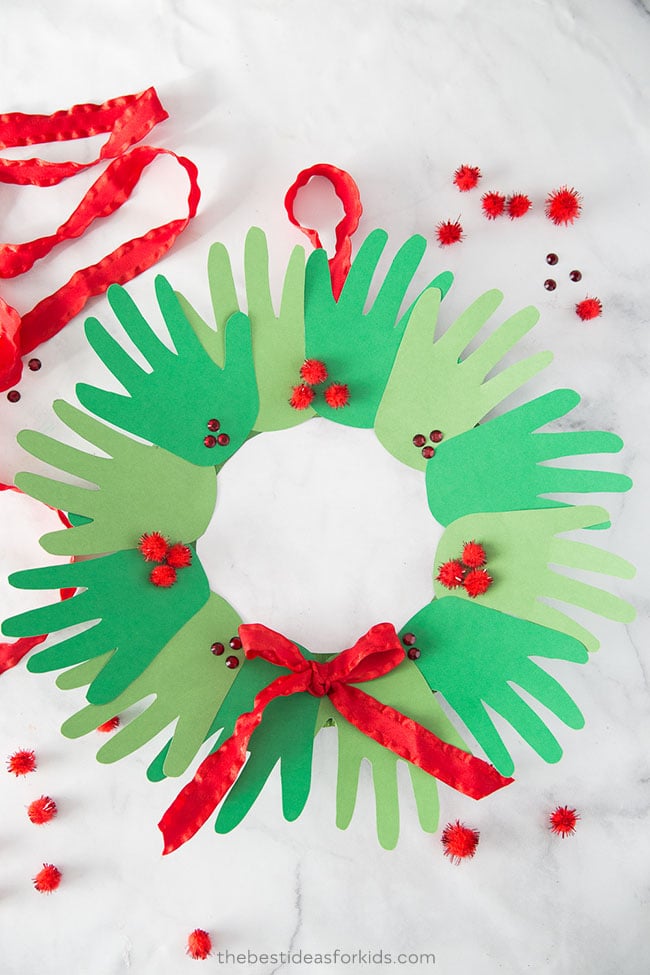 This is a very special DIY handprint wreath that will bring joy to everyone. Just follow the steps of tracing your hand on construction paper, and with a little glue and a red ribbon, you will be happy with the results.
Learn More: The Best Ideas For Kids

Pine cones can be found in the woods, parks, or even at your local craft store. They are fun to paint and easy to glue onto any surface. A wreath form can be great too. Paint it green or keep it natural, it will look great for the holidays.
Learn More: The Best Ideas For Kids
15. Edible Pretzel Wreath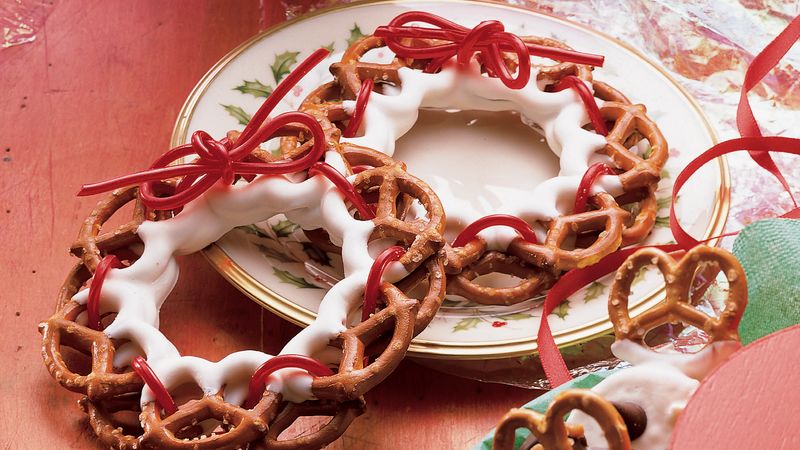 Who can resist an edible pretzel Christmas wreath? Nice to look at and delicious to eat. Some pretzels, white chocolate, and a few sprinkles are all you need. Hang this adorable wreath or eat it.
Learn More: Kids Cooking Activities
16. 3D Printable Christmas Wreath from Twinkl
This is a great classroom activity and really simple, with no mess. Kids love cutting out this wreath and putting it together. It looks great and is perfect to hang anywhere.
Learn More: Twinkl
17. Wine Cork Christmas Wreath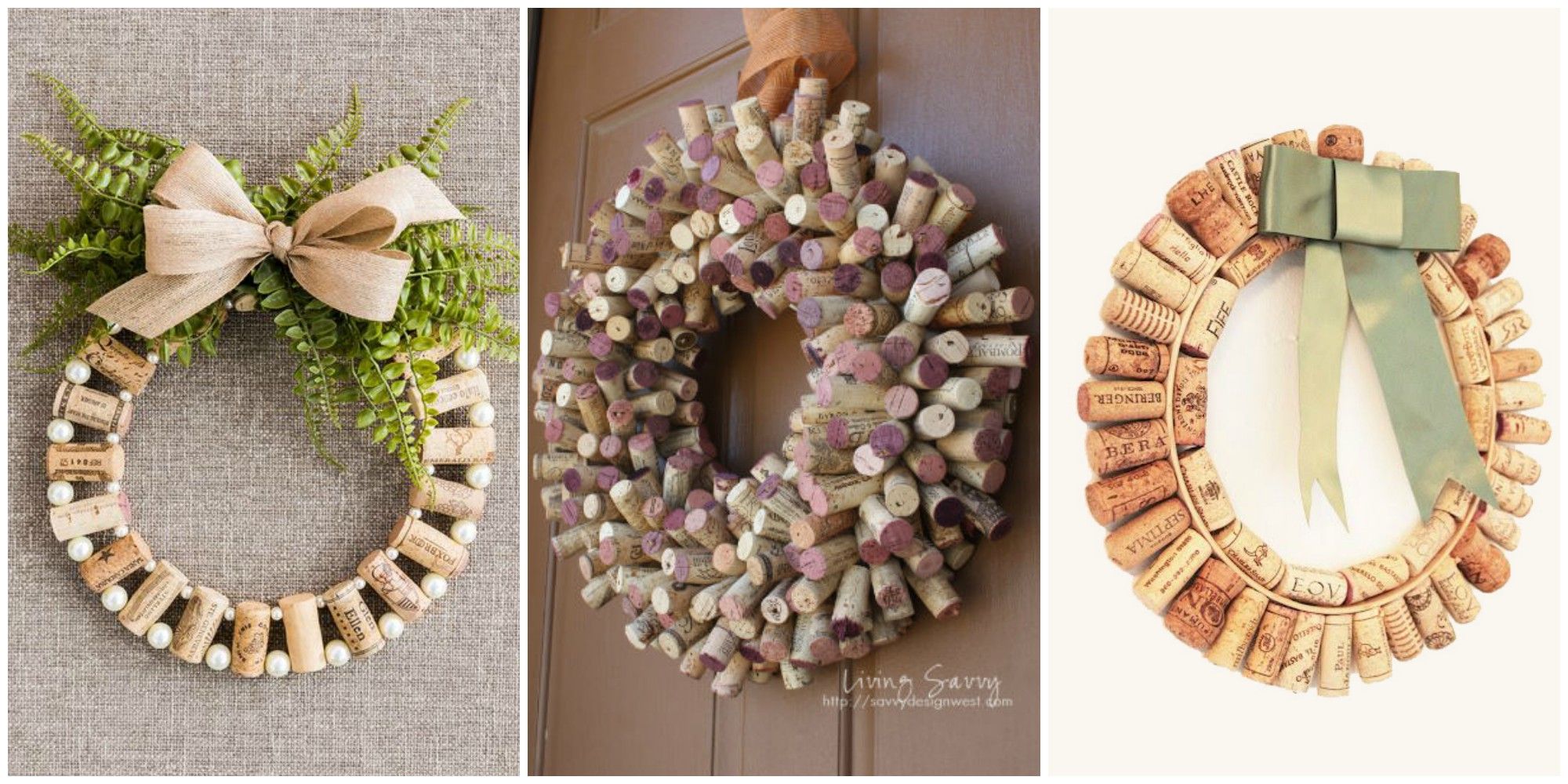 What a nice gift for wine lovers. Kids can easily use wine corks, a hot glue gun, and other deco to make this impressive wine cork wreath.  It really is a nice gift and such a beautiful wreath.
Learn More: Pinterest
18. Candle paper Christmas Wreath
This colorful wreath is easy to make and kids will have fun doing this craft. With some construction paper, glue, and pom balls, you can decorate your home or class for the holidays.
Learn More: Amore Crafty Life
19. Button, button Whose got a button?

Do you have any red and green buttons lying around?  With a few craft supplies and some wire or string, you can have a great button wreath to hang up for the holidays.
Learn More: Amore Crafty Life
20. Red and White Magazine Wreath

What a fun playful wreath to make and recyclable using old magazines. Just cut, fold and staple. Make loops and glue them onto a cardboard wreath form. Make a red and white one candy cane style or an all-white wreath with silver and blue decor.
Learn More: Childhood 101