Engage your kindergarten students with 16 fun and educational activities that bring the imaginative world of Dr. Seuss to life. From creative arts to critical thinking, these Horton Hears a Who activities will spark their curiosity and foster a love for learning. From inventive crafts to yummy snacks, we've got something for every little learner to enjoy!
1. Whimsical Crafts
Let your students' creativity shine with craft projects inspired by the characters and themes of "Horton Hears a Who." They can make Horton masks, create colorful clover collages, or design their very own Whoville houses and imagine living right next door to a Who!
Learn More: In the Bag Kids' Craft
2. Sensory Storytime
Enhance the story experience by setting up a sensory station where your students can touch and explore different textures and objects related to the story. Provide feathers, fluffy cotton balls, and small trinkets to represent elements from the book.
Learn More: Glo Pals
3. Seuss-Inspired Snack Time
Prepare a special snack that ties in with the story. Your littles will love munching away on elephant-shaped cookies or fruit skewers with colorful toppings that resemble the Whos. Use this opportunity to discuss healthy eating habits and the importance of balanced nutrition.
Learn More: Attachment Mummy
4. Who-ville Dramatic Play
Create a dramatic play area inspired by Who-ville! Here, your students can dress up as characters, interact with props, and act out scenes from the book. Encourage them to use their imagination and storytelling skills to bring the story to life.
Learn More: Pinterest
5. Horton's Listening Adventure
Looking to improve your little one's listening skills? Engage them in a listening activity where they close their eyes and focus on the various sounds that they can hear either in the classroom or outside. Encourage them to identify and describe what they hear; just like Horton did in the story.
Learn More: JDaniel4's Mom
6. Clover Counting
Incorporate the joys of this beloved story into your math class! Use cutout clovers or manipulatives to help students develop their number recognition and counting skills. Extend the clover theme even further by incorporating different activities such as sorting and pattern distinction.
Learn More: Twisty Noodle
7. Collaborative Mural
Invite your students to work together to create a large mural that depicts scenes from the story. Encourage them to incorporate small elements like the spec as well as larger elements like the wacky characters and houses!
Learn More: Pinterest
8. Seuss Sound Bucket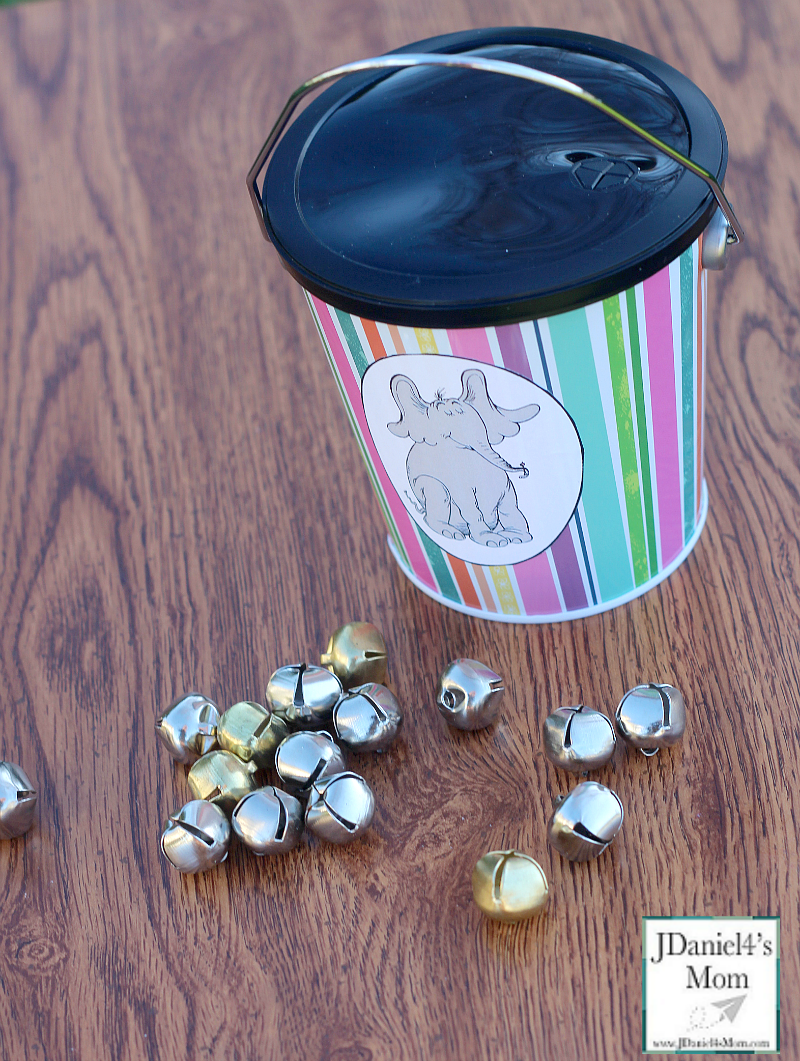 Explore the concept of sound and vibrations through a fun hands-on craft. Students can create their mini sound tubs by using household items like old peanut tubs, bells, and decorative paper.
Learn More: JDaniel4's Mom
9. Whoville Parade
This activity promotes creativity, self-expression, and a sense of community. Organize a classroom parade where students dress up as their favorite characters from the story and march to their own Whoville-inspired music.
Learn More: Pinterest
10. Storybook Theater
Have students work in small groups to create their own puppet shows or skits based on "Horton Hears a Who." Encourage them to write scripts, design puppets, and perform their adaptations of the story for their classmates to enjoy.
Learn More: Simple Everyday Mom
11. Seuss Word Hunt
Hide Seuss-themed vocabulary words around the classroom or outdoor area for students to find. They can work individually or in pairs to search for words and practice reading and identifying new vocabulary.
Learn More: No Time for Flash Cards
12. Whoville Dance Party
What better way to start or end a school day than with a fun dance party! Allow students to show off their dance moves with a Whoville-themed boogie session. Play upbeat music, teach simple dance routines, and encourage creativity as learners groove to the beat.
Learn More: Pinterest
13. Who's That Character?
This activity promotes listening skills, comprehension, and critical thinking. Engage students in a guessing game where you describe a character from the book, and have them guess who it is.
Learn More: Seuss Fandom
14. Whoville Science Fair
Who would've guessed that you could conduct science experiments related to the story? Engage your students in fun activities such as crafting mini tornadoes in a bottle or exploring the concept of buoyancy using floating objects. Encourage learners to make predictions and observe the results; tying their experiments to different parts of the book.
Learn More: Fun with Mama
15. Seuss-inspired Writing
Transport your English class to the wonderful world of Who-ville by promoting them to write stories or poems in the whimsical style of Dr. Seuss. Provide colorful paper, markers, and stickers to help them make their creations visually appealing.
Learn More: Childhood 101
16. Who-vocabulary
Introduce new vocabulary words from the story and have students create flashcards or mini dictionaries to practice and reinforce their understanding of these words. They can also use the words in sentences or create their own word puzzles.
Learn More: Prezi