Keeping preschoolers engaged while encouraging their creativity, curiosity, and cognitive development can seem challenging.
Thankfully, there are plenty of arts-and-crafts and other activities for kids with helpful and handy tutorials that combine learning and playtime. And with this list of house crafts and activities, you not only keep your preschoolers entertained but also help develop their fine motor skills.
So, here are some incredibly creative and unique activities that preschoolers will love!
1. House Pattern Art
Print out this simple but fun craft template, and gather some colorful crayons and art supplies. Cut out the houses yourself or use safety scissors so that the little ones cut them. Let them color and design their houses any way they like!
Learn More: Coloring Home
2. Popsicle House
Another fun idea is to help the kids make a house using popsicle sticks. Use a glue stick or, with adult supervision, you can use a glue gun to put the sticks together. Color the house using paint or use colored sticks to bring these stick houses to life.
Learn More: Jeet Creative
3. House of Shapes
Pre-cut circles, rectangles, squares, and triangles from different colored paper. Then have your little ones form their houses using the shapes and some glue. This is one of the cutest kid crafts and is sure to tap into their creativity while helping them understand different shapes and how they fit together.
Learn More: Milestone Mom
4. Cute Paper House Craft
Let your preschoolers create a simple paper house using basic craft materials like craft paper in various colors, scissors, glue, a pencil, a ruler, and colored markers. To make the activity enjoyable, you can even get the little ones to tell a short story about their house.
Learn More: Two Kids and a Coupon
5. Paper Folded House
This activity is like a much-simplified version of origami. It'll help your preschoolers develop their fine motor skills as they fold the paper into intricate patterns to form a house. Don't worry; the instructions are simple and a lot of fun to follow!
Learn More: Mr. Creator
6. House-related Flashcards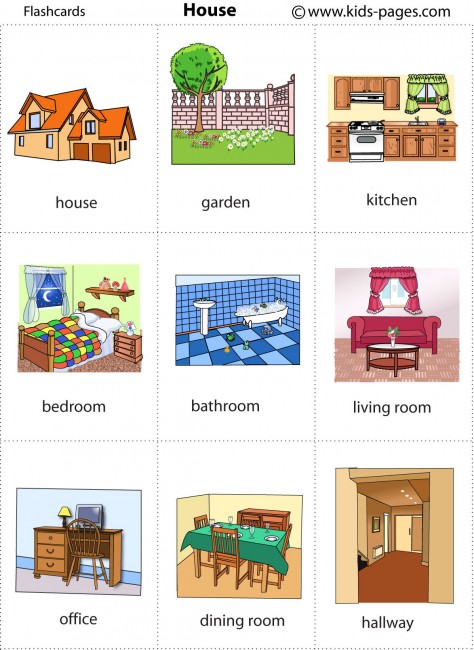 Focus on one area of the house, such as the kitchen or the porch. Then, use these flashcards to expand your kid's vocabulary and help them identify various everyday household items.
Learn More: Kids Pages
7. My Family's House
Print this paper house template and ask your preschooler to find their favorite family photo. Guide the kids on where to paste their image while encouraging them to talk about what they love most about their family. This is also an excellent way to introduce the concept of a home.
Learn More: Easy Peasy Fun
8. Shape House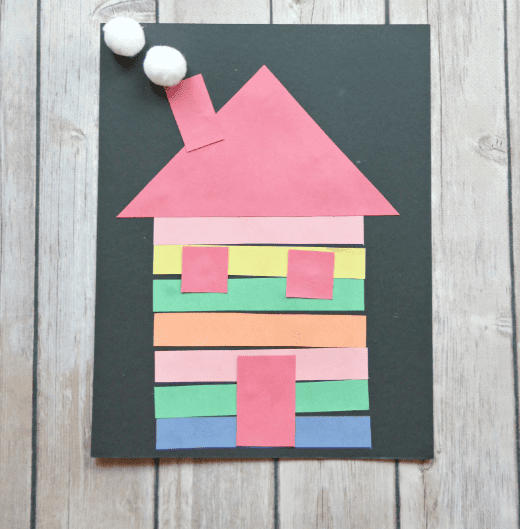 Cut several triangles, rectangles, and squares for the roof, chimney, door, windows, and walls using different colored cardboard Let your child select any shape that they think can help form the house. This activity also doubles as a fun "crafts from waste" project.
Learn More: My Mommy Style
9. Origami House
Give the kids different colored construction paper and let them discover the ancient art of paper folding. Origami is also a great activity that can help hone the kids' cognitive and fine motor skills.
Learn More: Paper Folds – Origami & Crafts!
10. Toilet Paper Tube House Crafts
Collect multiple tissue paper rolls and get the kids to wrap them with colored paper. They can then draw windows and doors on the rolls to make the house. You can even help them make a cone out of a piece of paper for the roof or simply use cupcake liners.
Learn More: Crafts By Anu
11. Fairy Houses
Have the kids get crazy with colors to paint wooden birdhouses! You can turn it into a fun storytelling activity about who they're making the houses for— fairies, elves, dwarves, or some other mystical creature!
Learn More: No Time for Flashcards
12. Recycled Gingerbread-themed House
While you won't be using actual gingerbread cookies for this project, the recycled cardboard boxes that are the same color as a gingerbread cookie work just fine! Give your preschoolers free reign and have them draw their house and then decorate it with buttons, ribbons, and colored pens.
Learn More: No Time for Flashcards
13. Haunted House Project
Get your preschoolers excited about Halloween! Cut out a rickety Halloween house from black cardboard paper and, on another sheet, paint the background for the house. Then, paste the black silhouette house and add some bats and ghosts. You can even paste googly eyes on the finished product to make it fun.
Learn More: Simple Everyday Mom
14. Painted Pasta House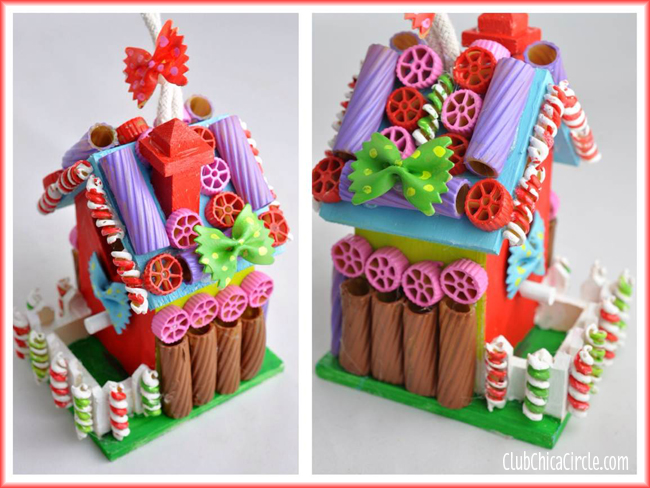 This project involves tiny pre-built houses like wooden birdhouses and plenty of pasta. Kids can glue pasta around the house and then paint it however they like. This will afford you hours of entertainment, creativity, and lots of mess to clean!
Learn More: Club Chica Circle
15. Milk Carton Townhouses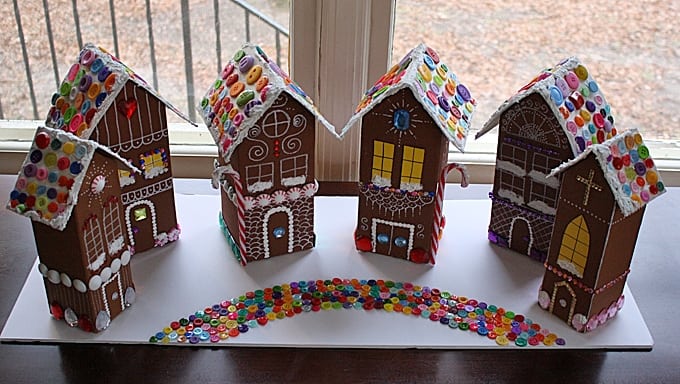 Clean, dry, and paint empty cartons brown before you begin. Give one carton to every child. Have them decorate their cartons with buttons, ribbons, and white paint. Then, arrange their milk cartons to create a townhouse complex or Christmas village.
Learn More: Crafts by Amanda
16. Toadstool Houses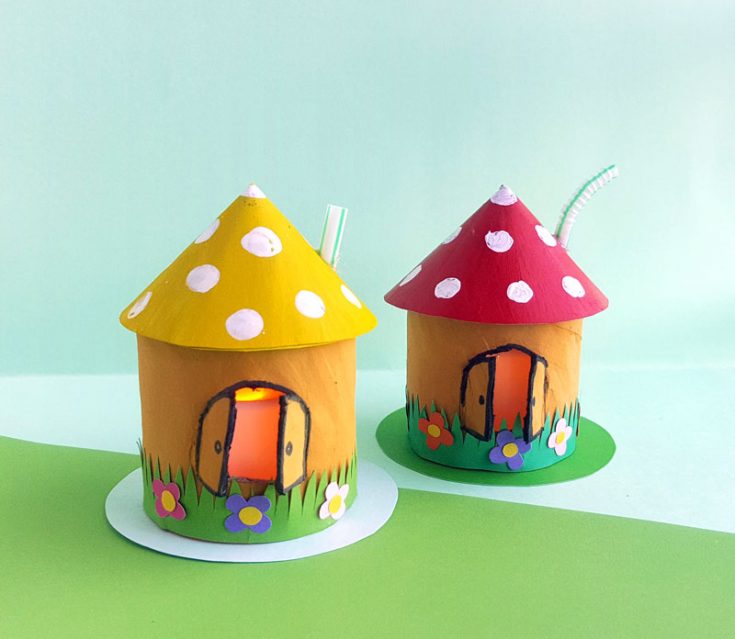 This is a craft idea that every preschooler will enjoy- creating toadstool houses made out of toilet paper! Help the little ones cut through the toilet paper to create windows and then decorate with drawings. Help them put a LED tea light inside to make the houses glow!
Learn More: Moms and Crafters
17. Draw Your House
One of the simplest classic kid's crafts is to let learners draw their dream house on paper using pencils and crayons. Have them share their thoughts about the house once they're done creating their masterpiece.
Learn More: Yo Kidz
18. Connect The Dots House
Keep your kids busy by printing these connect-the-dots templates. Once their house is formed, they can then decorate it as they like. This is also a good activity to help them get more comfortable with numbers.
Learn More: Pinterest
19. Bag House
Help your preschoolers transform boring brown lunch bags into fun and colorful houses. All they need to do is follow a few simple steps and get creative.
Learn More: Education
20. House Maze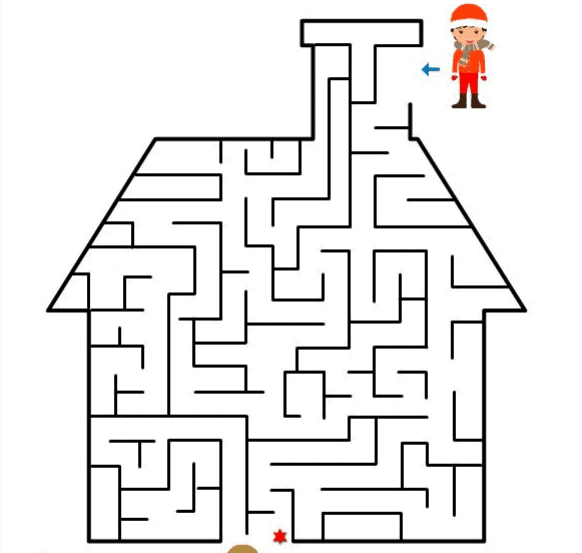 Print out this maze template and get the kids to solve it. This is a great problem-solving game that is engaging and one of the most fun activities that will keep little ones on their toes.
Learn More: Turtle Diary
21. Physical Parts of the House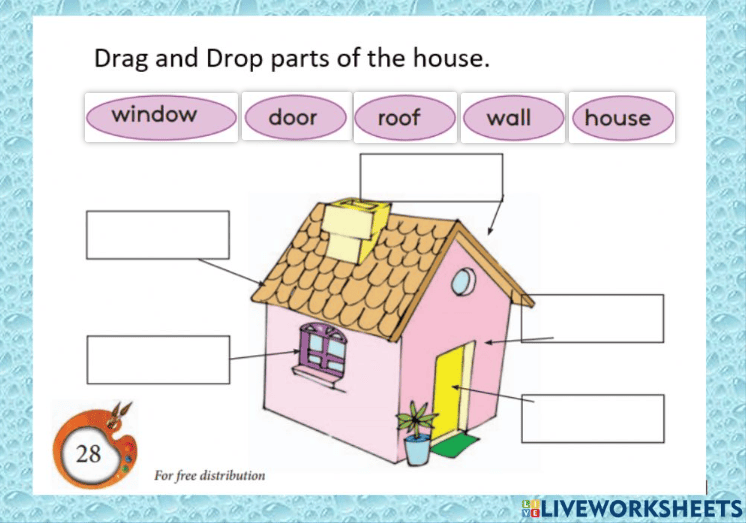 This worksheet will teach your little ones the different parts of the house. It mainly focuses on the physical aspects, such as the doors, windows, and roof, and can be a great way to improve their vocabulary.
Learn More: Live Worksheets
22. What's In Your House?
Print out an empty template of a house and get the kids to fill it up with whatever they like the most in their house. They can then talk about these items or spaces and how theirs differs from others.
Learn More: Pinterest
23. Counting Around the House
Have your preschoolers practice their numbers with this house number activity. All they have to do is count and write down how many windows, doors, etc, they have at home.
Learn More: Early Learning Ideas
24. A House Is a House For Me
You'll need to get your hands on the book "A House is a House for Me" for this sweet activity. It'll help broaden the kids' perspectives of what a home is. They can then come up with different types of homes and describe what lives in them.
Learn More: Pinterest
25. Trace and Color the House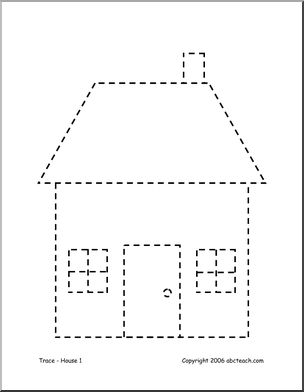 This is another house activity for preschoolers who are still getting used to using their pencils. Download and print this template and get the kids to trace the shape and color it in. They can also talk about why they chose those specific colors.
Learn More: ABC Teach
26. Chalk Art
This is a perfect outdoor activity to let kids have fun outside. Assign each kid their own space and have them draw their houses on the pavement with chalk. You can also add a "show and tell" element for their chalk art.
Learn More: Pinterest
27. Lego House
Using bigger Lego pieces, have your preschoolers build a house. You can have them watch a tutorial or allow them to get their imaginations to work by working creatively.
Learn More: Fun2Learn
28. Around the House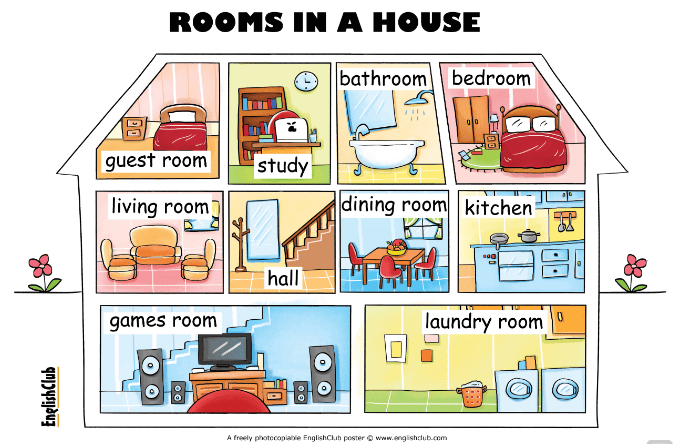 Teach your children the proper space for things like where to place a bed in a bedroom and a shower in a bathroom. Print this template and let the children add more objects to each room based on what they see at home.
Learn More: Tiny Tap