Delve into the stellar world of the Hertzsprung-Russell (HR) diagram with these dynamic and engaging classroom activities. From games and debates to creative writing and hands-on projects, these activities offer a comprehensive approach to learning about the stars and their life cycles. Transform your classroom into a virtual observatory where your students can discover the mysteries of the cosmos, enhance their scientific understanding, and develop essential skills in a fun and interactive way!
1. Unveiling the Star Life Cycle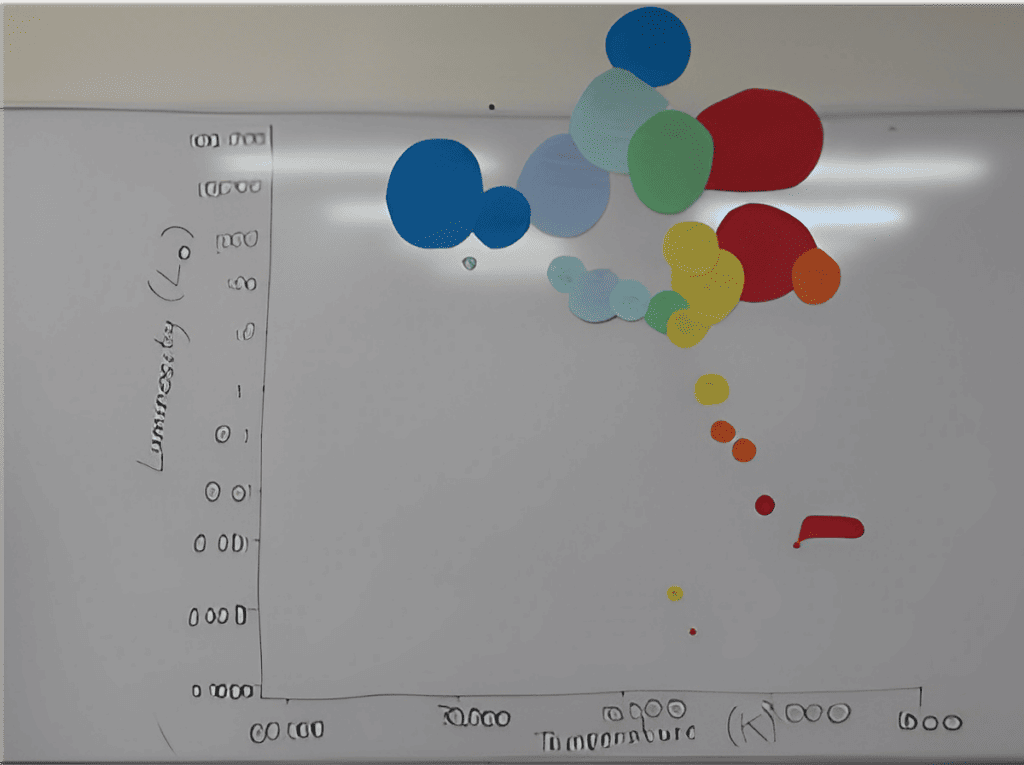 Imagine your students as astronomers- peering into the mysteries of the cosmos! With this activity, they'll delve into the different stages of a star's life cycle using the Hertzsprung-Russell (HR) diagram as their cosmic roadmap.
Learn More: Cardiff Blogs
2. Stellar Spectra Analysis: Decode the Starlight
Ready to have your learners become celestial detectives? Empower them to decode starlight by analyzing stellar spectra. As they relate it to the HR diagram, they'll feel as if they're having a cosmic conversation with the stars themselves!
Learn More: Chandra Harvard
3. Star Classification Game: Stellar Showdown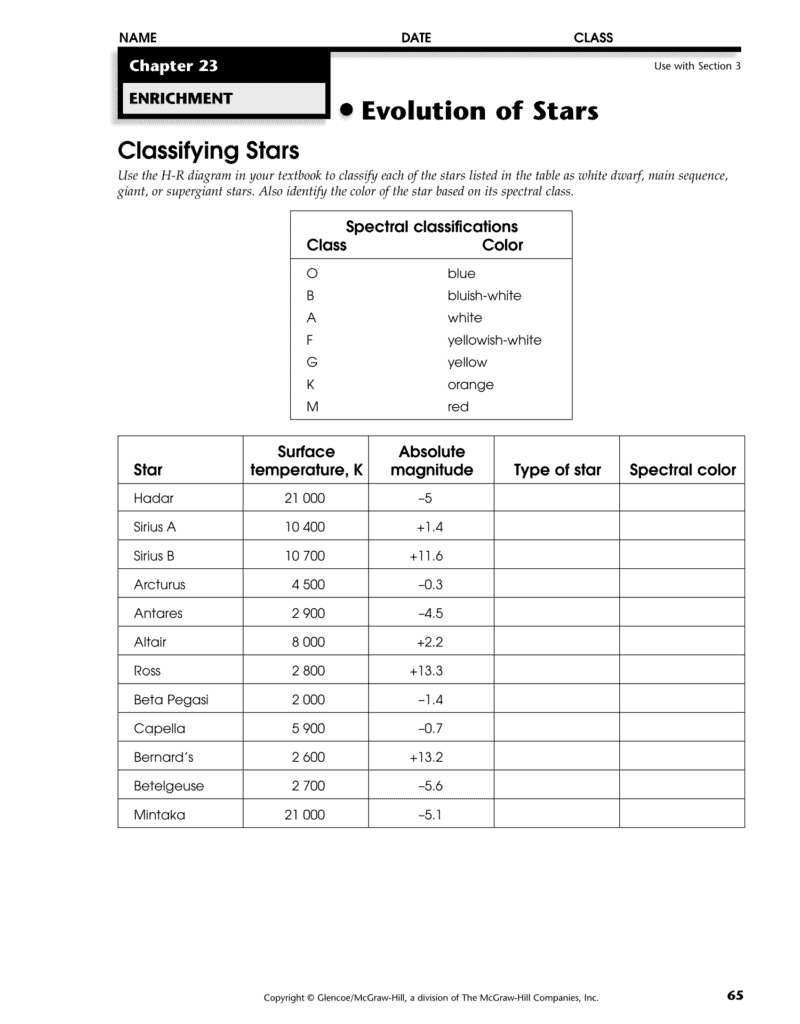 In this star classification game, your learners will find themselves immersed in a lively challenge! To come out top of the log, they'll need to classify stars based on temperature, luminosity, and color.
Learn More: Lesson Planet
4. DIY HR Diagram: Crafting Cosmic Cartography
Hands-on learning takes a stellar twist as your students sketch their very own HR Diagrams in this easy-to-conduct activity. With every pen mark, they'll solidify their understanding of the cosmos.
Learn More: YouTube
5. The Glow of Knowledge: Temperature-Luminosity Correlation
Engage your students in a thrilling investigation of how a star's temperature correlates with its luminosity.
Learn More: Chegg
6. Penning Down the Universe: Science Journal Entry
Have your students adopt the persona of a space explorer; documenting their HR diagram learnings in a scientific journal entry.
7. HR Diagram Puzzle: Piecing the Universe Together
Invite your students to tackle the cosmic mystery of the HR diagram by solving this crossword with one correct answer at a time!
Learn More: Word Mint
8. Tracing the Stars: Star-Evolving Path Activity
Step into the shoes of cosmic cartographers and trace the path a star takes as it evolves. This journey through a star's life can bring home the concepts of stellar evolution; making it a fantastic activity to round off your HR exploration!
9. Stepping into the Spotlight: HR Diagram Poster Presentation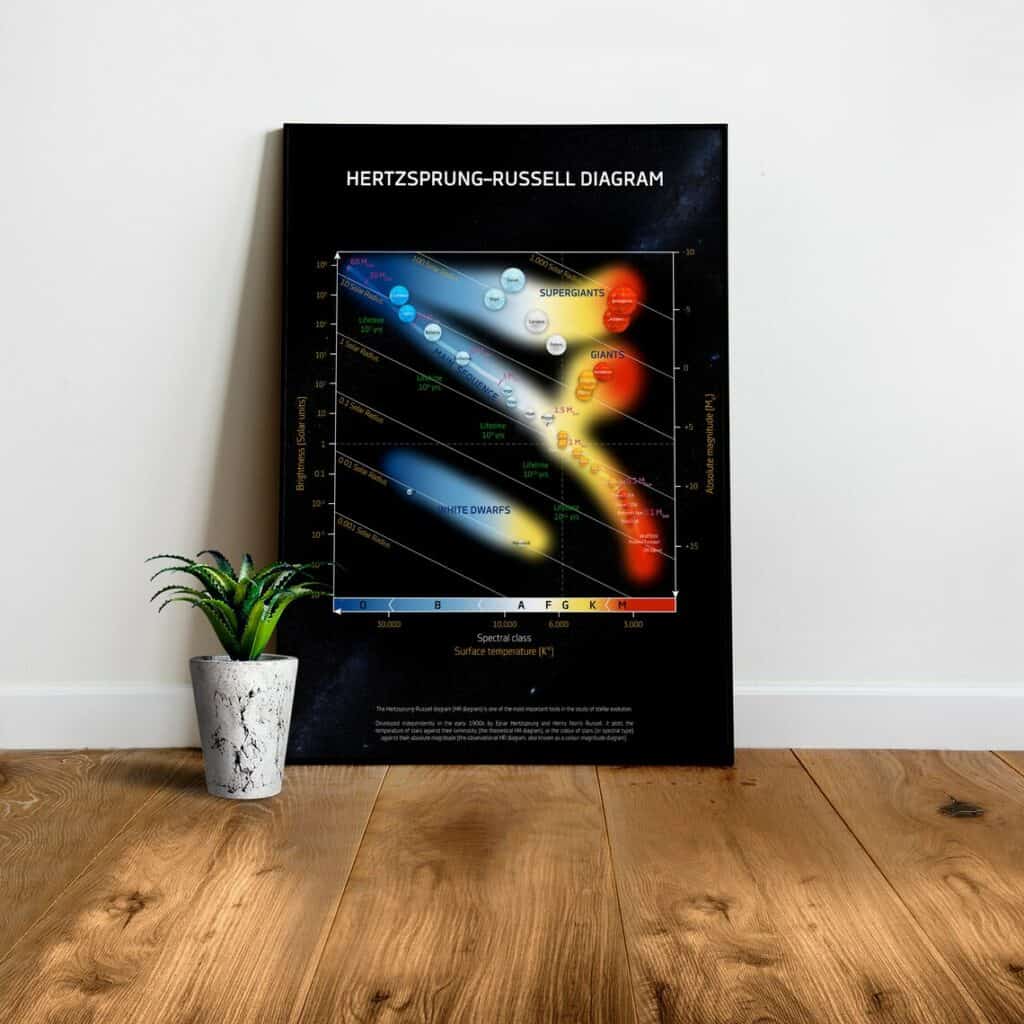 Let your students' knowledge shine bright in an illuminating poster presentation! Here's their chance to communicate the intricacies of the HR diagram and its applications; honing their public speaking skills along the way.
Learn More: Etsy
10. Interstellar Safari: Galaxy Hunt
Turn your classroom into a field of galaxies and have your students embark on an intergalactic quest; using the HR diagram to identify different types of galaxies.
11. Star Magnitude Math: Calculating the Cosmos
Mathematics takes a celestial turn in this activity! Task advanced students with calculating the absolute and apparent magnitudes of stars using the HR diagram.
Learn More: YouTube
12. Studying the Stars: Star Fact Flashcards
Flashcards take on an astronomical twist when filled with star facts. As your students use the HR diagram to categorize these cards, they'll see how rote learning can complement conceptual understanding.
Learn More: Twinkl
13. HR Diagram Quiz: A Test of Stellar Knowledge
Here's a fun way to assess your students' understanding of the HR diagram- use a quiz! Sweeten the deal with star-themed prizes to make learning more exciting.
Learn More: Teachers Pay Teachers
14. Narrating the Cosmos: Craft a Star Story
This task weaves science and creativity together! Invite your learners to craft a story to narrate a star's life using the HR diagram.
15. Space Debate: The Importance of HR Diagrams
Ignite minds as you spark discussions! Organize a debate where your students will need to argue the HR diagrams' role in understanding our universe.
16. A Stellar Timeline: HR Diagram Timeline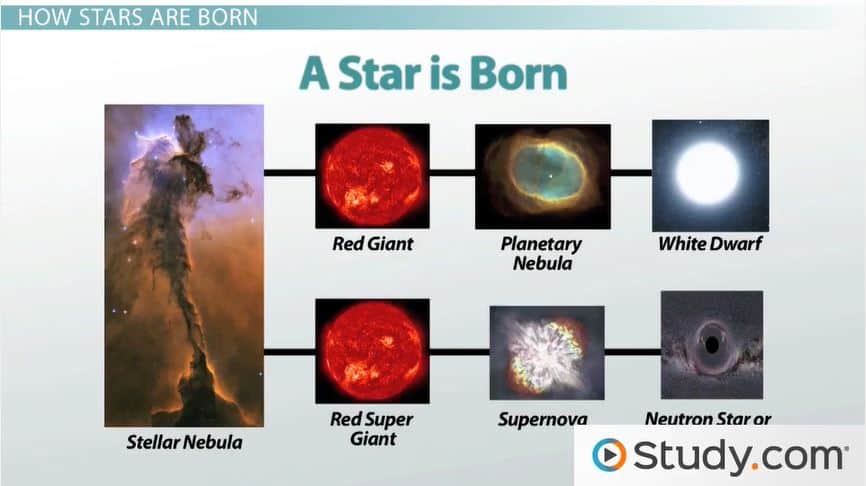 Task your students with creating a timeline using the HR diagram to map the lifecycle of our stars. What an effective way to engrain the concept of star evolution!
Learn More: Study.com
17. 3D HR Diagram: The Cosmos in Your Hands
Give your students a chance to hold the cosmos in their hands with this activity! They can build a 3D model of the HR diagram to make learning more interactive and engaging while deepening their understanding altogether.
Learn More: Learn The Sky