In 1948, the United Nations (UN) signed the Universal Declaration of Human Rights (UDHR), a list advocating for the rights of all people, regardless of nation, race, gender, or identity.
Almost a century later, human rights abuses continue to occur around the world. Providing our students with an education in civil rights can lead them to become part of the global force helping to protect citizens' rights and freedoms. Below are 18 engaging and hands-on student activities for learning and discussing the importance of these fundamental rights.
1. Human Rights Timeline
One of the first human rights documents was the Magna Carta (1215), which stated that all free people had the right to own property and be free from excessive taxation. Your students can create a timeline of historical events regarding human rights which includes this important document.
Learn More: Education in Human Rights
2. Read Current News
The news is often full of human rights issues, giving kids a chance to earn about current issues by reading about ongoing global conflicts and events. As a follow-up activity, they can try to identify which specific rights are under violation in a given article.
Learn More: Human Rights Watch
3. Study a Human Rights Activist
There have been many individuals throughout history who've fought to protect human rights. One example is Nelson Mandela, a man who challenged apartheid and racist policies in South Africa. Invite students to choose an activist to study from the list provided at the link below.
Learn More: Smashing Times
4. Wants vs. Needs Picture Collage
What is the difference between needs and wants? One important distinction is that our needs relate to our right to an adequate standard of living, complete with food, water, and shelter. Students can find magazine pictures to create a collage that separates everyday life items into needs and wants.
Learn More: Education.com
5. Decision Card Activity
It took plenty of debate before deciding on which rights to include in the UDHR. You can print these rights on paper slips and have your students sort them into the following categories: Always, Usually, or Sometimes a Human Right.
Learn More: Holocaust Museum Houston
6. Oral Discussion About UDHR
An effective thinking skills activity for any topic can be a simple oral discussion. Your students can discuss the UDHR and whether they think there should be additional rights included or removed.
Learn More: Top Teaching Tasks Members
7. Emoji Activity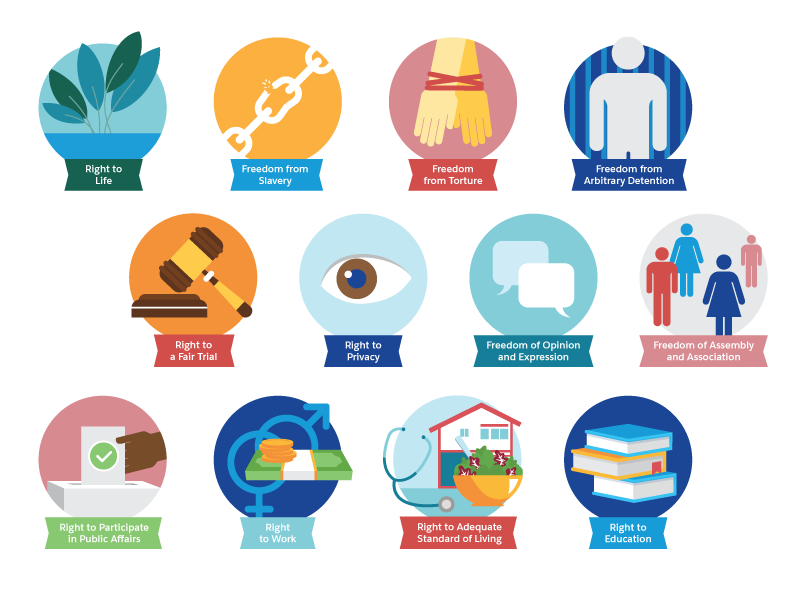 This human rights activity provides a creative opportunity for your students to summarize articles in the UDHR. The worksheet includes 23 rights that they can use to describe using emojis and explain their selection.
Learn More: Social Studies With Ms. Mc
8. Barometer Activity
The UDHR has been criticized for having a Western bias. This complicated concept is more suitable for discussion amongst your older students. After presenting a specific right, they can indicate on a scale whether they believe its basis is Western-oriented or universal.
Learn More: Holocaust Museum Houston
9. Fair
Fair is an interactive digital game that teaches human rights concepts. It includes stories and practice questions that can keep your students engaged. Why not assign this activity for homework to provide learners with additional practice?
Learn More: Council of Europe
10. The Human Rights Board Game
Here's a classroom-ready board game for learning about human rights! Students can roll the dice to advance their pawns along the game board, choosing from different categories that prompt discussion and debate.
Learn More: The Brainary
11. Syrian Journey Interactive Walk-through
Humans have the right to seek refuge in another country if they are at risk of persecution in their homeland, the Syrian conflict being one such prominent example. Students can learn about the daily life of a Syrian family seeking asylum in this interactive walk-through.
Learn More: BBC
12. Happy Family Card Game
In this game, every player is dealt seven cards representing unique individuals with the goal of placing the individual cards into complete family sets. Your students can observe the diversity of individuals and recognize that everyone has the right to be free from discrimination.
Learn More: My Family Builders
13. Read My Name Was Hussein
Reading aloud books to your younger students can be an effective way to demonstrate the reality of human rights issues. This story is about a boy named Hussein who had his freedom of religion taken away and was forced to change his name and convert to Christianity.
Learn More: Amazon
14. Watch Girl Rising
Education is a fundamental human right and your students might be surprised to discover that it's not readily available to everyone. Some people need to fight for it. Girl Rising is a powerful documentary that follows nine girls in their pursuit of access to quality education.
Learn More: Girl Rising
15. UN Simulation
In this role-play activity, students can take on the position of a UN delegate and participate in discussions about human rights. There is a pre-organized simulation program, called Model UN, that they can also join. As an extension activity, you could host a small-scale version in your classroom.
Learn More: Mindler
16. Hang Up a Poster
You can consider hanging up a poster in your classroom to provide students with a quick reference when contemplating human rights or social justice issues. Alternatively, students can create the poster themselves.
Learn More: Kid World Citizen
17. Listen to Children's Human Rights Song
Your students can listen to this catchy tune about human rights and equality, helping to reinforce their learning in a fun and expressive way. After listening to it a few times, why not invite them to sing along?
Learn More: Happy Learning English
18. Teach About the UN Convention on the Rights of the Child (UNCRC)
The 54-article UNCRC is a child-focused extension of the UDHR. Examples include the right to a name, nutritious food, clean drinking water, and privacy. After teaching these rights to your students, have them compare them to the UDHR.
Learn More: UNICEF