Weighing less than a nickel, hummingbirds are some of the coolest animals for kids to learn about. They flap their wings so fast that the human eye can't even see the birds' wings when they're flapping. These cool facts are what make hummingbirds so unique, and kids will love exploring more information about them! The activities below invite kids to learn more about hummingbirds through hands-on tasks that include gardening, coloring, putting together a puzzle, and more. Here are 18 hip hummingbird activities that your kids will love!
1. Make a Hummingbird Feeder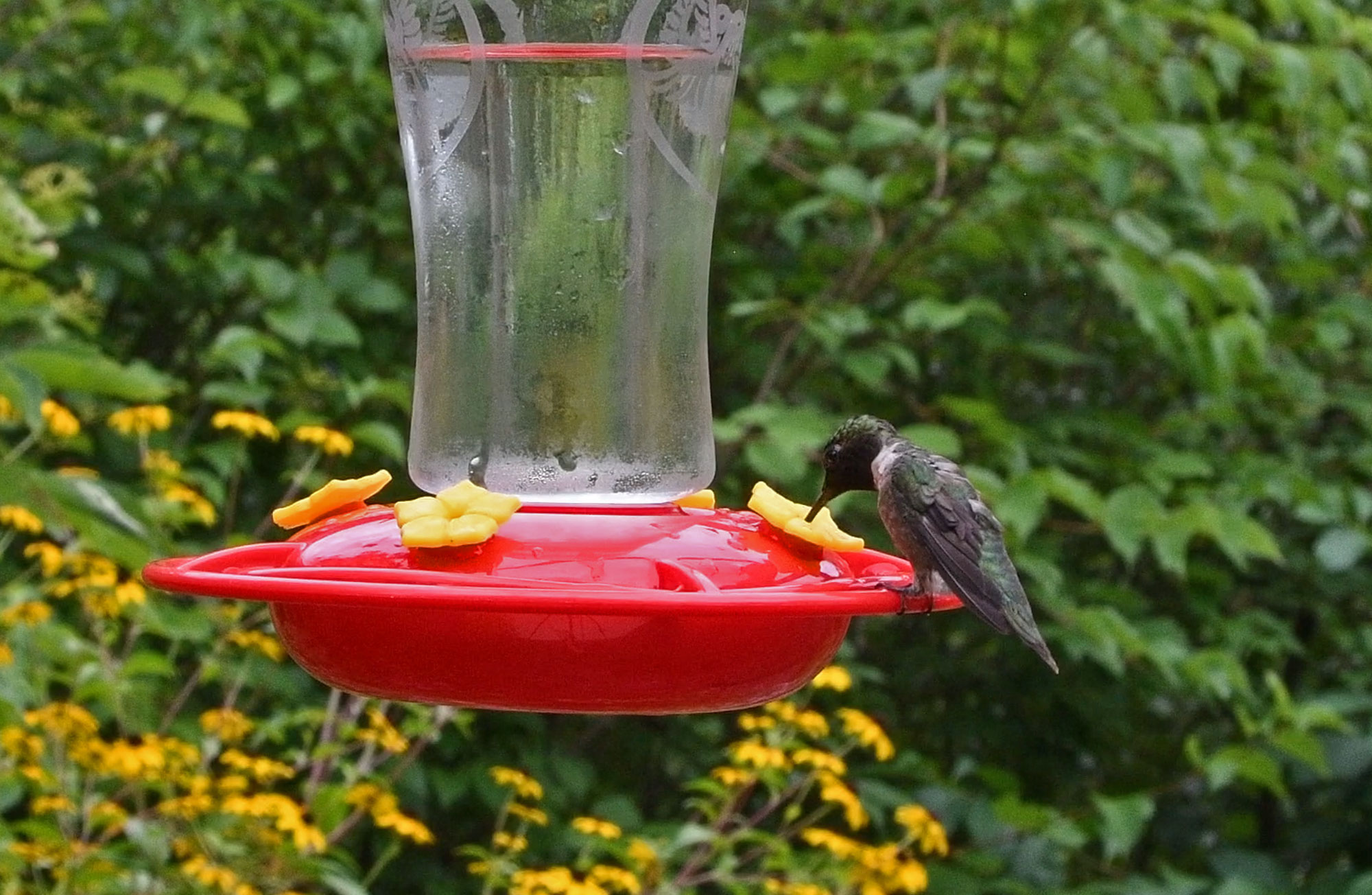 All this activity requires are a few recycled materials. Kids can make a hummingbird feeder using a recycled soda or water bottle. Kids cut out a hole for the birds to access the hummingbird food, and then decorate the feeder in hummingbird flower colors. As birds feed, kids can observe hummingbird behavior!
Learn More: Audubon.org
2. Pom Pom Hummingbird Craft
This craft is fun for all ages. Kids will use two colorful pom poms to make the body of a hummingbird. Then, they use a cupcake liner to make the wings and a toothpick to make the nose. Finally, they can add googly eyes to complete their cute hummingbird craft.
Learn More: Audubon.org
3. Draw a Hummingbird
This video teaches kids how to draw a hummingbird. To draw the hummingbird, kids will need blank paper, colored markers, and a sharpie marker. Kids can watch and pause the video as they go through step-by-step instructions to make a beautiful hummingbird in their color of choice.
Learn More: Art for Kids Hub
4. Label Parts of a Hummingbird
Hummingbirds are a unique bird species that kids love learning about. In this lesson, kids will use the free printable to label the different parts of the hummingbird. They will learn about the attributes of hummingbirds and how they're different from other birds.
Learn More: Montessori Nature
5. Complete a Puzzle
This cute puzzle includes images of several different kinds of hummingbirds including a flower ruby-throated hummingbird and the broad-billed hummingbird. Care providers love how long this puzzle keeps kids busy and kids love finding the pieces to complete each bird.
Learn More: Hummingbird Guide
6. Hummingbird Coloring Pages
Kids love coloring the different types of hummingbirds on these coloring pages. They can color a male ruby-throated hummingbird and a female ruby-throated hummingbird, as well as hummingbirds at a flower and on a perch.
Learn More: Hummingbird Guide
7. Hooked on Hummingbirds
This resource uses a variety of approaches and information to get kids hooked on hummingbirds! They'll use field guide resources, a book about hummingbirds, and educational videos to learn interesting facts about hummingbirds. The goal of this activity is to get kids excited about their hummingbird unit.
Learn More: Kids Gardening
8. Paint It Red
Hummingbirds are attracted to the color red more than any other color, so a great backyard hummingbird activity is to paint rocks red! Kids can make rock ladybugs and rock flowers to help attract hummingbirds to their backyard.
Learn More: Platthill Nursery
9. Install a Bird Bath
Another addition to your backyard that kids can help with is installing a bird bath for hummingbirds. They'll love drinking the refreshing water and using it to help keep cool during the hot Summer months.
Learn More: Plathill Nursery
10. Make Hummingbird Nectar
Hummingbirds are attracted to a sweet substance called nectar. Nectar exists in flowers, but kids can also make nectar for hummingbird feeders using this easy-to-follow recipe. They'll simply need sugar and water to make the nectar to attract the birds.
Learn More: Hummingbird Spot
11. Hummingbird Suncatcher
This hummingbird craft can be displayed year-round. Kids will use light paint to decorate their birds. They can then use any other color to make their hummingbird vibrant and eye-catching. Kids will love seeing their crafts in the window!
Learn More: Kids Art N Craft
12. Hummingbird Paper Cut Activity
This unique craft is intricate and beautiful. This craft is better for older kids who have patience and can make detailed cuts. This is also a great craft to complete and hang in a classroom or bedroom for display.
Learn More: Kids Art N Craft
13. Character Counts
In this activity, kids learn that hummingbirds are resilient and adaptive. Then, they'll learn how to apply the hummingbird's characteristics to their own lives. They'll also learn fun facts about hummingbirds that show how they persevere in the wild despite their small features that could be seen as boundaries.
Learn More: Meaningful Mama
14. Hummingbird Nest
In this activity, kids will craft a hummingbird nest using wood, clay, yarn, and moss. Kids can construct a nest to show how these fascinating birds live in the wild. Then, they can place two tiny eggs into the nest to learn about how tiny these birds are once hatched.
Learn More: The Crafty Classroom
15. Nature Journal
Another great addition to a unit study is a hummingbird nature journal. Kids will observe hummingbirds and keep their facts, observations, and sketches in a journal. Kids can then share their observations with friends and family.
Learn More: The Crafty Classroom
16. Hummingbird Puppet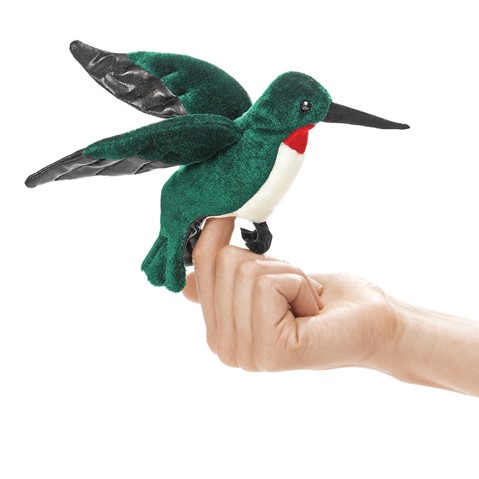 Little kids learn a lot by watching cartoons, tv shows, and even plays. Kids can learn about hummingbirds by watching a play. Teachers can use a hummingbird puppet or even have kids make puppets to use in their plays.
Learn More: Magical Movement Company Carolyn's Blog
17. Make a Nesting Wreath
This nesting wreath activity is a fun way to get kids interested in bird watching, nature, and hummingbirds. Kids will create a nest by adding nesting material to the metal frame. Then, they will display the wreath in the yards and watch as hummingbirds use the materials to make their nests.
Learn More: Magical Movement Company Carolyn's Blog
18. Hummingbird Reading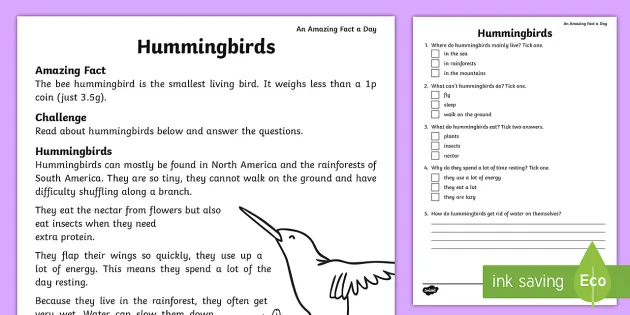 One of the best ways to teach kids about hummingbirds is to have them read about them. In this activity, students will read information about hummingbirds and then complete a comprehension activity to test their knowledge about the birds.
Learn More: Twinkl