We're here to show you all the wonderful ways that you can put those leftover popsicle sticks to use after enjoying a couple of creamy delights! Whether you call them popsicle sticks or craft sticks, two things are certain – they're versatile and oh-so-fun to work with! From building structures to creating artwork, we've got a collection of 20 unique activities that are sure to engage and inspire all of your little ones. Without further delay, let's get crafty and discover the endless possibilities of ice cream sticks!
1. Tower Challenge
Put your learners' engineering skills to the test with this challenge! Challenge them to use only ice cream sticks and glue to build the tallest tower possible. Encourage creativity and problem-solving as they experiment with different designs and techniques. Who will build the most impressive tower? Let's see!
Learn More: Structure Planet
2. Popsicle Stick Puppets
Let the storytelling begin as you craft these funky popsicle stick puppets! Students can design and decorate their own characters on ice cream sticks. Whether it's for a play, a puppet show, or just some creative fun, these puppets will add a touch of magic to any storytelling adventure.
Learn More: DIYs
3. Picture Frame Masterpiece
Get ready to showcase those treasured memories! Guide your learners in creating unique picture frames using ice cream sticks. They can then decorate them with paint, glitter, or other craft supplies to add a personalized touch. Whether it's a gift for someone special or a keepsake for themselves, these frames will turn any photo into a masterpiece.
Learn More: Backyard Crafts
4. Mini Easel Creations
Unleash the artist within with mini easel creations! This activity invites your little ones to transform ice cream sticks into mini easels; perfect for displaying their artwork! They can experiment with different painting techniques or even create their own mini art gallery.
Learn More: Art Projects for Kids
5. Colorful Wind Chimes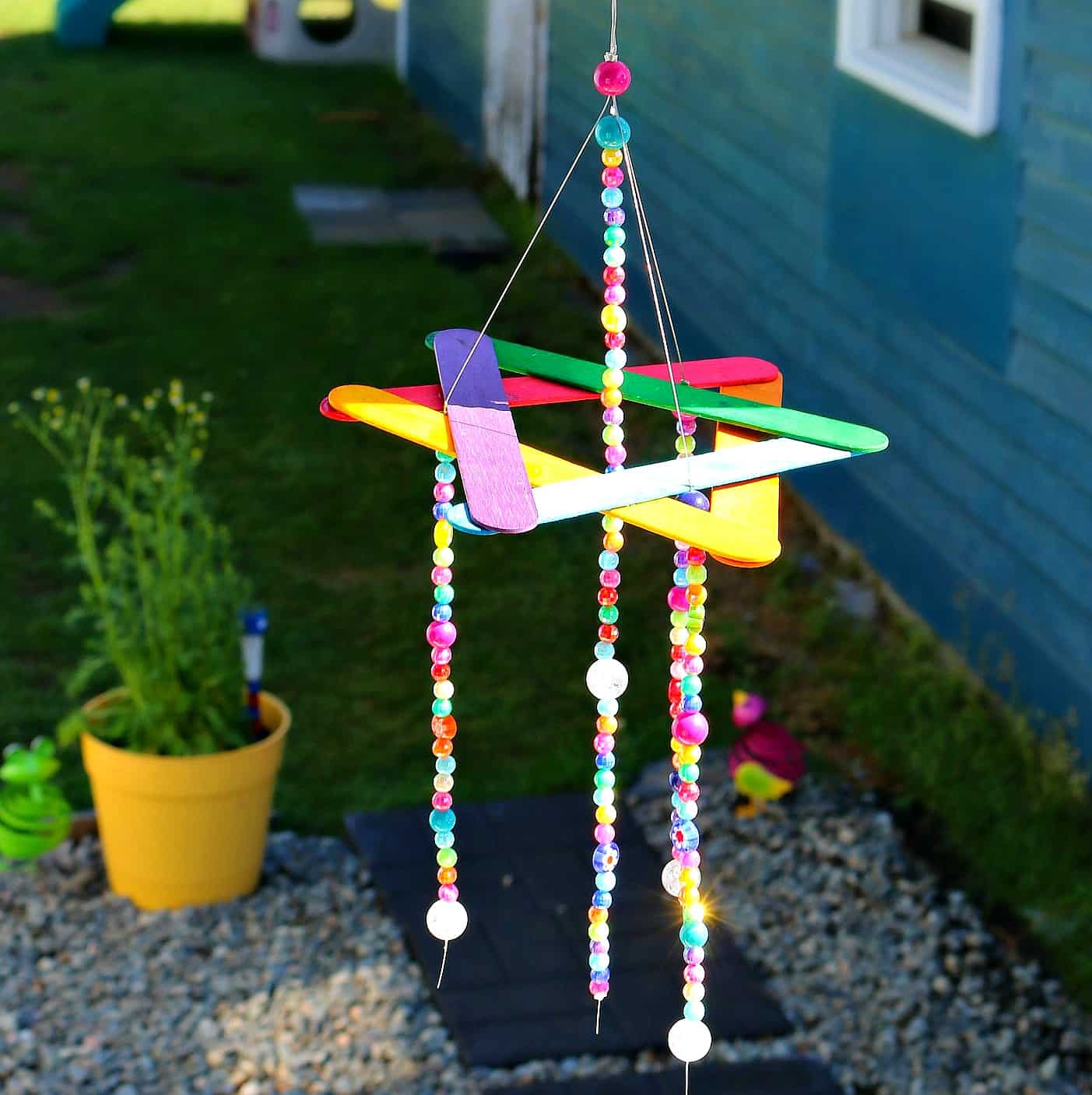 Add a touch of music to the breeze with colorful wind chimes! Get your students to paint and decorate ice cream sticks before stringing them together with beads or bells to create a beautiful wind chime. Help them hang them outside and listen to the soothing sounds as the wind dances through their creations.
Learn More: How to This and That
6. Popsicle Stick Puzzles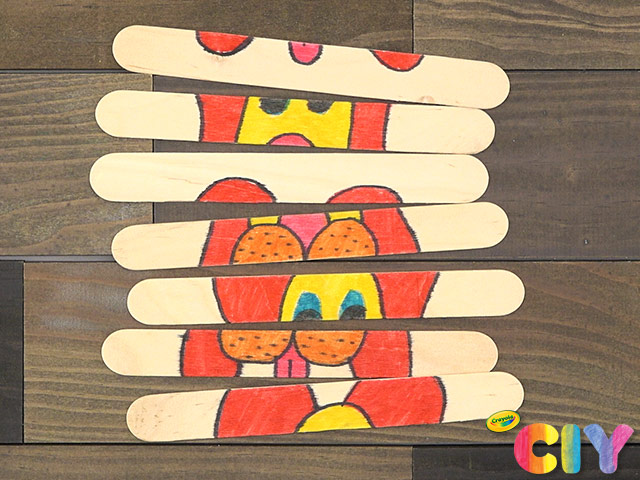 Challenge those little minds with popsicle stick puzzles! Help your students draw or paint a picture on ice cream sticks before shuffling them and challenging them to put the puzzle together again! They can also exchange puzzles with their classmates and see who can solve them the fastest.
Learn More: Crayola
7. Craft Stick Bracelets
Up the ante on the fashion front with one-of-a-kind bracelets! Set the scene for your little ones to decorate ice cream sticks with paint, markers, or washi tape. Then, help them bend and connect them to create unique bracelets. What a stylish and fun way to showcase their artistic abilities!
Learn More: Jennifer Perkins
8. Building Bridges
It's time to build some bridges with a fun STEM challenge! Get your learners to design and construct bridges using only two materials- ice cream sticks and glue. They can explore different bridge designs and test their strength by placing weights on top. Who can build the strongest bridge? Let the engineering challenge begin!
Learn More: Dyartorin Crafts
9. Story Stick Adventure
Ignite your learners' storytelling skills with story-stick adventures! Students will create story sticks by decorating ice cream sticks with characters, settings, and objects. Then, they can take turns using the sticks to create unique stories. What a fun activity to boost those creative writing skills!
Learn More: Glued to My Crafts Blog
10. Craft Stick Weaving
Introduce your little ones to the art of weaving with craft sticks! Help your pupils create a loom using ice cream sticks and then show them how to weave colorful yarn or ribbon through the gaps. They can experiment with different patterns and create striking woven masterpieces to adorn their learning space.
Learn More: My Kid Craft
11. Magnetic Popsicle Stick
Time for some magnetic magic with another cool activity! Learners can unleash their creativity by decorating ice cream sticks with paints, markers, or stickers. They can then attach small magnets to the back of the sticks; turning them into interactive pieces of art. They can arrange and rearrange their magnetic creations on any magnetic surface like a fridge or whiteboard to add a touch of color and fun to the space.
Learn More: The STEM Laboratory
12. Popsicle Stick Tic-Tac-Toe
Time for a friendly game of tic-tac-toe! You can transform ice cream sticks into game pieces by painting Xs and Os on them. Learners can then create a grid on a piece of paper or cardboard and challenge their friends to strategic matches of tic-tac-toe. What a great way to develop critical thinking skills while having a blast!
Learn More: Education
13. Popsicle Stick Catapults
Prepare for some engineering excitement with popsicle stick catapults! Task your learners with a construction quest where they'll need to design mini catapults using ice cream sticks, rubber bands, and a plastic spoon. They can then explore the concepts of force and motion as they launch small objects into the air. Who can launch their object the farthest? Let the catapult competition begin!
Learn More: My Silly Squirts
14. Craft Stick Animal Masks
Here's one for animal lovers! Imaginations are sure to run wild as your students decorate ice cream sticks with paint, markers, and craft materials to create their favorite animal masks. They can wear their masks during imaginative play, school performances, or animal-themed events.
Learn More: Pinterest
15. Popsicle Stick Harmonicas
Who knew that popsicle sticks could be transformed into musical instruments? Gather a bunch of craft sticks and guide your learners in constructing mini harmonicas using ice cream sticks, rubber bands, and small pieces of paper. They'll discover the principles of sound as they play their harmonicas and experiment with different pitches; overall, a delightful way to explore the world of music and create their own tunes!
Learn More: My Baba
16. Ice Cream Stick Jewelry Holder
Help your students organize their jewelry in style with an ice cream stick jewelry holder! They can decorate and assemble ice cream sticks to create a unique and practical jewelry holder. Once assembled, they can personalize it by painting it and gluing it on decorative elements before proudly displaying their jewelry on this handmade creation.
Learn More: Artkala
17. Craft Stick Bookmark
Encourage a love for reading by making a special bookmark. Students can decorate ice cream sticks with colorful designs, quotes, or their favorite storybook characters. They can then add ribbons, tassels, or pom-poms as a custom touch.
Learn More: Missy Craft
18. Ice Cream Stick Photo Mobile
Capture all those special memories with an ice cream stick photo mobile! Students can decorate and connect ice cream sticks with strings or ribbons. They can then attach small printed photos or drawings to their sticks and hang them from the mobile. What a beautiful way to display their cherished memories and add a decorative touch to any space.
Learn More: My Crafts
19. Craft Stick Paintbrushes
This activity is the epitome of art made easy! Invite your students to design and craft their own paintbrushes by attaching different materials such as feathers, cotton balls, or sponges, to the end of ice cream sticks. They can then experiment with different textures and techniques to create unique and textured artwork.
Learn More: Craft Creator Box
20. Popsicle Stick Dominoes
Bring the classic game of dominoes to life in a new way with popsicle sticks! Get your learners to decorate ice cream sticks with numbers or patterns to create a unique set of dominoes. They can challenge their friends to strategic matches and develop their counting and math skills in an engaging way.
Learn More: Fun Crafts Kids