Idioms are hard to understand, especially for kids. We hear them every day, but do we really know what they mean? With these fun lesson ideas, you can teach your little ones about everyday idioms, funny idioms, and even lessons on history and science through idiom usage! Scroll below to find some great ongoing learning tools for your in-person and digital classrooms. There are activities for all grade levels. Ready, set? Let's learn all about idioms!
1. A Bull in a China Shop
Meaning: behaving recklessly in a way likely to cause harm. You'll need some Legos for this hands-on activity. Follow the steps in the video to learn how to build a kicking bull. Then watch your kids wreak havoc as they learn the figure of speech!
Learn More: The B3
2. A Little Birdie Told Me
Meaning: you're not going to say how you found out about something. Seeing idioms illustrated helps kids remember what they mean. Have your kids create cards for friends and family with a little bird sending a message from a secret source.
Learn More: Pinterest
3. A Piece of Cake
Meaning: something easily done. Is there a better way to learn than with food items? Probably not. So grab your favorite cake-making ingredients and show your kids that baking and idioms are both "a piece of cake"!
Learn More: Pretty Simple Sweet
4. A Rip-Off
Meaning: cheat someone. We've all seen those Halloween costumes. To help students understand the idiom's meaning, have them come up with their own ridiculous rip-off costumes. Then show them off in a great classroom community activity.
Learn More: Buzzfeed
5. Add Fuel to the Fire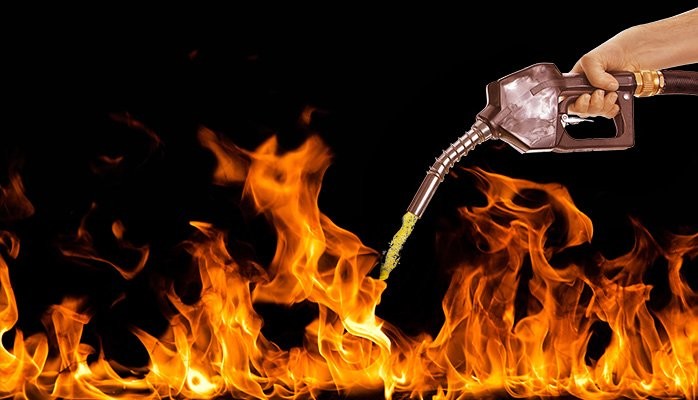 Meaning: cause a conflict to worsen. Get hands-on with idioms. Collect fuel for the fire; with each stick representing a phrase, action, or idea that can hurt someone. As you add them to the fire, have your students reflect on what happens when they add their fuel.
Learn More: The Telegraph
6. As Easy as ABC
Meaning: extremely easy. Show your kids that learning figures of speech can be easy and fun! This video explores the idiom while teaching kids the importance of welcoming new students to the class.
Learn More: ABCmouse.com
7. At The Drop of a Hat
Meaning: without delay, immediately. This quick video easily explains the actual definition of the idiom and tells kids where the phrase comes from. Once you've watched it, grab a hat and "drop it" to start a race between your students.
Learn More: VOA Learning English
8. Be a Chicken
Meaning: cowardly. Have your kids act out this fun idiom! Divide the class into groups and see if they can guess what it is. Watch to see if students interpret the literal definition of the phrase instead of the actual definition.
Learn More: English with Karim
9. Bee in Her Bonnet
Meaning: to talk and think about something a lot. This idiom is a great discussion starter. Ask your kids what "bee" is in their bonnet today. Then use their response to talk about bigger issues like climate change, politics, or bullies at school.
Learn More: BBC
10. Birdbrain
Meaning: an annoyingly stupid and shallow person. Birdbrain is one of many bird idioms found on this poster. Place it in your classroom to help kids learn what each one means. Discuss if the meaning or wording of the idiom could be hurtful to someone.
Learn More: ISLcollective
11. Blow off Some Steam
Meaning: get rid of pent-up energy. Kids often need to blow off steam, especially after sitting in class. Get them up and moving with this exercise video. Have them shout their favorite idioms as they follow along.
Learn More: Little Sports
12. Busy as a Bee
Meaning: very active. Build a bee hive in your classroom to represent one of the most common idioms we use. Collect egg cartons and other materials to make the hive. Then keep them busy assembling it and creating honey for each comb.
Learn More: Ms. Barbara's Blog
13. Call It a Day
Meaning: end a period of activity. Watch the idiom in action! This short video does a fantastic job of visualizing the idiom for kids. Use it to tell your students that today's lessons are over.
Learn More: AppuSeries
14. Cat Got Your Tongue
Meaning: when someone is unusually quiet. Test out your artistic skills and create idiom posters. Have students draw what they think an idiom means, then write the actual meaning below. A great way to get students excited about idioms!
Learn More: Oyster English
15. Cool as a Cucumber
Meaning: very calm. Treat your kids to a spa day. Slice some cucumbers and place them on their eyes. Then sit back and be "as cool as a cucumber." Perfect for relaxing after stressful days of school.
Learn More: Bored Panda
16. Crack a Book
Meaning: to study. There are a number of great books about idioms for kids. Choose from this selection and add it to your trove of English resources. Then make this idiom come to life by "cracking the book."
Learn More: Haiku Deck
17. Cross Your Fingers
Meaning: hope that someone or something will be successful. Everyone knows about crossing their fingers for luck. But did you know there's a surprising history behind the gesture? Have your students discover what it is with a history assignment on idioms.
Learn More: Refinery29
18. Crocodile Tears
Meaning: insincere or false tears. This spooky video is great for a Halloween idiom activity for the 3rd grade and up. Teach them what happens when they use "crocodile tears" to get what they want.
Learn More: Grizzy Tales for Gruesome Kids
19. Curiosity Killed The Cat
This means: asking about other people's business may get you into trouble. Jokes are an awesome way to teach idioms. Have kids design their own silly pictures to illustrate a daily idiom joke. Bonus points if they come up with their own idiom!
Learn More: Pinterest
20. Different Kettle of Fish
Meaning: a completely different kind of person or thing than the one before. This idiom is perfect for diversity lessons. With each "fish" representing a different culture, have your students make culture-to-culture comparisons to see what they have in common.
Learn More: Pediastaff
21. Doggy Bag
Meaning: a bag for leftovers. There are often lots of leftovers to go around during the holidays. Let your kids create a personalized doggy bag. When everyone has eaten, have them grab some boxes of food to fill the bag!
Learn More: Darcy Miller Designs
22. Don't Put All of Your Eggs in One Basket
Meaning: don't invest all your resources into one thing. Teach your kids the importance of diversifying their college options, classes, or investments. This idiom is a gateway to tons of other subject lessons. Make some eggs in a basket for a tasty idiom-related treat!
Learn More: Freelance Theory
23. Feeling Blue
Meaning: to feel sad. Teach your kids about their emotions. This short song helps kids understand the idiom. It also shows the importance of helping others and asking for help when you need it.
Learn More: Netflix Jr.
24. Fill in the Blanks
Meaning: to provide the missing information. Build your students' academic writing by "filling in the blanks" with a great language resource: Mad Libs! Start with words that make sense in the story. Then try to make it as funny as possible. Bonus points for creating an idiom!
Learn More: Hessun Academy
25. Fish Out of Water
Meaning: a person away from their usual environment. Moving somewhere new can be scary. Create your own fish in this simple idiom activity. Afterward, talk about how everyone feels like a "fish out of water" from time to time.
Learn More: Glued to My Crafts
26. For the Birds
Meaning: unimportant. Kids can get stressed out. Show them this short film to help them learn not to sweat the small stuff. After, lead them in a journal activity to reflect on what is unimportant in life.
Learn More: Superduper English Idioms
27. Get a Kick Out of It
Meaning: to be amused by. We all get a kick out of watching animal fails on the internet. Help your little ones discover the meaning of this idiom with this video. Afterward, get them up and kicking with some physical exercise.
Learn More: Tolentino Teaching
28. Get Cold Feet
Meaning: a loss of nerve or confidence. Tie this idiom into a lesson about the American Revolution. While your kids deal with their cold feet, help them understand the difference between the literal and actual definitions of the idiom.
Learn More: 123Homeschool4Me
29. Get Off Your High Horse
Meaning: stop behaving in a superior manner. Poems are a great way to introduce kids to idioms. Read the poem and discuss what it means. Then have your kids pick an idiom and create poem posters to share!
Learn More: Poem Hunter
30. Get Your Act Together
Meaning: organize yourself. Kids have a ton of stuff. At some point, they're not going to be able to find their homework, project, or favorite toy. Help them "get their act together" with these fun organizing activities.
Learn More: Clutter Keeper
31. Get Your Feet Wet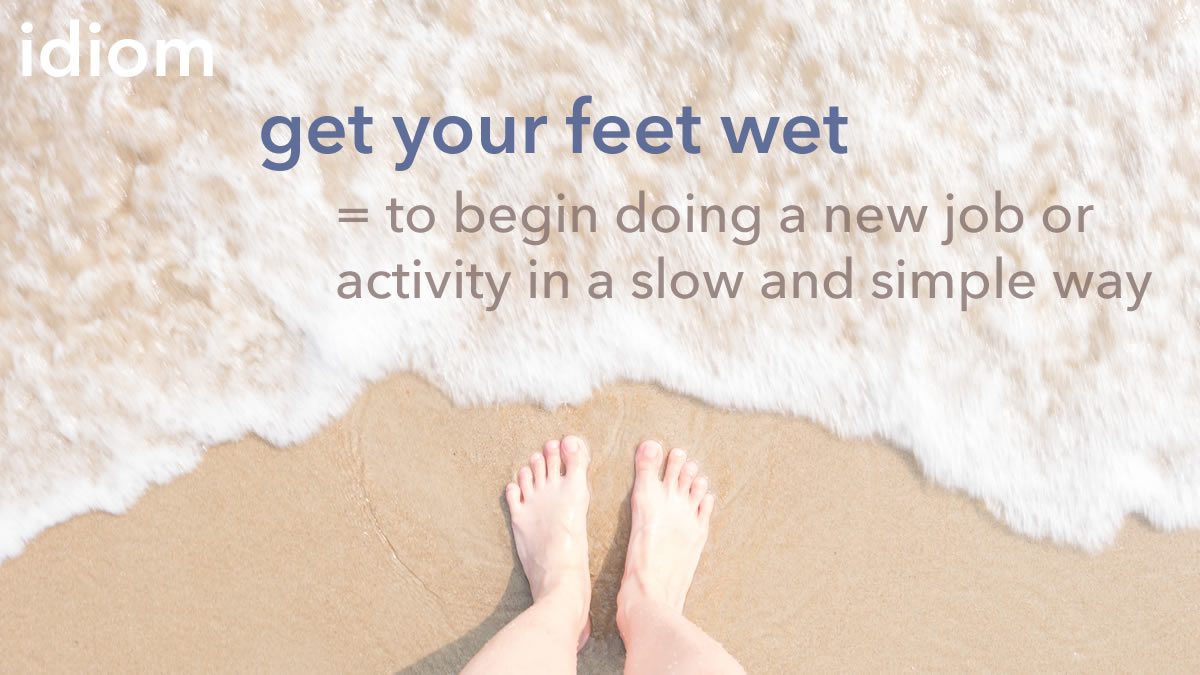 Meaning: to slowly start something new. This a great idiom for the start of the school year! When your little ones decide to start something new, have them repeat this idiom to themselves. Remind them that being slow and simple is a great way to start!
Learn More: The Britannica Dictionary
32. Give the Cold Shoulder
Meaning: intentionally ignore someone. This idiom poster is a great addition to your classroom. It's also a good resource for teaching your kids about bullying. Have them design their own posters about bad behavior idioms. Then discuss the importance of safe spaces.
Learn More: Vecteezy
33. Goose is Cooked
This means no possibility of success. This short animation teaches kids all the ways to use the phrase "goose is cooked." Use it to help your kids learn the different parts of a sentence and how versatile idioms are.
Learn More: Real English
34. Have Ants in Your Pants
Meaning: to be restless. Another great idiom to get your kids up and moving! At a random point during the day, yell, "ants in your pants". Once they hear it, your kids need to get up and move until the ants are gone.
Learn More: Joco1296
35. Have a Change of Heart
Meaning: to change your opinion or feelings about something. Let your kids know that it's ok to change how they feel about something. The Grinch is a perfect example to show that it is an important part of growing up.
Learn More: Slide Serve
36. Have Mixed Feelings
Meaning: conflicting feelings or emotions about something. Guide your students through a writing exercise where they explore their mixed feelings about an event. Let them share their experiences to reflect on their complex feelings and emotions.
Learn More: Idioms4you
37. Head in the Clouds
Meaning: daydreaming, to be out of touch with reality. This short story is a cute addition to your idiom of the daily lessons that allow kids to practice their reading skills. Once you've finished, have them draw an additional page to the book!
Learn More: The Dabbling Speechie
38. Hit the Hay
Meaning: to go to sleep. If you have older students, have them research the origin of the idiom. Not only does it give the idiom more meaning, but it also is a great link to a history lesson!
Learn More: Pediastaff
39. Hold Your Horses
Meaning: wait a moment. Teach your kids patience by incorporating this idiom into a game of red light, and green light. Have them go towards the finish line until you yell, "hold your horses". Don't let them move until you say go!
Learn More: Funky English
40. Horse of a Different Color
Meaning: a very different thing. This idiom activity gets your kid's artistic juices flowing. Give them an outline of a horse and let their imaginations go wild. Display the different horses to show how special each one is and remind your students of their own unique qualities.
Learn More: Idioms By Kids
41. Hot Dog
Meaning: very pleased about something. Surprise your kids with an idiom snack! Grab your favorite type of hot dog and toppings. Then see who can make the tastiest treat. If your kids approve, have them yell, "Hot Dog"!
Learn More: Foodal
42. I'm All Ears
Meaning: to listen attentively. Practice active listening skills with this idiom. As one student tells a story, have the other students be "all ears." Once the story finishes, have them write down all the important details to see if they are paying attention.
Learn More: Pinterest
43. In Hot Water
Meaning: to be in a difficult situation. This short video explains the idiom's meaning. Once your students watch it, have them share a time when they were in hot water. Connect your English and history lessons by discussing moments when people were "in hot water."
Learn More: The Canadian House Center
44. It Costs an Arm and a Leg
Meaning: very expensive. Kids don't always understand how money works. This idiom is a great way to help them learn. Have them make a wish list and guess the prices of their items. Look up how much they cost and see if any "cost an arm and a leg".
Learn More: English Help Online
45. It's in the Bag
Meaning: assured of success. Follow along with Tutor Nick as he explains the meaning and history behind the idiom. The interesting history of the phrase has a great tie-in for all the sports fans out there! Ask your students if they had a moment they thought something was "in the bag."
Learn More: Tutor Nick P
46. It's Raining Cats and Dogs
Meaning: very hard rain. Pull out those stuffed animals and make it rain! Capture the cats and dogs in a bucket or umbrella. Or turn the idiom into a costume! Attach stuffed cats and dogs to an umbrella and you're ready to go!
Learn More: Farmers Almanac
47. It's Water Under the Bridge
Meaning: something in the past is no longer important. We've all heard the song a million times. Luckily, it's the perfect way to teach your kids this idiom's meaning! Use it to help them understand the importance of letting go of things.
Learn More: Walt Disney Animation Studios
48. Let the Cat Out of the Bag
Meaning: reveal a secret by mistake. Reinterpret Hot Potato for this idiom. Place a stuffed cat in a bag. Then have your students pass it around until the music stops. Whoever is holding the bag has to "let the cat out" and use an idiom in a sentence.
Learn More: Reader's Digest
49. Mad as a Hatter
Meaning: crazy. Did you know hat makers used to go crazy from mercury poisoning? Luckily this activity is safe for hatters of all ages! Help your kids shape their hats. Then let them decorate it with feathers, ribbons, and bows.
Learn More: DIY Inspired
50. Make a Mountain Out of a Molehill
Meaning: exaggerate the importance of something. Have your students reflect on a time when someone has made something seem super important that wasn't. Ask them to reflect on how that made them feel and if they have ever done it themselves.
Learn More: Superduper English Idioms
51. Miss the Boat
Meaning: a missed opportunity. Let your kids schedule your next day out. If you live near public transportation, see if they have enough time to catch the bus or train. Teach them the importance of time management.
Learn More: English Stack Exchange
52. Mumbo Jumbo
Meaning: nonsense. Learn all about the fascinating history of where this idiom comes from! The video does a great job of explaining the evolution of the phrase from its West African origins. Afterward, have your kids create their own "mumbo jumbo"!
Learn More: Self-Taught English
53. Night Owl
Meaning: someone who stays up late at night. There are a lot of bird-related idioms out there, and this short video covers them all! Teach your little ones how to use them in everyday conversation. Practice how to use them with a journal writing activity.
Learn More: Little Telly Kids
54. Out of the Blue
Meaning: unexpectedly. One of many blue idioms, this one is great for a pop quiz. This online resource has a range of idiom-related quizzes to add to your teaching resources. The quizzes are grouped by idiom theme, so it's easy to find one related to your lesson.
Learn More: English Club
55. Pass with Flying Colors
Meaning: successfully complete a task with ease. Celebrate your little ones' successes! Grab your crafting supplies and create a colorful kite once you've tied the string on tight, head outside to watch the colors fly!
Learn More: About A Mom
56. Play It By Ear
Meaning: do something without any preparation. A great way to get your kids involved with this idiom is to do some improv! This series of improv games will keep your kids on their toes. Perfect for getting them to let loose and have some fun.
Learn More: All Group Games
57. Pig Out
Meaning: eat too much. Sneak this idiom into your kids' next party. Create a buffet of their favorite foods and let them "pig out!" Use these fun and clever snack ideas to sneak in healthy food options that'll keep them coming back for more.
Learn More: Mom Junction
58. Put a Bug in His Ear
Meaning: give someone a hint about something. Bugs can be gross. However, these bugs can be helpful for getting the job done! Grab this whimsical book and help your kids understand idioms with everyday examples. Perfect for the strangest, most bizarre idioms out there.
Learn More: Child's World
59. Read Between the Lines
Meaning: discover a hidden meaning. Put their detective skills to work with some invisible ink! Grab an old book and scribble hidden messages "between the lines". See if your kids can uncover the messages. Add riddles and a scavenger hunt for more idiom fun!
Learn More: Team Cartwright
60. Rub Salt in Your Wound
Meaning: make a difficult situation worse for someone. This video does a fantastic job of going over all the different iterations of this idiom. Use it to teach your kids about how to recognize bullying and how they can help stop it.
Learn More: Essential English Idioms and Phrases
61. Run-of-the-Mill
Meaning: ordinary or normal. There's no reason for your idiom activities to be "run-of-the-mill." Look for ways to incorporate idioms into other subject lessons. For example, build a water wheel to power a mill for a fun idiom-STEM crossover!
Learn More: There's Just One Mommy
62. See Eye to Eye
Meaning: to agree completely. This idiom is a perfect addition to debate activities. Give your students writing tasks to outline their points. Then pair them up and see if they can convince each other to "see eye to eye."
Learn More: The English Hub Malta
63. Second to None
Meaning: better than all others. This short and sweet round is easy for kids to learn. It will ensure that they never forget the meaning of the idiom. After you watch it, talk about times they felt "second to none" and how they can help others feel the same.
Learn More: Stitching Droomwevers
64. Slipped My Mind
Meaning: I forgot. We've all heard, "I forgot my homework" or "I forgot I have a project due tomorrow". Ensure nothing slips your little ones' minds with these colorful and easy organizational charts. Chores, routines, and homework, these charts track them all!
Learn More: What Moms Love
65. Snail's Pace
Meaning: an extremely slow speed. Tutor Nick is back with another informative video. Follow along as he explains the meaning and history of the idiom. Once your kids have watched, have them spend the day moving at a "snail's pace"!
Learn More: Tutor Nick P
66. Speak Your Mind
Meaning: express your opinions frankly. It's important for kids to share their opinions and ideas. It's also important for them to learn how to "speak their mind" without hurting other people's feelings. Use this idiom to start a lesson on how to speak to others kindly.
Learn More: A Piece of Cake English
67. Stir the Hornet's Nest
Meaning: make trouble. Talk about the dangers of "stirring the hornet's nest", both literally and idiomatically. Have your students design their own cartoons of stirring the hornets' nest. This is a great activity to add to lessons on current events!
Learn More: Studypaedia
68. Storm in a Teacup
Meaning: great excitement or outrage about a trivial matter. For a fun food idiom activity, throw a tea party on the day you learn this idiom. As you enjoy the tea and cakes, have kids talk about "storm in a teacup" moments for them.
Learn More: English for Kidz
69. Straight from the Horse's Mouth
Meaning: directly from the source. Learn all about this uniquely American idiom in this short video. It covers the meaning, how to use it in a sentence, and its origins. After you've watched it, play a game of telephone to show students the importance of getting information "straight from the horse's mouth".
Learn More: VOA Learning English
70. Teacher's Pet
Meaning: a teacher's favorite student. Is it a good thing to be a teacher's pet? Or is it meant to call someone a teacher's pet? Ask your students to do a journal writing about the idiom and see what they think.
Learn More: Every Word Counts
71. The Icing on the Cake
Meaning: an unexpected good thing. Surprise your students with cake! Give each student a naked piece of cake and a bowl of white icing. Then let them mix in colors, candies, and sprinkles to celebrate the idiom of the day.
Learn More: Shugary Sweets
72. The World Is Your Oyster
This means: you can do anything or go anywhere you want in life. Encourage your kids to dream big with this idiom! Create a dream poster that depicts "the world as their oyster" and help them to dream big!
Learn More: Fantastic Fun and Learning
73. To Cry Wolf
Meaning: lying or calling for help when it's not needed. Start your literacy unit with this read-along video of The Boy Who Cried, Wolf. After you watch, ask your little ones to explain the moral of the story and why you should never cry "wolf".
Learn More: Buddy Son Storytime
74. Under the Weather
Meaning: feeling sick or sad. We all feel "under the weather" from time to time. Use this idiom to instill the importance of self-care in your kids. Whether it's baking, meditating, or coloring, help your kids find the perfect activity to do when they feel "under the weather".
Learn More: Meraki Lane
75. Use Your Noodle
Meaning: think about it. Get their noodles working with these idiom practice worksheets. Choose from a range of worksheets that cover definitions, using idioms in a sentence, and illustrating the idiom. Perfect for the end of your daily idiom lesson.
Learn More: Super Teacher Worksheets
76. When Pigs Fly
Meaning: something will never happen. Make the impossible possible! This fun activity will have pigs flying across the room. Help your kids assemble their pig-shaped airplanes. Then see whose can fly the furthest.
Learn More: Education.com
77. White Lie
Meaning: a harmless lie told to avoid hurting someone's feelings. Learn the meaning of the idiom with this quick video. Izz does a great job of showing kids what the idiom means in real-life situations.
Learn More: English with Izz
78. Wolf In Sheep's Clothing
Meaning: a person who seems friendly, but is really hostile. This idiom is great for helping kids recognize toxic behaviors in other people. Use this video to help them understand the idiom and how to protect themselves from bad people.
Learn More: YouTube
79. You Can't Teach an Old Dog New Trick
This means: you can't make people change their behavior or opinions. Change is an important part of life. Help your kids understand how important it is with this idiom by reflecting on how hard it is to teach Grandma how to use social media.
Learn More: My English Log
80. The Ball is in Your Court
Meaning: It's your turn to take action. This idiom references a game of tennis; when the ball is on your side of the court, you need to hit the ball (take action) to keep the game going. To teach this, have your students throw a ball to someone, saying an action they should take. Stress that receiving the ball means "the ball is in your court."
Learn More: Spell Quiz
81. Spill the Beans
Meaning: To reveal a secret. Use a bag of beans to ring home the message of this idiom. Your kids will take turns picking a bean and sharing a "secret" or a fun fact about themselves. Be sure to discuss the importance of keeping actual secrets safe and knowing when it's appropriate to "spill the beans."
Learn More: Leverage Edu
82. Walk on Eggshells
Meaning: To be extremely cautious. Get out some real eggshells to demonstrate the meaning of this saying visually. After cracking eggs for a meal, wash and dry the shells before letting your students try walking on them.
Learn More: US Adult Literacy
83. Hit the Nail on the Head
Meaning: To get something exactly right. With supervision, let your kids hammer nails into a block of wood. The goal is to hit the nail on the head, so as not to bend it. Use this hands-on activity to perfectly demonstrate this idiom's meaning.
Learn More: Funky English
84. Two Heads Are Better Than One
Meaning: Working together makes solving problems easier. To demonstrate the meaning of this phrase, create a simple puzzle. Give one to each of your children to solve alone, and then have them solve the puzzles again in pairs. They'll quickly see that "two heads are better than one" when it comes to problem-solving.
Learn More: English Club
85. Bitten Off More Than You Can Chew
Meaning: To take on more than one can handle. Ready those sticks of gum! Have your students chew one piece and then add more; discussing how hard it becomes to chew as they attempt this feat. What a tasty way to illustrate over-committing!
Learn More: YouTube
86. Jump on the Bandwagon
Meaning: To join a popular activity or trend. Play different kinds of music and let your kids "jump on the bandwagon" by dancing along. Switch styles to see how quickly they adapt to the most "popular" choice.
Learn More: YouTube
87. Pulling Your Leg
Meaning: Teasing or joking. A fun game of "Simon Says" can help your kids understand this idiom. Throw in some silly commands and reveal that you are just "pulling their leg" when they follow a nonsensical instruction.
Learn More: YouTube
88. Break the Ice
Meaning: To initiate social interaction. Hand out ice cubes and let them melt a bit. Your scholars can discuss things they like until their ice melts; what a great activity to help you symbolize what goes into breaking social barriers.
Learn More: YouTube
89. Through the Grapevine
Meaning: Hearing news from someone who heard that news from someone else. Play the game "Broken Telephone" with your students to demonstrate how stories can change as they move "through the grapevine."
Learn More: UCLnet
90. Cry Over Spilled Milk
Meaning: Worrying about things that have already happened. In front of your kiddos, spill a small amount of milk and then clean it up. Talk with your students about how it's better to clean and move on than to keep worrying.
Learn More: Leverage Edu
91. A Penny for Your Thoughts
Meaning: Asking someone what they're thinking. Pass around a jar of pennies. As you do so, your learners can draw a penny and share what they are thinking about at that moment. As a group, discuss the value and worth of people's thoughts.
Learn More: A Good Library
92. Knock on Wood
Meaning: To express a hope for good luck or that something will happen. Create a small wooden block station in preparation of demonstrating the meaning behind this popular saying. When your kids express hopes for something, they can "knock on wood."
Learn More: Mental Floss
93. Paint the Town Red
Meaning: Celebrate wildly. Make a miniature cardboard town, and let your kids paint it red! With your students, talk about occasions that are worth celebrating and how one might "paint the town red" in such instances.
Learn More: YouTube
94. Save Your Breath
Meaning: Your words won't make any difference. Have your students inflate balloons, but don't tie them off. Discuss situations where talking won't help and their breath would be wasted—just like the air that'll escape from the balloons.
Learn More: YouTube
95. Twist Your Arm
Meaning: Persuade someone to do something. Have your kids role-play scenarios where one tries to "twist the arm" of another to try something new, like a strange food or a challenging game.
Learn More: Pomaka English
96. Put All Your Cards on the Table
Meaning: To be completely open and honest. Choose a card game that requires hiding your cards from other players. A good example is Go Fish. Play two games with your students: one with cards hidden and one with cards all displayed on the table. Have them then discuss scenarios where it's better to be upfront and honest, just like putting all your cards on the table.
Learn More: Medium