Inherited traits are characteristics that have been passed down from parent to child in both plants and animals, including humans. They are physical traits that most animals and humans are born with. Examples of these include eye and hair color and even height. These fun activities will help you teach this topic to students in various engaging and interactive ways.
1. Inherited Traits Bingo
Students will create their own bingo cards by identifying inherited and adapted traits in animals. Students must read the sentence about the animal and work out if it describes an inherited trait or learned behavior.
Learn More: Teachers Pay Teachers
2. Wonderful Worksheets
When students have more concrete knowledge about the topic, test them with these straightforward worksheets. They will examine how traits are passed from parents to offspring in both people and animals, looking at common traits.
Learn More: K5 Learning
3. Sing A Song
This catchy song explains to younger students what exactly an inherited trait is. With clear subtitles to sing along, children are more likely to understand the content and bind it to memory. This would be a great starter activity for this topic!
Learn More: Generation Genius
4. Alien Traits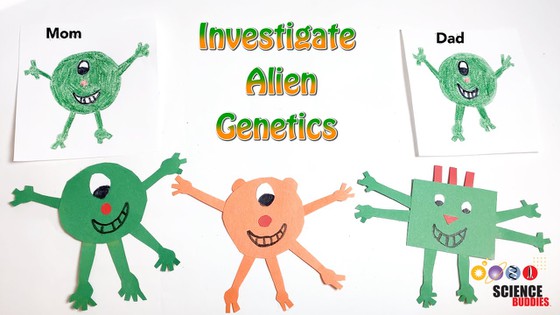 Students will demonstrate how traits are passed down from parents using the aliens as models. They compare a variety of features and discuss the difference between dominant and recessive genes and traits. This activity is suitable for older students as they have the option to discuss different genotypes and reproduction.
Learn More: Science Buddies
5. Complete Comprehension
Checking core knowledge and actioning misconceptions is a key part of any science topic. With these clear and concise comprehension worksheets, students can read the information and answer the multiple-choice questions to show their understanding of the topic. A great filler activity or a task for consolidation of the topic!
Learn More: Learny Kids
6. Play A Game

Get your students to play a range of these interactive genetic games to develop their understanding of chromosomes, genetics, and traits. Students can plant flowers in a garden depending on certain traits the farmer is looking for or breed cats that they want to inherit certain traits. A great resource to really develop the knowledge of genetics through play!
Learn More: Legends of Learning
7. Quick Quiz
This quick quiz will determine if your students understand the difference between acquired and inherited traits. These quick-fire questions can be answered as a starter activity or used as a pre-assessment to determine how much students know and to clear up any misconceptions.
Learn More: Worksheet Place
8. Vicarious Vocabulary
All that vocabulary in science lessons can be tricky to master and remember. For older students, use a simple word search to practice the spelling of these words. Extend the task further by asking students to come up with a definition for each word to really hone in on their learning.
Learn More: Printable Creative
9. Cool Crosswords
This crossword puzzle asks the question 'How are Traits Inherited?' with a series of further questions to test student understanding of the unit. The answers to the questions are placed into the grid to solve the puzzle.
Learn More: Word Mint
10. Create a Flip Book
This activity allows students to cut out the Inherited and Acquired Traits flip book titles and glue them onto a sheet with the answers displayed underneath. Students will explain which ones they would choose to not live without.
Learn More: Teachers Workstation
11. Mr. Men and Little Miss Lessons
Inspired by the popular Roger Hargreaves, use Mr. Men and Little Miss characters to explain genetics and inheritance with this easy-to-adapt lesson. Students can determine, through the pictures around the room, which features can be passed on through our genes. This could also be further extended so that students can draw their own Mr. Men and Little Miss 'child' using the traits from both 'parents'.
Learn More: Teach Wire
12. Jack O'Lanterns
This Halloween-inspired activity is a simple coin toss that determines the characteristics of the student's Jack O'Lantern design. The worksheets include lots of key vocabulary whilst also ensuring students have a lot of fun during the design process. These can be displayed in the classroom as a visual representation of inherited traits and variations among genes.
Learn More: Instructure
13. Card Sorting
This ready-to-print card sorting activity gives students the opportunity to visualize certain inherited and adapted traits and categorize them into the correct section, which will then aid further discussion.
Learn More: TES Teaching Resources
14. Using M&M's
Use M&M's to explore genetics in this interactive lesson that gives students an insight into genetics and how the area in which animals (in this case, insects) life can affect how each of them evolves. This lesson also helps students learn that the effects of natural disasters have a direct link to the genes being passed on.
Learn More: Genetic Drift Lab
15. Match The Children
This activity is aimed at younger students and allows them to recognize which of the family of big cats are the parents of the offspring. They must look at the pictures and match up children to their animal parents, leading to a discussion of genetics.
Learn More: Kids Academy
16. Dog Traits
Aimed at older students, this lesson allows learners to create and decode a DNA recipe for "building" a dog! This enables them to understand how different traits have been inherited. Students look at the 'recipe' and use the readymade strips of paper to create their own dog drawing and compare similarities and differences with others.
Learn More: University of Utah
17. Use Lego
Lego is a great resource to use when explaining genetics, as students can manipulate and change the squares as needed. This lesson has them introduced to simple Punnett squares and determine which family traits are passed along using their knowledge of alleles. This would work well with elementary students.
Learn More: The American Biology Teacher
18. Create Information Posters
Give students time to research genes, chromosomes, and inherited traits. They can then create a poster or a PowerPoint presentation to deliver to the class or display to teach their peers about this topic. This is a great way to facilitate independent learning and give them more ownership over their learning. Use the website below as a starting point for their research.
Learn More: Nemours Kids Health