There is no doubt that tangible technology has more than made its presence in schools over the last two decades. Most toddlers know how to work a smartphone in all of its functions by the time they reach kindergarten. So if you are interested in growing your child's cognitive, reading, math, vocabulary, or any other type of brain skills, check out these iPad educational games below!
30 Ipad Games to Increase Learning
1. Zebrainy - ABC Kids Game
Ages: 4+
This game was initially designed for children between two and six years old. Zebrainy has over 700+ educational activities for kids that develop many different skill sets. Even better, the language this app uses aligns with what is taught through the Common Core State Standards.
Learn more: Zebrainy Limited
Ages: 2-7
The Noggin app features digital games with all of your child's favorite characters with a learning boost. Download games easily for that long car ride so they can still play basic math and letter games on the road. This app features anything from interactive videos to silly stories with their favorite pig.
Learn more: Nickelodeon
4. Preschool & Kindergarten Learning Games
Ages: 3-6
I have used this app with my kindergartener, and we love it! This app allows us to have bonding time working through different games together. Your child will practice observation skills by recognizing shapes and colors, cognitive skills through various puzzles, and vision through finding differences between scenes. Build your children's brilliant brains with these cute characters and games.
Learn more: Rosi Mosi LLC
5. Dino Fun - Games for Kids
Ages: 4+
Elementary school kids are at the age where they like to start taking care of themselves. The Dino Fun app is the perfect game for kids where they can brush their Dino's teeth, take care of them at the salon, and even potty train their dinosaurs! Also, the educational kid's games here practice motor skills through learning to tie a virtual shoe and logical thinking skills with math games! One big plus about this app is that there are no pesky game ads!
Learn more: Avocado Mobile Inc.
6. Math Brain Booster Games
Ages: 4 - adult
If you want an educational game for kids and adults alike, then download the Math Brain Booster app. This game lets you practice everything from basic multiplication and addition to more complex math problems. Give yourself or your children regular quizzes on math concepts to help sharpen the mind. This app even allows time limits on certain activities to practice speed with different things, such as multiplication games.
Learn more: Kirill Dyakonov
7. Water Sort Color Puzzle
Ages: 12+
Your children will love the interesting challenge of sorting all colors so that one single color exists in each tube. This game also has the familiar sounds of pouring liquid which makes this app one for kids who enjoy sensory-type activities.  What's even better is that this app is free!
Learn more: Vicenter Viet Nam Company Limited
8. State the States and Capitals
Ages: All Ages
Whether you teach preschool or high school, all kids need to know the states and capitals! There is an entire generation of kiddos needing this knowledge! Click on the state to see its name, the capital cities, state abbreviation, flag, famous landmarks, and more.
Learn more: Ecom Enterprises, Inc.
Ages: 4+
Your child can use this app to learn all about the great unknown from rocket ships to shooting stars. The NASA app features news and stories on space, over 20,000 space images, interactive 3D models, and other educational learning activities with soaring user reviews. Both children and adults can enjoy these enjoyable space learning activities.
Learn more: NASA
Ages: 12+
This app is all the rage with my students and my older children. Teasers on this app are challenging and will help take complex thinking skillset to the next level. Also, Wordle features a variety of puzzles to keep anyone entertained!
Learn more: Lion Studios Plus
Ages: 12+
My family loves puzzles. One thing I hate is constantly having to track all the puzzle pieces down. With this charming game, you will never lose another puzzle piece again. You can challenge your kid's critical thinking skills by choosing puzzles with many pieces vs. only a few. The Jigsaw Puzzle app also has many puzzles to choose from.
Learn more: Easybrain
Ages: 4+
Nothing says arcade-style games like Tetris. This classic video game challenges anyone's thinking skills and is fun to play. Take the basic shapes and maneuver them to fit just right to fit this puzzle and keep from hitting the top of the play screen.
Learn more: Play Studios
13. Vocabulary Builder by Magoosh
Ages: 12+
This is not your classic vocabulary game. The vocabulary builder allows your child to build their skill level with various vocabulary words to build an overall higher level of reading. This app is free and allows you to start at a basic level and work your way up.
Learn more: Magoosh
14. 1st Grade Math Learning Games
Ages: 4+
Help your child learn the basics of counting with Splash Math! Your child can also practice addition and subtraction, word problems, and more. The learning process is easy for your child and they will use strategic thinking skills in solving various problems.
Learn more: Study Pad, Inc.
15. Trace Letters & Sight Words
Ages: 4+
Letter recognition is the first step to being a successful reader. Have your child learn their ABCs in real-time by tracing the letters with their fingers, then sounding out the letter. Child developmental specialists also recognize the importance of recognizing sight words in conjunction with early reading success.
Learn more: Vu Dang
16. Little Stories: Bedtime Books
Ages: 4+
I know my little one loves to read stories before bedtime, and this app has so many cute ones. Your children can choose the story they want, have you read it, or have them read it to you. One great feature of this app is that the stories can be put into "story mode" where the app will read to your child.
Learn more: Diveo Media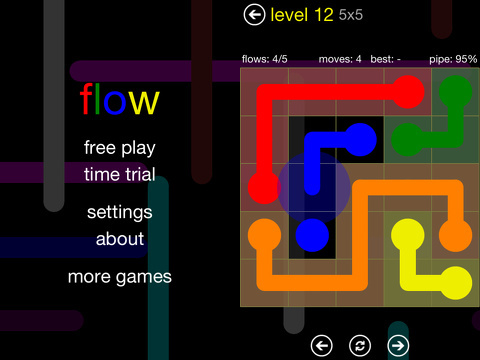 Ages: 4+
This popular puzzle game will have your child challenging their motor skills in an interactive environment. Kids will match and pair colors, and race against the clock to solve various puzzles!
Learn more: Big Duck Games LLC
Ages: 9+
Nothing says family game night like a game of Scrabble Go! This app is free and has a few pesky game ads. Also, the learning process for Scrabble has never been easier than with this app. Put your vocabulary skill level to the test with Scrabble GO!
Learn more: Scopely, Inc.
19. June's Journey: Hidden Objects
Ages: 9+
June's Journey is one of the best and most challenging hidden picture games in the app store. Find the matching objects, follow the story, and search for hidden objects and clues. Also, I love object searches because they are challenging and test various skill levels.
Learn more: Wooga
Ages: 4+
All of you self-proclaimed shape gurus can potentially attest to the challenging concept of this game! My little one loves playing this game with me. This matching game allows my child to match colors, shapes, and sequence patterns. While this game does promote in-app purchases, you do not have to purchase anything to play.
Learn more: King
Ages: 12+
The Oregon Trail was an essential childhood rite for Millenials! This adventure game allows your child to learn the history of those traveling across the U.S.A in a covered wagon, all while having a ton of fun.
Learn more: Gameloft
Ages: 4+
Learn about American History in a fun and challenging way with this trivia app. Whether you have a history test coming up, or you just want to know about the founding fathers a little bit better, this is a fun and engaging trivia app.
Learn more: Nigelware
Ages: 12+
Learn self-care and individual style through this fun digital makeover app. Let your creative whims of fashion take you wherever you would like by styling various characters.
Learn more: Magic Tavern, Inc.
24. Pizza Maker Cooking Games
Ages: 4+
While the age says 4+, I believe this is a toddler-friendly app. Your child will have so much fun creating their pizza by virtually chopping ingredients, putting together their pizza, and eating it.
Learn more: Pazu Games Ltd
Ages: 12+
Have your older child understand the world by having them look at Google News Daily Headlines. This app will keep both you and your child up on current events and allow them to have a greater understanding of influential societies around the world. Check out our list of teacher-recommended reading websites for kids.
Learn more: Google LLC
Ages: 12+
Learn amazing facts about the human body with the Idle Human app. Your child will learn about all the bones, organs, and even how bacteria and viruses can affect the body.
Learn more: Green Panda Games
27. Shapes! Toddler Kids Games
Ages: 4+
Calling all children who are shape gurus, they will love the engaging challenge of finding and learning new shapes.
Learn more: Gennadii Zakharov
28. QuizzLand. Quiz & Trivia Game
Ages: 4+
Solve puzzles, compete against others, and complete your mission. This game will certainly challenge your knowledge retention.
Learn more: MNO Go Apps Ltd
Ages: 4+
If you are wanting your child to learn piano, then download this app. It is totally free and your child will feel like they have an entire recording studio to compose their musical masterpieces.
Learn more: Yokee Music
Ages: 4+
Have kids speed read, challenge their vision skills, and increase their mental agility with this speed reading app. The lightning-fast challenges in this app will make your child smarter and faster.
Learn more: Artem Tselikov