This holiday season, prepare your kids for Jesus's arrival with these adorable advent activities. Combine daily scriptures with fun crafts to learn all about Jesus's family tree. Whether you have a real or artificial tree, be sure to decorate it with your very own Jesse Tree ornaments! These stories and crafts are sure to become some of your kids' favorite activities during the holiday season.
1. The Jesse Tree Book
Learn about Jesus's birth from the beginning. This book is a perfect addition to your pre-nap time readings. Each day, read one history piece from creation until Jesus's birth. Then, when the kids wake up, craft an ornament for the tree!
Learn More: Little Book Big Story
2. Daily Devotion Book
Pause during the hectic holiday season and spend time reflecting on Jesus's family with your kids. Aimed at elementary students, the book includes a special ornament for each day of advent. The bright colors are sure to pop against your green tree!
Learn More: Christian Book
3. Sticker Ornaments
The holidays are a busy time. These simple sticker ornaments are a quick way to add a Jesse Tree to your advent practices. The large stickers are great for preschool children. Help them tie a string to hang the ornaments afterward.
Learn More: Amazon
4. Printable Flip Book
You don't need a tree to celebrate Jesus's birth! These illustrated paper ornaments are designed to be hung around the house to celebrate the season. Separate the scenes for your little ones to color. Then, hang them up for your very own history timeline!
Learn More: The Natural Homeschool
5. Coloring Pages
Kids and coloring go together like peanut butter and jelly. This simple coloring page is an awesome addition to your daily stories during advent. After you've read the story, discuss why the symbol was chosen for that day.
Learn More: The Catholic Kid
6. Lego Jesse Tree
These daily Brick-It tasks are fantastic to keep older kids engaged with your Jesse Tree. After the daily reading, discuss the day's symbol before the kids take on the Brick-It challenge. The activity pack is great for middle school students.
Learn More: Proverbial Homemaker
7. Magnet Tree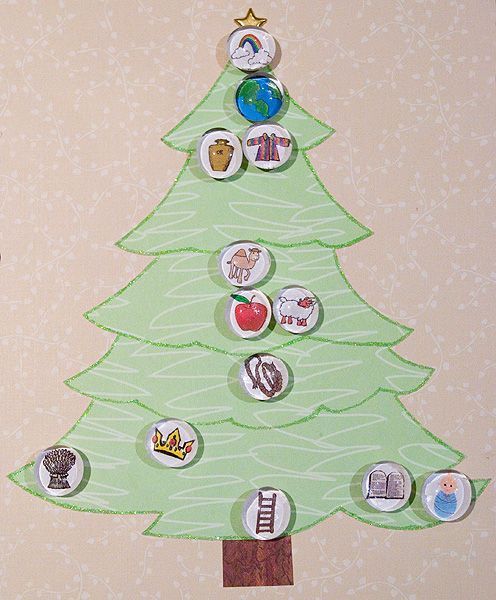 Keep track of all your Jesse Tree ornaments with this cute magnetic version. Craft a tree out of scrapbooking colored paper and attach it to the back of a cookie sheet. Stick your magnet ornaments on the front side for easy post-holiday storage.
Learn More: Jen Thousand Words
8. Scripture Readings
These notecards are helpful reminders for your Jesse Tree readings during the advent season. Each day lists the symbol and its corresponding scripture verses. You can also choose to create your own cards with your kids' illustrations for each day!
Learn More: Rhythms and Grace
9. Paper Jesse Trees
Craft your very own Jesse tree from colorful paper! Your kids can choose to make a regular tree or let their imaginations run wild to create a fantastical modern-day Jesse Tree. Hang it proudly on their bedroom door and place homemade ornaments on it each day.
Learn More: Nurturing Naters
10. Handprint Star Topper
Celebrate the coming of Christ with this adorable Jesse Tree topper. Trace your kids' hands and arrange them in a starburst shape. Add glitter for extra sparkle. Continue the tradition every year to see how the star grows along with your kids!
Learn More: Pinterest
11. Recycled Branch Tree
If you don't have space for a physical tree, never fear! This crafty solution is a perfect replacement. Gather pine branches of different sizes. Next, have your kids arrange them in a pretty vase. It can also be a personal tree for your kids' bedroom.
Learn More: The Oaxacarbon Blog
12. Joseph's Technicolor Dream Coat
Start your collection of beautiful symbol ornaments with Joseph's technicolor dream coat! One of Jesus's ancestors, Joseph's story is always a favorite with kids. Once they've colored their coats, cut them out and attach a string to hang them from the tree.
Learn More: Live Well Play Together
13. Adam & Eve Craft
Begin your Jesse Tree with the Adam & Eve! This fun mobile is a unique ornament to add to your tree while reminding your kids about the origins of sins. Help your little ones carefully cut out the snake before attaching it to a piece of string.
Learn More: Bible Crafts and Activities
14. Rainbow Ornaments
Rejoice in the promises of Noah and their renewal with the birth of Jesus! These beautiful yarn-wrapped rainbows are best done with gradient rainbow yarn. Substitute yarn for ribbons, tinsel, markers, or paint! An awesome hands-on activity for kids of all ages.
Learn More: One Savvy Mom
15. Sheep Ornaments
Whether you're reading about Jesus's birth in a humble manger or King David's start as a shepherd, these charming cotton ball sheep are a quintessential addition to your Jesse Tree. Use cinnamon sticks legs for a delightful holiday scent.
Learn More: Happy Hooligans
16. Ornament Coloring Activities
Add some coloring time to your daily scripture verse readings with this easy printable. Each of the 24 ornaments has a simple symbol for your kids to color. The simplicity will help them remember the day's teachings and try their best to live by those lessons.
Learn More: The Catholic Kid
17. Bare Branches Tree
Don't let pine allergies keep you from crafting a Jesse Tree with your family! A DIY branch tree is a great way to pass the day together. Collect branches of different lengths. Carefully drill and screw the branches together before hanging your ornaments for everyone to see!
Learn More: Papemelroti Gifts
18. Jesus's Family Tree
Visualize Jesus's family tree as you hang your ornaments on the Jesse Tree. This printable mini-book is perfect for young kids who love to color! Add a new page to the book every day during Advent. Make it an intergenerational activity by creating your own family tree too!
Learn More: Thinking Kids
19. Scripture Coloring Pages
Beautiful illustrations will get your kids reading their scripture verses in no time. Preassemble the pages into a coloring book. Your kids can read and color one story per day as they count down the days until Jesus's birthday!
Learn More: The Proverbial Homemaker
20. Scripture Trees
Scrolls are so cool! Get your kids in the holiday spirit by printing each day's scripture reading on a scroll. Store the rolls in a tree crafted from toilet paper rolls and garland. Hang a symbol ornament to replace the scroll.
Learn More: Ang At Home
21. Nativity Scavenger Hunt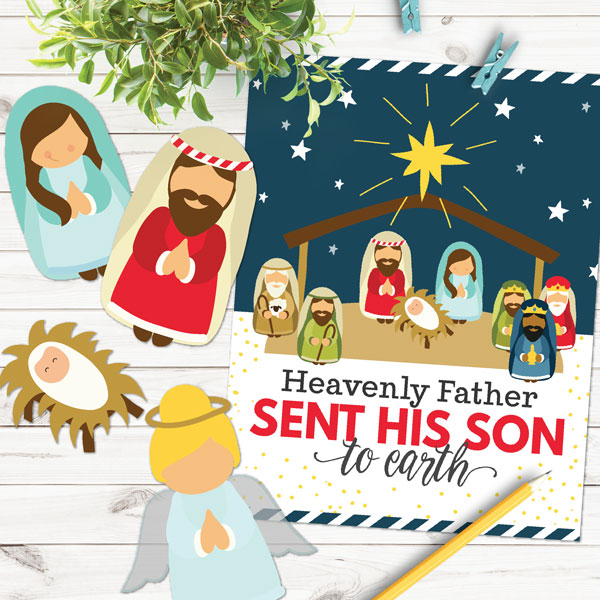 The Lord has come! Bring an end to your Jesse Tree activities with a Nativity scavenger hunt. Have your kids take turns solving the puzzles and riddles to find the true meaning of Christmas.
Learn More: The Redheaded Hostess