With all energy focused on learning and worrying about social status, we know how drab a teenage classroom can be at times! Laughter has been proven to release happy hormones which can help your teens lighten up and take the edge off after a stressful day. We invite you to reduce classroom anxiety and enhance the overall positive atmosphere with our collection of 44 humorous jokes.
1. Why couldn't the bicycle stand up by itself?
Because it was two-tired!
2. What do you call a dinosaur with an extensive vocabulary?
A thesaurus!
3. Why did the golfer bring two pairs of pants?
In case he got a hole-in-one!
4. Why did the picture go to jail?
Because it was framed!
5. What do you call a group of musical whales?
An orca-stra!
6. What do you call a bear with no teeth?
A gummy bear!
7. Why did the math book look sad?
Because it had too many problems!
8. What do you call a can opener that doesn't work?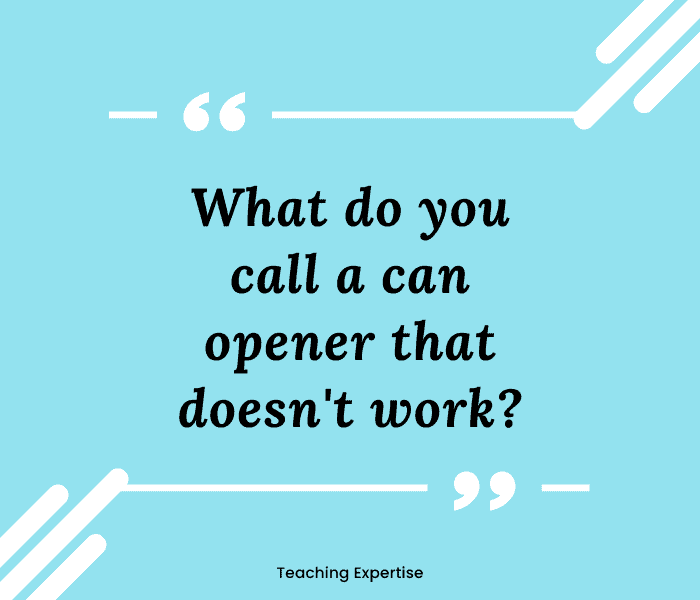 A can't opener!
9. How do you catch a squirrel?
Climb a tree and act like a nut!
10. What is the skeleton's favorite musical instrument?
A trombone!
11. Why couldn't the pony sing a lullaby?
She was a little horse!
12. Why was the belt arrested?
For holding up a pair of pants!
13. How do you organize a space party?
You planet!
14. Why did the cookie go to the doctor?
Because it felt crummy!
15. What do you call a boomerang that won't come back?
A stick!
16. What did the buffalo say to his son when he left for college?
Bison!
17. Why did the chicken go to the seance?
To get to the other side!
18. What do you call a snobbish criminal going downstairs?
A condescending con descending!
19. How does a train eat?
It goes chew-chew!
20. Why don't oysters donate to charity?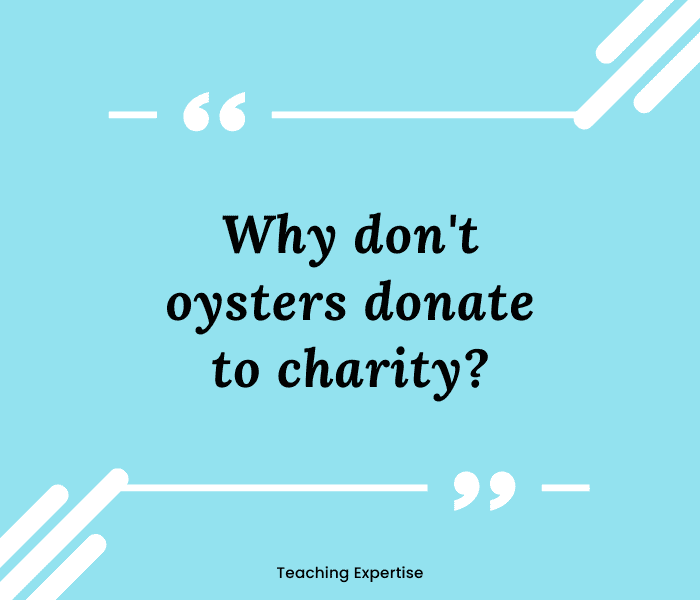 Because they're shellfish!
21. What do you call a cow with no legs?
Ground beef!
22. What did the zero say to the eight?
Nice belt!
23. Why did the scarecrow become a motivational speaker?
Because he always found a way to lift people's crops!
24. What do you call a nosy pepper?
Jalapeño business!
25. How do you make a tissue dance?
Put a little boogie in it!
26. Why did the crab never share?
Because he was shellfish!
27. What do you get when you cross a computer and a lifeguard?
A screensaver!
28. Why did the banana go to the doctor?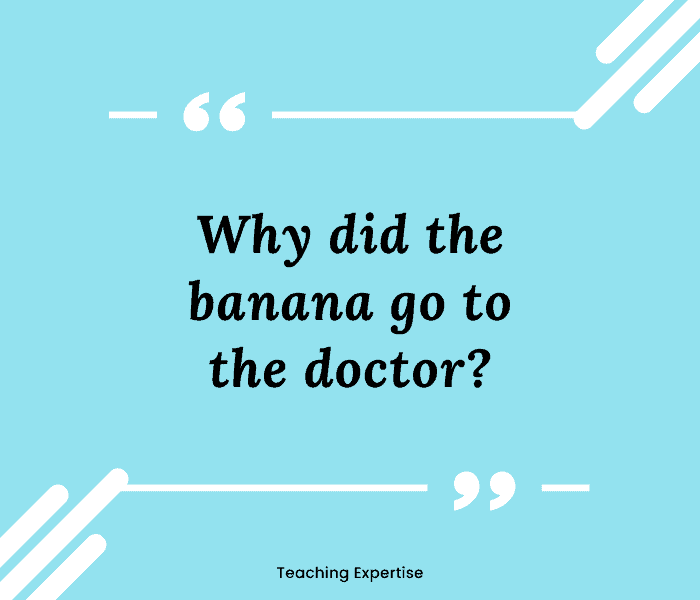 It wasn't peeling well!
29. What do you call a cow that can play an instrument?
A moosician!
30. What's a pirate's favorite letter?
Arrrrrrrr!
31. Why did the chicken cross the playground?
To get to the other slide!
32. What do you call a dog that can do magic?
A Labracadabrador!
33. What did the big flower say to the little flower?
Hi, bud!
34. What do you call a sleepwalking nun?
A roamin' Catholic!
35. What did the traffic light say to the car?
Don't look, I'm changing!