Sometimes trying to get middle school students to write is like trying to pull teeth from an alligator. However, having students write on engaging, fun, and inspiring topics is a great way to start class and allow students time to free write.
Here we have a list of fun journal prompts that your students will enjoy participating in while growing their writing skills.
1. Do you think that video games are the cause of violence?
2. What is your favorite animal and why?
3. If you could meet any famous person living or dead, who would it be and why?
4. If you were trapped on a deserted island, what is the one thing you would want to have with you?

 5. Should dress codes be allowed in schools?
6. If you could hop into a time machine, what time period would you travel to and why?
7. What does your dream house look like? Explain every detail!
8. What is your favorite season of the year and why?

9. Who is your favorite person in the whole world and why?
10. What is your favorite subject in school and why?
11. What is your least favorite subject in school, and why?
12. What is your dream vacation if money were no option?
13. What did it feel like on your first day of school this year?
14. Who is your role model and why?

15. If you could come up with a great video game idea, what would it be?
16. Think of a time when you took a disastrous trip. Tell that story!
17. Create a scary story about a camping trip.
18. Choose one Disney character and create a background story.

19. If you were to have a dinner party where you could invite anyone in the whole world, who would it be and why?

20. Would you rather only be in a class all day with a difficult subject for the whole school year, or, eat a bologna sandwich every day for the whole year?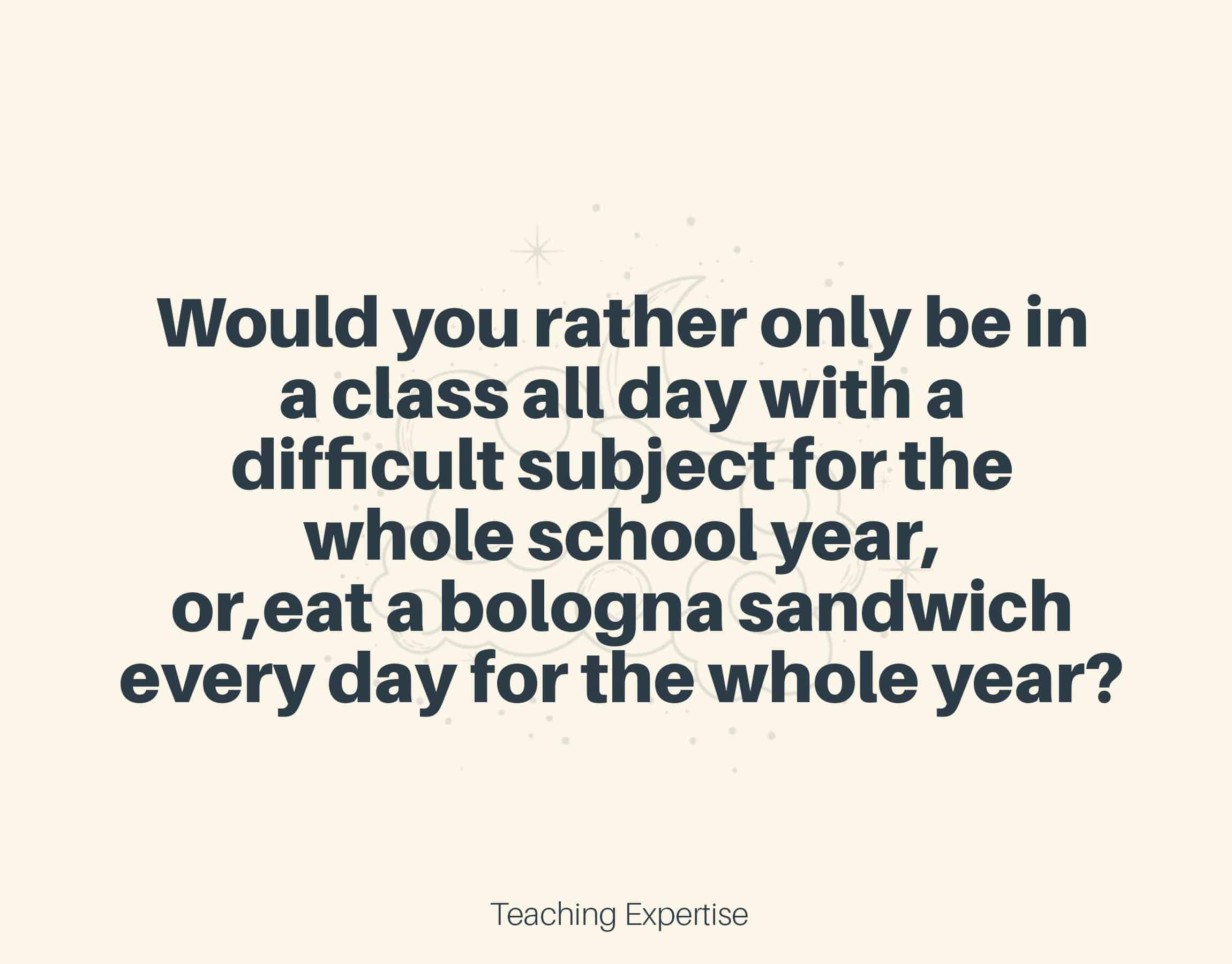 21. Reflective Writing: Talk about a time when things were difficult and explain how you got through it and who helped you.
22. Create an acrostic poem from the word "Bumfuzzle".
23. What are the best and worst things about middle school students?
24. What things do you do in your daily life to have a positive attitude? 
25. Procedural Writing: Write down step-by-step how to make a peanut butter and jelly sandwich.
26. Create an action-filled poem in which YOU are the superhero.
27. What games do you/would you play on a cross-country road trip?
28. What are some inventions of our current time that you think is detrimental to society?
29. Autobiographical Writing: 5 Minute Research Project! For five minutes find out everything you can about Mother Teresa. When the 5 minutes are up, write about her for 10. 
30. What do you think some of the benefits of writing in a journal every day are?
31. Reflective Writing: What are some things you can do to better your attitude towards writing?
32. Explain a time when someone embarrassed you. How did it make you feel and what did they do?
33. You are going to pitch a story idea for a new movie to a major production company. What kind of story is it and what is it about?
34. Make a list of ten interview questions.
35. How do you think ancient people would act if they were brought to our time?
36. Write the funniest story you've ever heard!
37. Who do you think is the most beautiful person in the world (either inside or out)?
38. If you found a magical portal to take you anywhere, where would you go?
39. If you were trapped on a desert island with one person, who would it be?

40. What kind of pet would you buy from a pet shop?
41. What new story idea would you pitch to Netflix?
42. What is the most difficult part of everyday life?
43. Who would you throw a surprise birthday party for and why?
44. Which animals, do you think, are the smartest in the Animal Kingdom, and explain why?
45. What do you like about art class?
46. What do you like/dislike about math class?

47. Would you rather eat a worm or a spider?
48. Create a table of contents for your life.
49. Write down your music playlist.
50. Who was your favorite elementary school teacher?
51. What things bring you happiness?

52. Name one thing you would change about yourself.
53. What is the strangest dream you've ever had?
54. What would you do if you won the lottery?
55. What are your college/career goals?
56. Create a bucket list.
57. How do you handle confrontation?
58. What is your favorite memory with a family member?
59. Who are your best friends and why?
60. What is something you do when you are sad?
61. Do you like sweet or salty best?
62. What is your favorite meal your mom makes?
63. Explain one family tradition.
64. What is your greatest fear?
65. Would you rather run a mile, or do 100 jumping jacks?
66. What is the best prank you've ever seen?

67. What makes you laugh hardest?
68. What is your favorite snack?
69. Would you rather stick your hand in a bowl of spiders or a bowl of snakes?
70. What would you do if you were the President?
71. What is your favorite sports team and why?
72. Name one place you would like to volunteer at.
73. What is the most important part of everyday life?
74. What is your favorite sm
75. Who is your favorite music artist?
76. If you could be any animal, what would it be and why?
77. Explain your dream job and the steps (you know now) that you need to take to achieve that goal.
78. Do you believe that all beliefs are good at heart?
79. What are some things you worry about and why?
80. List five short-term and five long-term goals for your life.