Jump rope is an exciting game that kids absolutely love to play. Whether they get to play with jump ropes during gym time, at recess, or with other kids in the neighborhood, they are sure to have a good time. One of the best parts is that you can play alone or with lots of kids at the same time. For more ideas on all the versatile ways to use a jump rope, check out our list of 25 fun activities below.
1. Slithery Snake
This game will quickly become one of your students' favorite jump rope games. It involves three participants. Two people sit down on either end of the rope and shake the rope back and forth. The person in the middle runs and attempts to jump over the rope snake without letting it touch them.
Learn More: Active For Life
2. Jump Rope Math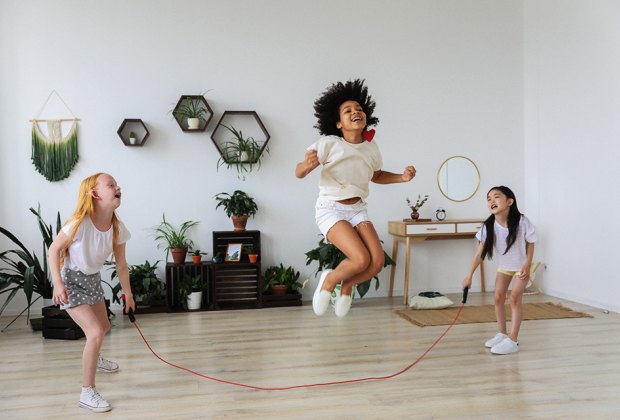 If you are looking to put more of an educational spin on any jump rope activity, try giving the children equations to complete whilst jumping! For example, ask them what 5×5 works out to. Change up the sums to encourage quick thinking.
Learn More: Mommy Poppins
3. Helicopter
Helicopter is a fun game whereby a person holds one handle and spins it around, as close to the ground as possible, as they themselves spin in a circle. You can remind the rope turners not to raise the rope too high or spin it too fast so that other learners are given an opportunity to jump as it spins.
Learn More: The Inspired Tree House
4. Jump Rope Workout
If the jumping rope was not already enough exercise, you can add to that workout by adding additional steps to the jumping motion. Having students jump side to side or back and forth are excellent movements to include!
Learn More: Sesame Street
5. Double Dutch
Double Dutch is an excellent game to introduce if your school has a jump rope club or if your students are ready for more advanced techniques. This game requires turners spinning two ropes at a time while students jump over both.
Learn More: Heart Foundation
6. Jump Rope Songs and Rhymes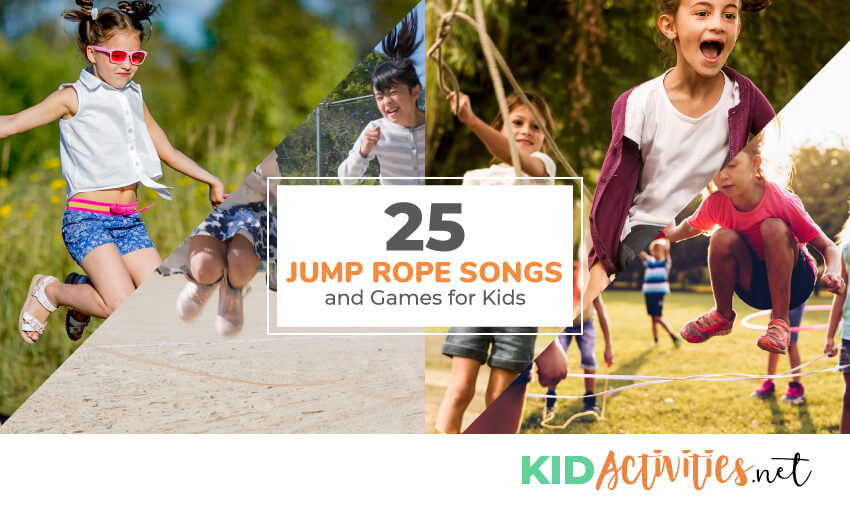 There is no shortage of jump rope rhymes and songs. As a jump rope coach, you might be interested in introducing a few new fun and fresh tunes. Jumping to the tune of a song or rhyme is a great way to impress fellow contestants in an upcoming contest as well!
Learn More: Kid Activities
7. Relay Jump Rope
Allow your students to show off their fancy jump rope moves by hosting a jump rope relay. You can set a start and end point for your students to make it to or you can add a challenging twist by designing a jump rope relay course!
Learn More: Your Therapy Source
8. Jump Rope Bingo
Using an ordinary jump rope, some bingo cards, and a few counters, you can execute a jump rope bingo lesson. You can make the cards yourself or find them online, but either way, you'll need to ensure that the cards either have letters, numbers, or equations on them.
Learn More: PHABulous Kids
9. Jump Over the Rope
This jump rope activity works on dexterity and coordination. The students must jump all the way over both of the ropes. As the activity progresses, spread the ropes further apart to make this task even more difficult and challenging for high-skill level jumpers.
Learn More: Your Therapy Source
10. Squirrels and Acorns
Expand on students' basic jumping skills with this game called Squirrels and acorns. The game focuses on developing math skills such as addition and subtraction as well.
Learn More: PHABulous Kids
11. Rope Shapes
This game is fun and exciting no matter the grade level of your students. Students must work together to make the shape that you call out. If the group is rather small it might be better to give each student a rope to conduct the activity individually.
Learn More: Games 4 Youth Groups
12. Water Splash
Prepare to get splashed! The player in the middle must work very hard to concentrate as they hold the water as they are jumping. You can fill the water in various amounts depending on the age of the children.
Learn More: Healthy Living AZ Central
13. Under the Moon & Over the Stars
Stand back as two learners hold either end of a skipping rope and begin skipping. The remaining kids will need to carefully plan their timing to be able to run directly under and over the rope as it keeps spinning.
Learn More: Skip Hop
14. School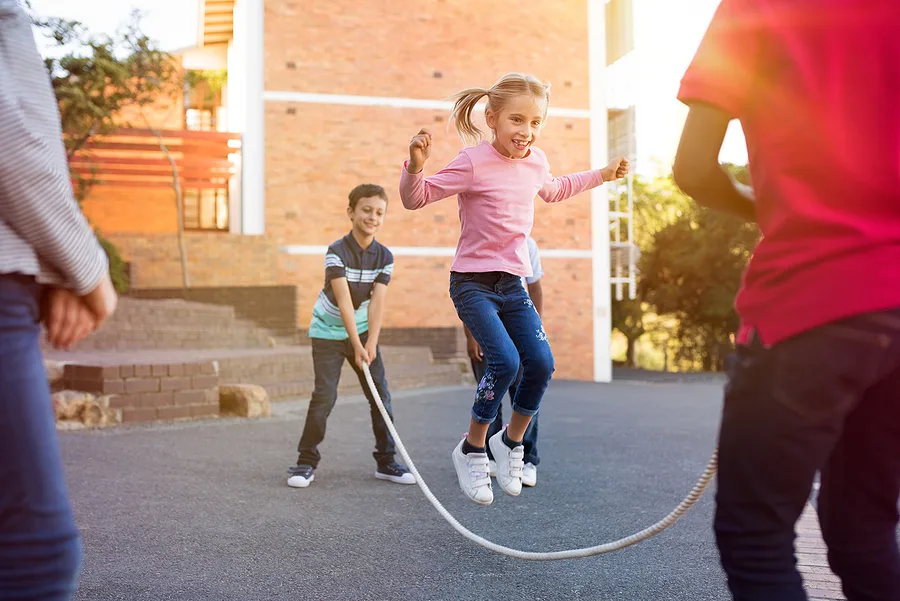 This jump rope activity for middle school children is a little bit more involved and could take longer than other jump rope games you are intending to try. The student must work through the grade levels and run around the spinner a certain amount of times.
Learn More: Healthy Living AZ Central
15. Fancy Footwork
If your students have mastered most of the basic jump rope skills and techniques, encourage them to get creative with their movements. Yelling out different moves as they are jumping like: "double cross" or "one leg" will challenge them.
Learn More: Jump Rope Hub
16. Partner Jumping
You can challenge students to invite a partner to jump with them but the catch is that they must use a single jump rope. Two jumpers using one rope will require focus and determination, but we're certain they" be able to do it!
Learn More: Barracudas
17. Whirlwind Challenge
If you are looking to play with a big group of kids, during recess or gym class, this is the perfect challenge! Similar to Double Dutch, two ropes are required to play. Each player must run in, jump once, and exit again safely.
Learn More: Jump Rope Hub
18. The Rope Game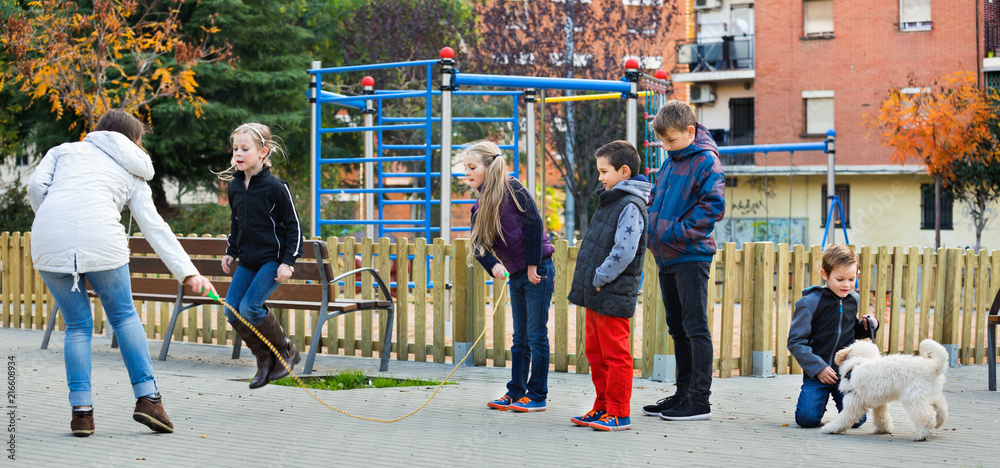 This game is best played with a larger group of learners. A group of students is required to work together as a team to get every player or member over the rope.
Learn More: Ultimate Camp Resource
19. Banana Split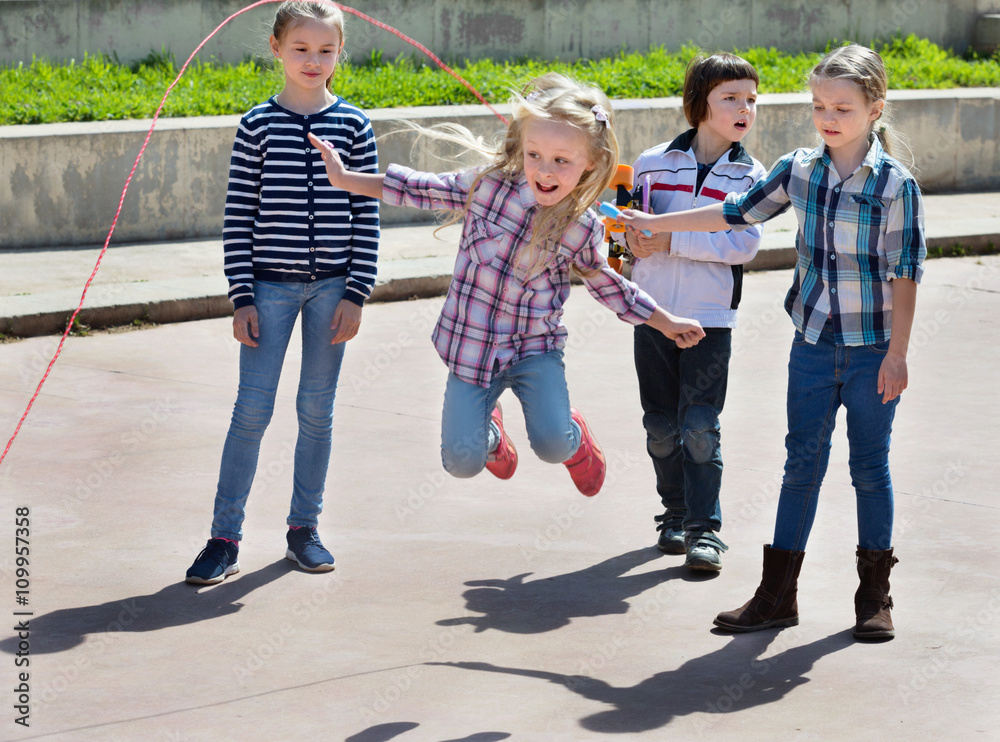 This game builds on a similar one that students might already be playing. Banana split is a more complicated version of the game where the students run under or over the rope. Multiple students are required to line up and run in groups over or under the spinning rope.
Learn More: The Amazing Jump Rope
20. Mouse Trap
Cooperative games like group jump rope can strengthen children's social skills and help them to make friends. The goal of this game is to not get trapped by the "mouse trap" rope as it spins backward and forwards as the players attempt to jump through it.
Learn More: Hey Gym
21. Rope Letters and Numbers
This game incorporates an educational element. Instruct the students to use their jump rope to make letters and numbers as they shout them out.
Learn More: Your Therapy Source
22. Bell Hops
Before the students complete jump rope tricks, this is the perfect activity to get them warmed up. Students will start by placing their feet together side by side. They, will jump backward and forwards over the rope laid on the floor.
Learn More: The PE Specialist
23. Jump Rope Workout
You can make the actual physical component of the jump rope more intense by having the students complete a series of exercises in between jump rope activities.
Learn More: Jump Rope Mom
24. Chinese Jump Rope
Check out this entirely different take on jumping rope. Bring your students into the world of Chinese jump rope and see if they can master a different skill.
Learn More: Chattahoochee PE
25. Jumping Rope 100 Times
Challenge your learners to skip 100 times without stopping. If the rope gets caught, they'll have to restart. What is the record for how many times they can jump? Turn this fun activity into a lighthearted competition by rewarding the learner who is able to skip the longest!
Learn More: Bluffton Icon – Ada Icon