Science experiments completed from a young age have proven to display amazing benefits such as: improved problem-solving and observation skills, as well as increased curiosity levels. Follow along as we dive into varied and exciting experiments that your kindergarten class is sure to love!
1. How Germs Spread
Learn about the spread of germs in this simple science experiment. Pair your students off and sprinkle glitter onto one students' damp hands. Then encourage them to shake hands with their partner and watch how the germs, representing glitter, spread.
Learn More: Gift of Curiosity
Looking for fun and educational kits for kids? Check out our Favorite Subscription Boxes for Kids
2. Colorful Ice Cube Delight
This fun-filled, fizzy experiment is a great outdoor activity and perfectly demonstrates the chemical reaction between acids and bases.
Learn More: The Play-Based Mom
3. Will it Sink or Float?
This fun-filled, fizzy experiment is a great outdoor activity and perfectly demonstrates the chemical reaction between acids and bases.
Learn More: Buggy and Buddy
4. Growing Jack o' Lantern
This is the perfect Halloween-themed activity and allows students to grow their own balloon Jack o' Lantern by producing a chemical reaction using 2 simple ingredients.
Learn More: Education.com
5. Divine Slime
Get stuck into this fun hands-on science project with your Kindergarten class- they'll love getting creative with unique feeling substances.
Learn More: Mommy Poppins
6. Dancing Rice
This is one of those fascinating experiments for kindergarten learners. Make the grains of rice dance through a water-vinegar mix shat has been dyed using drops of food coloring!
Learn More: Green Kid Crafts
7. Make a Lava Lamp
Make your very own lava lamp with the help of simple household ingredients. Personalize your lamp according to your favorite color- adding a couple of color droplets to your bottle.
Learn More: Science Fun For Everyone
8. Design a straw boat
Keep spirits high and brains alert with this straw boat project. Students should be instructed to create a floatable structure that successfully holds the weight of 25 pennies.
Learn More: Education.com
9. Dry Erase Man
Using a whiteboard marker, draw a stick figure on a plate or the bottom of a glass bowl. Add water to watch your drawing come to life and start moving around the surface.
Learn More: Science Fun
10. Turn Bean Seeds Into a Bean Plant
Green thumbs will have a blast as they grow sprouts from beans in paper towel strips. To embed this experiment into the curriculum, analyze the factors, such as sunlight, air, and water, that help the beans grow.
Learn More: Mom Junction
11. Craft Chromatography Butterflies
Coffee filters take on a new purpose in this vibrant experiment. Chromatography is a kid-friendly science experiment that allows for the separation of various mixtures.
Learn More: 123 Homeschool 4 Me
12. Cloud in a Glass Jar
Jar-style experiments allow students to learn about grand-scale occurrences in a small, measurable manner. Create a cloud in a jar during a science lesson by using warm water, a closed jar, hairspray, and ice. Enjoy similar printable worksheets via the website linked below!
Learn More: Little Bins for Little Hands
13. Balloon Juice Box Racer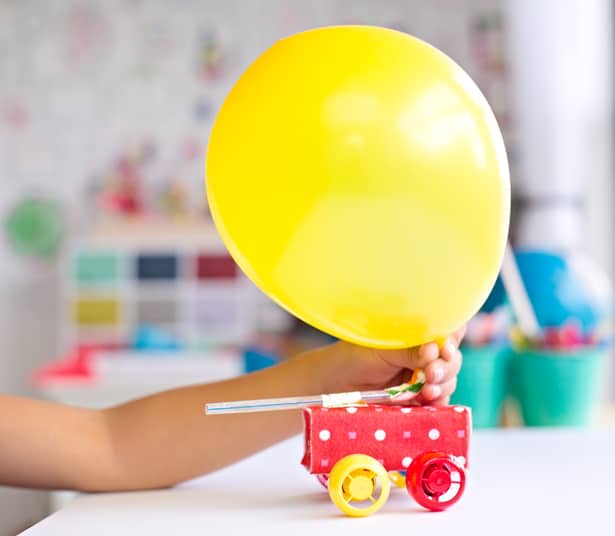 Incorporate this easy experiment into any lesson regarding recycling or air pressure by using a used juice box and other materials to build a car. For added excitement, we'd recommend having your students race their creations to see who is faster!
Learn More: Hello Wonderful
14. Watch Water Move Through Cabbage
This funky experiment visually demonstrates how plants work by absorbing colorful water and eventually ending up with dyed leaves.
Learn More: Itsy Sparks
15. Magic Tea Bag Rocket
Elements of magic are perfect for capturing the attention of Kindergarten students. Launch teabag rockets and wow the class. Be sure to have plenty of tea bags on hand as your students are going to want to repeat this experiment a couple of times!
Learn More: Paging Fun Mums
16. Melt your crayons
Craft new, whacky crayons using pieces of old broken ones. Melt the wax and remold them into any shape you desire. This is a wonderful idea for younger grade classes who often require many coloring resources.
Learn More: Fun with Mama
17. Create Sensory Bottles
This fun sensory activity appeals to learners in a unique way and is sure to get them excited to learn! Get the students to experiment with smells and see if they can match the smell to its correct label and make scent bottles.
Learn More: Things to Share and Remember
18. Make a Sun Dial
The use of a sundial used to be common practice back in the day, but can still be incorporated into modern-day play as a unique approach to learning how to tell the time.
Learn More: Happy Brown House
19. Static Electricity Experiment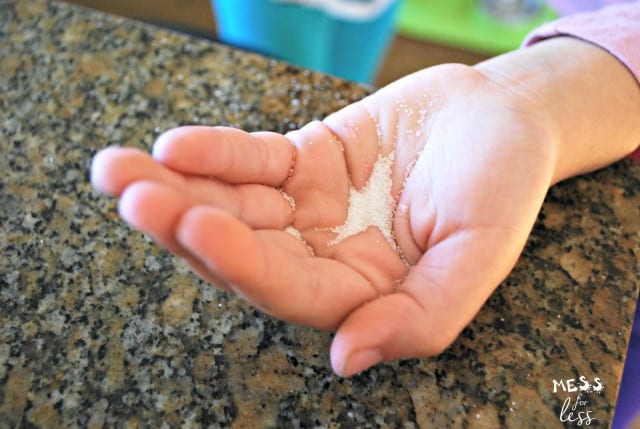 Use a balloon to demonstrate the effects of friction in causing static electricity. This inexpensive science experiment will be a good laugh for the class if the students are willing to use static electricity to make their hair stand up!
Learn More: Mess for Less
20. Instant Ice
Learn about the process of nucleation with this simple science activity that requires a plastic bottle and other simple materials.
Learn More: Only Passionate Curiosity
21. Turn Old Paper into New Paper
Explain that we can transform things from old to new by recycling them. Demonstrate this concept with paper!
Learn More: Think Earth
22. Make Edible Glass
Using a pantry of kitchen ingredients, make edible sugar glass to demonstrate the change of molecules when heat is applied!
Learn More: Go Science Kids
23. Rainbow Baking Soda and Vinegar Experiment
Make a rainbow from colored baking soda and add a vinegar mixture to make it fizz and come alive!
Learn More: Happily Ever Mom
24. Learn With Magnets
Make magnetic sensory bottles to help students learn about what objects are attracted versus which are repelled. We recommend the use of a variety of items such as pipe cleaners, a piece of paper, rubber bands, and a paper clip.
Learn More: Left Brain Craft Brain
25. Light Refraction Experiment
Dabble with light refraction when completing this quick and easy experiment.
Learn More: Look We're Learning
26. Water and Pencils in a Bag Experiment
Students are challenged to stick pencils through a bag without having it leak – how fun!
Learn More: Fun with Mama
27. Defy Gravity
In this fun science experiment, defy gravity with the help of magnets and paper clips.
Learn More: Buggy and Buddy
28. Make Magic Milk
This sure won't disappoint your students and it's just as good of an art project as it is a preschool science experiment!
Learn More: Fun Learning for Kids
29. Ice Painting Extravaganza
This activity gives budding artists an opportunity to get messy whilst enjoying a painting extravaganza with a scientific twist! To prepare, fill ice cube trays with watercolor paint and water before freezing. Then, once frozen, have your littles use the blocks to paint on paper and observe how the melting ice influences their art.
Learn More: YouTube
30. Growing Green Thumbs with Chia Pets
Cultivate your students' green thumbs with a quick and exciting chia pet activity. All you need are terracotta planters and chia seeds to get going. Once you have the necessary materials, guide your students through the planting process and watch their faces light up as they observe their 'pets' sprouting vibrant green 'hair'.
Learn More: Burger Fit
31. A Day of Shadow-Play
A sunny day is a perfect time for a lesson on light and shadows. Guide your students through a day of tracing and observing their shadows. Encourage them to note how their shadows change in size and position throughout the day.
Learn More: Happy Mom Hacks
32. Bugs, Bugs Everywhere!
Transform your little ones into mini entomologists with a bug hunt. Equip them with magnifying glasses and lead them on a bug discovery adventure. As they locate them, spend time discussing the different bugs they encounter and instill a sense of wonder for these tiny creatures.
Learn More: Kidspot NZ
33. Tornado Twirling in a Jar
Prepare for gasps of amazement with a fun science experiment! Fill a jar with water, add a splash of vinegar, and a few drops of dish soap. Screw the lid on tightly, give it a good shake, and let your students watch in awe as a mini cyclone forms.
Learn More: Playing With Rain
34. A Globe, a Flashlight, and the Mystery of Night and Day
Demystify the concept of night and day using a globe and a flashlight. As the flashlight 'sun' shines on the globe 'Earth', explain how its rotation creates day and night. Your students will love seeing this cosmic ballet play out right in their very classroom.
Learn More: YouTube
35. Thermometer Craftiness
Engage your students in a crafty science challenge! Lead them in creating a homemade thermometer using a clear bottle, water, rubbing alcohol, and a straw. When putting their craft to the test, discuss how the rising and falling liquid reflects temperature changes.
Learn More: Lemon Lime Adventures
36. Can You Hear Me Now?
This is no ordinary phone call! Get your kiddos to play with the transmission of sound waves by constructing a rudimentary telephone using cups and a string.
Learn More: Mom Brite
37. Bubbling Over with Excitement
Unleash a flurry of excitement with homemade bubbles! With water and dish soap, engage your students by having them create bubbles of different sizes. As they compete to form the biggest, discuss the factors that affect the size and lifespan of a bubble.
Learn More: Project Nursery
38. The Magic of Composting
Teach the importance of recycling with a hands-on composting activity. You can do this by creating a compost bin to monitor the decomposition process; inviting your students to note how different items decay at different rates.
Learn More: National Geographic
39. Secret Messages
This next activity will help you add a dash of intrigue to your lessons! Lemon juice and water create invisible ink that reveals itself under heat; leading your learners into a portal of chemical reactions. They can write secret messages and reveal them with heat, all while explaining the underlying chemistry.
Learn More: YouTube
40. Classroom Weather Watchers
Turn your classroom into a meteorological observatory by having your kiddos craft homemade weather instruments to observe and record weather changes. This will connect their learning to real-world applications like never before!
Learn More: Inventors of Tomorrow
41. Dive into a Flower's World
Next up, explore the intricate life of flowers. First, give students a microscopic view of a flower's world. Then, have them dissect a flower and identify its parts whilst discussing the role each part plays in the plant's life cycle.
Learn More: Buggy and Buddy
42. Journey Back in Time with Fossils
Time travel has never been easier! Leap back in time with DIY fossils. Using coffee grounds, flour, and salt, let your students create their own 'fossils'; sparking conversations about geology and Earth's history.
Learn More: Crafts by Amanda
43. Air Pressure Wizards
Summon the magic of meteorology as you have your students step into the shoes of meteorologists and DIY a barometer. With a jar, a balloon, and a straw, they'll discover a wealth of knowledge about changes in air pressure, and how it influences the weather.
Learn More: Go Science Girls
44. Sensory Nature Walk
Invite your students to explore the world by taking them on a multi-sensory nature exploration! A nature walk will let them listen, smell, touch, and see their environment in a whole new light; igniting a deep appreciation for nature.
Learn More: Fireflies and Mudpies
45. Shoebox Habitat Creations
Foster your kindergarteners' creativity and empathy for living creatures. To begin, have them create shoebox habitats for animals of their choice. Then, spend time discussing the needs of each animal and the importance of suitable habitats.
Learn More: Teacher's Mag
46. Egg Drop Architects
Turn your classroom into a physics lab with a simple egg drop challenge. The quest? Have your pupils design a structure that protects an egg that's dropped from a height.
Learn More: YouTube
47. Afloat in a Sea of Salts
Make the mystery of the Dead Sea come alive in your classroom. By testing buoyancy in different salt solutions, your students will learn why certain objects float while others sink.
Learn More: Science Kiddo
Science experiments completed in Kindergarten are amazing opportunities for increasing academic ability from a young age. Elements of play, which can be seen throughout the above experiments, are encouraged in younger classes as they help to; reinforce more complex concepts and help students understand them in a simple manner.
Frequently Asked Questions
What is taught in kindergarten science?
Very basic concepts such as physical science and earth science are explored in the Kindergarten years. Principles of investigation and experimentation are also studied in these formative years whilst students develop their natural innate curiosity levels.