Latitudes and longitudes are an aspect of the geographic coordinate system and you can use them to map out any point on the globe. Latitudes represent the coordinates that go around the world horizontally while longitudes represent the coordinates running vertically from pole to pole. Making these concepts fun and interesting requires creative activities like puzzles, online games, or scavenger hunts. That's where we come in to assist! Here are 19 student-centered activities to liven up your latitude and longitude lessons.
1. Latitude & Longitude Scavenger Hunt
Learning about longitude lines and lines of latitude becomes a fun, hands-on activity with a school-wide scavenger hunt. Make a map of the school, download the task cards, and create fake longitude and latitude lines. Students will locate the exact location of the cafeteria, gym, etc.
Learn More: Adventures of Ms. Smith
2. Create a Scavenger Hunt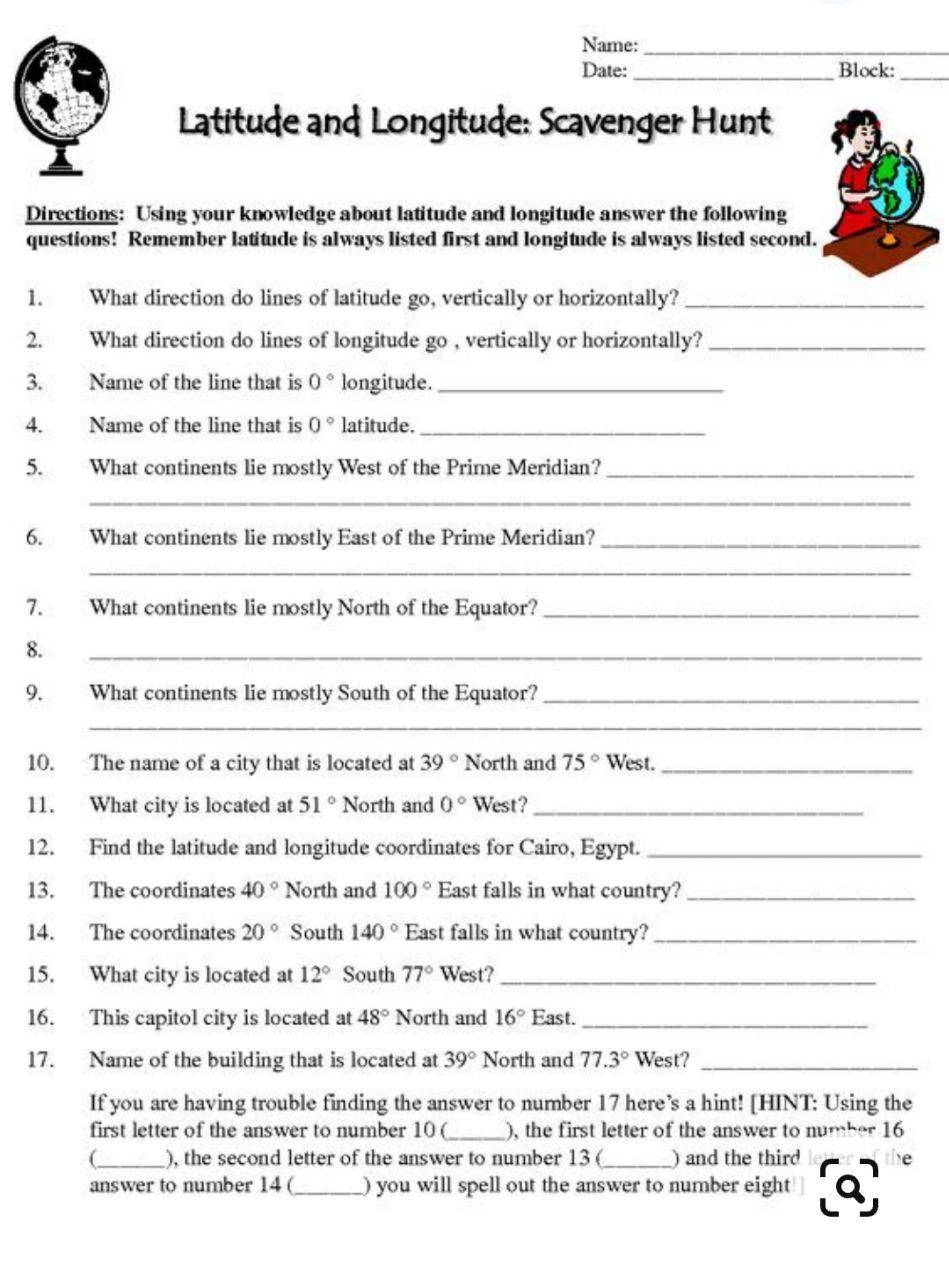 Longitude practice activities can become a perfect time to apply critical thinking skills. With this guided worksheet, students will create a scavenger for others to solve. Students can use Google Earth or an Xpeditions Atlas to create their questions.
Learn More: Teachers Pay Teachers
3. Suspect Search
Here is a fun way to have students apply map skills and their knowledge of latitude and longitude. Students will go on a quest to look for an infamous cat burglar; chasing them around the globe using the given coordinates!
Learn More: Education.com
4. Longitude & Latitude Treasure Hunt
This online game is an excellent tool for longitude fun. Students practice applying their latitude and longitude skills to find a hidden treasure chest.
Learn More: ABCya
5. Longitude & Latitude Banner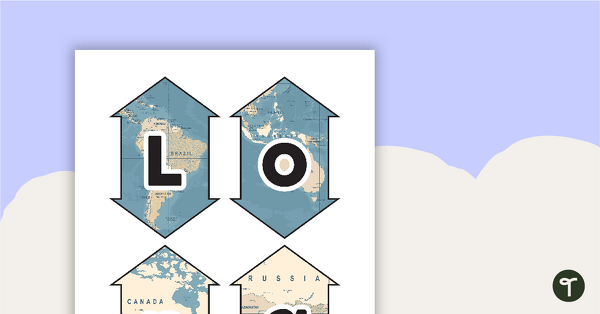 Banners are awesome teacher tools. This longitude- and latitude-themed banner will liven up the classroom and serve as an anchor chart for students to refer to while they are learning. Refer students to the banner to remind them of learned concepts.
Learn More: Teach Starter
6. Longitude & Latitude 3rd Grade Lesson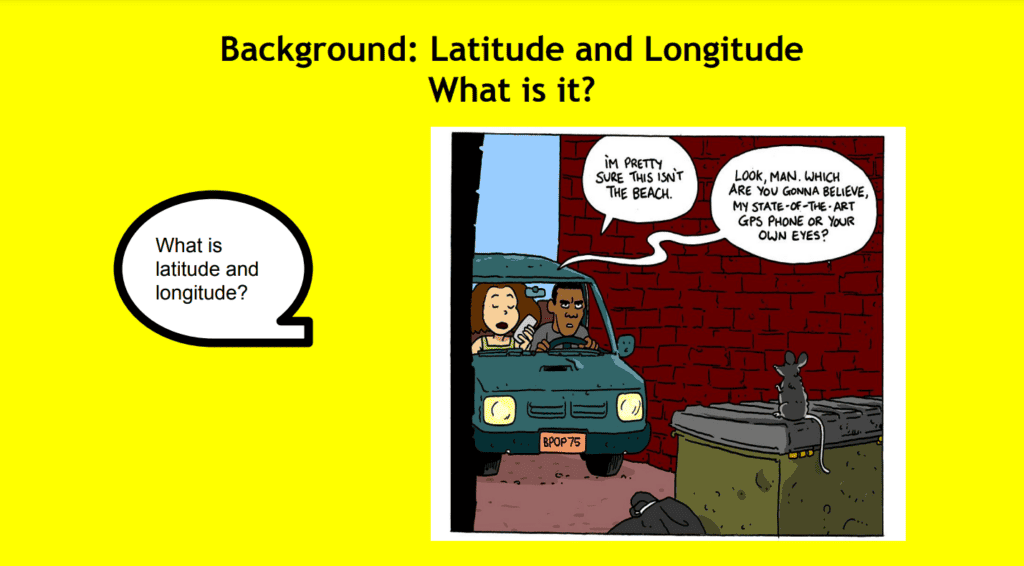 Teachers and students will love this longitude and latitude lesson pack that's full of activities, videos, and easy-to-understand explanations. Students will practice longitude measurement and topics with games and digital tools.
Learn More: Independence School District
7. Longitude and Latitude 3-D
Students will be fascinated when they can see the Southern and Northern hemispheres in 3-D. When lines of longitude show up in 3-D, students gain a visual understanding of the grid systems on the globe. Provide a list of country names and have students provide their coordinates.
Learn More: Sketchfab
8. Latitude and Longitude Demonstration with Oranges
Students will enjoy this hands-on experience using an orange to discover more about latitude and longitude. Students will draw grid lines on an orange to create a fantastic visual. This is a perfect alternative when you don't have access to atlases!
Learn More: Strategic Education Services
9. DIY Globe
Students can make a globe using a styrofoam ball and markers. They will then draw and label continents and oceans. Lastly, students can identify lines of longitude and latitude using pins and string.
Learn More: Rainy Day Mum
10. Battleship Map Coordinates
Students will love this fun game of battleship that applies their knowledge of coordinates. Download the game template and coordinate key. The teacher will call out the coordinates. If there's a ship on one of the coordinates called, it's a "hit". If there's not a ship on one of the coordinates called, it's a "miss".
Learn More: Passport Nation
11. Map-Making Activity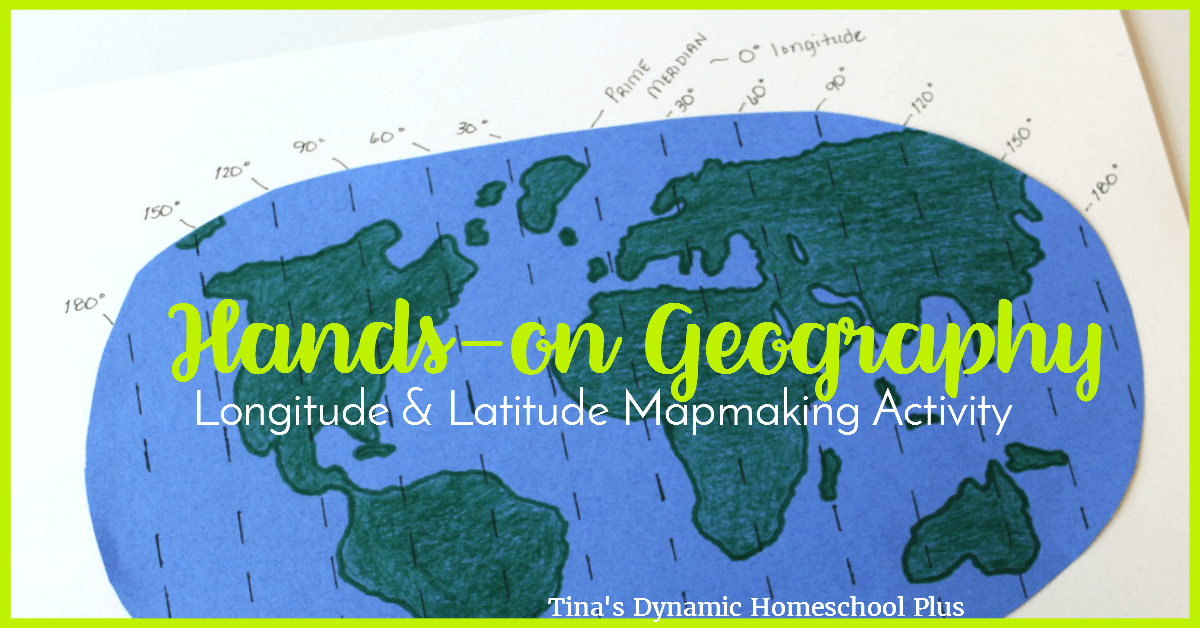 This fun mapmaking activity is a great addition to your geography class! Plus, it helps students remember concepts of longitude and latitude. Kids will use construction paper and markers to create continents and oceans. Then, using a ruler, they can draw the lines of longitude and latitude.
Learn More: Tina's Dynamic Homeschool
12. Interactive Map Quiz
Students will use an interactive, online map and click on the correct degrees of longitude. The quiz asks various questions about a destination and students will use the map to solve what degrees of longitude or latitude is correct.
Learn More: Seterra
13. Live Worksheets
Download a variety of latitude and longitude worksheets and exercises for students to practice what they've learned. Worksheets are available for grades 3-7 and include labeling, multiple choice, or fill-in-the-blank questions.
Learn More: Live Worksheets
14. Country Capital Discover Worksheet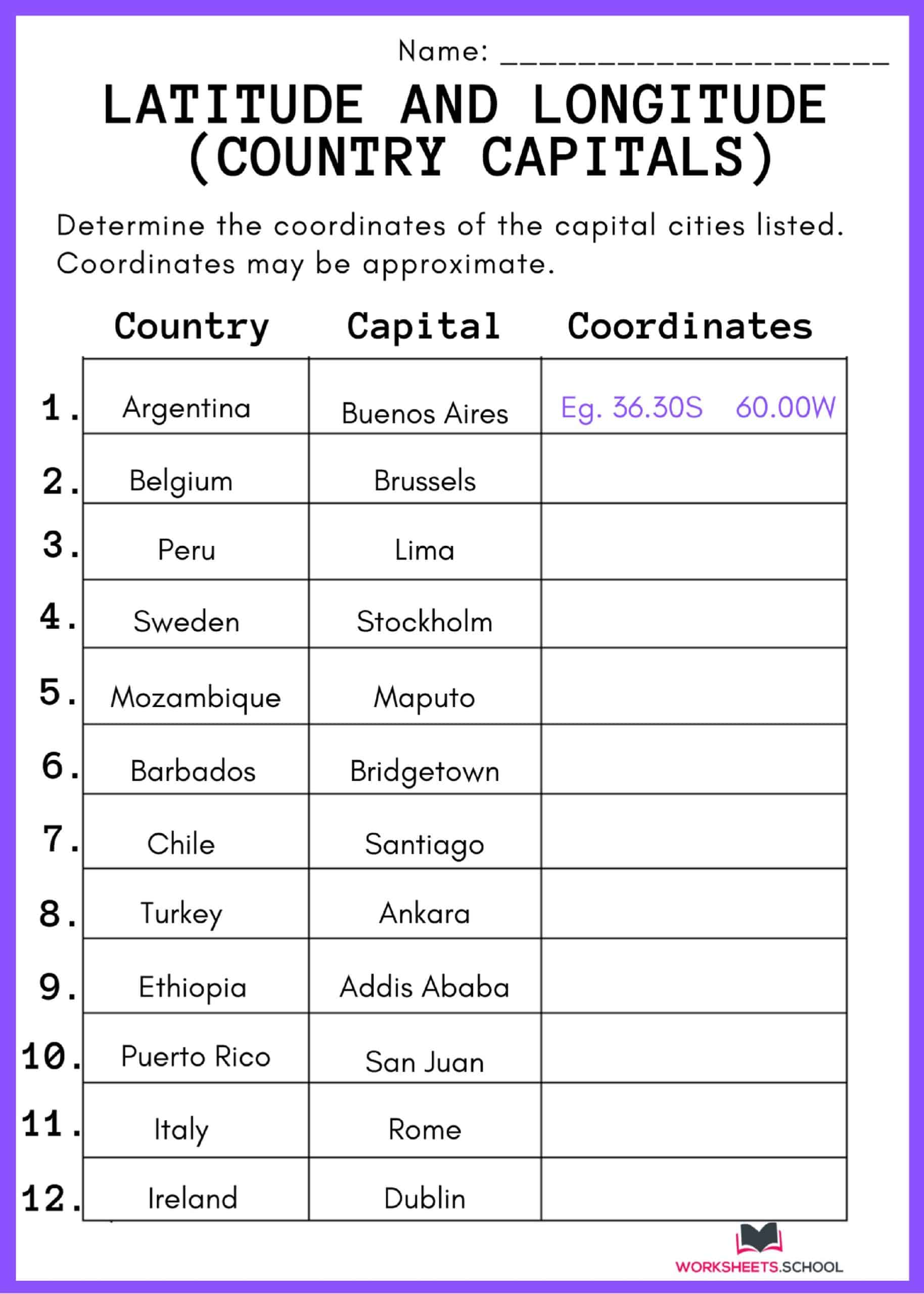 Reading maps requires some knowledge of longitude and latitude. Students can take imaginary trips around the world with these fun worksheets. Students will write the estimated coordinates of various locations around the world.
Learn More: EduWorksheets
15. Latitude and Longitude Coordinates Puzzle
Print this grid and have students plot the given coordinates. Students will activate critical thinking and problem-solving skills as they complete the puzzles.
Learn More: Aiken County Public School
16. Latitude and Longitude Song
Get your students in a good mood with a funny song. Mr. M and Mr. Parker explain the importance of longitude and latitude with this awesome parody of One Direction's, "You Don't Know You're Beautiful".
Learn More: The Singing History Teachers
17. Online Battleship Game
This is an awesome game that kids can play to demonstrate their longitude and latitude skills. The object is to sink the opponent's battleship by using coordinates to locate the ship.
Learn More: Quia
18. Longitude & Latitude Lesson for Kids
Learning about latitude and longitude can be boring for kids but they will enjoy the fun that this audio-visual tutorial brings to the lesson. The animated tutorial demonstrates the coordinates of longitude and explains lines of longitude using colorful visuals.
Learn More: Study.com
19. Longitude & Latitude Quizzes
Students can test their geographic skills and longitude coordinate knowledge with fun quizzes. Quizzes are available for all grades and skill levels.
Learn More: Quizizz