Team building activities tend to make people cringe. Kids and adults alike seem to sigh and become exasperated when asked to take part in any type of activity that requires them to work together with people they are unfamiliar with. The naturally forced version of "let's all get along" is often unwelcomed and far from as fun as leaders want it to be. Fortunately, this list of Lego-based team-building activities brings out the creativity and inner kid in everyone and makes these types of activities less intimidating.
1. Lego Build Challenge
Using a pre-determined build and some Legos, teams are required to create the build in an allotted time frame. When finished, if other teams can determine what they've built, they are considered successful.
Learn More: Great Peace Academy
2. Copycat Challenge
In this true team challenge, the builder may not see the model but must instead rely on verbal instructions from other teammates who direct the builder on ins and outs of the Lego structure. This is a great way to see team dynamics flourish as members build trust.
Learn More: Frugal Fun 4 Boys
3. Disaster Island Challenge
This creativity-inducing team project requires each participant to pull a disaster from the pile and then build a way to solve the disaster or problem. During this team building session, no one may destroy what has already been built.
Learn More: Lego Librarian
4. Tallest Tower
Challenge team members to build the tallest free-standing structure by giving them all the same amount of Lego bricks and some construction time. This is a great indoor team-building activity that doesn't take much effort.
Learn More: OER Commons
5. Rebuilding Fairy Tales
Another fun team challenge requires team collaboration to rebuild popular fairy tales and have others correctly guess which fairy tales they created. The team with the most correct votes wins!
Learn More: Pinterest
6. Lego Bridge Building
In this team collaboration challenge, groups of 2-4 team members will create a bridge that spans the width of a river. Each team will get a replica of a river, the same amount of Lego blocks, and some planning time. Make it more challenging by requiring members to communicate non-verbally.
Learn More: Frugal Fun 4 Boys
7. Pool Noodle Lego Run
Teams will get a marble, some pool noodles cut in half and in small lengths, and the same amount of Lego blocks. Once they receive all of their supplies, the team will have to work in collaboration to create a working marble run.
Learn More: That Brick Life
8. Build a Lego Rainbow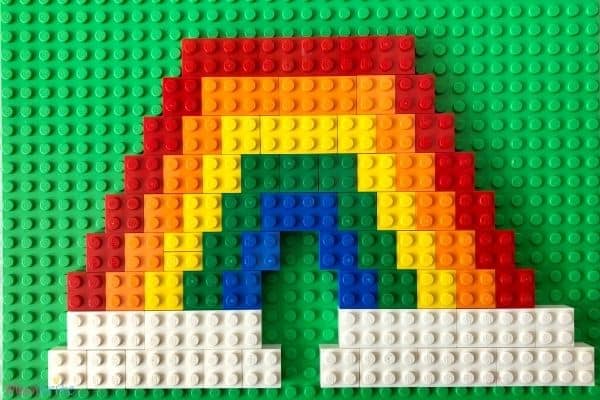 This team-building challenge is a great alternative for younger teams as they must work together as an entire group to build a beautiful rainbow. They can each be assigned a color as they start with their idea generation and then gradually come together to complete the final masterpiece.
Learn More: Preschool Powol Packets
9. Lego Catapult
Challenge teams to a building process as they work together to create a functional catapult that shoots their Lego! The team that manages to catapult their blocks the furthest wins!
Learn More: Powerful Mothering
10. Race to Finish
This is a fun team-building game that gets teams racing against each other to complete an animal Lego build. You simply need several small sets of Legos and a couple of tables for teams to spread out on. Let learners go to town and the first team done, wins!
Learn More: Amazon
11. The Most Profitable Tower
This twist on team-building games adds a twist of profitability. Each portion of the design process including the planning, building, and materials costs a certain amount of money. The buyer will pay $3 per square centimeter. The goal is to build the most profitable tower in a given amount of time.
Learn More: Skills Converged
12. Role Play Problem Solving
Classroom teams can work together to simulate real-life problems they encounter throughout the school day. They can represent these problems using the Lego blocks and then have others offer up suggestions on solutions.
Learn More: Research Gate
13. Serious Play Starter Kit
Lego isn't just for kids! This kit comes complete for any corporate team with simple team exercises included. It can also be used to invite peers and cohorts to better understand new concepts, imagine new ideas, and give overall presentations to otherwise boring meetings.
Learn More: Amazon
14. World Flag Scramble
Invite teams to develop their team skills and increase their world knowledge by figuring out a variety of the world's countries' flags in a timed race! Include a list of options to make it a little less challenging.
Learn More: Pinterest
15. Lego Puzzles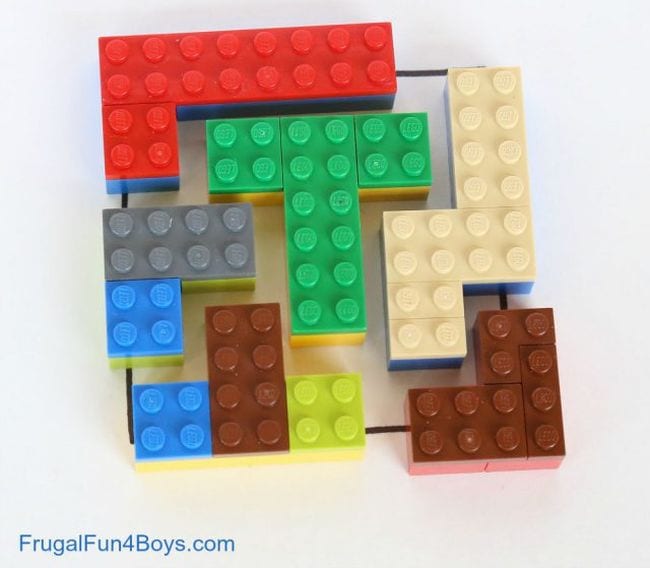 Create a team Lego challenge using printed shapes and pre-built Legos for teams to put together. This team-building exercise can be a timed challenge, a race, or simply a fun and entertaining way to promote teamwork.
Learn More: We Are Teachers
16. Lego Landmarks
Provide teams with a photograph of the landmark and have them work together to build the landmark with their teammates. This exercise helps build team bonds and creates a fun, relaxed way for people to get to know one another.
Learn More: Pinterest
17. Domino Reaction Team Build
There is nothing that takes more patience, teamwork, and communication than building a domino line. The team that creates the longest line, without it tipping over, wins. You could also have teams create a particular shape.
Learn More: Mom Brite
18. Lego Boat Races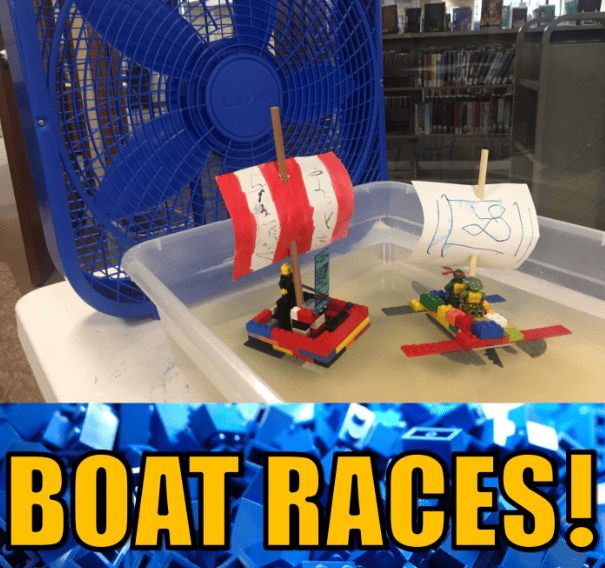 This is an incredibly fun challenge for any age! Teams must build a working boat that includes a sail, and then race the boat across a tub of water using a tabletop fan or a box fan.
Learn More: Lego Librarian
19. Get to Know You
This is a simple, surface-level team-building activity. Encourage students to sit next to someone they don't know and then have them introduce themselves to one another. Once they've met, proceed with your lesson. After a short while, pause and give each table a bucket of Lego blocks and have them build the name of one of their new neighbors. Proceed by discussing the importance of hearing and valuing one another's thoughts and ideas.
Learn More: Playdough to Plato