A teacher's lesson plan typically outlines a lesson's topic, key objectives, procedure, time indications, and student practice. The plans we've selected are pre-made and ready to use; making your job a whole lot easier! Whether you're a preschool, elementary, middle, or high school teacher, we've got something to suit your needs. Our collection of 25 lively lesson plans spans a wide array of developmental stages and is sure to help you think out of the box; get creative with your resource choices, and binding learning to memory in a fun and unforgettable way!
10 Peppy Pre-K Lesson Plans
1. Alphabet-focused Lesson
Help your students get to grips with basic language skills with the help of this amazing alphabet lesson plan. Students will learn to recognize both upper and lowercase letters, and then learn how to pronounce and write them. Learning is further bolstered by fun songs, games, and a story.
Learn More: ESL Kid Stuff
2. Reading Sessions
Cover key vocabulary by incorporating regular reading sessions into your learning units. The learning objective of this plan is to have students read and recognize basic sight words. Only a few simple supplies are called for; helping teachers quickly prepare an awesome activity to consolidate student learning.
Learn More: Jump Start
3. Productive Lesson Focused On Writing
If you haven't yet covered letter-writing, here's a resource to help you do just that! This lesson plan template aims to have learners trace the alphabet in the correct format. Teachers model what is required before leaving learners to get on with the task- assisting as and when needed.
Learn More: Education.com
4. Color-themed Lesson
This preschool plan is perfect for individual students who may be learning from home. Students will learn the colors of the rainbow by playing a range of games such as I spy, card matching, item sorting, and scavenger hunting. Learning is further supported by reading bold picture books and singing catchy tunes.
Learn More: Stay-At-Home Educator
5. Lesson Content For Your Shapes Unit
Learning about shapes at a young age allows little ones to identify symbols and classify visual information. With the help of this resource collection, your learners will learn about shapes over the course of 16 engaging lessons! Activities include creating shape-specific sensory bins, making unique shape artworks, and more!
Learn More: Stay-At-Home Educator
6. Lesson Plan Idea For Teaching 1-10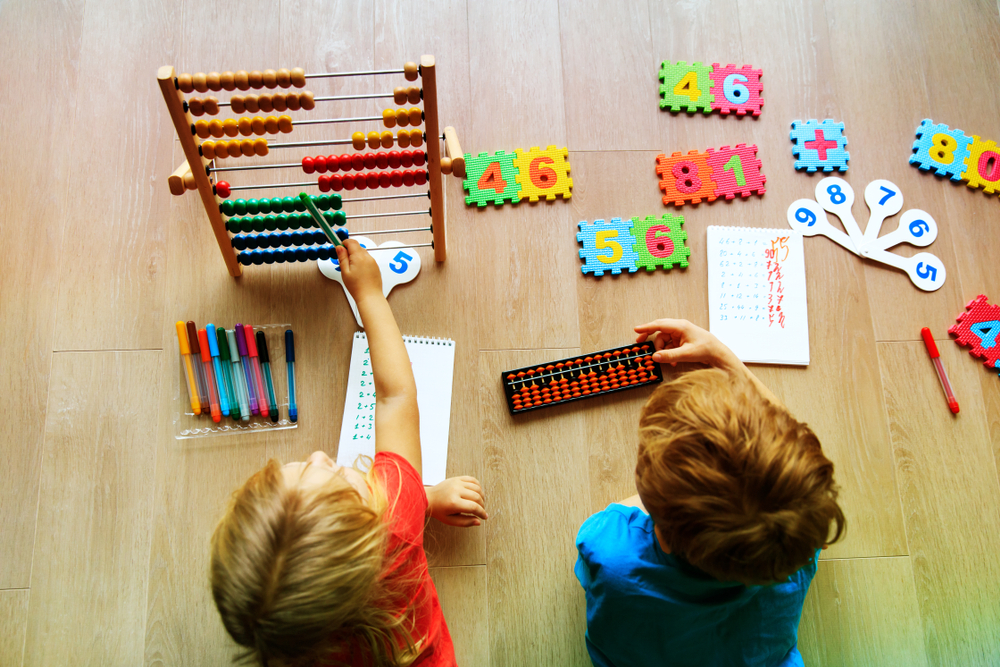 Number recognition is an important developmental skill that can be approached in many ways. This plan aims to have learners recognize numbers 1 through 10 by; exposing them to a cool counting song, counting items in the classroom, completing a tracing worksheet, and reading a story.
Learn More: ESL Kid Stuff
7. Weather Unit Lessons
Whilst teachers may not struggle with finding appropriate teaching content, they may find it difficult to source engaging activity plans that consolidate everything and bind learning to memory. If you're covering a weather unit and have found yourself in this position, fear not! We've soured 24 thematic plans that cover varying weather conditions and temperatures, rainbows, and more!
Learn More: Early Childhood Lesson Plans
8. A Plan For PE Teachers
Physical exercise is important in all stages of life, but especially so in the early stages! It promotes all-around mental and physical health and should certainly not be ignored. This PE plan aims to have littles practice their catching skills. All that's required is a launch board, bean bags, and an open space.
Learn More: PE Central
9. Dental Health Unit
Dental health units often include several components that can be daunting for new teachers. This lesson and activity pack helps teachers cover all the basics in an organized manner, and marry learning with a host of enjoyable activities.
Learn More: Pre-K Printable Fun
10. Seasons Sample Lesson Plan
This season's unit is complete with clear lesson objectives and fun learning activities that guarantee good student engagement. By the end of the lessons, students should be able to identify the seasons and assorted vocabulary, as well as complete a worksheet after singing a song and playing a game.
Learn More: Games 4 ESL
5 Engaging Elementary Lesson Plans
11. Social Skills Lesson Plan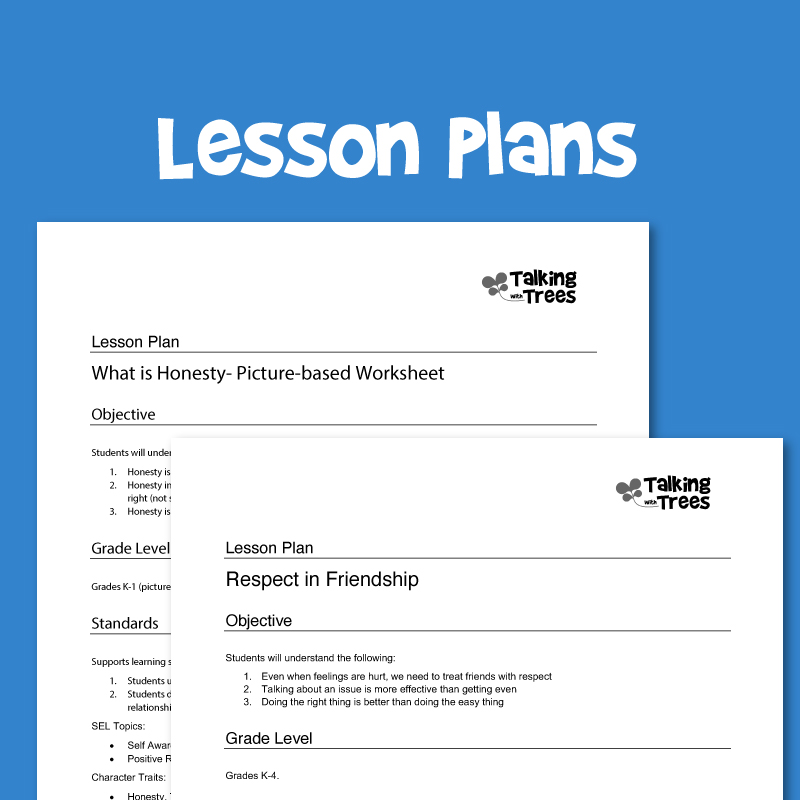 This social skills lesson highlights the importance of respect in a friendship. Teachers only require a few simple materials; 3 eBooks, classroom posters, and a worksheet. Students will discuss how to respect others and talk through any interpersonal issues that they may encounter.
Learn More: Talking With Trees
12. Math Guide
These daily lesson plans are perfect for your upper elementary classes during the first week at school. Students will review the basics from the previous year, and complete fun puzzles and games as they are gradually introduced to new concepts.
Learn More: Teaching Math And More
13. A Plan For Art Class
This lesson plan is best suited for 2nd grade. By the end of the unit, student understanding will span over concepts such as; basic vocabulary, the characteristics of art, tool use and safety, and the characteristics of varying media. Students will then apply their knowledge as they create art.
Learn More: Teach And Shoot
14. English Adjectives Lesson Plan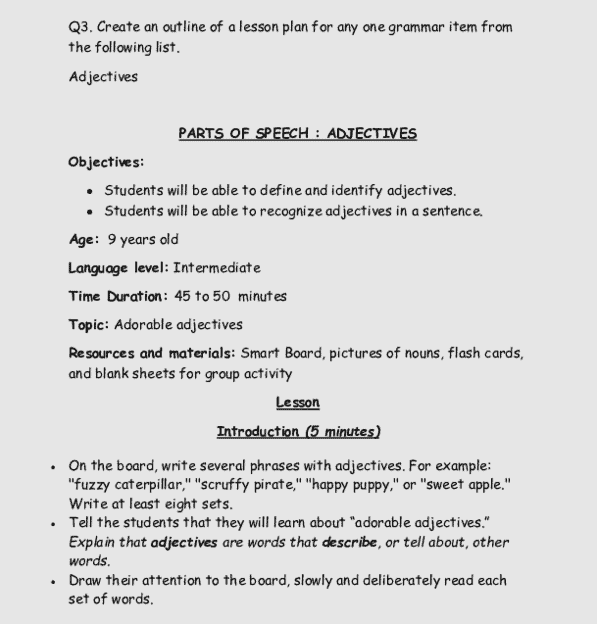 Using the topic "Adorable adjectives", teachers will aim to have their learners identify adjectives within a sentence, and then define them. This lesson spans 45-50 minutes and is appropriate for intermediate, 9-year-old students.
Learn More: Academia.edu
15. History
Be transported to the Netherlands and explore the intriguing history and culture that the country has to offer. This lesson plan walks learners through everything from windmill maintenance to traditional Dutch clothing, tulip exports, and more! Learning is then reinforced by a crossword, word search, and fun quiz.
Learn More: Woo Jr.
5 Memorable Middle School Lesson Plans
16. Geography Class
This lesson focuses on the Earth's natural resources and the ever-increasing destruction of them through pollution. Objectives are for learners to define what pollution is, identify its causes, and suggest possible solutions. In order to achieve this, they will be required to think critically and analyze various images and environments.
Learn More: Research Gate
17. Math Lesson On Integers
Learners will be exposed to integers in a real-life context by studying shopping-based story problems and will use manipulatives to solve them. By the end of the lesson, they will be able to add integers ranging from -10 to +10.
Learn More: Get Worksheets
18. Self-portrait Art Lesson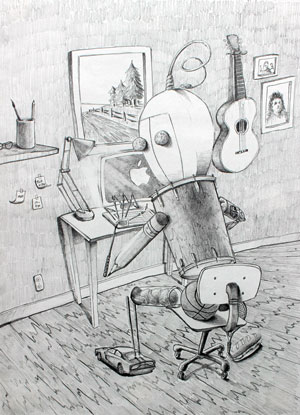 Self-reflection and interpretation are vital for personal growth. This lesson plan aims at having learners express themselves by using graphite to create a unique visual representation.
Learn More: The Visual Instructor
19. 5-Day Ancient Egypt History Lesson
After introducing the topic and basic background information, draw a KWL chart on the board and have your learners help you fill it in. Throughout the weekly lesson plan, revisit the chart and have your learners add to it. They will cover everything from the culture, language, and religion to architecture, gender roles, and society of ancient Egypt.
Learn More: Study Lib
20. Science Lesson
This grade 6 lesson plan covers the characteristics of living things, and is perfect for your next science class! Students will; explore the difference between living and non-living things and unicellular versus multicellular organisms, as well as describe the major levels of the organization of living things.
Learn More: Get Worksheets
5 Handy High School Lesson Plans
21. Black History Lesson Plan
Cover the historical events and people who changed the course of Black history with this creative lesson plan. Students will cover the importance of Black History Month, celebrate diversity by crafting multicultural faces, and learn about Rosa Parks, the Gee's Bend Quilters, and artist- Esther Mahlangu.
Learn More: Nurture Store
22. Play Critique For Theatre Arts Class
Dramatic planning resources are hard to come by and this area of study can be difficult to correctly convey to learners. This lesson plan very simply asks learners to conduct their very own play critique; enabling them to evaluate others as a means of learning and improving their own techniques.
Learn More: Study Lib
23. Cell Biology Lesson Plan
Students will learn how the fundamental life processes of animals and plants are made possible by a series of chemical reactions that occur in their cells. They will engage in a fun partner, and group, activity whereby they will compare notes, complete charts, and discuss the function and structure of cells.
Learn More: Scribd
24. Memory Drawing Art Lesson
This art lesson plan sample focuses on memory drawing and is best suited to more advanced students. Learners are asked to recreate a special memory that was initially captured on camera. Once their photo has been printed, they'll need to draw the image using graphite.
Learn More: The Visual Instructor
25. Business Ventures Lesson Plan
This plan is perfect for a business studies class learning about entrepreneurs! Students will analyze entrepreneurial qualities and success factors. By the end of the lesson, they'll be able to identify the above, as well as suggest strategies that a business can use to boost profitability whilst embracing sustainability.
Learn More: WCEDE Portal