What do you get when you cross a thought with a light bulb? A bright idea! Teaching the concept of light energy to children can be very inspiring. As children experience light energy-based activities, they make incredible observations. It's important to provide students with the necessary opportunities for independent discovery. This can be achieved by incorporating hands-on activities into elementary science lessons. The following activity ideas are highly recommended for students who are learning about light forms of energy.
1. Can You See Through Me?
Students will place many different items in front of an illuminated object and predict whether or not they will be able to see through the object. Throughout this process, they'll learn about light absorption and light transmission.
Learn More: Science Buddies
2. Light Energy Fact Find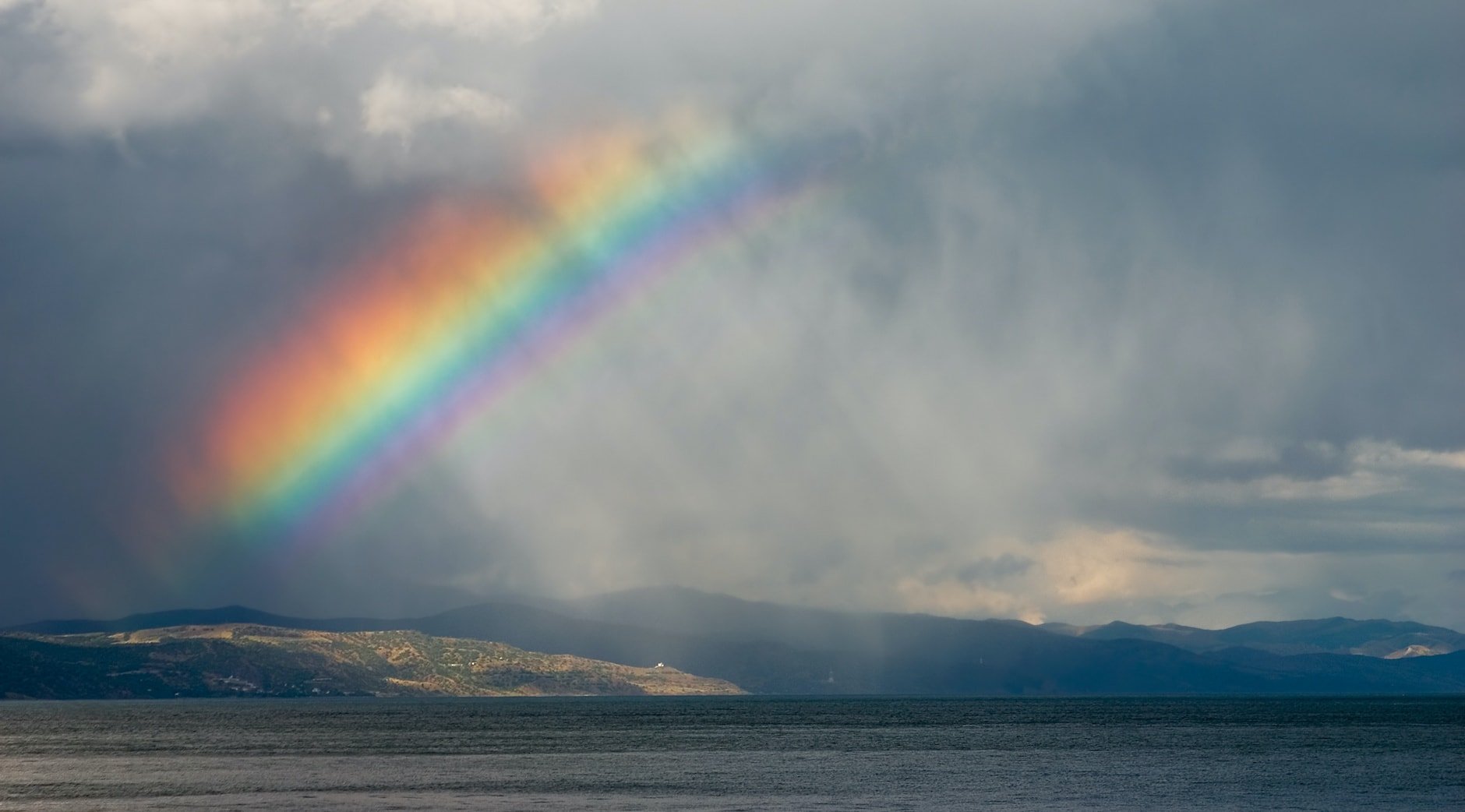 Students will first read through the website to learn interesting facts about light energy. Then, they will write down as many facts as they can in a set amount of time. When the timer runs out, students will share their facts.
Learn More: Fire 2 Fusion
3. Reflection and Refraction Board Game
The concept of reflection and refraction is an important part of an elementary light unit. This board game makes learning the content even more fun and engaging. It's recommended for science centers.
Learn More: Teachers Pay Teachers
4. Rainbow Prism
For this experiment, students will have the chance to make their own rainbow prism. You will place a glass prism on or above a white piece of paper, under sunlight. Rotate the prism until the rainbow appears.
Learn More: Rookie Parenting
5. Light Travels
Begin by punching a hole through 3 index cards. Use modeling clay to create a stand for the index cards. Shine the flashlight through the holes. Students will realize that light travels in a straight line.
Learn More: Ducksters
6. Light Spectrum
To start, you will cut out a circle from the base of a paper plate. Then, divide it into 3 equal parts and color one section red, one section green, and one section blue. Follow the directions provided. Students will learn that primary colors turn white when mixed.
Learn More: Ducksters
7. Light and Dark I Spy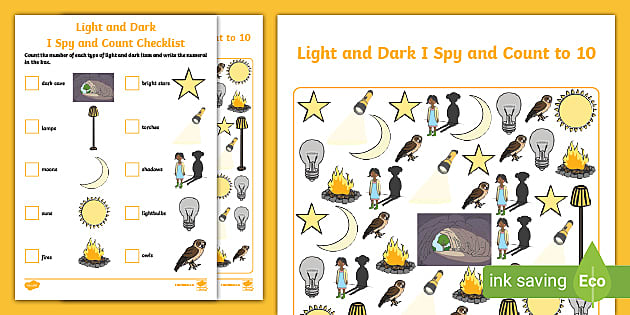 Students will be able to distinguish between sources of light by completing this game-based activity. Encourage them to circle the light sources.
Learn More: Twinkl
8. Light Refraction Magic Trick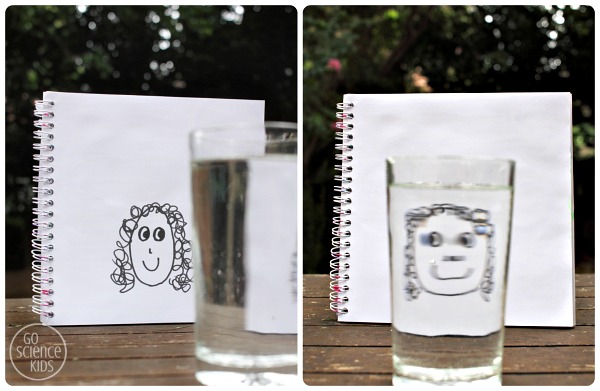 Draw two arrows that are both pointing in the same direction. Put a glass of water in front of the drawing and view one or both while looking through the glass. This activity demonstrates light refraction; otherwise known as the bending of light.
Learn More: Go Science Kids
9. Create a Sundial
By creating a sundial, children will learn first-hand about natural light. They will notice how the sun moves across the sky by tracking the positions of shadows on the sundial. Students can be creative and decorate their sundials.
Learn More: Kiwi Co.
10. Making Colored Shadows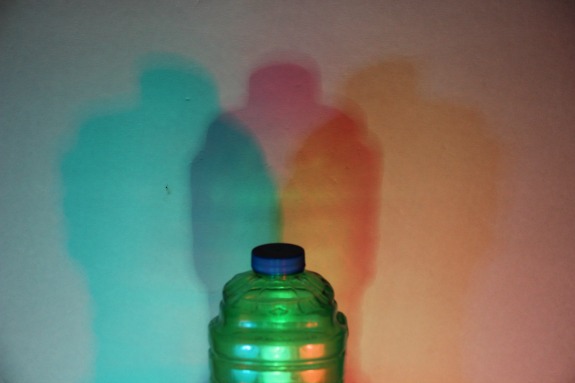 You will need 3 different colored light bulbs. You will also need 3 identical lamps, a white background, a dark room, and various objects. Place the objects in front of the lights and watch the shadows turn different colors.
Learn More: Inner Child Fun
11. Sources of Light Video
This video explains how our eyes interact with light to see objects. Many examples of light sources are shown such as artificial light bulbs, the sun, stars, and fire. You can pause the video at various points to ask comprehension questions and for students to make predictions.
Learn More: Kids Academy
12. Identifying Light Sources
As students learn about various light sources, learners can use this graphic organizer to categorize them as natural or artificial. For example, they would include the sun and stars in the "natural" box and light bulbs in the "artificial" box.
Learn More: Kids Konnect
13. Make a Peepbox
Use a shoe box and cut out a window flap in the lid. Cut out a peephole on the side of the box. Fill up the box and have students look in the hole with the window flap closed and open. They will quickly learn the importance of light.
Learn More: Kindergarten Lessons
14. Light Reflection Collage
For this activity, students will make a collage of items that reflect light. You can give them a bunch of random objects and they can test each one. If they do, they can glue it onto their collage.
Learn More: Kindergarten Lessons
15. DIY Pinhole Camera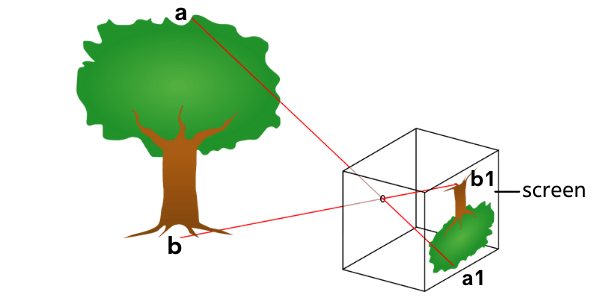 A pinhole camera proves that light travels in a straight line. You will make a light-proof box with a small hole on one side and tracing paper on the other. When rays of light go through the hole, you will see an upside-down image at the back of the box.
Learn More: Smart Class 4 Kids
16. Light Sources Poster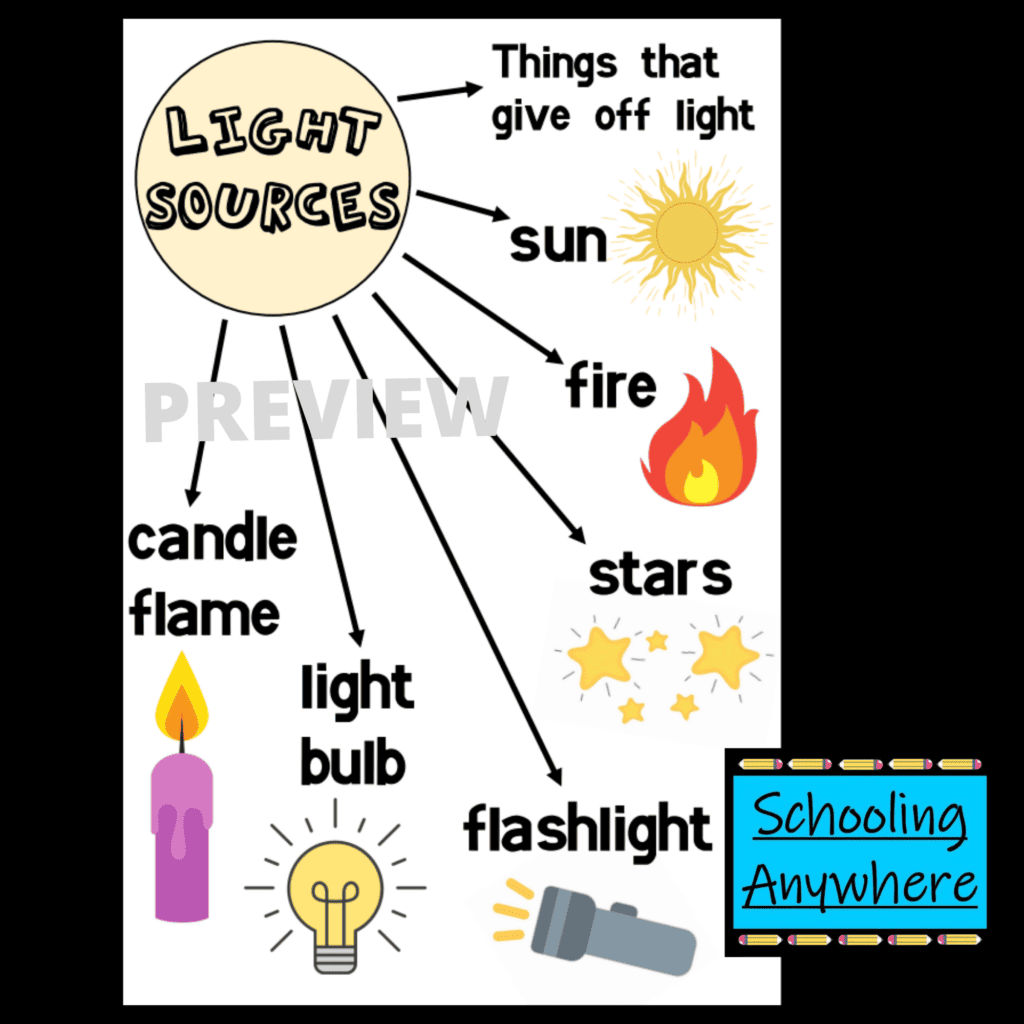 Students can make their own light sources posters, using this one as an example. I would recommend printing the web that says "Light Sources" in the middle with the arrows pointing out. Then, students can add pictures of various light sources.
Learn More: Teachers Pay Teachers
17. Light Pattern Box
Making a light pattern box is not only educational but also a great way to entertain your kiddos. The point of this activity is to create mylar tubes that reflect light. Patterns appear as angles are moved around. Step-by-step instructions with photos are included.
Learn More: Buggy and Buddy
18. Make a Kaleidoscope
Kaleidoscopes are a fantastic way to interact with light. You will use mylar sheets to form a triangular prism. Place it inside an empty toilet paper roll. Draw pictures on a cardstock circle and tape a cut a bendy straw to attach it. Look inside toward the light and be amazed!
Learn More: Buggy and Buddy