These 25 Lorax-themed activities are a colorful addition to your comprehensive literacy unit and are sure to build reading skills, strengthen math knowledge, and help your students learn more about environmental destruction. The wide range of hands-on activities will ensure that your students hit their learning objectives. Celebrate reading with the whole host of colorful characters found in the forests of Truffula Trees!
1. Lorax Read-Along
Kick off your fun learning activities with a digital read-along of The Lorax. The video highlights each word as your kids follow along. When they've finished, they're ready to tackle all kinds of comprehension and vocabulary activities!
Learn More: Book in Bed
2. Truffula Tree Paper Plate Craft
Craft a forest of Truffula trees from paper plates and colorful pieces of tissue paper. Prep activity materials ahead of time by ripping tissue paper into small pieces and painting stripes onto craft sticks.
Learn More: Tree Huggin Mom
3. Cotton Ball Truffula Trees
These colorful trees are perfect for younger elementary students! Set up a dying station with liquid watercolors in small containers. Your kids can then carefully dip their cotton balls in the color of their choice. Once dry, glue them to the tops of straws to create an eye-catching forest.
Learn More: Fun-a-Day
4. Coloring Pages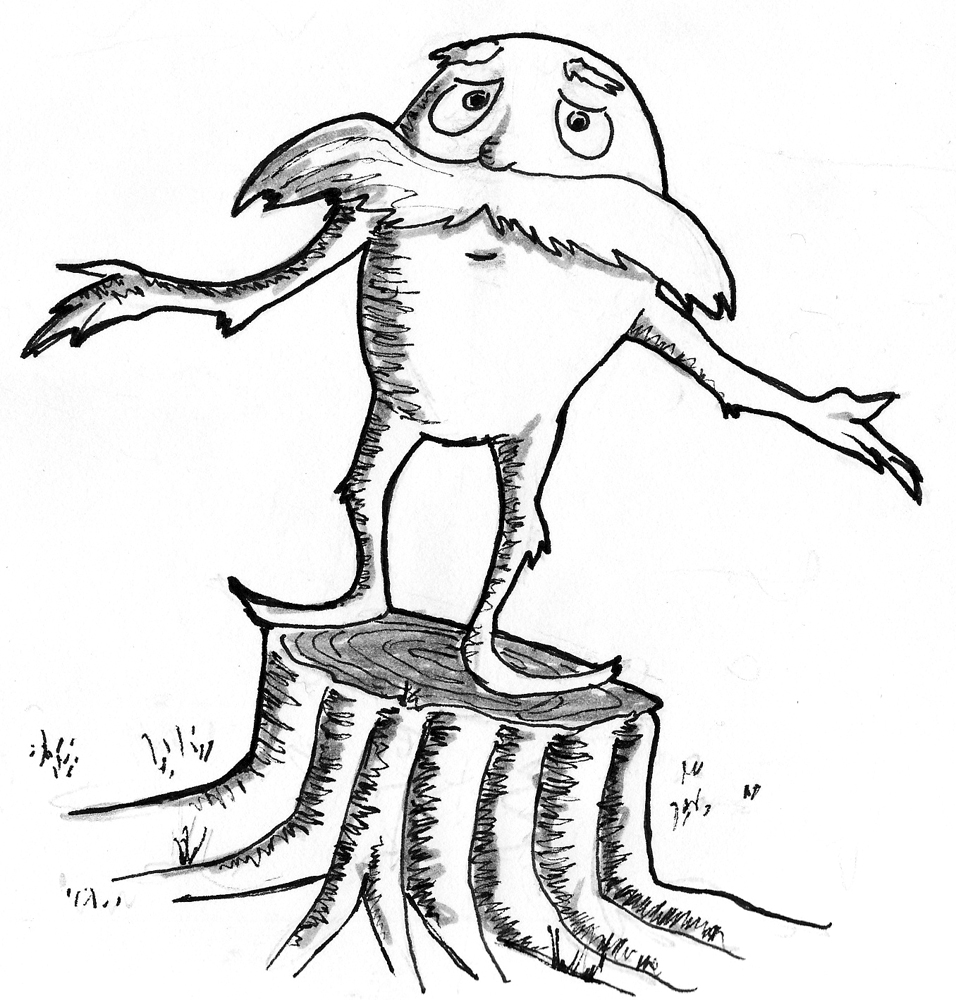 Decorate your Lorax-themed classroom with your students' colorful characters! These printables are a quick and simple activity to conclude your reading unit on The Lorax. Include all the characters and discuss their importance to the environment of the Truffula forests.
Learn More: Best Coloring Pages for Kids
5. Truffula Forest Sensory Bin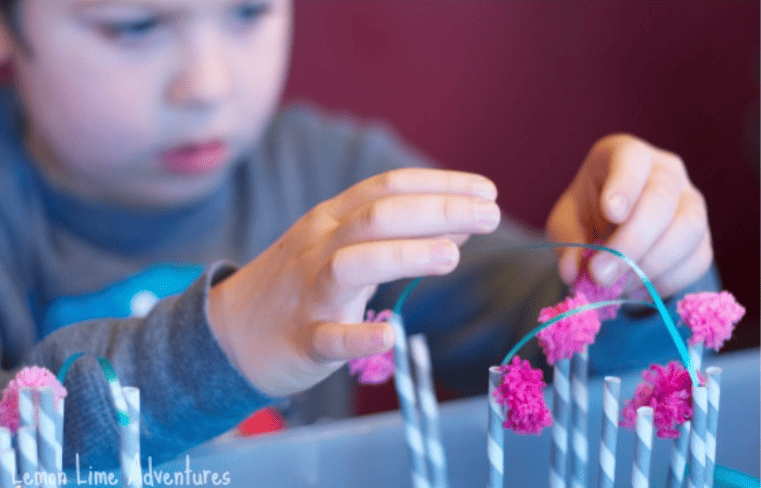 Engage all your little ones' senses with this adorable sensory bin! Grab some Easter grass, straws, and yarn pom-poms. Glue the pom-poms to the straws and stick them upright in Styrofoam discs. Then, let your kids play and discover the world of the Lorax!
Learn More: Lemon Lime Adventures
6. Writing Prompts
This writing prompt activity can be used to practice spelling and grammar, or your students could choose to illustrate their answers! The reading activity is great for getting real-time student data on comprehension skills. It's the perfect addition to complete lesson plans in your Lorax unit.
Learn More: Inspirational Laboratories
7. Lorax Slime Activity
Add to your collection Seuss slimes with glittery shades of blue and green. The simple slime recipe is made from glue, liquid start, water, and food coloring. Have your kids help with an awesome chemistry addition to your science lessons.
Learn More: Little Bins for Little Hands
8. Word Families
Building word families is a super fun vocabulary activity! Choose one letter pattern as an example to do with your kids. Then, let them explore the book on their own to build their very own word families. See who can build the longest word chain!
Learn More: School Time Snippets
9. Lorax STEM Challenge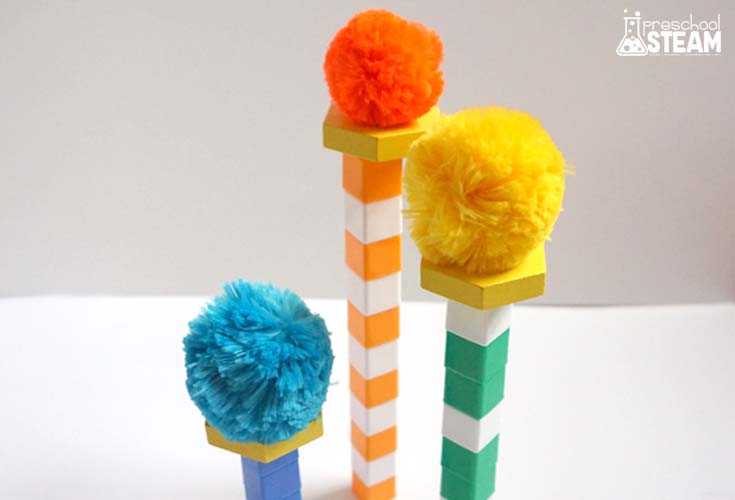 Using different types of building blocks, see who can build the tallest Truffula trees. While your students are building their trees, take the opportunity to discuss other science topics involving our environments such as the physics of cutting down trees, or the chemistry of soil!
Learn More: Preschool STEAM
10. Lorax Paper Bag Puppet
Paper bag puppets are a classic children's craft that provides hours of fun! Cut out arms, legs, eyes, nose, and mouth from orange craft paper. Don't forget the Lorax's bright yellow mustache and eyebrows. Afterward, help your kids glue their puppets together.
Learn More: The Relaxed Homeschool
11. Cardboard Tube Lorax
You can choose to use a pre-made template or free-hand your Lorax's arms, legs, and mustache in this fun craft. Paint recycled cardboard tubes before attaching the Lorax's features. This craft is perfect for talking about the importance of recycling to save the environment!
Learn More: The Inspiration Edit
12. Paper Plate Lorax
Trace your little one's hands to create the Lorax's mustache in this adorable activity. Rip orange tissue or construction paper into small pieces, and squeeze glue all over a paper plate. Your kids can then build up a collage of paper before adding the Lorax's face!
Learn More: A Night Owl
13. How to Draw a Lorax
How-to videos are awesome pre-made digital activities for all ages! This follow-along video is great for the budding artists in your family. Grab a blank piece of paper and some markers. Draw alongside your kids and then compare your Lorax designs.
Learn More: Art for Kids Hub
14. Mustache Masks
No Lorax activity day is complete without coloring your very own mustache! Print and cut out the mustache templates. The simple activity will let your kids explore their creative sides as they color and decorate their mustaches. Attach the mustache to a craft stick for even more fun!
Learn More: Lego Librarian
15. Lorax Headbands
Colorful and zany Seuss headbands are the perfect accompaniment to any storytime. The fun paper craft can be adapted to suit different fine motor skill levels. Students can cut, color, and paste their headbands together.
Learn More: Simple Everyday Mom
16. Cause and Effect Game
Print and cut out the Lorax-themed cause-and-effect cards. Place the action next to the effect it has on the environment. Then, have students answer questions about the pairs and what could have been done differently.
Learn More: Staying Cool in the Library
17. Save the Trees Race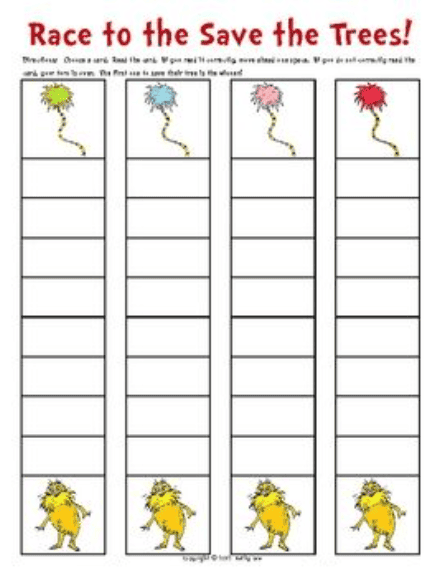 Add some math topics to your Lorax readings! Students race to correctly solve math problems. For each correct answer, they can color a square in their column. The first one to reach the Truffula tree wins!
Learn More: Teachers Pay Teachers
18. Lorax Adjectives
Practice using adjectives by describing the characters found in The Lorax! This a fun challenge that encourages your kids to get creative with their descriptions. It's a great supplement activity to traditional English language arts questions.
Learn More: Simply Sprout
19. DIY Whisper-Ma-Phone
Recycle old tin cans and make your very own telephones! Carefully cut a hole in the bottom of the cans and thread a string through. Experiment with plastic and paper cups to see which works best for sharing messages across the lines.
Learn More: Science Sparks
20. Regrowth Experiments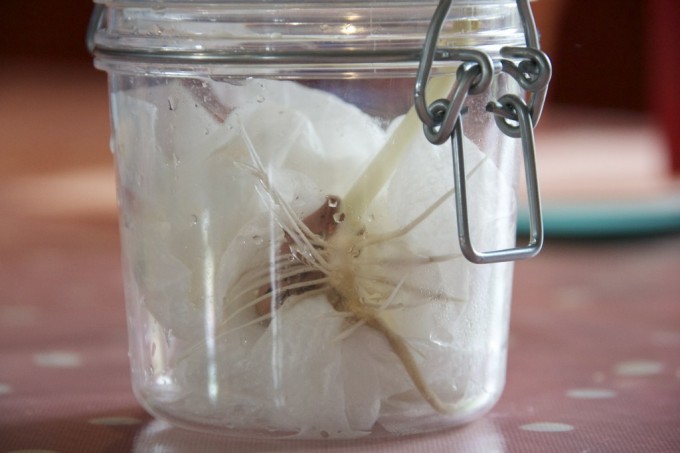 Design an environmental health plan with your students. They can then learn how to regrow plants from kitchen scraps that would otherwise be thrown away. This fun science experiment is great for building confidence in your kids' gardening skills and creating a thriving environment!
Learn More: Wonder How To
21. Word Search
Don't let Dr. Seuss's nonsensical words stump you! Word searches are a fun challenge for students of all ages. After your students have found a word, have them use it in a sentence to make sure they understand its meaning.
Learn More: Activity Village
22. Lorax Maze
Help the Lorax find his way to the Truffula forest! A quick activity to add to your Lorax unit study! you can choose to use the provided maze template or create your own. Visit a hedge maze afterward to see how trees are used to make a maze!
Learn More: HaleGrafx
23. Lorax Venn Diagrams
Add this comprehension worksheet to your Lorax mini-unit. Students are tasked with comparing and contrasting what changed and what stayed the same after the Once-ler came to the land of the Lorax.
Learn More: The Classroom Creative
24. Lorax Cupcakes
Bake a batch of your favorite cupcakes and test your decoration skills! If you aren't handy with a piping tip, use a variety of candy to create adorable Lorax faces on your cupcakes. This makes for a tasty end to your Lorax unit!
Learn More: Building Our Story
25. Healthy Lorax Snacks
For a healthy alternative to your Lorax-themed activities, grab some clementines or small oranges. Cut mustaches from yellow felt and attach them and a pair of googly eyes with non-toxic glue. Your kids can then play with the faces after they've peeled their fruit!
Learn More: Desert Chica