As a teacher, fostering positive relationships and building student connections are crucial to creating a supportive learning environment. One way to achieve this is by incorporating love activities into your daily routine. These activities promote social connection and help students develop communication, empathy, and teamwork skills. From team-building exercises to creative projects, we have compiled 20 activities designed to help elementary school kids develop a deeper understanding of love and its importance in our lives.
1. Warm and Fuzzies
Warm and fuzzies are one of our personal favorites. It's a fun activity where individuals write positive messages on paper, place them in a container, and take turns reading them. It promotes kindness, positivity, and a sense of community, making it perfect for classrooms and group settings.
Learn more: Eastern Washington University
2. Love Collage
A love collage is a creative and engaging activity involving individuals creating collages filled with images, words, and symbols representing their love idea. This activity promotes creativity, self-expression, and reflection and is a great way to foster a deeper understanding and appreciation of love.
Learn more: House of Burke
3. Coupon Book
Coupon books are a fun activity for elementary students to show appreciation and love. They contain redeemable coupons for various activities or favors, promoting creativity, kindness, and gratitude while strengthening relationships.
Learn more: Feels Like Home
4. Love Rocks
Love rocks are a creative and uplifting activity that involves decorating rocks with inspiring messages or symbols of love. These rocks can be placed in a garden, along a walking path, or as gifts to spread positivity and kindness in our everyday lives.
Learn more: Very Special Tales
5. I Love You To Pieces
This entertaining love activity for kids is perfect for expressing affection to someone special. Students can craft a beautiful suncatcher card using colorful pieces of tissue paper. Then, they can write a heartfelt message inside, conveying their love and gratitude.
Learn more: Learning and Exploring Through Play
6. Love Tree
A love tree is a fun and creative activity that involves creating a tree out of paper or other materials and adding heart-shaped leaves with messages of love or appreciation.
Learn more: Petit Loulou
7. Love Bugs
Love bugs are a fun activity where participants create colorful bugs with heart-shaped wings and messages of love. It promotes creativity and kindness and is perfect for all ages and settings.
Learn more: Artsy Mama
8. Love Mural
A love mural is a collaborative and creative activity that involves individuals working together to create a mural filled with messages, images, and symbols of love and appreciation.
Learn more: Cassie Stephens
9. Things I Love
Things I Love is a delightful activity for kids that encourages participants to create a list, collage, or even a song showcasing the things that bring joy and meaning to their lives. It promotes positivity and self-discovery, making it perfect for all ages.
Learn more: There's Just One Mommy
10. Picture Frames
Love picture frames are a creative activity for students to decorate with messages or symbols of love and appreciation. Using various materials promotes creativity and self-expression and spreads positivity. It's perfect for classrooms and is a great way to showcase cherished memories while fostering deeper connections with loved ones.
Learn more: Champagne and Sugar Plums
11. Self-Love Activity Dice Game
Self-love dice are a fun and interactive activity that involves creating a six-sided dice with self-love activities or affirmations. Participants can roll the dice and engage in the activity or affirmation corresponding to the number rolled. This activity promotes self-care, self-love, and positivity, making it a great way to cultivate self-care in daily routines.
Learn more: Kiddie Matters
12. Escape Room
A love-themed escape room is an exciting and challenging activity that involves children working together to solve puzzles, riddles, and clues to escape a love-themed scenario. This activity promotes teamwork, problem-solving skills, and creativity, making it perfect for elementary school kids or any student group setting.
Learn more: Teachers Pay Teachers
13. Love Languages
Teaching children about the five love languages is a great way to show them how to express love in different ways. They can learn how to spread positivity and show love in various ways by giving them specific examples of each love language.
Learn more: Meaningful Mama
14. Be Nice To Your Rice
The Rice Experiment is a fun and engaging classroom activity that explores the power of words and intentions on physical reality. Students place cooked rice into two jars and speak positively to one and negatively to the other for a week. The results are shocking and offer great discussion opportunities.
Learn more: Cranberry Corner
15. Love Game
The so-called 'Love Game' is a simple activity that fosters caring and appreciation for everyone in the family by having each player say something nice about the person wearing the heart color spun on the spinner.
Learn more: Making Life Blissful
16. Kindness Catchers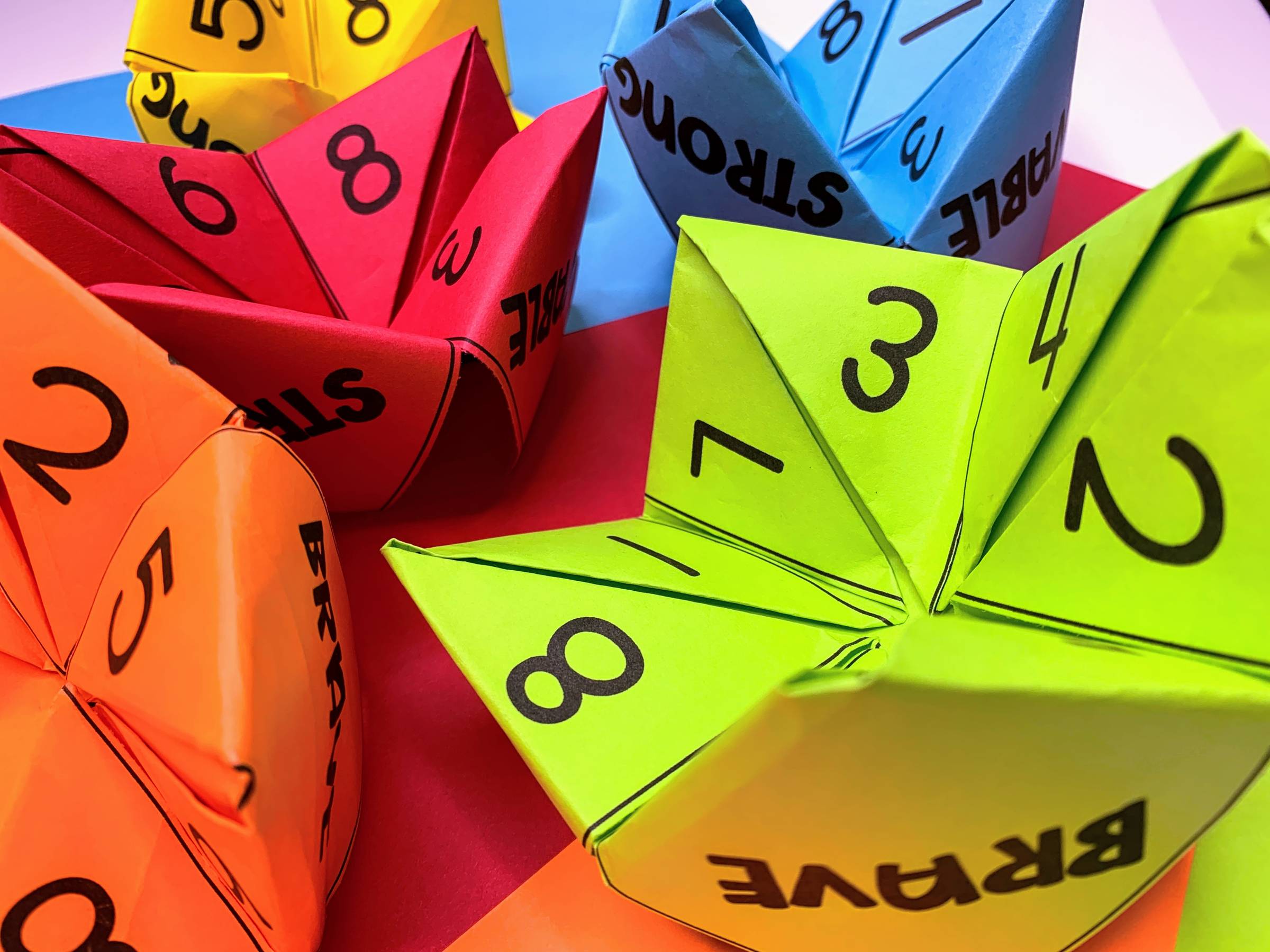 Kindness catchers are a fun and engaging activity for students that combine the nostalgia of cootie catchers with the power of positive affirmations. Students will love this hands-on activity and how it spreads love!
Learn more: One Giggle At A Time
17. Random Acts of Kindness
Encourage your students to spread love and positivity with random acts of kindness! This activity promotes a culture of kindness in the classroom, fosters empathy and compassion, and helps students develop social skills.
Learn more: Teachers Pay Teachers
18. A Wrinkled Heart
This wrinkled heart activity visually demonstrates the effects of hurtful words or behaviors on someone's heart. Students fold a paper heart for each hurtful example shared and unfold it for positive ones. It's a realistic example of the power of words.
Learn more: Janine Halloran
19. Power of Words
This power of words activity demonstrates to students the impact of their words. Students empty a bottle of toothpaste as quickly as possible, then attempt to refill it just as fast. The challenge of filling the toothpaste back into the bottle symbolizes how difficult it can be to take back hurtful words.
Learn more: Wright Ideas With Susan
20. Penny Love
Penny Love is great for youth group activities in which teenagers will learn self-love. Students are asked to write down three things they love and hate about themselves, then compare them to what others have, using pennies to show how many they think they have in common.
Learn more: Ministry To Youth