Fitting in can be tough! The Love Monster knows this. He searched for love in a town where he didn't feel like he belonged, and found no success. When he almost decided to give up, he discovered love unexpectedly.
The Love Monster, by Rachel Bright, can be a lovely story to read with your elementary class. It examines themes of individuality and love; both of which are important concepts for fostering emotional learning skills. Here are 19 Love Monster activities you can try.
1. Read "Love Monster"
If you haven't already, give the book a read! You can choose to read it during circle time or watch this read-aloud video. After reading the story, your kids will be ready for the fun class activities.
Learn More: StoryTime at Awnie's House
2. Love Monster Foam Craft
I love a craft that uses multiple crafting materials! This one uses colored card stock and foam. You can use the craft template to cut the body, legs, and antennae shapes. Then, your kids can glue all the pieces together!
Learn More: Oh Hey Let's Play!
3. Love Monster Puppet Craft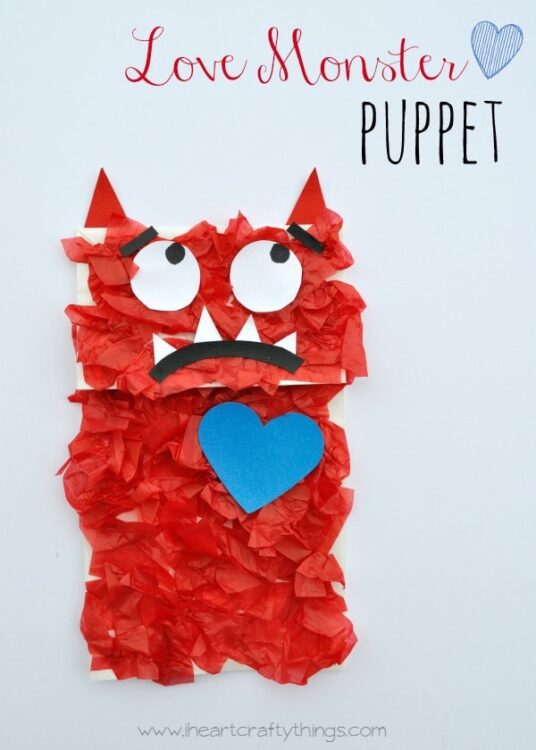 Puppet crafts can be fun to make and play with! Your kids can glue little pieces of tissue all over a paper bag to create some colorful texture for the Love Monster's body. Then, they can add the eyes, a mouth, and a heart to complete!
Learn More: I Heart Crafty Things
4. Love Monster Valentine's Day Bag
Here's a lovely book-inspired Valentine's Day craft. These bags have a textured design, similar to the last craft, except they use construction paper. Your kids can cut, glue, and decorate their own bags, and don't forget to give them a paper heart for their names!
Learn More: Simply Kinder
5. Love Monster Paper & Paint Craft
This craft has lots of room for creativity Your kids can practice their scissor skills as they cut up various shapes for their Love Monster. After gluing it together, they can use cardboard and paint to add a fur-like textural appearance.
Learn More: Elements of the Art Room
6. Love Monster Directed Drawing
This directed drawing activity uses instruction cards for a step-by-step guide for making the Love Monster. After the drawing, your kids can add color with paint or oil pastels. Working with these different craft supplies can be great for engaging fine motor skills.
Learn More: From the Pond
7. Cut & Paste Love Monster Craft
There are two ways you can complete this cute love monster craft! You can either print the provided template onto colored paper or onto blank paper and have your kids color it themselves. Then, your kids can cut and glue the monster pieces together!
Learn More: Crafty Bee Creations
8. Playdough Love Monster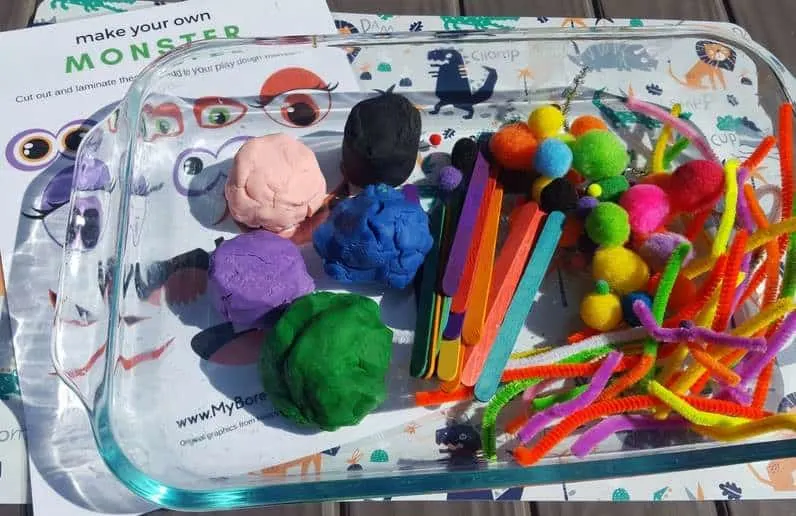 Are your kids getting tired of all the paper craftivities? You could try using playdough for your next fun craft. Your kids can try building the Love Monster out of playdough, pipe cleaners, and pom poms.
Learn More: My Bored Toddler
9. The Feelings Coloring Sheets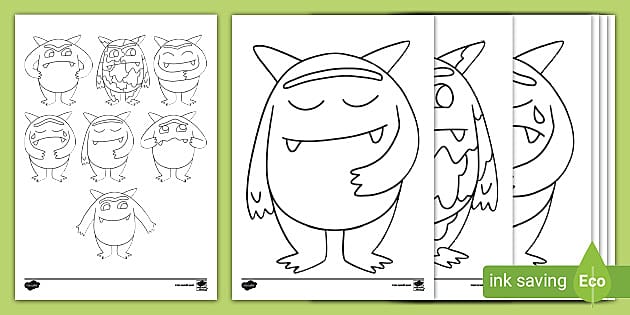 The Love Monster experiences feelings of frustration, sadness, and loneliness during his search for love. This can provide a great opportunity for an emotional learning lesson. You can discuss the different emotions the monsters express as your littles color the pages.
Learn More: Twinkl
10. My Feelings Monster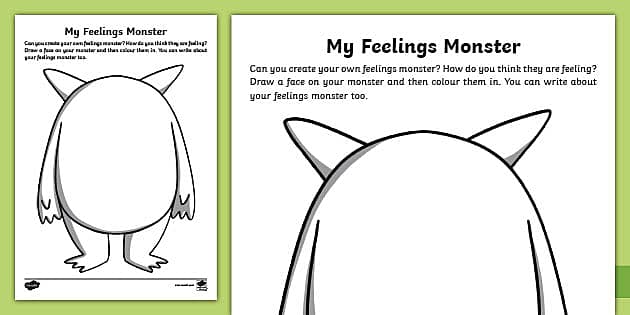 Here's a great extension activity that you can add to your lesson plan. You can ask your kids how they currently feel and have them express this by drawing a personal feelings monster.
Learn More: Twinkl
11. Feed the Love Monster
This Love Monster activity has plenty of learning opportunities for developmental skills. You can specify different prompts to get your kids sorted by colors, numbers, and even rhyming words.
Learn More: Teachers Pay Teachers
12. Love Monster Craft & Writing Activity
Combining crafts with literacy can make learning more exciting! Your kids can color the Love Monster, followed by responding to a writing prompt related to the story. The prompt can be anything from a personal reflection or comprehension question. Note that you may have to sit with each learner and help them write out their thoughts.
Learn More: Teaching in the Tongass
13. Love Monster Pre-Made Digital Activities
This is a great digital resource for distance learning. This package contains 3 digital book activities for your kids to play with post-reading. They can work to arrange story events in sequence and create digital love monster crafts.
Learn More: Emily Education
14. Watch the TV Series
Sometimes we don't have time to make a detailed lesson plan. If your kids loved the book, they could try watching the TV series. The Love Monster focuses on lots of skills in the series as he encounters new challenges in each episode.
Learn More: Rachel Bustin
15. Read "Love Monster and the Last Chocolate"
Rachel Bright has written a few different books with the beloved Love Monster at the fore. This one is about the Love Monster learning to share. Reading this can help develop your kids' social and sharing skills. Sharing is caring!
Learn More: Amazon
16. Chocolate Box Alphabet Game
You can turn a chocolate box (inspired by the last book) into a fun alphabet activity. Replace the chocolates with letters and cover them with pom poms. Your kids can then remove a pom pom, pronounce the letter, and try to find the upper- or lower-case match.
Learn More: Maya Smart
17. Reading Comprehension & Character Analysis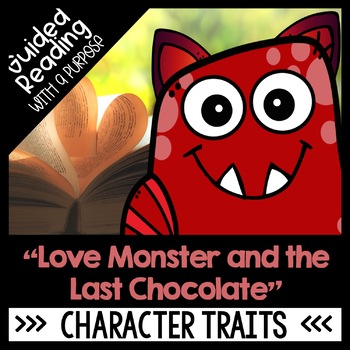 Story comprehension activities can be an effective way to assess your kids' literacy skills. This resource contains a craft, comprehension questions, character analysis exercises, and more.
Learn More: Having Fun First
18. Read "Love Monster and the Scary Something"
Are your kids afraid of the dark? This Love Monster book can be a great way to ease these fears. The Love Monster gets scared as the night gets darker and the spooky sounds get louder. Eventually, he discovers that the night isn't so scary after all.
Learn More: Amazon
19. Differentiated Literacy Activities
Crosswords, word searches, and word scrambles are fun vocabulary activities that can help increase your kids' literacy and language skills. All of these puzzles are related to vocabulary in the previous book so they make good post-reading exercises.
Learn More: Teachers Pay Teachers