Learning just how big the world is can be exciting and overwhelming for children. The first time you looked at a map or watched a globe spin it probably felt surreal. All the places and possibilities!
Well, it's time to teach your students some basic concepts about maps, spatial relationships, and the world (big and small) so they can start to understand their place in it and how we've all come together to inhabit one rotating rock we call the Earth.
This is a simple and hands-on activity you can use to see if your students can observe and understand how to place 3D objects into a 2D concept.
Learn more: Pinterest
This always-popular map skills activity is a puzzle of the world. You can also find puzzles of your country or city if you want your students to focus on a smaller area.
Learn more: Pinterest
Find a compass or download a compass application on your smartphone and explain how it works to your young ones. Go to a safe space outdoors and let them use this tool to navigate directions.
Learn more: What Do We Do All Day?
4. A Journey of Imagination
This interactive activity combines your kid's favorite toys with spatial thinking concepts. Grab a few small action figures or cut out some cardboard characters and take them on a journey.
Learn more: National Geographic
Think of some areas your kids have been to multiple times, maybe the local park, the supermarket, or your neighborhood. Give them a piece of paper and ask them to draw a map as accurately as they can remember.
Learn more: What Do We Do All Day
This fun activity gets your kids involved in navigating wherever you need to go! Print out the google map directions for the place and let them try to follow along on the route as your drive using a pencil or marker.
Learn more: Picklebums
Have your learners draw a map of their house. Once they have finished, you can mark X's where you have hidden little treasures. Then give it back to them and see if they can find them all!
Learn more: Toddler Approved
Print out a map of an area and make sure it has a variety of natural environments such as water (lakes, ocean) forests, mountains, and desserts. Get some animal toys, or have your kids draw the animals they think to live in each habitat.
Learn more: Gift of Curiosity
9. Copy or Trace Practice
This fantastic activity can be done with a directions map, or a map of a small area (big landmarks, easy to follow). Have your kids try to copy the map on their paper, and if this is too difficult they can put their paper on top and trace it.
Learn more: Pickle Bums
If you've ever been to the zoo you've seen how detailed and engaging their maps are. With lots of pictures and colors, these maps are a great study tool for your kids to practice with at the zoo or at home!
Learn more: Twinkl
11. Online Geography Games
There are many websites out there with free internet activities and resources for kids to learn and interact with. Games, quizzes, puzzles, and more!
Learn more: Childhood 101
It's time to test your little navigators' knowledge of their regular routes by asking them to draw directions from home to school. Give them help and encouragement along the way then take a drive and see how accurate they were!
Learn more: Pinterest
This is a great one for multiple learners. Split students into groups of 3-4, give each group a compass and a map, and let them work together to find their way to a destination.
Learn more: Premeditated Leftovers
Get a big piece of construction paper and help your kids write down a list of common places and things found in a town. Give them toys and art supplies to design and create their own unique town using the basic concept of maps.
Learn more: Toddler Approved
Print out a bunch of small pictures of animals from all over the world. Give them to your kids and have them place them where they think they live on a big world map.
Learn more: Gift of Curiosity
With a few building materials (magnet, needle, compass face) you and your kids can build your own compass to use on all sorts of outdoor adventures!
Learn more: World of Engineering
17. Watercolor Map Painting
This art project is creative and helps kids learn spatial thinking concept skills through activities at home. You can make your painting as complex or simple as you'd like using contact paper or tape.
Learn more: Adventure in a Box
Time to get messy and hands-on with this fun map-building activity. Salt dough is easy to make, and you can mold it right on top of a map to make it 3D!
Learn more: 123 Homeschool 4 Me
Legos are a great tool for the development of concepts in map reading and spatial relationships. Use legos to build a model of your house, neighborhood, or city.
Learn more: Inspiration Laboratories
20. Picture Books about Maps
There are so many fun and engaging children's books out there that involve maps. Pick up a few and read them with your kids.
Learn more: Imagination Soup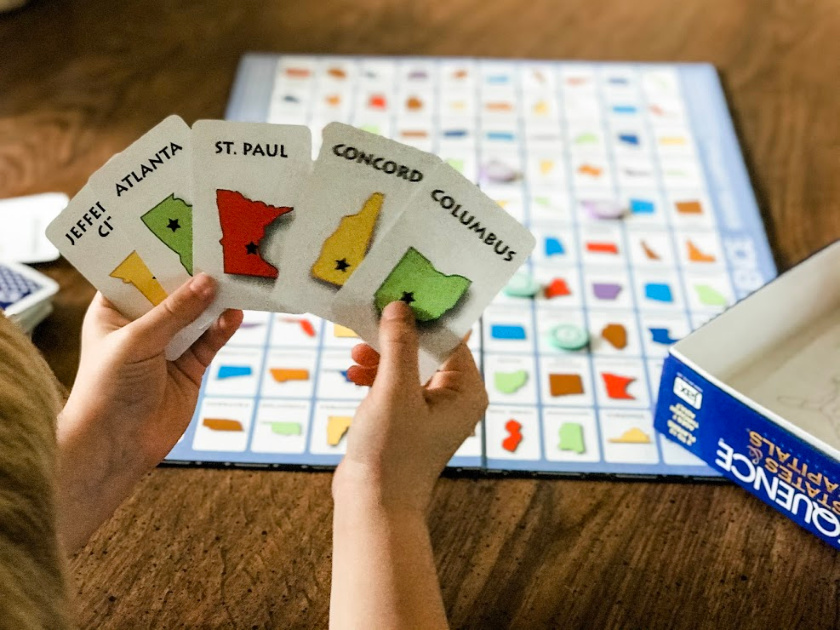 There are a few interactive and educational board games out there that your kids will love to play. Some focus on a country, a form of transportation, or follow a guide or map to a destination.
Learn more: What Do We Do All Day
This 3D puzzle is collaborative and rewarding for your kids to put together and watch the shape of the Earth come together.
23. Cardinal Directions Craft
Get some craft N, S, E, W letters big enough to make a collage on. Have your kids help you brainstorm places and things associated with each direction. For example, the north can have the Statue of Liberty, Alaska glaciers, and other landmarks from the northern states.
Learn more: Carrots are Orange
One way to teach your kids directions is to have them play on an interactive map rug. There are a variety of different types with traffic signals for safety practice, cityscapes, and more!
National Geographic has an awesome online tool that allows young learners to create and discover different types of maps as well as how they can be used with lots of educational options.
Learn more: National Geographic