Welcome spring into your classroom with a fresh bulletin board display. March is a busy month with Women's History Month, Pi Day, Earth Hour, and many more exciting events taking place. Below, we've rounded up r 29 inspiring bulletin board ideas that will spark both curiosity and enthusiasm in your learners! These suggestions cover various themes, from celebrating notable historical events and promoting reading habits to exploring the delight of holidays like St. Patrick's Day; offering engaging and colorful ways to deck out your classroom. Read on and we're sure you'll find a March-appropriate bulletin board display to liven up your learners!

1. Spring into Reading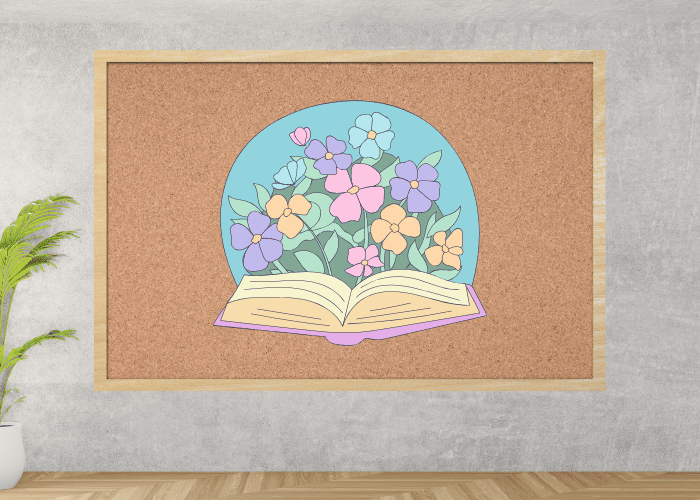 Imagine a vibrant garden of books, blooming right in your classroom. You can use each petal on this spring-inspired board to suggest new reads for your students to dive into. Watch as the room fills with young, enthusiastic readers as your recommendations help them discover a wider range of books!
2. "Pi" Day Math Display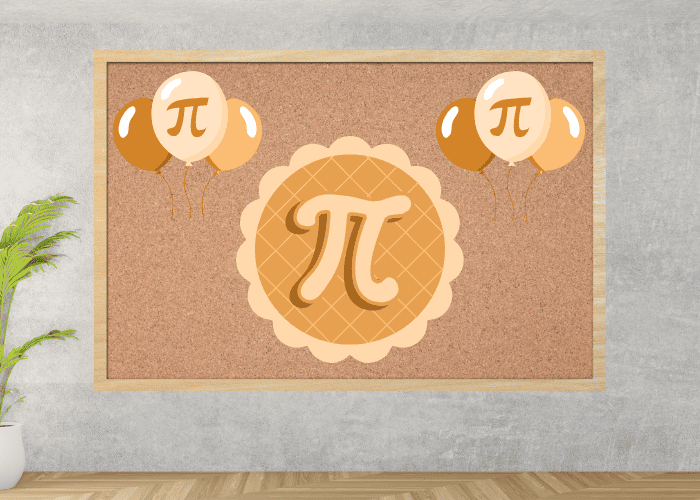 Awaken the mathematical maestros on March 14th! Share facts that dazzle and puzzles that challenge with this cool math-themed bulletin board display. Guide your students through the intriguing universe of Pi as you discover what Pi is, how it can be used, and how many digits each student can remember!
3. March Madness Basketball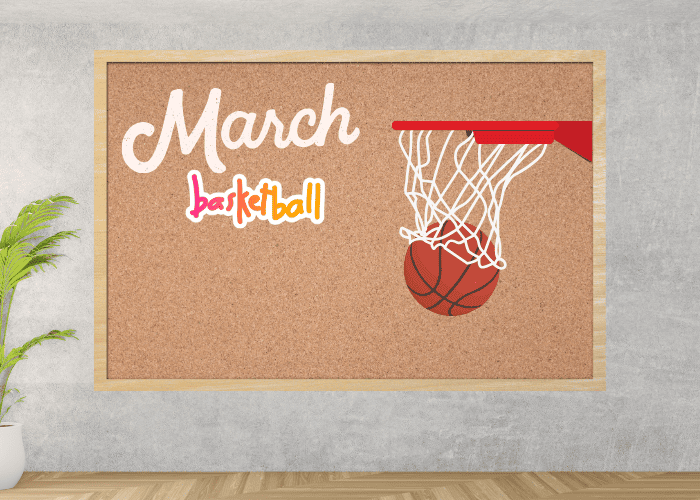 Join in on the March Madness basketball fun and introduce your kiddies to various showcase brackets. Transform the competitive spirit of the tournament into a classroom slam dunk with your very own tournament as you keep up with the pro games.
4. Weather Watch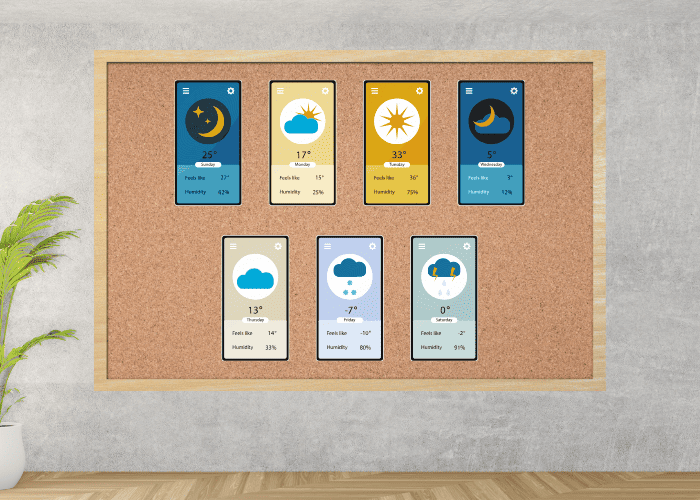 Turn your students into forecasters of the future! Fill your bulletin board with all things weather, from key vocabulary and visuals to equipment like thermometers and wind vanes. This interactive board will serve as an open invitation for your class to learn more about the weather but also enable your learners to make daily observations and predictions of their own.
5. Women's History Month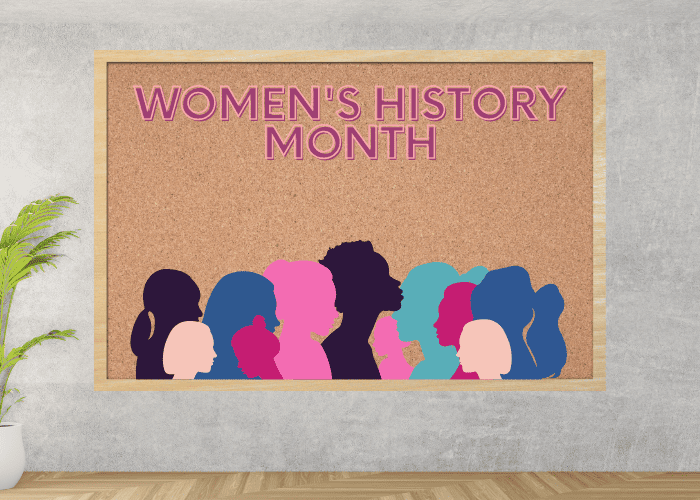 Shine a spotlight on the heroines of history this March for Women's History Month. Each week, you can add a new mini-bio to the board. Your students will come to appreciate the extraordinary women who've shattered ceilings and opened doors for all of the girls and women who have come after them.
6. Pot of Gold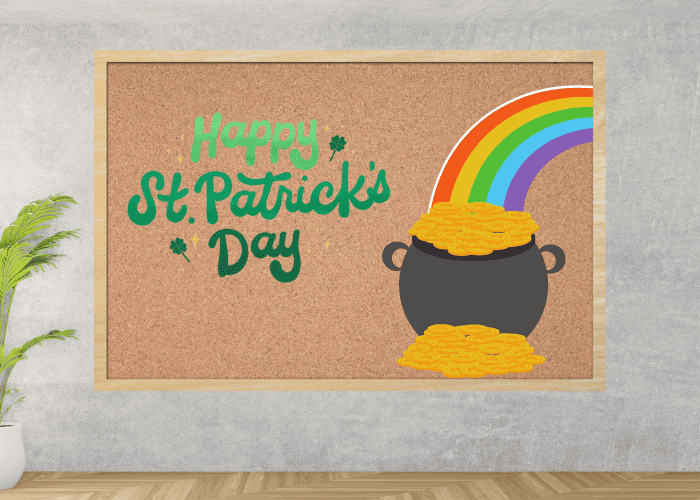 Ah, the luck of the Irish! Transform your bulletin board into a vibrant rainbow, leading to a pot filled with gold coins—each representing elements of positive behavior. You can encourage your students to earn gold coins by being kind, attentive, and respectful. Not only will this display look great in class, but it will also do wonders in terms of improving classroom behavior!
7. Spring Equinox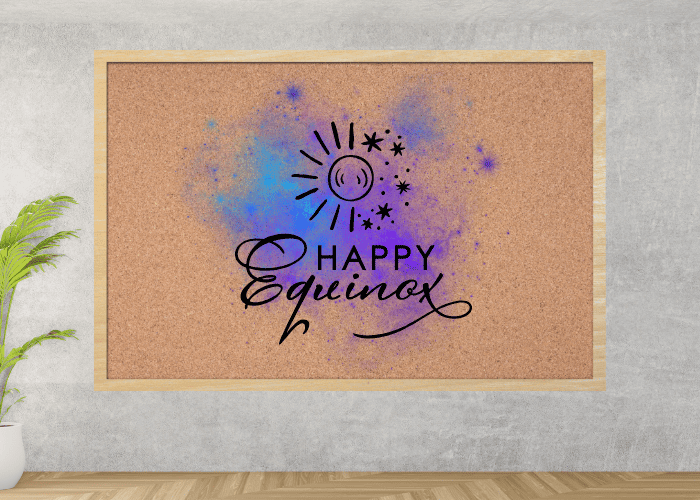 This board aims to explain the spring equinox, otherwise known as the first day of spring, with diagrams and bite-sized facts. Encourage your kiddies to ponder the cosmos, and what the tilt of the Earth has to do with daylight hours.
8. The Ides of March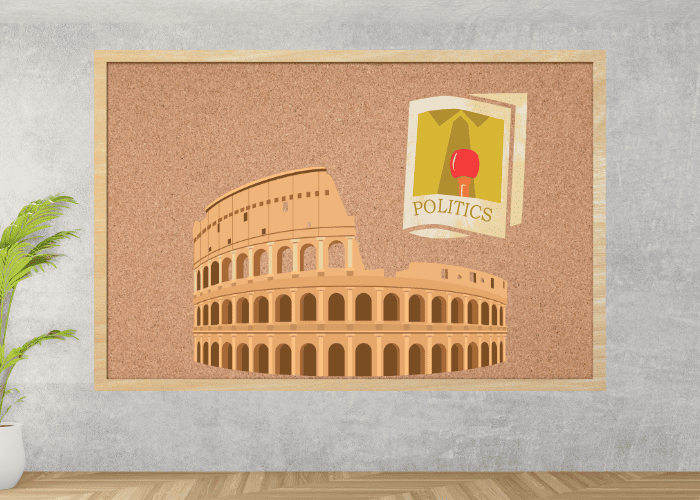 Use this bulletin board to transport your learners back to the Senate House in Rome. Use your board as a starting point to talk about Roman politics, Shakespearean references, and why Caesar really should've stayed home that day!
9. Dr. Seuss's Birthday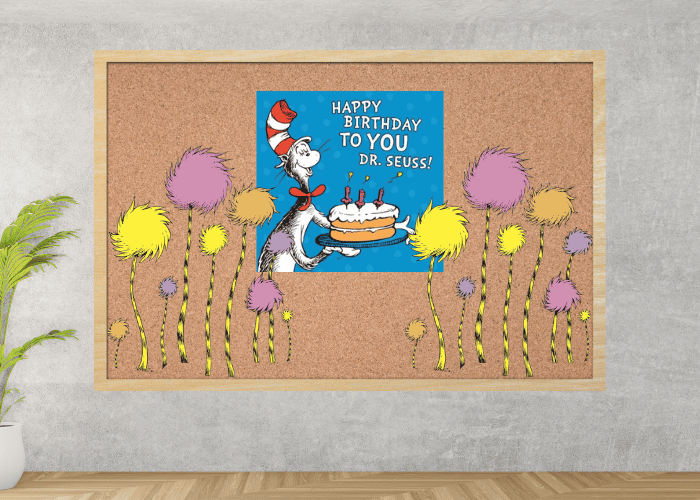 Ah, the places your students will go! On March 2nd, Dr. Seuss isn't just remembered, he's celebrated. Decorate your bulletin board with Truffula Trees and snippets of Seussian wisdom. Your students can then revel in Dr. Seuss's rhymes and perhaps even pen a few of their own.
10. Earth Hour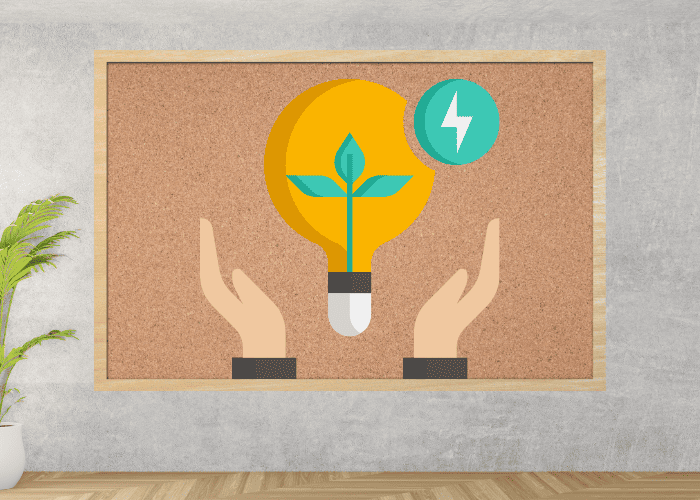 Time to power down the electronics and power up your students' thinking. Make your board an eco-awareness hub by filling it with tips and tricks to conserve energy. Then, encourage your learners to come up with their own. In doing so, you can inspire them to become the environmentalists of tomorrow!
11. March Birthdays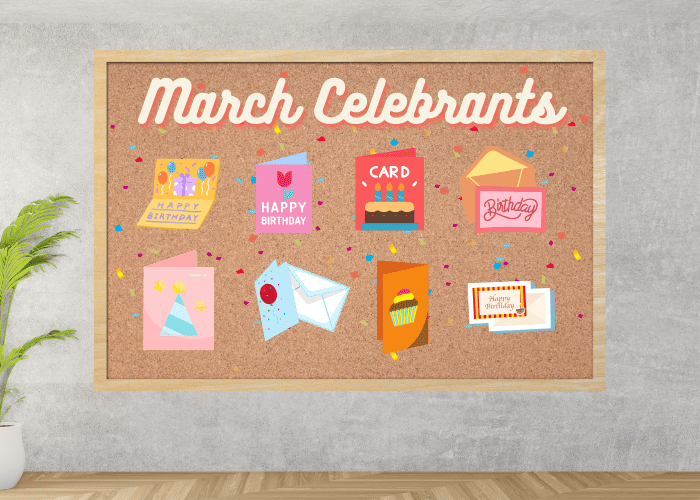 It's not just a board; it's a classroom-sized birthday card! Start the party for your March-born students by showcasing their birthdays alongside their unique talents or interests. You can even encourage their classmates to write birthday messages and pen wishes to add to the board. Let the celebrations begin!
12. World Water Day
Make a splash with this amazing bulletin board that spotlights the importance of water conservation. You can use your board to share facts about water conservation and even provide tips for how your kiddies can save water at home and at school.
13. Colorful Kites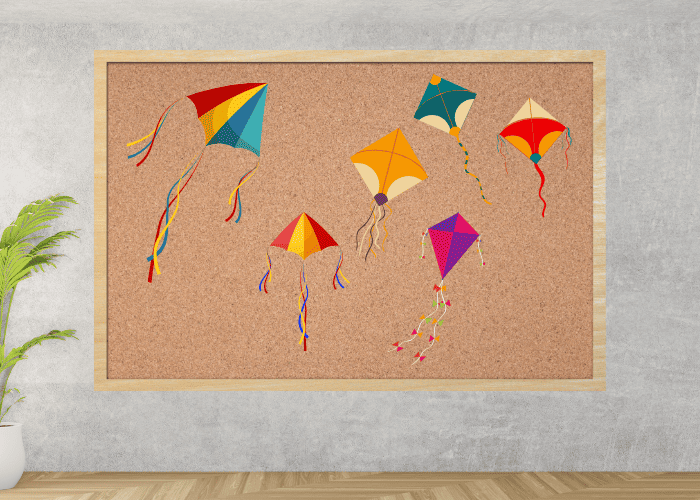 Create a stunning visual mosaic of colorful kites; each representing a goal that each of your kids is working towards. As they reach their goals, you can move the kite higher up on the board. It's a playful and uplifting way for you to display success and remind your learners that when it comes to knowledge, the sky's the limit!
14. March into Spring
Spring has sprung, and your classroom is the perfect garden! Ask your learners what the signs of spring are and get them to craft a few visual representations! Cover your board with their paper flowers, crafted butterflies, and any other spring-related artwork. It's collaborative, and creative, and will easily help you bring a fresh, spring vibe to your space.
15. Famous March Events
For this collaborative bulletin board project, ask your students to research historical events that took place in the month of March. Then, together you can assemble a timeline of these events.
16. St Patricks' Day Leprechaun's Classroom
Sprinkle a bit of Irish magic with leprechauns, shamrocks, and pots of gold for St Patrick's Day. With this design, your kiddies will be able to marvel at the legends and lore as they learn all about Ireland and its national day. Who knows, maybe they'll even find a four-leaf clover!
17. Luck of the Irish
Fill your board with Irish proverbs, dollops of wisdom, and quotes related to luck and life. Use these to spark conversations about luck's true meaning and the origin of the saying, "the luck of the Irish".
18. Music in Our Schools Month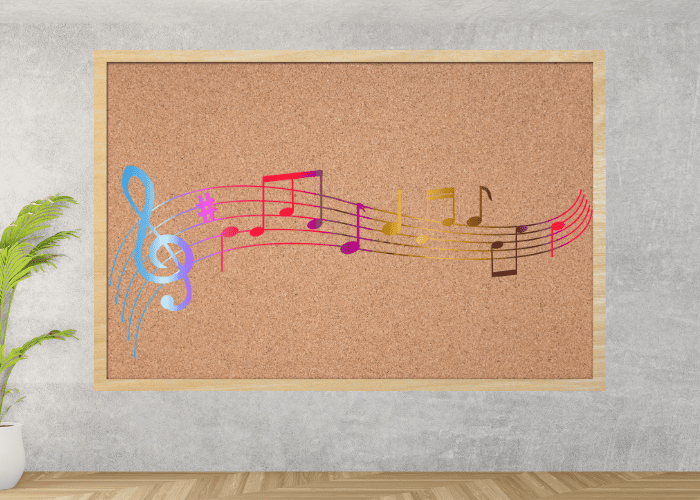 Turn up the volume on your music curriculum with a board that's dedicated to the joys of music. Use your board to feature musicians within your class as well as famous composers, and even noteworthy songs. Music is a universal language that we can all resonate with in one way or another, so why not use this board to show your learners that!
19. Shamrock Shenanigans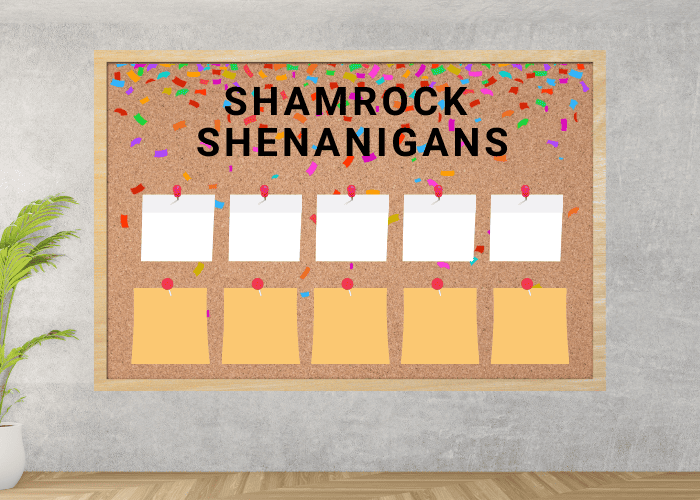 Spread kindness like confetti! Or in this case, like shamrocks! Get your kiddos to write down their good deeds on a shamrock template and pin them on your bulletin board. Every good deed counts toward, turning your classroom into a garden of goodwill.
20. March Book Reviews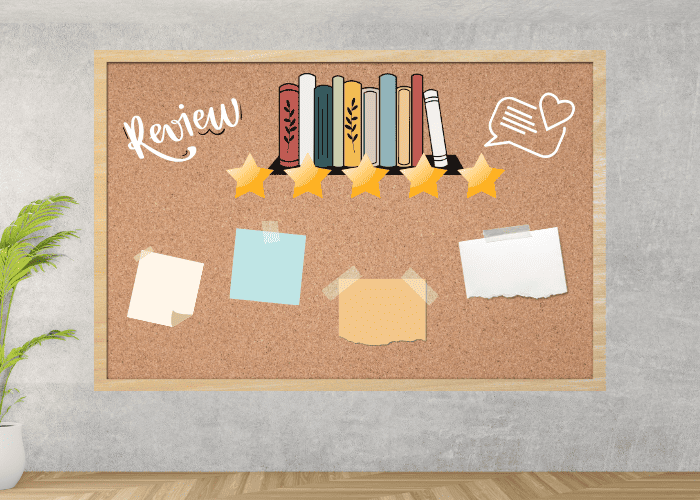 Once your students have finished a book, get them to write and then pin their own book reviews on your classroom bulletin board. This idea serves as a fantastic way of creating a peer-sourced recommendation base. It's Yelp for books, right in your classroom. How cool is that?
21. World Poetry Day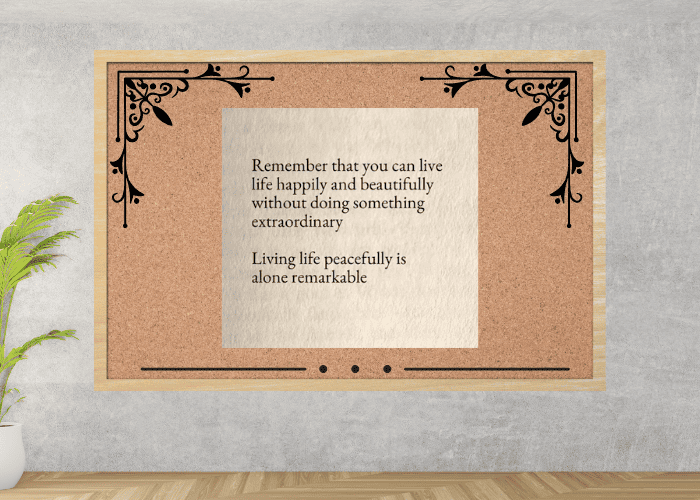 Whether with haikus, sonnets, or free verse poems— fill your bulletin board with them to celebrate World Poetry Day! You can invite your budding poets to share their own compositions or alternatively share their favorite lines from famous poems.
22. Daylight Saving Time
Ring the alarm for a bulletin board that details all there is to know about daylight savings! Make your board that much more interactive and entertaining by incorporating trivia and interactive quizzes. Who knew losing an hour could be this educational?
23. March's National Days
Here's a calendar alert like no other! Spark your students' curiosity with a board full of all the unique and quirky national days in March. You can add to the fun by getting your kids involved by celebrating some of these special days in class.
24. Rainy Days
April showers bring May flowers, but what do March showers bring? Use your bulletin board to display a range of indoor activities that can keep your kiddies occupied when recess is indoors. Let the fun rain down!
25. Nutrition Month
Bon appétit! Turn your board into a menu of healthy choices. You can encourage your learners to pick a "dish" and then learn more about its nutritional values by conducting some research on it. It's a feast for the mind and the body!
26. Lion and Lamb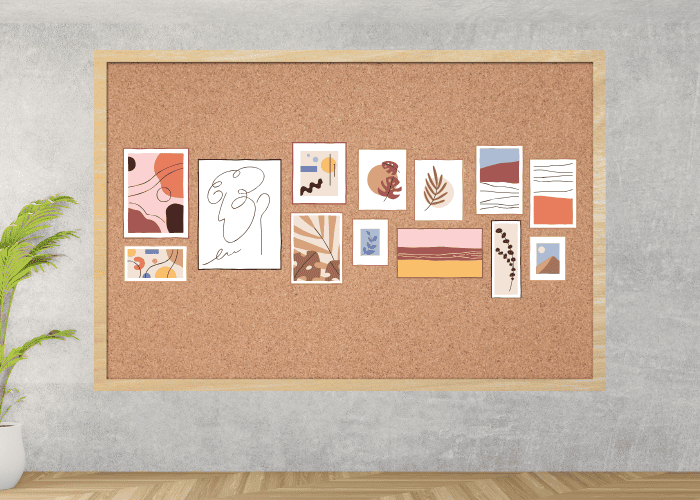 Get your students to consider the saying that March comes in like a lion and goes out like a lamb before asking them to create a piece of artwork that visually depicts the saying. Once complete, display their works on your board. It's an idea in observation, artistic expression, and meteorological folklore all rolled into one!