Welcome to the world of marshmallows and toothpicks, where endless possibilities for fun and creativity await! These simple yet versatile materials offer an engaging way for kids to learn about science, math, art, and engineering. With just a few bags of marshmallows and a box of toothpicks, you can dive into a realm of hands-on activities that encourage problem-solving, teamwork, and imagination. Whether you're a parent looking for a rainy day activity, or a teacher seeking an interactive classroom experience, these 20 marshmallow and toothpick activities are sure to delight and inspire.
1. Toothpick and Marshmallow Activity
In this engaging activity, students explore gravity, engineering, and architecture by using toothpicks and mini marshmallows to create their own structures, mimicking the roles of architects and engineers. This activity promotes discussions about building design, function, and stability while encouraging creativity, problem-solving, and fine motor skills development.
Learn More: Learn With Play at Home
2. 2D and 3D Shape Activity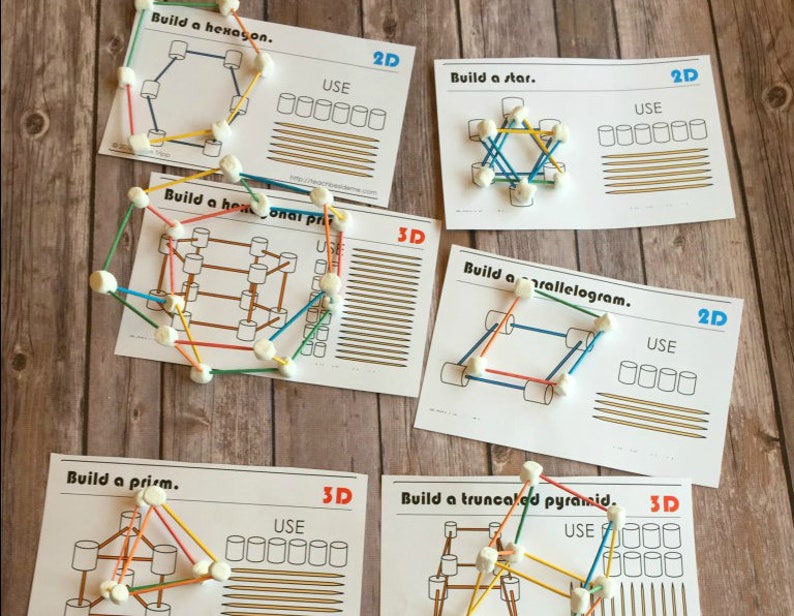 These colorful, printable geometry cards guide kids in building 2D and 3D shapes by indicating the required number of toothpicks and marshmallows for each shape and providing a visual representation of the final structure. It's a fantastic way to develop students' understanding of geometry, spatial awareness, and fine motor skills while having plenty of fun.
Learn More: Etsy
3. Rainbow Marshmallow Towers
Kids will have a blast creating various shapes and structures by connecting rainbow-colored marshmallows with toothpicks. The activity starts with simple structures like squares and progresses to more complex forms like tetrahedrons while teaching kids all about mathematical concepts such as balance, sides, and vertices.
Learn More: The Imagination Tree
4. Try a Bridge Challenge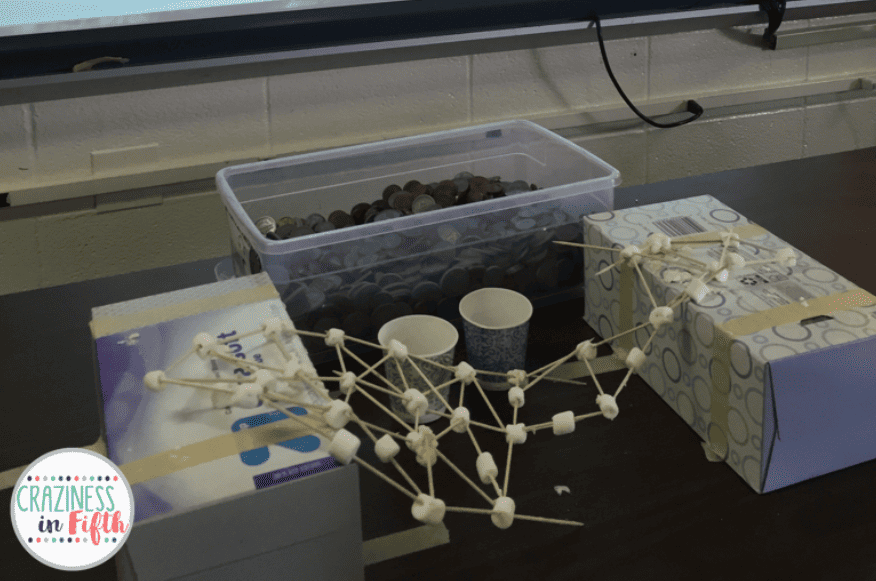 Why not challenge students to build suspension bridges using marshmallows and toothpicks? The goal is to create a bridge long enough to rest on two tissue boxes. Students will also develop math skills, as they analyze the data of how many pennies each bridge can hold by finding the mean, median, and mode.
Learn More: Craziness in Fifth
5. Build a Snowman Activity for Students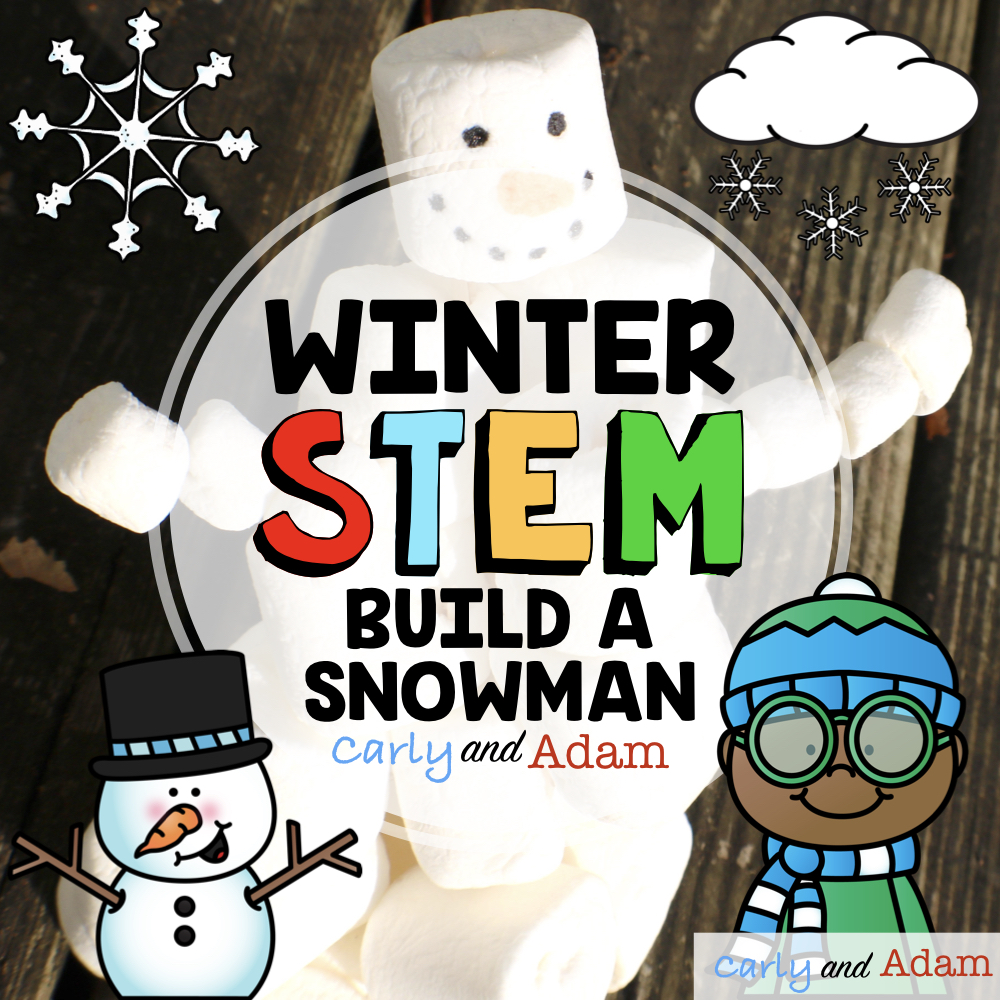 For this snowman-building challenge, students are given time to design individually, followed by team planning and finally building their creations. Once the time is up, the snowmen are measured to determine which one is the tallest. This hands-on STEM challenge helps kids develop teamwork, communication, problem-solving, and engineering skills.
Learn More: Carly and Adam
6. Make a Spider Web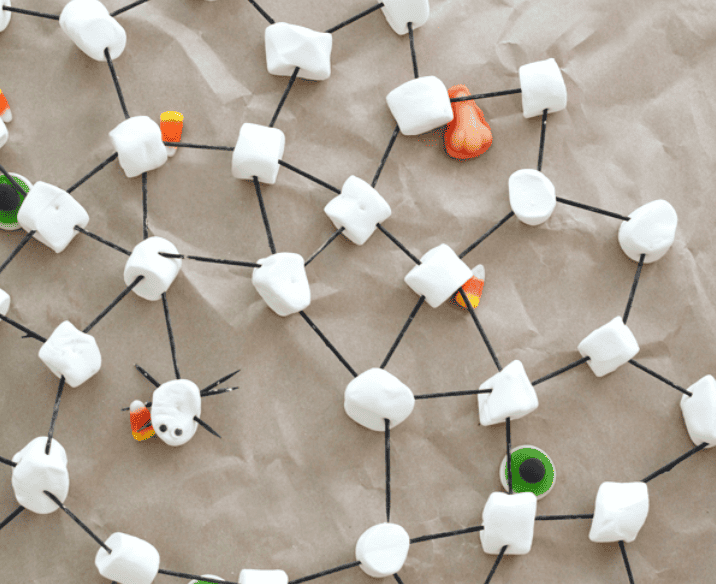 For this simple spider web activity, start by having the kids paint toothpicks black and let them dry before having them build spider webs using marshmallows and toothpicks. The activity offers plenty of opportunities to discuss spiders and their webs, allowing children to learn about the natural world.
Learn More: Meri Cherry
7. Try a Tallest Tower Challenge
This hands-on tower-building challenge helps kids develop their problem-solving, critical thinking, and planning skills. Additionally, this classic activity promotes fine motor skills and spatial awareness while giving kids a chance to work on a memorable project with their peers.
Learn More: Classroom Freebies
8. Marshmallow Snowflake Activity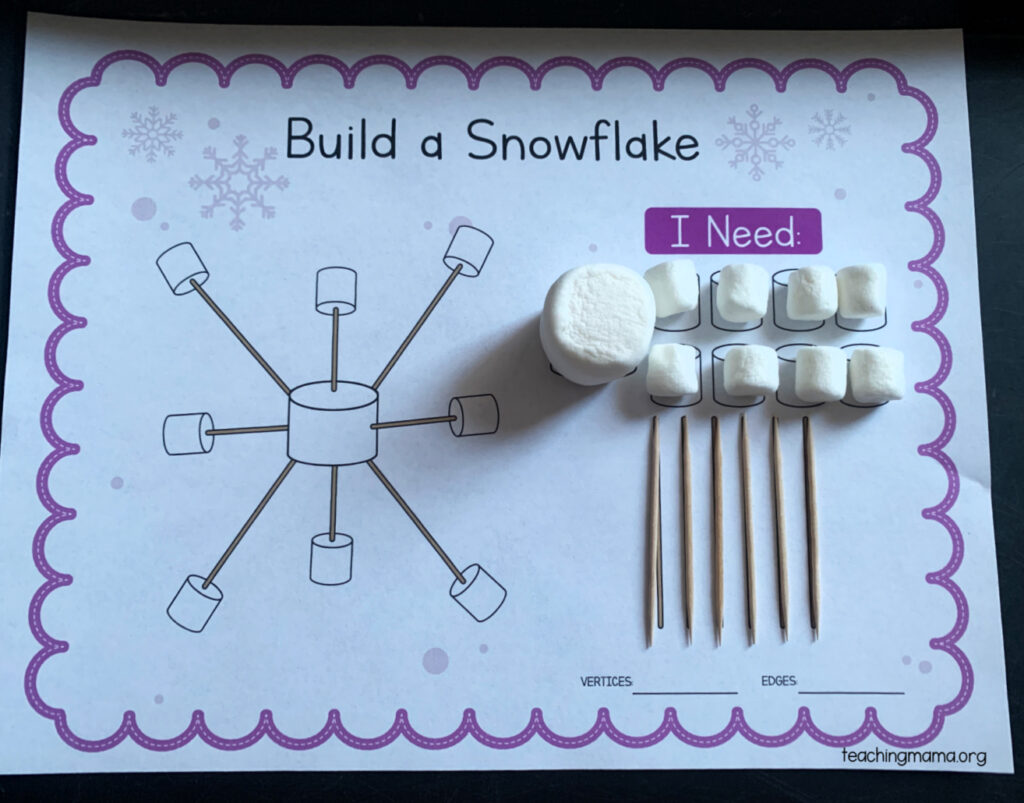 These colorful cards provide children with instructions and snowflake designs, including the number of marshmallows and toothpicks needed for each unique creation. For older children or those who enjoy building, more challenging projects are available.
Learn More: Teaching Mama
9. Creative Building Challenge With Igloos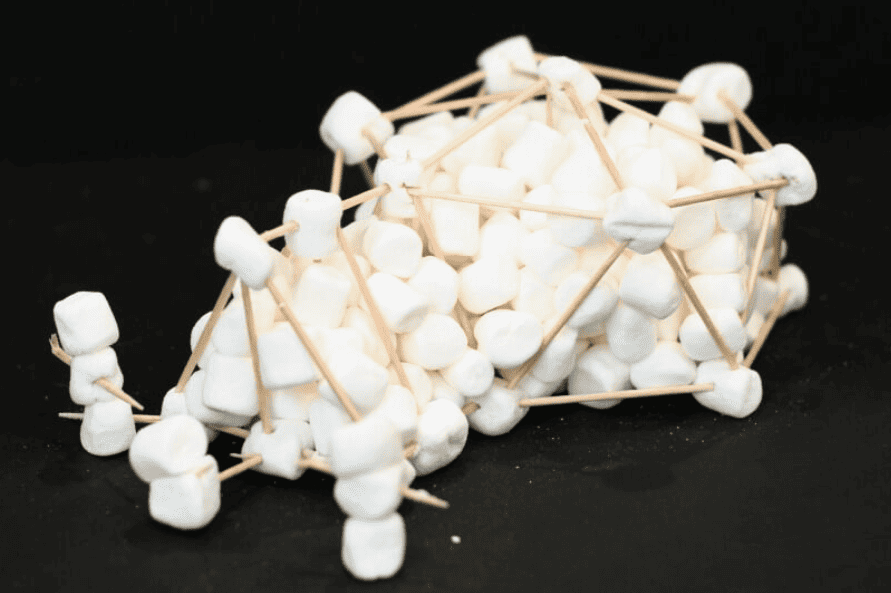 This fun activity challenges students to build an igloo using both marshmallows and toothpicks, with no specific instructions, allowing kids to freely explore their creativity and engineering skills while learning to apply geometric concepts and spatial reasoning.
Learn More: Lemon Lime Adventures
10. Fun Building Challenge With Birds
To make these adorable marshmallow birds, kids can start by cutting and assembling marshmallow pieces to form the bird's head, neck, torso, and wings. Pretzel sticks and gumdrops can be used to create legs and "rocks" for the bird to stand on. By participating in this imaginative craft activity, children can develop fine motor skills while practicing their creativity.
Learn More: Super Make It
11. Fun STEM Idea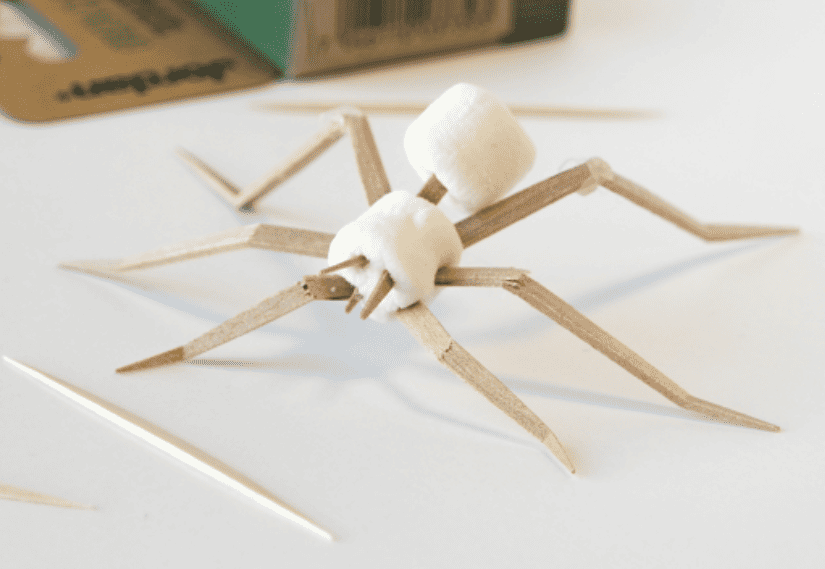 Constructing this spider creation encourages kids to observe and identify the differences between their model and a real spider, allowing them to learn about natural phenomena in a more interactive way, all while encouraging critical thinking and observational skills.
Learn More: Jordan Oral Care
12. Engineering Dens with Geometric Shapes
After providing children with marshmallows, toothpicks, and winter animal figurines, have them build dens for these animals, discussing the various habitats of arctic animals, such as snow dens. The activity allows for creativity and open-ended problem-solving as they adjust the size of their creations to suit the various animals.
Learn More: Fun a Day
13. Marshmallow Catapult Challenge
For this Medieval times-themed activity, have children use marshmallows and toothpicks to create cubes and other shapes, assembling them into a castle structure. For the catapult, provide them with 8-10 popsicle sticks, rubber bands, and a plastic spoon. This activity is sure to generate a lot of excitement while teaching basic engineering principles.
Learn More: Left Brain Craft Brain
14. Excellent Engineering Activity Building Camping Tents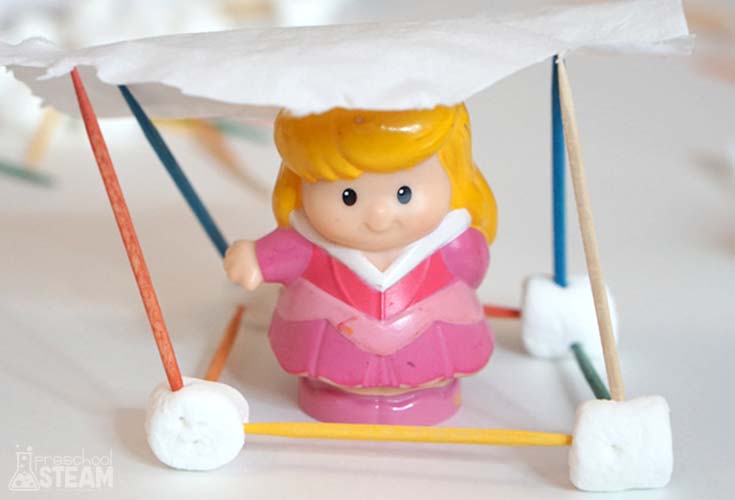 The objective of this STEM challenge is to build a tent that can hold a small figurine, using materials such as mini marshmallows, toothpicks, a small figurine, and a napkin. Encourage kids to experiment with building a base before attempting to create a free-standing tent. Finally, have them test their design to see if the figurine fits inside while staying upright.
Learn More: Preschool STEAM
15. Try an Easy Chicken Pop Recipe
After inserting a toothpick into the bottom of a marshmallow, cut a slit at the top of the marshmallow and add a little white icing. Next, press in two large heart sprinkles before adding black eye sprinkles, carrot sprinkles, and red heart sprinkles for the face. Finish off your delectable creation by attaching orange flower sprinkles on the bottom using icing.
Learn More: Kitchen Fun With My 3 Sons
16. Low Prep Activity with Polar Bears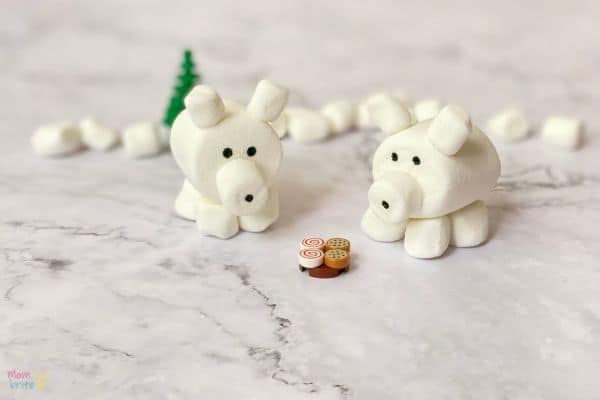 By using water as a binding agent, kids stick mini marshmallows to a regular marshmallow to form the bear's legs, ears, muzzle, and tail. With a toothpick dipped in black food coloring, they can then create the eyes and nose. This enjoyable project encourages creativity, fine motor skills development, and imagination while teaching kids all about polar bears.
Learn More: Mom Brite
17. Baby Beluga Quick STEM Activity
For this underwater creation, have kids assemble the beluga using three large marshmallows, a craft stick, flippers, and tail flukes cutouts. Attach the pieces together before using chocolate syrup to draw facial features. This hands-on activity helps children learn about beluga whales while enhancing their creativity, and offering a delicious edible craft to enjoy.
Learn More: Mothers of Preschoolers
18. Constellations Craft
For this astronomy-themed activity, kids use mini marshmallows, toothpicks, and printable constellation cards to create their own representations of various constellations, representing each zodiac sign, as well as the Big Dipper and Little Dipper. Why not have kids try to spot the real constellations in the night sky, such as the North Star or Orion's Belt?
Learn More: Activity Mom
19. Build a House
For this fun STEM challenge, provide children with mini marshmallows and toothpicks, before tasking them with building a house structure. This simple project challenges kids to think outside the box and to use problem-solving skills to stabilize their creations.
Learn More: Creative Family Fun
20. Practice Spelling and Letter Recognition
For the first part of this activity, have students create various letters using marshmallows and toothpicks, before completing Math activities such as counting the number of marshmallows used or rolling a number cube to determine how many marshmallows to add.
Learn More: Play Ideas