Looking for some fun middle school activities to incorporate in your math lessons? Trying to come up with fun ideas that fit your curriculum? Here are 20 great activities and project ideas! There are three main themes to the activities listed below: real life, food (perfect for those hungry pre-teens!), and creativity. The instructions for all activities can be easily modified for students in Grade 6, Grade 7, and Grade 8. If your child is home-schooled, or you are just looking for additional home learning tasks, then these activities are perfect for you! All of the materials can easily be found in your home.
So, grab a cup of tea, sit back, relax and read on…
1. M&M Maths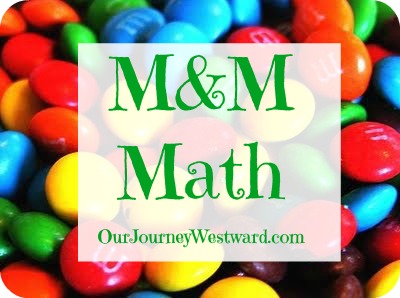 Materials needed: M&Ms
Topic: fractions, decimals, percentage, and graphing
Use M&Ms to teach math! Provide students with a pile of M&Ms to count and convert into fractions, decimals, and percentages. You can also extend this activity by getting the students to graph their findings.
2. What is the best buy?
Materials needed: printed worksheets
Topic: unit rates
In this project, your students will become experts at identifying the best deal. Working through a range of scenarios, students will get plenty of practice at calculating unit rates.
3. Sir Cumference and the Dragon of Pi (A Math Adventure) by Cindy Neuschwander 
Materials needed: Sir Cumference and the Isle of Immeter book, paper plates or oranges
Topic: circumference
Teach your students about the circumference of circles by reading this math book and using oranges or paper plates to turn circles into rectangles!
Sir Cumference and the Dragon of Pi
4. Candy Bar Volume
Materials needed: a range of different sized candy bars
Topic: volume
Do your students love candy? Entice them with this sweet activity. Students will practice calculating and comparing the volume of real candy bars. Challenge them to use this activity to work out which candy bar they should choose the next time they are told "You can choose one candy bar only!"
5. Measuring the Volume of a Solid
Materials needed: any solid objects
Topic: volume
In this activity, students will be calculating the volume of different solids. The blog article suggests using rocks, but you can use any random objects you can find – a box, your iPad, or even the TV remote!
Measuring the Volume of a Solid
6. Popcorn Math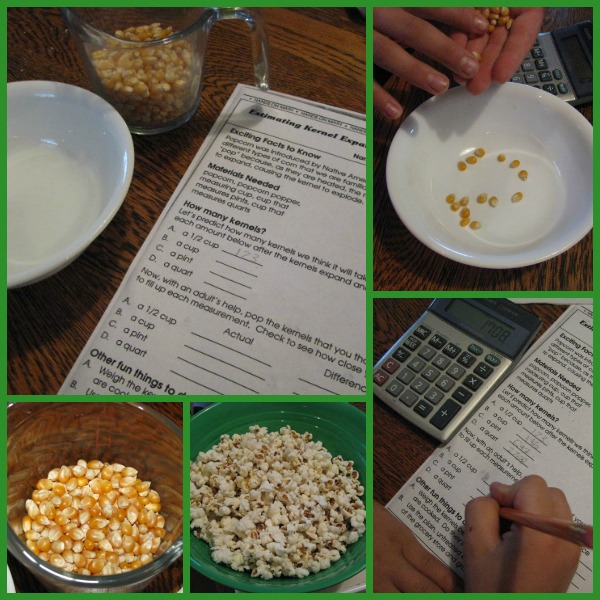 Materials needed: paper, popcorn kernels
Topic: capacity, measurement, collecting data, and making comparisons
Teach students the basics of measuring and the skill of estimation by making popcorn together – and enjoy eating it together afterward!
7. Measuring Volume of Boxes and Spheres
Materials needed: boxes or sphere-shaped objects
Topic: volume
Students can go on a treasure hunt around the classroom or your home, looking for objects that are box or sphere-shaped. Once the students have collected a range of objects, let them calculate and compare the volumes.
Measuring Volume of Boxes and Spheres
8. Oreo Stacking
Materials needed: paper, Oreos
Topic: data collection
Calling all Oreo fans! Challenge students to stack Oreos as high as they can in this activity to learn about data collection and averages. Just make sure students stack more than they eat!
9. How much does a pumpkin cost?
Materials: a range of different-sized pumpkins
Topic: algebra, weight, cost
This activity consists of a series of three lessons. Students will be given an imaginary amount of money that they must use to buy the largest pumpkin possible. A great opportunity for students to apply their calculation skills to a real-life scenario.
10. Percentage Scavenger Hunt
Materials: scavenger hunt clues, paper, pencils, clipboards (if available)
Topic: percentages
Print off the clues and place them around your school or home and send your students off on a percentage scavenger hunt. Students will be so actively engaged, they will forget it's a math lesson!
11. Ratio and Baking
Material: recipe worksheet, ingredients (optional)
Topic: ratio
Give students the chance to apply their understanding of ratio to a real-life situation – scaling up a baking recipe. If you really want to go the extra mile, why not try out the recipe for real and make some delicious cookies!
12. Paper Airplane Graphs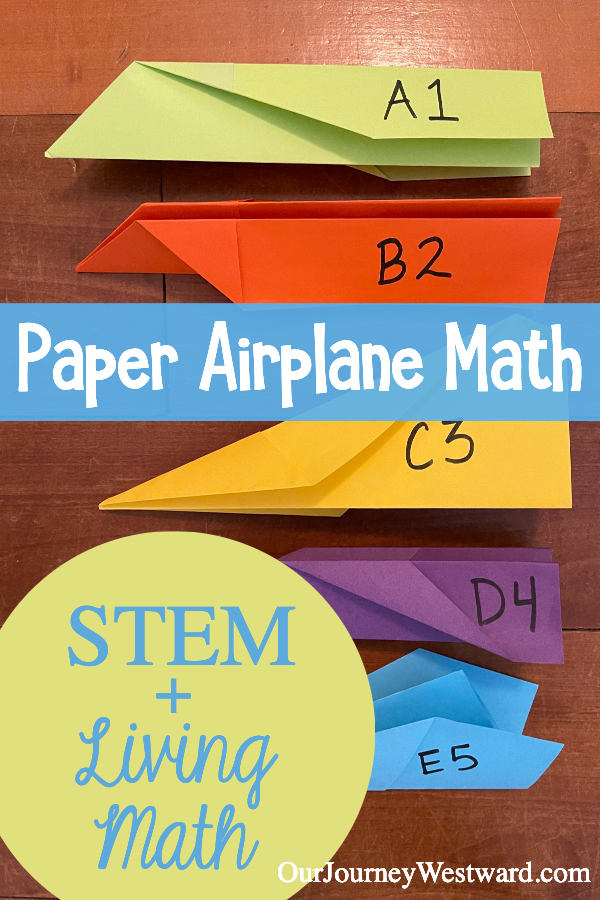 Materials needed: paper
Topic: measurement, record keeping, graphing, averages
Children can learn how to graph distance each time they fly their paper airplanes. This activity requires little preparation, but it is a great way to engage your students.
13. A Trip to the Moon
Materials: printed worksheets
Topic: graphs, equivalent ratios
Let students prepare for a trip to the moon by using ratios to calculate their 'space' weight. A great activity to practice math skills while learning about fascinating science concepts.
14. Rotational Symmetry
Materials needed: access to a computer or device
Topic: rotational symmetry
Students can use this interactive game to explore how objects behave when they are rotated around a centralized point.
15. Frank Stella Protractor Artwork
Materials: pencil, protractor, ruler, Frank Stella's Protractor Series
Topic: using a protractor
Students can analyze Frank Stella's artwork made with a protractor and attempt to design and draw their very own version. A great opportunity for students to enhance their maths and art skills.
Frank Stella Protractor Artwork
16. The King's Chessboard: The Power of Doubling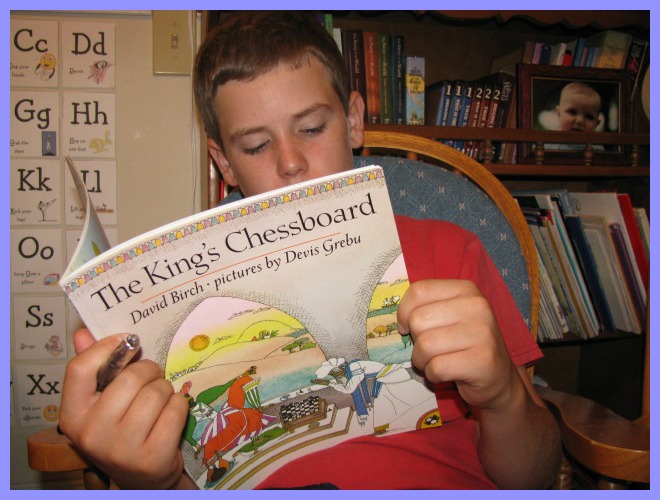 Materials needed: The King's Chessboard book
Topic: doubling
Students can learn the power of doubling through this story. After reading, encourage your students to think about how they could use the power of doubling to get more pocket money!
The King's Chessboard: The Power of Doubling
17. Scale a Comic
Materials: printed worksheets
Topic: scaling
Let your students apply their creativity in this activity. Students will design and produce their very own comic before learning learn how to scale it up or down to fit a frame.
18. Tessellation Project
Materials: paper, pen, scissors
Topic: rotation, reflection, translation
Learn different techniques to create amazing tessellation artwork using rotation, reflection, and translation.
19. Pythagoras Using Lego
Materials: Lego
Topic: Pythagoras theorem
Fed up of always drawing triangles to learn about Pythagoras? Then, check out this activity - students will use Lego pieces to prove Pythagoras theorem! Now, that sounds more fun!
20. Geometric Snowman
Materials: snowman template, scissors
If Christmas is approaching, then be sure to check out this activity. By folding a snowman, students will learn about geometry and have a new decoration for the Christmas tree!
The maths activities above have all been chosen to help to improve your students' engagement and progress in math. Not only will these activities instill more fun in your lessons, but they require limited preparation time to make your life easier too! The hands-on element of the activities will help your students to learn math without even realizing it – and you'll probably be forever remembered as their best maths teacher!