Having students engaged in your math class from minute one can be extremely difficult! But have you ever tried to open with some funny math jokes? Telling a joke (or more) is a great and fun way to start the class by engaging the students in some fun and laughter. For decades, those wiser than us have said that laughter is the best medicine. In this case, some corny math jokes can cure the boredom that class may bring.
1. What did the mean triangle say to the circle? 
2. Why was the math teacher late for class?
Because she took the rhom-bus!
3. Which triangle is the coldest?
4. What shape is an empty birdcage?
5. What was Sir Isaac Newtons favorite dessert?
6. What is a math teacher's best pick-up line?
7. What did Pi say when asked to take a selfie?
I don't think I can fit everyone in!
8. What are 3.14% of sailors called?
9. What did the math geeks say to the jocks?
10. What is a moose climbing an angel?
11. Why is the obtuse triangle always so sad?
Because it is never right!
1. Units of measurement like feet and inches were originally based on the current monarch's sizes...
That's why they were called rulers!
2. Physics Teacher: John, what do you call the standard measurement of power?
John: What?
Teacher: Oh, I guess you were listening.
3. What is Santa's favorite measurement in the metric system?
4. You should never have a fight with a 90 degree angle.
5. What did area say to perimeter while arguing?
I'm trying to talk to you, but I feel like you're just going around my problem.
6. Why should you never believe a clock?
It's usually second-hand information.
7. Why did the grandfather clock burp every night at nine?
8. What did the rock say to the ruler?
9. What did the dad say when his son asked, "How many feet are in a yard?"
Dad: Depends on how many people are in the yard.
1. I, for ONE, like Roman Numerals. 
2.  Never discuss infinity with a math professor. 
You'll never hear the end of it!
3. Not all math jokes are awful. 
4. What do you call a number that can't keep still?
5. Math puns are a sine of a big problem.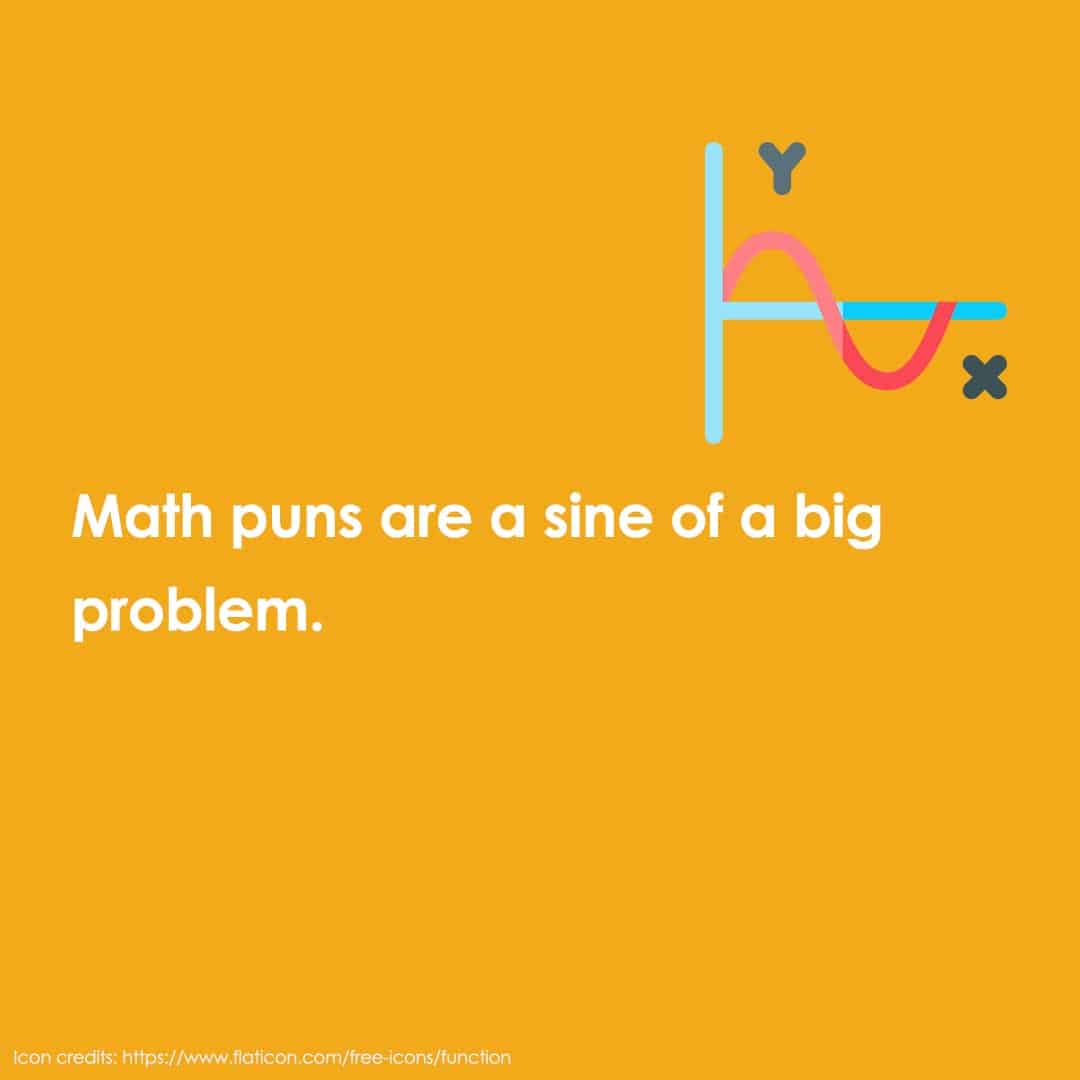 (P+L) (A+N)
PA+PN+LA+LN
YOUR PLAN HAS BEEN FOILED!
7. What do algebraic geometers study at Christmas?
8. 8. How do we know that the fractions m/c, n/c, and p/c are all in Australia?
I guess you could say I'm a pro-tractor.
Algebra, You're So Funny!
1. A farmer had 197 cows in the field.
But when he rounded up, he had 200.
2. What do you call a bunch of guys that love math?
Have you ever looked at your X and wondered Y?
 4. What's a nocturnal bird's favorite math?
Stop asking us to find your X. She's never coming back, and don't ask Y.
6. Where can you go on New Year's Eve to practice math?
7. If I had a dollar for every time algebra has helped me...
Parallel lines have so much in common, but they will never meet. 
9. Why did the number 4 eat 2 carrots?
Because 2 is the square root of 4.
10. Teacher: Your behavior reminds me of the square root of two.
Student: Why?
Teacher: Because it's completely irrational.
Addition, Division, and Subtraction Jokes
1. How do you teach math to a chicken?
Show them lots of egg-samples!
2. What do you get when you take a bovine and divide its circumference by its diameter?
3. What did one algebra book say to the other?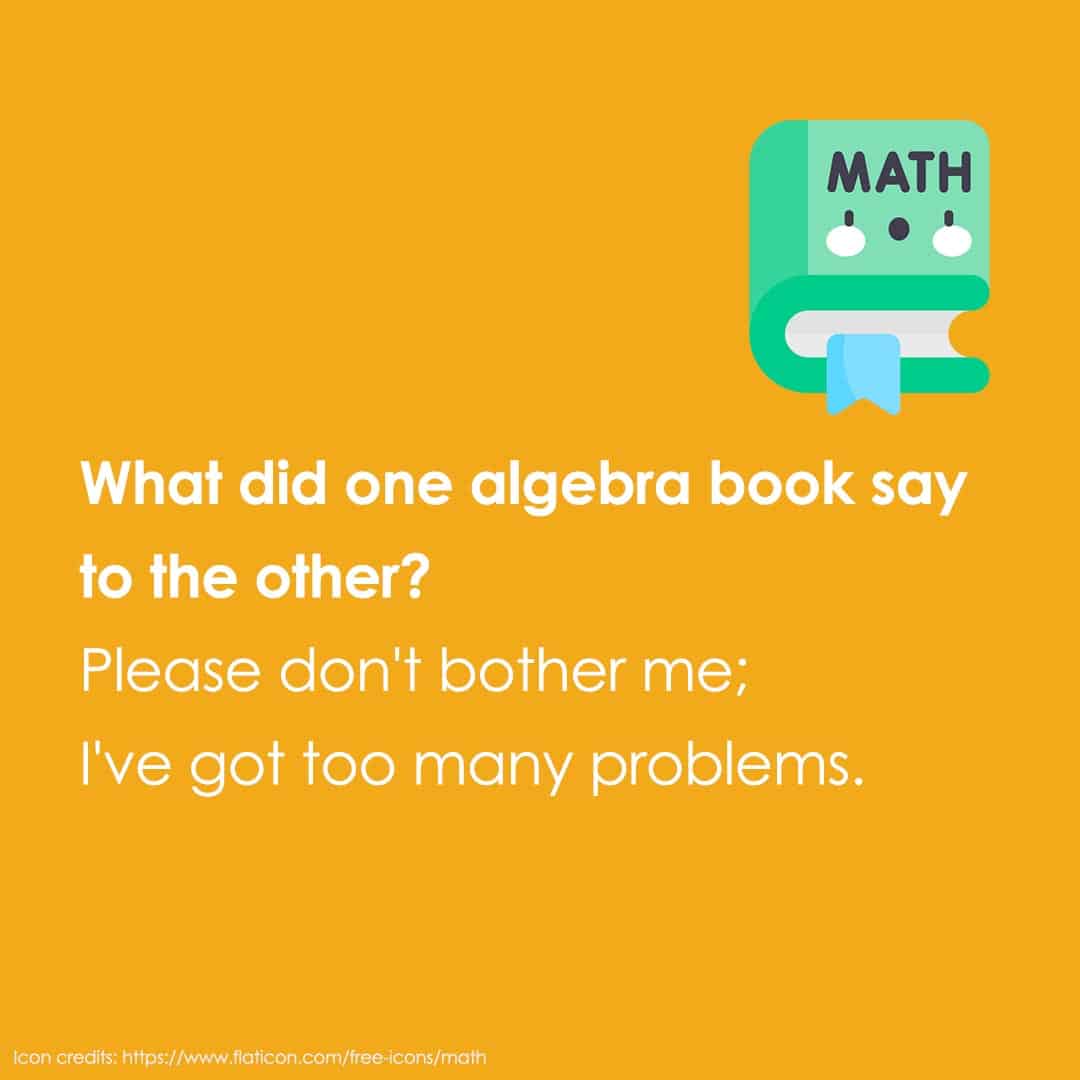 Please don't bother me; I've got too many problems.
4.  You know what seems odd to me?
Numbers that can't be divided by two.
5. Why did the two 4's skip Thanksgiving dinner?
6. When the minus sign asked, "Are you sure you make a difference?"
The plus sign said, "I'm positive!". 
7. What kind of math do you learn in your English class?
Add-verbs and add-jectives!
It's as easy as 1, 10, 11
9. How do farmers do long division?
10. What did the zero say to the eight?
11. Why should you wear glasses to do your math homework?
They improve your Di-Vision!
Final Thoughts on Math Class Fun and Jokes
At the end of the day, whatever you have to do to get students engaged in the learning process is worth looking into! Many of my own students (being an English teacher!) love these kinds of jokes. Many of them will tell me I am corny, or they will say, "that is such a dad joke!". Regardless, I have their attention! It is from this point that I can lead into the process of teaching and them learning. So, don't mind being silly or looking funny, just make them laugh and they will learn!