For decades, it's been said that laughter is the best cure! In the math classroom, this is no different, and having students focus from the minute they enter class can be rather difficult to achieve. That's why we've compiled a list of quirky quips to help you get them warmed up and thinking with a mathematical mindset! Jump right in to explore geometry giggles, math-related puns, algebraic one-liners, and more.
Geometry Giggles
1. What did the mean triangle say to the circle?
You're Pointless!
2. Why was the math teacher late for class?
Because she took the rhom-bus!
3. Which triangle is the coldest?
An ice-soseles triangle!
4. What shape is an empty birdcage?
A polly-gone!
5. What was Sir Isaac Newtons favorite dessert?
Apple Pi!
6. What is a math teacher's best pick-up line?
Hi, your acute angle!
7. What did Pi say when asked to take a selfie?
I don't think I can fit everyone in!
8. What are 3.14% of sailors called?
Pi-rates
9. What did the math geeks say to the jocks?
Join us; we have Pi!
10. What is a moose climbing an angel?
A hypoten-moose!
11. Why is the obtuse triangle always so sad?
Because it is never right!
Measurement Jokes
12. Units of measurement like feet and inches were originally based on the current monarch's sizes…
That's why they were called rulers!
13. Physics Teacher: John, what do you call the standard measurement of power?
John: What?
Teacher: Oh, I guess you were listening.
14. What is Santa's favorite measurement in the metric system?
A Santa-meter!
15. Why should you never have a fight with a 90 degree angle?
They're always right!
16. What did area say to perimeter while arguing?
I'm trying to talk to you, but I feel like you're just going around my problem.
17. Why should you never believe a clock?
It's usually second-hand information.
18. Why did the grandfather clock burp every night at nine?
He just 8!
19. What did the rock say to the ruler?
You rule!
20. What did the dad say when his son asked, "How many feet are in a yard?"
Dad: Depends on how many people are in the yard.
Math Puns
21. I, for ONE, like Roman Numerals.
22. Why should you never discuss infinity with a math professor?
You'll never hear the end of it!
23. Not all math jokes are awful.
Just sum.
24. What do you call a number that can't keep still?
A roamin' numeral!
25. Math puns are a sine of a big problem.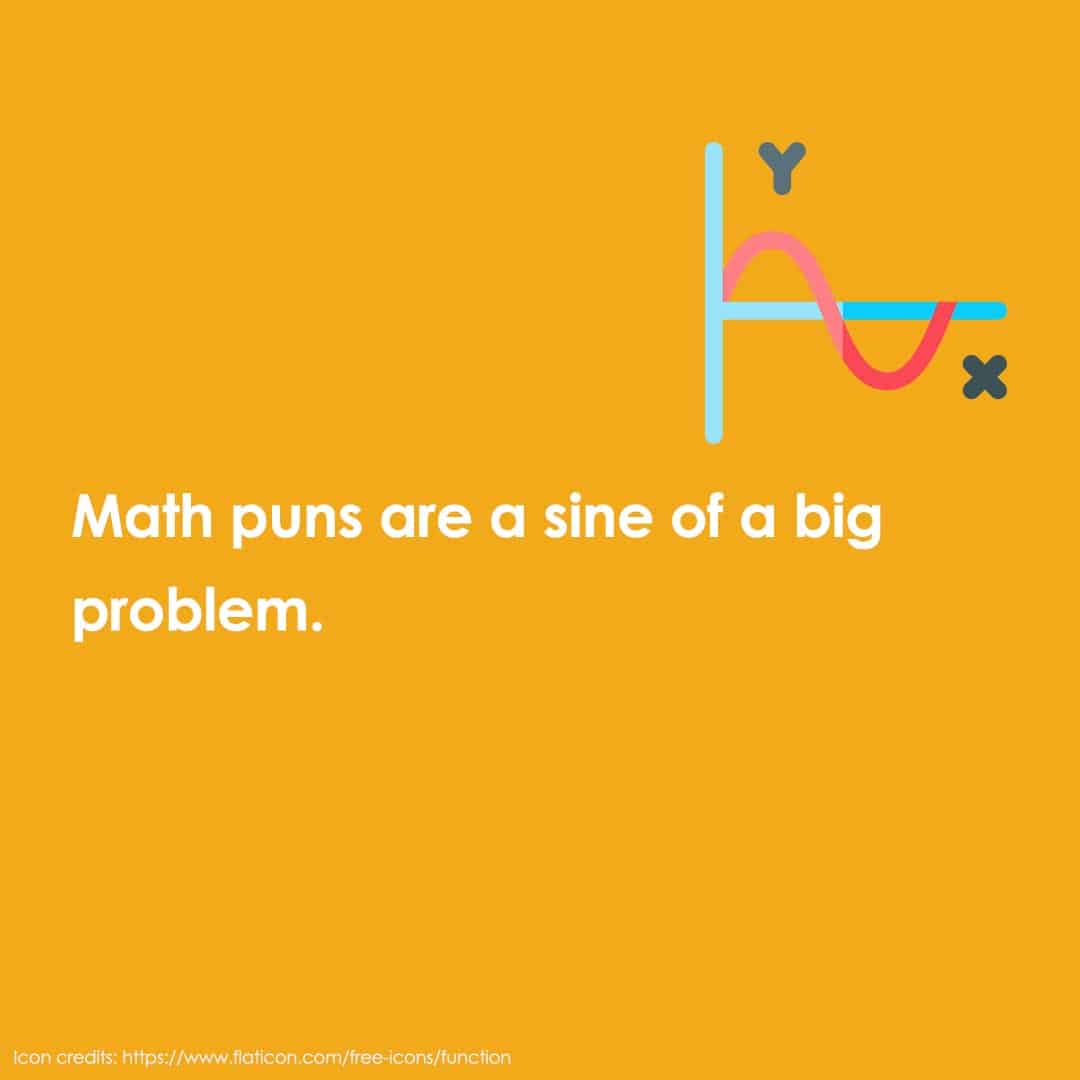 26. What do algebraic geometers study at Christmas?
Holly-nomials!
27. I support farming!
I guess you could say I'm a pro-tractor.
Algebraic One-Liners
28. What do you call a bunch of guys that love math?
Alge-bros!
29. Relationship Algebra
Have you ever looked at your X and wondered Y?
30. What's a nocturnal bird's favorite math?
Owl-gebra!
31. Dear Algebra,
Stop asking us to find your X. She's never coming back, and don't ask Y.
32. Where can you go on New Year's Eve to practice math?
Times Square!
33. If I had a dollar for every time algebra has helped me…
I'd have x dollars.
34. It is such a shame…
Parallel lines have so much in common, but they will never meet.
35. Teacher: Your behavior reminds me of the square root of two.
Student: Why?
Teacher: Because it's completely irrational.
Addition, Division, and Subtraction Jokes
36. How do you teach math to a chicken?
Show them lots of egg-samples!
37. What do you get when you take a bovine and divide its circumference by its diameter?
A cow Pi.
38. What did one algebra book say to the other?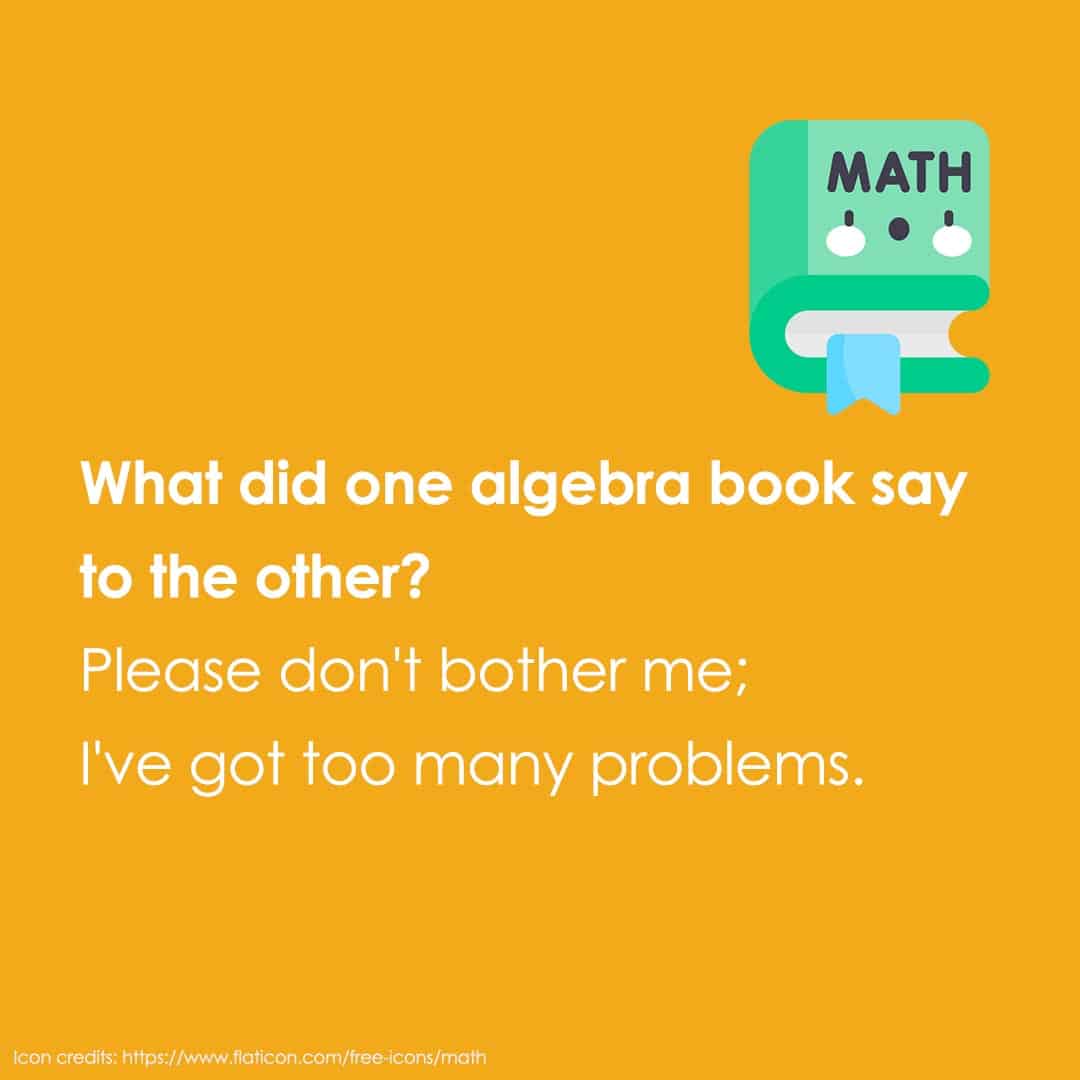 Please don't bother me; I've got too many problems.
39. You know what seems odd to me?
Numbers that can't be divided by two.
40. Why did the two 4's skip Thanksgiving dinner?
Because they already 8!
41. When the minus sign asked, "Are you sure you make a difference?"
The plus sign said, "I'm positive!".
42. What kind of math do you learn in your English class?
Add-verbs and add-jectives!
43. How do farmers do long division?
With a cow-culator!
44. What did the zero say to the eight?
Wow! Nice belt!
45. Why should you wear glasses to do your math homework?
They improve your Di-Vision!
Probability Jests
46. Why did the mathematician refuse to work in a casino?
Because he said it was a dicey business.
47. Why don't mathematicians play the lottery?
Because they calculate the probability!
48. Why do math teachers like to teach probability?
Because it's a safe bet!
49. Why did the mathematician go to Vegas?
To add to the odds!
50. What's a mathematician's favorite game?
Probability and statistics!
51. Why did the probability teacher never play poker?
Because he didn't want to count on it.
52. What did the probability teacher say to the nervous student?
Relax, we're all in the same boat. The probability of sinking is very low.
53. What is the probability of you going to jail?
Zero, unless you count cards!
Number Theory Wisecracks
54. Why do plants hate math?
Because it gives them square roots.
55. What did the mathematician say when he finished his Christmas dinner?
√(-1/64)
Statistic-Inspired Smiles
56. How do you find a statistician in a crowded room?
Just stand in the corner and measure the mean distance to everyone.
57. Why do statisticians love living in the countryside?
Because they're far from mean.
58. Why did the statistician raise chickens?
To get eggs-act values.
59. Why did the statistician refuse to work without a net?
Because he was afraid of high standard deviations.
60. Why was the statistician skeptical of the invisible man?
Because you can't trust what you can't see.
Calculus Quips
61. Why do we never talk to pi?
Because it's irrational and never ends.
62. Why did the student get kicked out of the calculus party?
Because he didn't integrate.
63. Why do mathematicians prefer differential calculus over integral calculus?
Because it's less of a hassle to derive than to figure out what to integrate.
64. Why is calculus a part of most diet plans?
Because you need to understand limits to avoid overeating.
65. Why was the calculus teacher bad at baseball?
Because he was afraid of the curve.
Trigonometry-Based Banter
66. What do you call a destroyed angle?
A Rect-angle.
67. What's the favourite type of music of trigonometry teachers?
Sine waves.
68. Why did the student learn about sine, cosine, and tangent?
Because he wanted to get to the root of the problem.
69. Why do mathematicians like beaches?
Because they can bring their protractors and measure angles.
70. Why did the angle go to the hospital?
Its degrees were too high!
Miscellaneous Amusement
71. Why was the math exam so happy?
Because it felt really test-y!
72. Why was the math student's eraser always gone?
Because he couldn't resist a chance to erase his problems.
73. Why is your nose in the middle of your face?
Because it's the scenter!
74. How does a mathematician plow fields?
With a pro-tractor.
75. Why did the math teacher get a parrot?
So it could poly-talk!
76. How does a mathematician lose weight?
By working out their problems.
77. Why didn't the math teacher marry the PE teacher?
Because he couldn't figure out the equation of love.
78. Why did the math teacher bring a ladder to school?
Because she wanted to reach new heights.
79. Why do math teachers make good detectives?
Because they can figure out the missing numbers.
80. Why was the fraction worried about marrying the decimal?
Because he would have to convert.
81. Why was the decimal so modest?
Because he always points to his faults.
82. What's a math teacher's favorite type of tree?
Geome-tree!
83. Why did the ratio blush?
Because he saw the fraction strip.
84. Why did the imaginary number turn red?
Because it ran out of real solutions.
85. What's a math teacher's favorite type of dessert?
Pi-neapple!
86. What do you call friends who love math?
Alge-buddies!
87. Why did the math teacher like the color green?
Because it's not a primary color.
88. What's a math teacher's favorite winter activity?
Sledding down a slope!
89. Why did the math student bring a rubber duck to school?
Because he wanted to make the equations float.
90. What do you call a math teacher who likes gardening?
A square root digger!
Final Thoughts on Math Class Fun and Jokes
At the end of the day, whatever you have to do to get students engaged in the learning process is worth looking into! Many of my own students (being an English teacher!) love these kinds of jokes. Many of them will tell me I am corny, or they will say, "that is such a dad joke!". Regardless, I have their attention! It is from this point that I can lead into the process of teaching and them learning. So, don't mind being silly or looking funny, just make them laugh and they will learn!