Are your students intimidated by angles or the thought of using a protractor? Any math concept or tool can be a bit scary for first-time learners, but it doesn't have to be! Planning educational and engaging activities can help to increase the fun and alleviate the fear.
Below is a list of 19 math activities that provide great practice for identifying and measuring angles in your math class.
1. Draw a Space Rocket

Mixing math with cool things (like space rockets) can make the learning experience a lot more fun! Your kids can use a standard ruler and protractor to measure and construct the correct lines and angles to form this geometric space rocket.
Learn More: Teachers Pay Teachers
2. Line Art Angle Measuring
Lots of beautiful artwork consists of angles! Therefore, an art project is a great opportunity to practice measuring angles. Here are some free line art worksheets your kids could try. After completing the lines, your kids can practice measuring some of the angles.
Learn More: It's Always Autumn
3. Tape Angles Activity
This collaborative activity is a good pick for both angle identification and measuring practice. You can start by making a right angle with tape. Your kids can then take turns adding tape pieces to form different lines. Finally, they can add notes about the angle types and degree measurements.
Learn More: Mathemativity
4. Wikki Angles
Wikki Stix is bendable pieces of yarn that have been coated in wax. They can make great material to practice constructing angles with. After estimating the angle's size by bending the Wikki Stix, your kids can check their accuracy using a protractor.
Learn More: Create Teach Share
5. Read "Sir Cumference And The Great Knight of Angleland"
I genuinely didn't think you could combine a fun, fictional story with a math lesson- until I found this book! The main character, Radius, goes on an adventure through a maze of angles where he must use a special medallion (a trusty protractor) to solve different angle puzzles.
Learn More: Amazon
6. Paper Plate Protractor
Your kids can make their own special, angle-solving medallion from a paper plate. I suggest using a protractor template to make the degree marks so that their homemade creations can be as accurate as possible.
Learn More: Learning Ideas Grades K-8
7. Snowflake Angle Worksheet
Combining colors and snowflakes can make for a fun-angle activity. Your kids must trace the correct colors on each snowflake for right, acute, and obtuse angles. They will have beautifully colored art pieces by the end of it!
Learn More: Deceptively Educational
8. Snowflake Craft
Crafting snowflakes with popsicle sticks can also make a great, educational angle activity. As you and your kids build the snowflake shape, you can ask them questions about the types of angles they are creating. Add some glue to make these snowflakes stick!
Learn More: Deceptively Educational
9. Straw Angles
You can teach a hands-on lesson about angles with the help of straws. Your kids can take two straws each, stick one end into the other, and follow your angle-making demonstrations. You can make straight, obtuse, acute angles, and more!
Learn More: Alan Graham
10. Identifying & Comparing Angles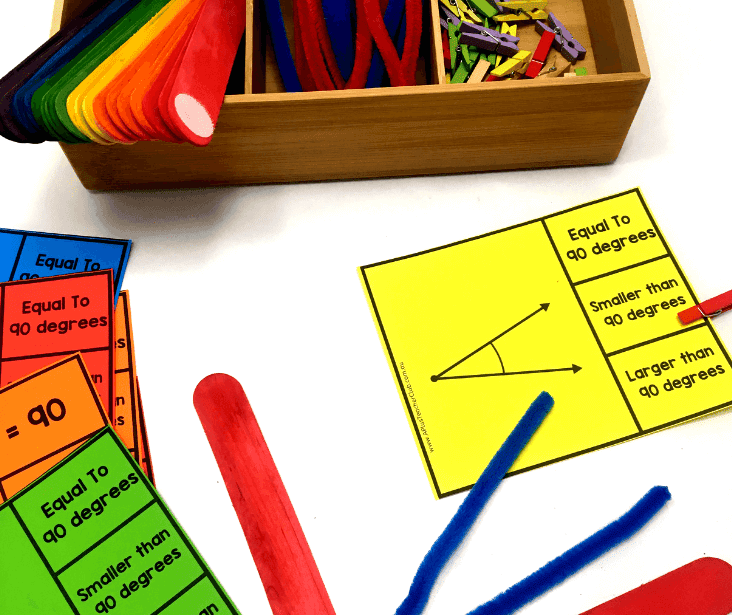 This pre-made set of 28 task cards can help your kids practice identifying and comparing angle sizes. What is the angle size? Is it bigger or less than 90°? They can place a mini clothespin on their answer and record it on an answer sheet.
Learn More: A+ Teaching Resources
11. Playground Angles
There are angles all around us! You can play this angle-finding activity with your kids at the playground. They can draw the outlines of the different playground rides and then identify the various angles that exist within them.
Learn More: Number Dyslexia
12. Roundup Angle-Making
This angle activity can encourage collaboration between students as they try to align themselves to form specific angles. You can gather your kids in a circle to start, and then call out angles for them to try forming!
Learn More: Number Dyslexia
13. Simon Says
You can add angles to the classic game of Simon Says for a fun, mathematical bonus! Simon says, "Make an obtuse angle". Simon says, "Make a right angle". You can increase the difficulty by getting specific about the angles in degrees.
Learn More: Create Teach Share
14. Blindfold Angle Game
Here's a fun classroom game you could try! Your blindfolded kids would be given specific instructions. For example, this can include getting them to rotate a 45°. Ultimately, the instructions will lead to an end goal such as locating an item or throwing a ball.
Learn More: Mr. Hill's Musings
15. Angles Animation
Scratch is an awesome resource for teaching kids basic coding skills in their free programming language. Your kids can use this online platform to create animation videos that demonstrate what they know about angles.
Learn More: Mr. Hill's Musings
16. Measuring Angles – Digital/Print Activity
This angle measures activity has both a digital and print version, which can make it a great option for both in-class and online learning. In the digital version, your kids can use a digital protractor to find the measurements of provided angles.
Learn More: Math With Meaning
17. Online Angle Activity
Here's a free, online activity for your kids' practice. There are a number of questions that use a digital protractor and can give your kids a better understanding of angle sums and relationships.
Learn More: Educational Games For Kids
18. Estimating Angles
Protractors for students can be an important tool, but there is also value in learning how to estimate the measurement of angles. This 4-level online resource can be great for practicing angle size estimations.
Learn More: NRICH
19. Angle Anchor Charts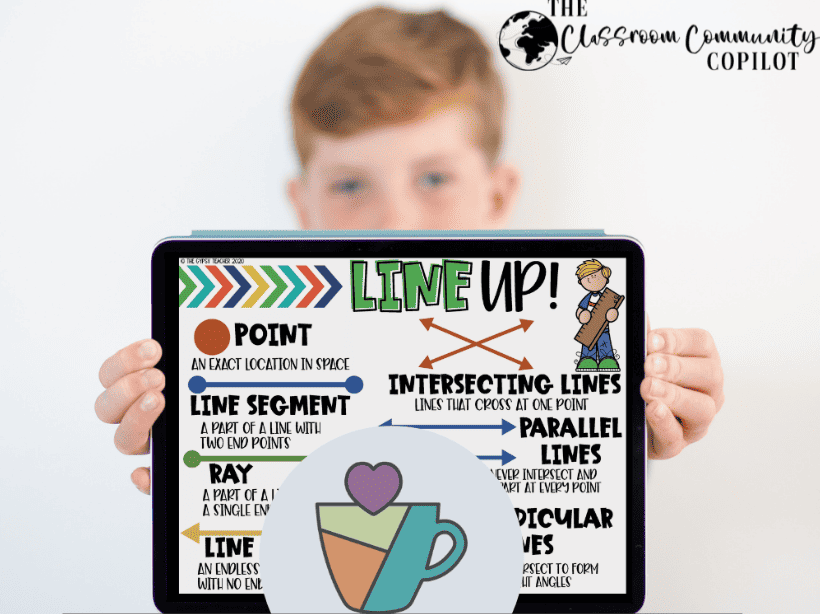 Creating anchor charts with your kids can be a great learning activity and can provide a handy resource for your kids to look back on. You can create your own, or go to the link below to check out some pre-made anchor chart templates.
Learn More: The Classroom Community Copilot