Party themes are an excellent way to enhance a special birthday. One party theme that is fun and popular is a mermaid-themed party. You can include mermaids in all aspects of party planning including invitations, party favors, decor, and desserts. If you are looking for mermaid party ideas, you are in for a treat. We will explore mermaid birthday party ideas for your next birthday bash. You can let your creativity run wild with a mermaid theme. Let's dive in!
A party backdrop is a great way to incorporate your theme and provide a special area for pictures. It is a great spot to sing happy birthday, open presents, or simply pose for pictures with family and friends.
Learn more: OEA Design Works
These adorable candy crabs are just as tasty as they are cute. For this particular party, the candy crabs were "protecting" a nearby fruit tray. This is a fun party food that is the perfect addition to any fabulous party.
Learn more: Motherhood in Progress
Party favors are a must-have at birthday parties these days. I absolutely love this treasure box idea. All you need are empty baby wipe containers and some special mermaid-themed prizes. This would be a great way to provide an inexpensive treat for your guests.
Learn more: Motherhood in Progress
4. DIY Mermaid-themed Invitations
How precious are these mermaid invitations? You can follow these step-by-step instructions to personalize and create your very own mermaid-themed birthday party invitations. Your invitations can set the tone for your color palette, party venue, and overall party decor.
Learn more: Beyhome Decor
5. Swimming Goldfish Snack Bag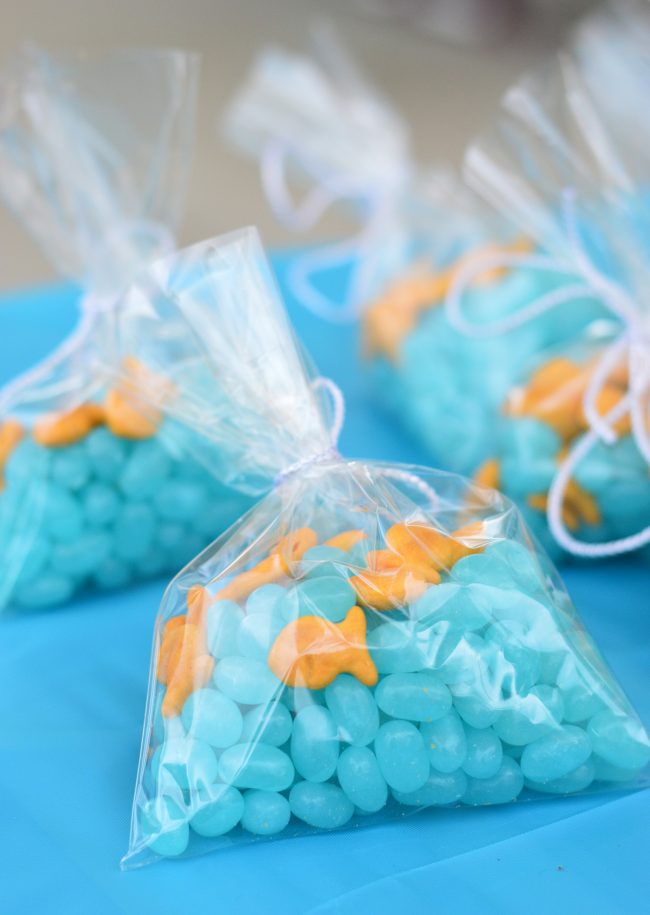 This party favor snack bag looks like the little goldfish are swimming across the sea of blue jellybeans. These are also very quick and easy to prepare. All you need are the jellybeans, goldfish, and clear plastic bags and ties.  I love keeping it cute and simple!
Learn more: Young House Love
6. No Bake Cheesecake Mermaid Dessert
It is important to keep your dessert table looking and tasting good! This no-bake cheesecake mermaid dessert will really wow your guests! They are delicious and mermaid themed - how could it get any better?
Learn more: Ever After in the Woods
Mermaid bean bag toss is a fun party activity that is perfect for celebrating a special mermaid birthday. This is totally a game that you can build and decorate yourself. All you will need is a poster board, fun stickers or stencils to decorate, and some bean bags. So fun!
Learn more: 3 Little Greenwoods Creations
8. Fishbowl Center Pieces
Decorate your party table with these amazing fishbowl centerpieces. I love how colorful these are! It is the perfect touch for any mermaid-themed party. You can also use these to play a game. Place a number under each one and raffle off the centerpieces to your party guests.
Learn more: Pinterest
9. Mermaid Party Yard Sign
This is a simple, yet fabulous party decoration idea. By posting a mermaid-themed yard sign, you are inviting guests into another world! They will immediately notice your theme and will become interested as they walk through each area.
Learn more: Target
Incorporating a piñata into your mermaid party is a fantastic way to have fun and provide delicious candy for all to enjoy. This DIY Mermaid Piñata is so adorable and will make your mermaid birthday party one to remember. It's the perfect way to enhance an amazing party.
Learn more: Sweet Tweets Bakeshop
11. Pin the Tail on the Mermaid Game
This free printable pin the tail on the mermaid game is so entertaining. Your guests will take turns pinning the mermaid tails to the mermaid - the only catch is that they will be blindfolded! Whoever pins the mermaid tail closest to the correct spot wins the game.
Learn more: Fin Fun
These gorgeous mermaid birthday party hats are so much fun! Your little ones and their friends will be so excited to put on their mermaid hats and party the night away. I love these DIY mermaid party decorations because they make the party theme more special and interactive.
Learn more: Introducing the Foil Quill
13. Mermaid-themed Birthday Balloons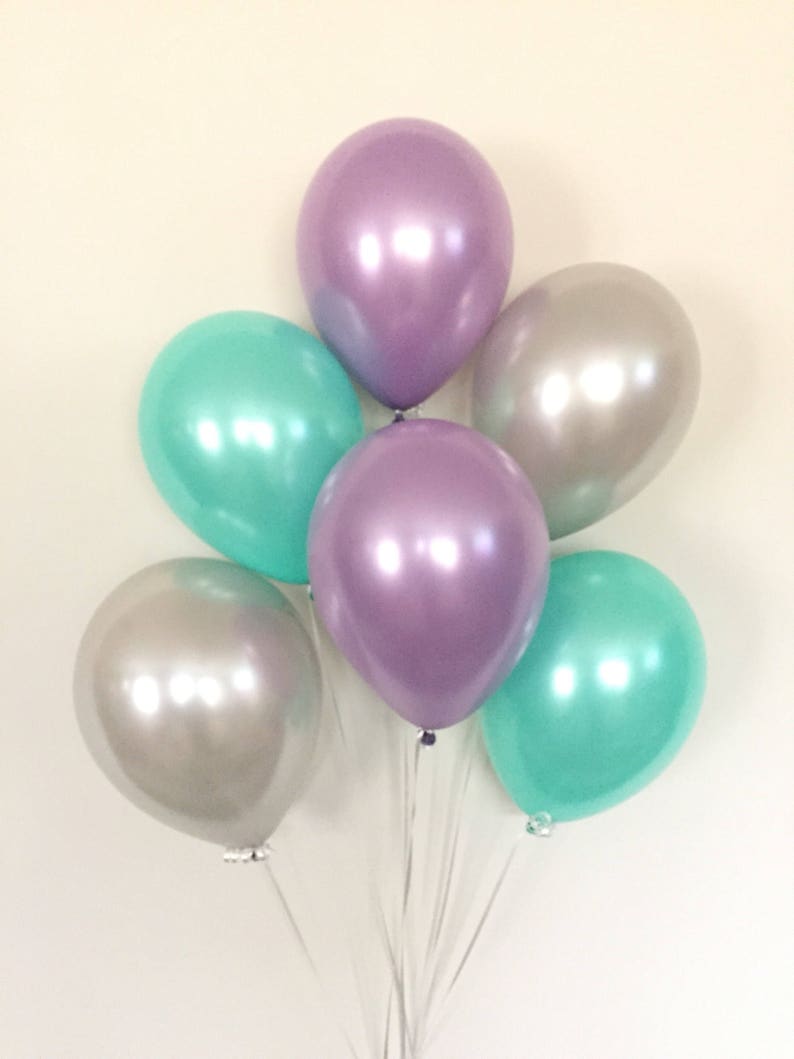 One of my favorite mermaid party decorations is the balloons.  You don't need super fancy balloons for a mermaid party, you just need the right colors!  These balloons are the perfect pastel color palette to fit right in with the mermaid theme.
Learn more: Etsy
These mermaid cookies are the perfect addition to your mermaid dessert table. The delicious mermaid tail treats are also pretty easy to make. For any birthday party or special mermaid-themed event, mermaid-inspired cookies are the way to go.
Learn more: Mimi's Dollhouse
15. Floral Mermaid Centerpieces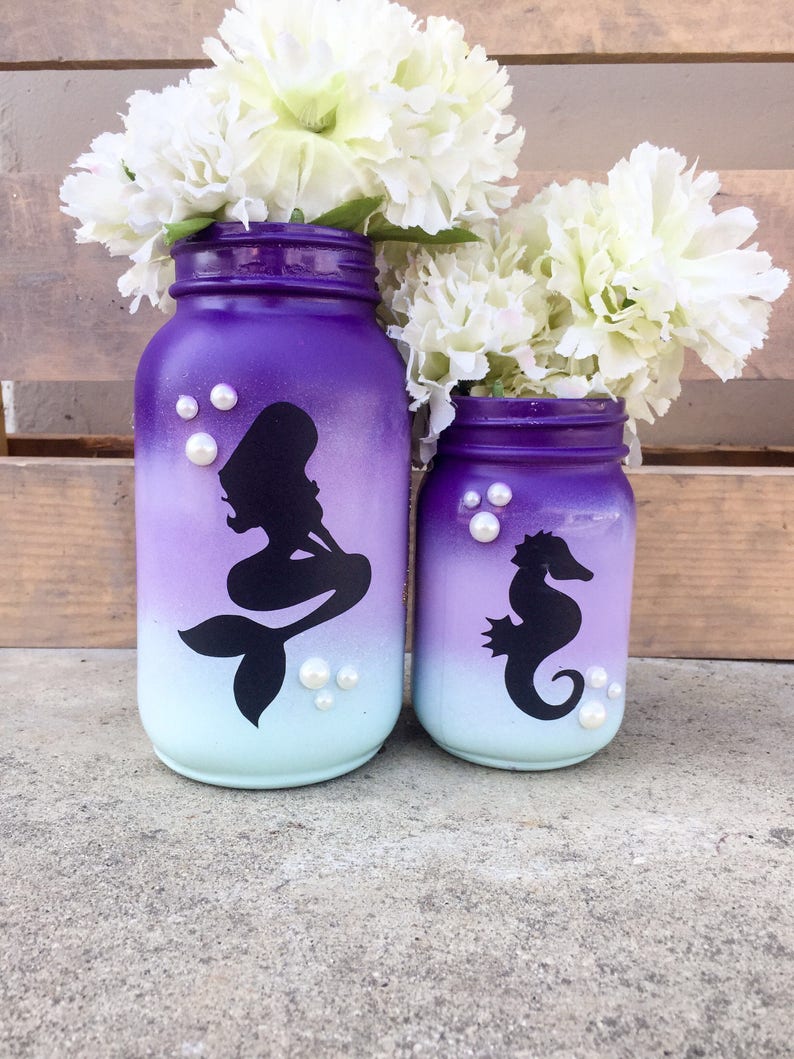 I absolutely love these floral mermaid centerpieces. The ombre-colored jars with the silhouette of the mermaid and seahorse are beautiful. The special touch of the pearls looks like bubbles in the water. You could put any color flowers in these vases to compliment your color scheme.
Learn more: Etsy
16. No-Churn Mermaid Ice Cream
This no-churn mermaid ice cream looks delectable. This is homemade ice cream that you can make just for your mermaid birthday party. I love the way these colors look mixed together. Including this yummy dessert is the perfect touch for a great mermaid party.
Learn more: Homemade Interest
Making mermaid slime would be such a fun activity for a mermaid-themed kids' birthday party. The glitter and rhinestones added to ordinary slime give it an extra sparkle that is fit for a mermaid.
Learn more: The Farmgirl Gabs
I love this bubble chandelier because you can use it as a mermaid-themed party decoration, and you can also use it to decorate your home. It is absolutely gorgeous and could not be more fitting for a mermaid-themed event.
Learn more: Martha Stewart
19. Mermaid Starfish Wands
How precious are these DIY mermaid starfish wands? If you are interested in making these for your next mermaid party, this resource provides step-by-step instructions with pictures so you can follow along and not worry about missing anything.
Learn more: One Whimsy Lane
If you are looking for a fun activity to entertain friends at a mermaid slumber party, you may want to learn to make seashell necklaces. This make-and-take craft is the perfect party favor for any mermaid party or event.
Learn more: Pink Stripey Socks
21. Mermaid Hair Makeover
Have you ever dreamed of having colorful mermaid hair? If so, your dream is in reach! Check out this temporary hair chalk. This chalk works on all hair types and colors and it washes out when you want it to! I love this idea for a mermaid makeover party.
Learn more: Amazon
22. DIY Mermaid Bath Bombs
Mermaid bath bombs would be an amazing party favor that everyone would appreciate. Now you can create these on your own to save money and make them exactly how you want them. I love how these incorporate glitter to make the bath water look like the sparkly sea.
Learn more: Beauty Crafter