As kids grow, it is important for parents to help them learn about healthy foods and develop a positive relationship with food. Parents often encourage kids to eat healthily, but an important aspect of eating is mental attitude and awareness, which is where mindful eating, also known as intuitive eating, becomes important. Here are 13 engaging mindful eating activities for kids and adults alike.
1. Describe Each Bite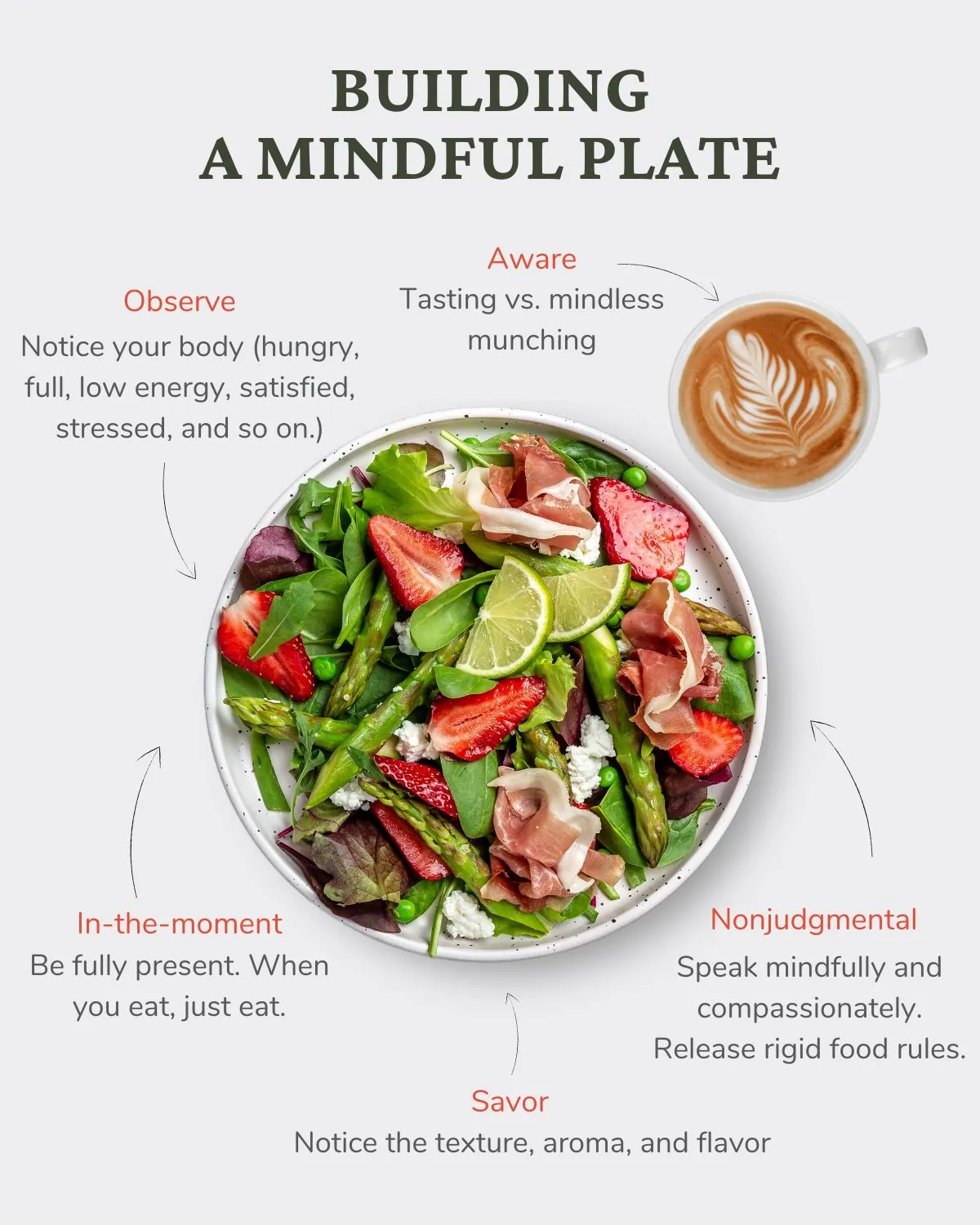 This is an easy activity that encourages a positive relationship with food. Either aloud or internally, as you take a bite of food, describe the taste and texture of what you are eating. Then, with each bite, compare them to the previous bites.
Learn More: Bite Out of Life Nutrition
2. Use the Hunger and Fullness Scale
The Hunger and Fullness Scale is a tool that anyone can use during mealtime. The scale helps people practice identifying physical hunger; recognizing the bodily sensations that point to hunger and understanding the feelings of hunger.
Learn More: Rachael Hartley Nutrition
3. Attend to Your Plate
This mindful eating exercise encourages people to focus on their meals, rather than other tasks or subjects of entertainment. Focusing on your meal as you eat, is an important practice that encourages a healthy weight and connection to food.
Learn More: Mindful
4. Ask Questions
This exercise gives kids good food insight while they are eating. Parents can ask kids questions like, "Does the taste of your food change when you cover your ears?" or "How does the taste change when you close your eyes?" This dialogue around food helps kids practice intuitive eating.
Learn More: Very Well Family
5. Let Kids Serve Themselves
Kids are often given food by adults, but when they are allowed to serve themselves, they begin to understand food portions, hunger cues, and intuitive eating. As kids practice serving themselves, you can ask questions about the foods they chose, and start a healthy dialogue about food.
Learn More: Healthy Kids
6. The A-B-C Method
The A-B-C Method shows kids and parents how to create a positive relationship with food. A stand for "Accept"; for parents to accept what a child eats, B stands for "Bond"; where parents bond at meal times, and C stands for "Closed"; meaning the kitchen is closed after meal time.
Learn More: Sarah Remmer
7. The S-S-S Model
This S-S-S Model helps kids understand how to eat mindfully; they should sit down for their meals, eat slowly, and savor their food. Practicing the S-S-S Model during meal times encourages a positive relationship with food, prevents emotional eating, and helps kids build a connection with food.
Learn More: Flow and Grow Kids Yoga
8. Build a Garden
Building a garden is a wonderful collaborative activity in which the entire family can find value. Kids can help decide what to plant and how to use the crops to make food. A family garden leads to mindful eating as kids learn how to plan meals around what's available from the garden!
Learn More: Within Health
9. Plan a Menu
As you plan meals for the week, involve the kids in the decision-making process. Encourage kids to find recipes that use different "spotlight" foods. For example, plan a meal around eggplants or carrots!
Learn More: Keep It Tight Sisters
10. Raisin Meditation
For this eating exercise, kids will put a raisin in their mouth and practice using their five senses to fully experience the food. This is also a practice of meditation, which is an important skill to utilize when practicing mindful eating.
Learn More: Berkeley.edu
11. Eat in Silence
Every day kids go from busy mornings to often loud and exciting classrooms, and then finally engage in extracurricular activities before returning home. Kids often have loud and busy lives, so practicing eating in a silent environment can help kids get a much-needed mental break from the noise to focus on mindful eating.
Learn More: Habio.app
12. Cooks in the Kitchen
Much like growing a family garden, cooking together also promotes mindful eating and balanced choices. Cooking and following recipes are excellent exercises for building positive relationships with food and food-focused skills.
Learn More: Blissful Kids
13. Eat the Rainbow
A great way to encourage healthy, mindful eating is to encourage kids to "eat the rainbow" in a day. As they go through the day, they have to find foods that fit each color of the rainbow. They will find that many of the colorful foods, such as fruits and vegetables, are healthy.
Learn More: Making Mindfulness Fun