School can be a tense and nerve-wracking place for kids to deal with on a daily basis. From exams and challenging subjects to hormones and social situations, there are many scenarios that can bring about stress and anxiety. These emotions are not useful in a classroom environment and do not help with student learning, exploration, and creativity.
There are many strategies, daily routines, and mindfulness practices we can implement in our class to remediate the negative emotions and difficulties of school life. Here are 25 suggestions we recommend you try in your classroom to reduce social anxiety, restlessness, and improve your students' learning experience.
1. Silent Space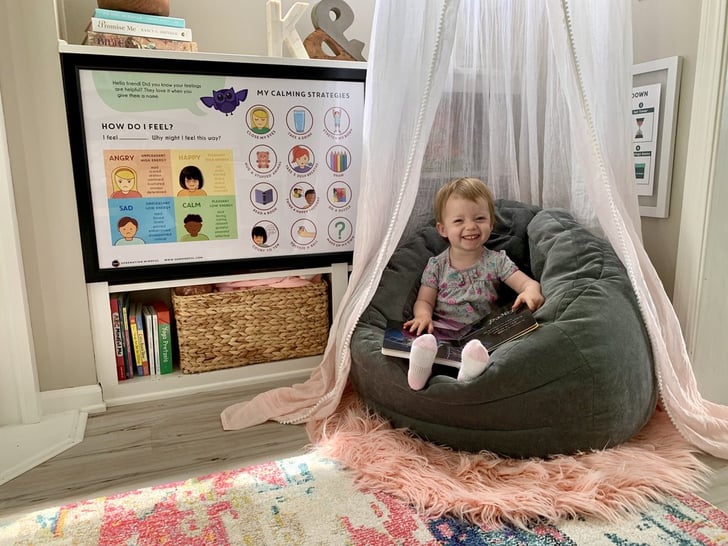 Sometimes our students need a moment to reset and recharge from the chaos of the school day. Designate a corner of your classroom as a silent space where someone can go and sit. Provide some headphones and a music device with calming music or nature sounds they can wear to escape for a moment.
Learn more: Teach Thought
2. Daily Journal
Ask your students to keep a daily journal of their mental and physical sensations guided by a prompt you can write on the whiteboard. Set aside time before each lesson for them to reflect on how they are feeling, release tension, and gain clarity so they can learn with careful attention.
Learn more: Journal Buddies
3. Mindful Breathing
Here is a simple exercise you can incorporate into your students' daily practice that has been proven to reduce symptoms of anxiety and increase awareness of emotions. A simple prompt you can use is to tell your students to close their eyes, breath slowly and deeply, and try to focus on how they are feeling with each exhale.
Learn more: PLS Classes
4. Walking Meditations
This mindful practice is best done outside the classroom in an area big enough for students to have space to themselves. Guide the moving meditation by first having students take some deep breaths with their eyes closed, then slowly walk forward noticing their body sensations and how the world feels around them.
Learn more: Parade
5. Sound Meditation
One way to bring your students together is to incorporate a collective experience into your mindfulness exercises. Use a bell, chimes, a singing bowl, or even an audio recording of a steady calming noise, to silence their minds and bring a focused awareness.
Learn more: Medium
6. Mindful Jar
Creating a mindful jar can be a mindfulness exercise in itself. Ask your students to bring a mason jar to class and small items of different colors and meanings they find important and relevant. Have them place their items inside their jars, then you can add water and glycerine to make the objects move and float around.
Learn more: Teacher Academy
7. Mindful Eating
Behavior research and therapy have shown giving your full attention to the act of eating can improve your quality of life by increasing your satisfaction with your meal. Encourage your students to bring their favorite food to class, have them smell it, observe it, close their eyes and taste it, and get immersed in the experience of eating.
Learn more: Mindful Schools
8. Classroom Seating Arrangements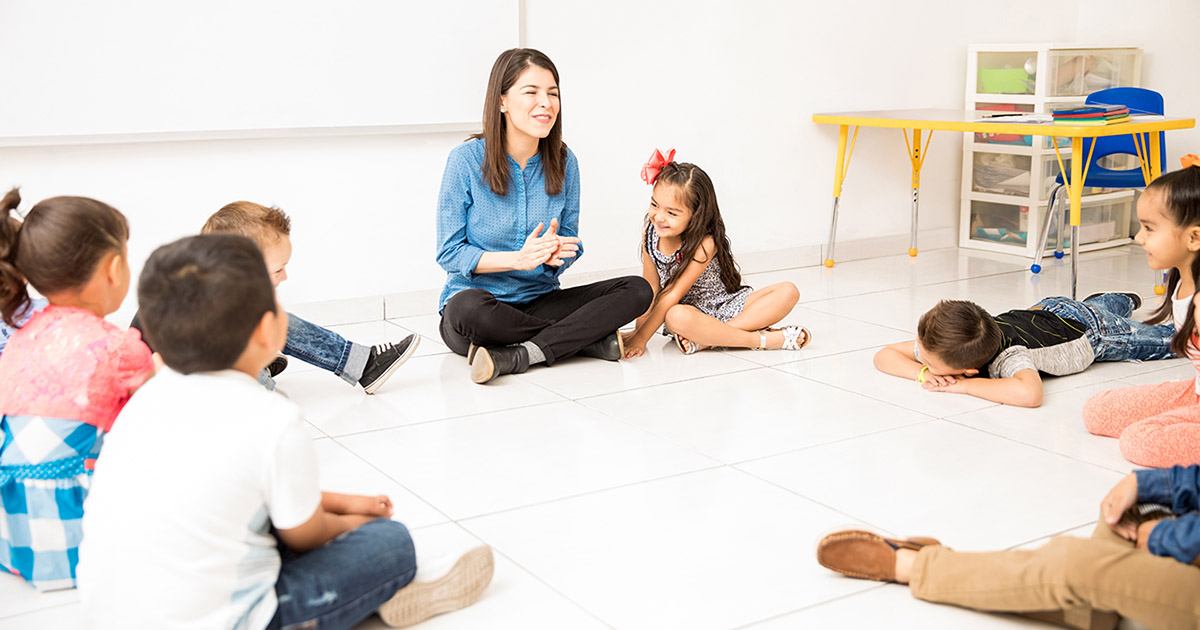 The classroom layout is a huge factor in students' concentration skills and interpersonal relationships. When students can see one another, they feel less judgment and fear of speaking up. If we can all see one another, we should be able to notice when a classmate is struggling or going through a difficult moment and be there to support them.
Learn more: SAFSMS
9. Check-In Circle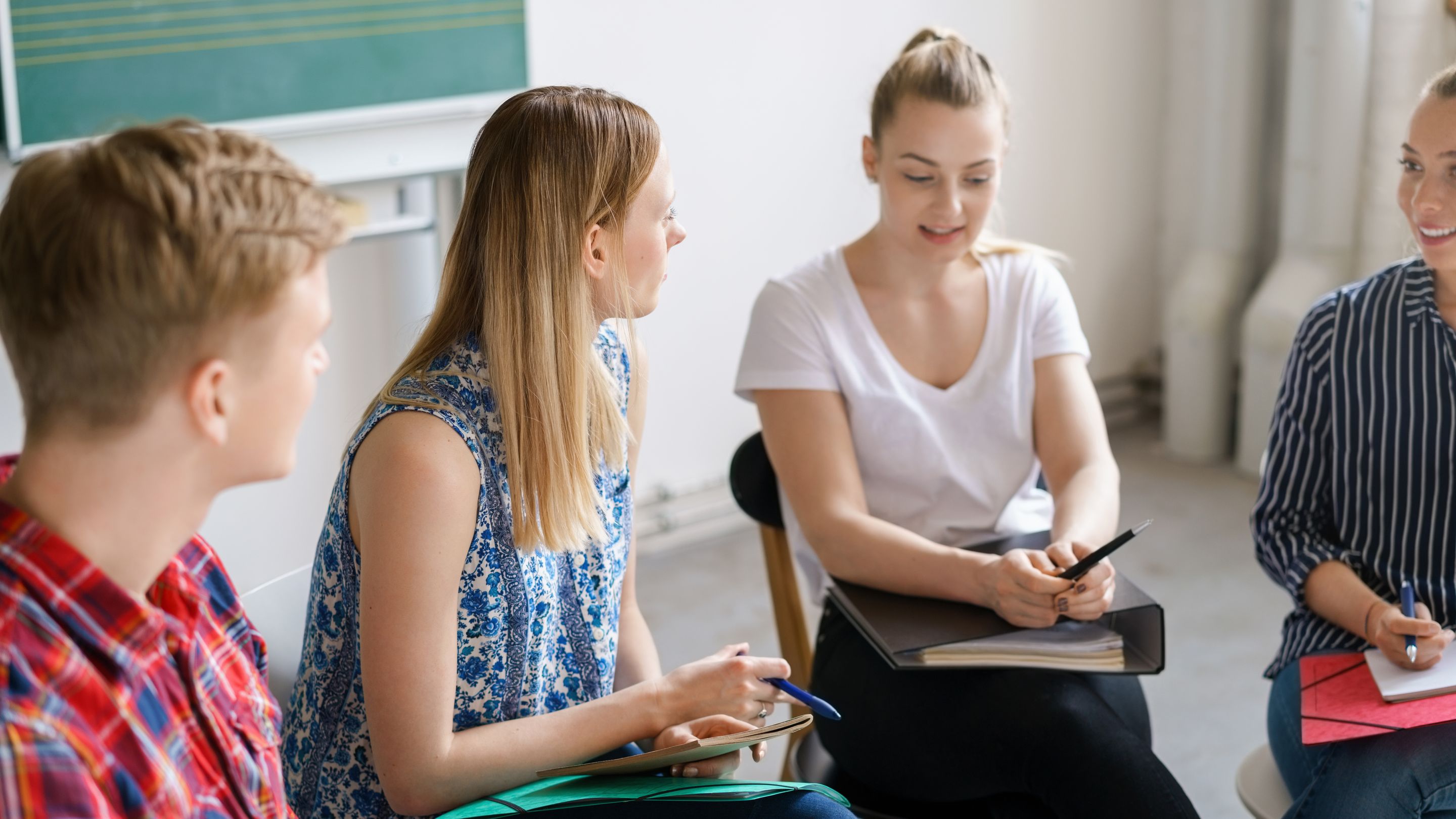 This acceptance-based group therapy can be a weekly or daily routine, where you take a few moments to check in with your students, allowing them to share their thoughts and feelings with the class. Students need to feel like their emotions matter and they are not alone.
Learn more: Greater Good of Education
10. Practice Gratitude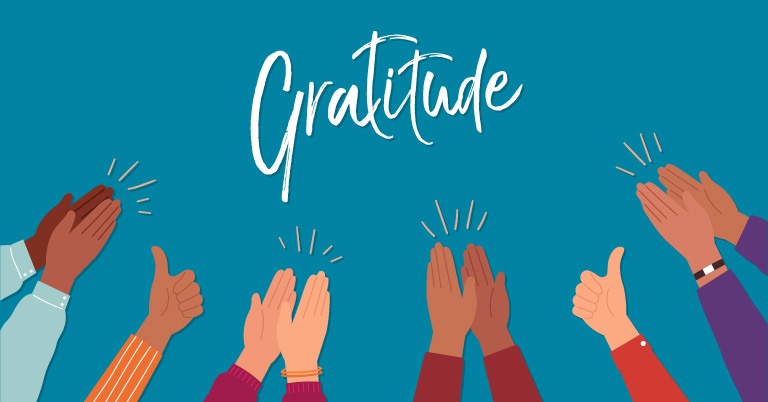 Gratitude is a core mindfulness practice we should all be using in our coaching sessions and in daily life. Being thankful plays a huge part in building mindfulness bottom-up. Start off by reminding your students of the things they have that many others don't, and give them space to share what they are grateful for.
Learn more: Alfred
11. 6-Minute Breathing Meditation
There are many different breathing methods out there for you to try with your students. You can have them stand up, sit up straight, lay down, or even walk around to fully take in the experience of breathing. 5-10 minutes is all you need to find calm in the awareness of breathing in the current moment.
Learn more: Teach Starter
12. Mindfulness-based Therapy
There are many factors that influence the effectiveness of mindfulness exercises. It is important to emphasize to your students that their experiences and emotions are valid and encourage them to pay attention to their mental and bodily sensations so they can better understand themselves and others.
Learn more: Very Well Mind
13. Meditations for Anger
When we feel more connected with ourselves and those around us, we are less likely to act and react in anger. Gaining an awareness of sensations with no judgment is a huge step in the process of emotion regulation and mindfulness. Encourage your students to share when they feel angry and teach them to see their anger with sensations like breathing and release.
Learn more: 12 Weeks to Wow
14. Pinwheel Breathing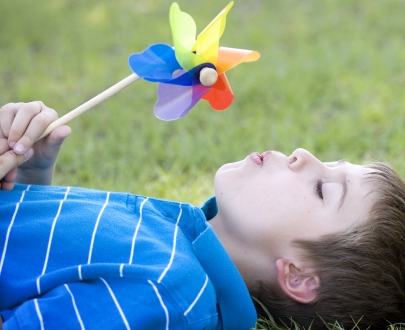 What can I say, amidst our busy lives one of the best activities for agile brains is breathing. Another form of mindfulness practice is focused breathing induction using a visual tool for student engagement. Using a pinwheel for breathwork is a great physical activity to do with your kids for mindfulness-based therapy.
Learn more: Your Therapy Source
15. Brain Breaks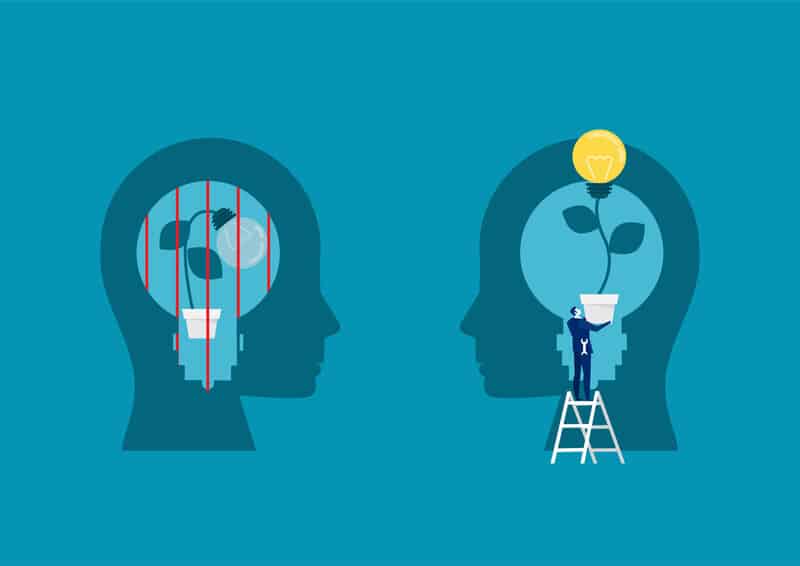 Students' attention spans are shortening due to social media and sensory overload. To help with concentrated attention in the classroom, as well as attention restoration to help them survive the rest of the day, there are prompts and games you can play to reset your students' brains before going back to the lesson.
Learn more: 52 Brain Breaks For Students That You Should Definitely Try
16. Yoga in the Classroom
Stretching or basic yoga is a great practice for stability along with other mindfulness exercises. Students with chronic pain or anxiety disorders can have a hard time sitting all day in the classroom. Set aside 10 minutes for some simple stretching every day.
Learn more: Yoga Journal
17. Affirmation Stones Craft
Find your favorite positive affirmations and write a list on the board in your classroom for inspiration. Go outside with your students and have each one find a stone. Have them clean it and paint it with their favorite affirmation to leave on their desk or take home for encouragement.
Learn more: Kumarah Yoga
18. Mindfulness Apps for the Classroom
There are a variety of applications out there that are free to download and use in your classroom. They have guided meditations, visualizations, focused breathing exercises, and more! Check out a list of 16 we recommend in the link.
Learn more: Teach Thought
19. Superhero Pose
Many students struggle with social anxiety along with performance and test anxiety. A cute and effective exercise to release some tension is to ask your students to stand up and do a "power pose". This is their superhero pose that makes them feel strong and invincible. Ask them to do this before every test or whenever they seem stressed.
Learn more: Move This World
20. Collaborative Coloring
Stress and anxiety can be triggered in the classroom when students feel isolated or misunderstood. Finding ways to get them to collaborate and work together will give them more chances to make connections and feel heard and seen. Get a big sheet of paper and have the whole class work together to create a work of art.
Learn more: IEG Consulting
21. Reconnecting With the Senses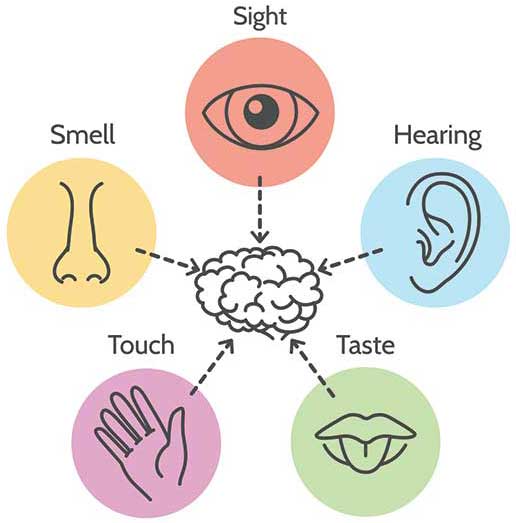 Whether it is rising blood pressure regarding exams, or other internal and external sensations, we can take moments to experience the subtle body sensations we perceive with our senses. Take a few minutes with your students to look around the room/outside the window and name things you smell, touch, taste, hear, and see.
Learn more: Education First
22. Stillness Challenge
This one is great for concentration practice and can help improve students' awareness of body sensations and emotions without judgment. Turn the lights low and ask your students to sit as still and silent as possible. They can sit on the ground or at their desks and close their eyes to feel all the sensations without judgment.
Learn more: Happier Human
23. Naming of Emotions
When our students are going through uncertain times and experiencing painful emotions it can help to give them a name. When we can be mindful of our feelings, they have less power over us and we can start the process of overcoming them in a healthy and productive way.
Learn more: Childhood 101
24. Movement and Breath
Ask your students to stand up and move around for one minute. Do some jumping jacks or another activity to increase their heart rate. Then ask them to stop and put their hand on their chest. Encourage them to focus on breathing and be mindful of how their body feels.
Learn more: Waterford
25. Mindfulness Octopus Craft
This face-changing octopus is a neat little tool to help students express the emotions they are feeling when they may be too shy or young to express them with words. They are able to shift the cup around to show the different emotions the octopus is expressing to mirror their own.
Learn more: Easy Peasy and Fun
26. Guided Meditation 
Introduce your tech-savvy kids to the digital world of meditation! These guided exercises start small to create strong foundations for all types of meditation. Your kids will be able to find a guided practice suited to specific emotions, situations, or conflicts they're dealing with.
Learn More: Headspace
27. Guided Meditation Scripts
Guided meditation scripts are a great, no-prep tool to keep students focused on their meditation exercises. The wide range of scripts appeals to students of all ages. Have them reflect on various experiences and practice their mindfulness techniques to stay present.
Learn More: Counselor Chelsey
28. Body Scan Meditation
Take a few minutes to check in with yourself! This short video is a wonderful way to take a break and reenergize during the day. Kids can learn about body sensations and how breathing can help reduce stress and tension in their bodies.
Learn More: Fablefy
29. Laughing Meditation
Laughter is the best medicine! Studies show that laughing helps break cycles of negative thinking, improves mental health, and boosts social skills like communication and cooperation. Lead your kids in laughing meditation to brighten dreary days or to work through feelings of sadness and frustration.
Learn More: Dawn Selander
30. Tapping Meditation
Reducing stress is vital to improving mental health. Tapping, otherwise known as the Emotional Freedom Technique, combines modern psychology with Chinese acupressure. The technique is easy to learn and studies have shown it regulates the nervous system, boosts the immune system, and lowers stress hormones!
Learn More: The Tapping Solution
31. Space Travel Meditation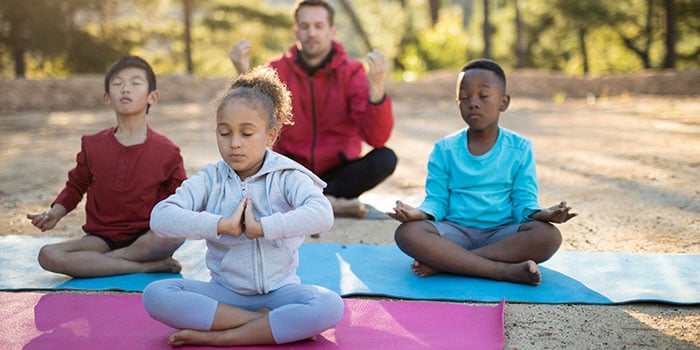 Take your meditation exercises out of this world! Ask your kids to imagine their bodies floating into space and visiting new planets as they mediate. When the practice is over, ask them to share how their journey went and what their planet looked like.
Learn More: Live & Dare
32. Mindful Listening
Have your little ones sit in a relaxed position with their eyes closed and listen for the bell. Focus on the sound, and open your eyes when it completely fades away. Afterward, talk about how easy or difficult it was to stay focused on the sound.
Learn More: Mindfulmazing
33. Walking Meditation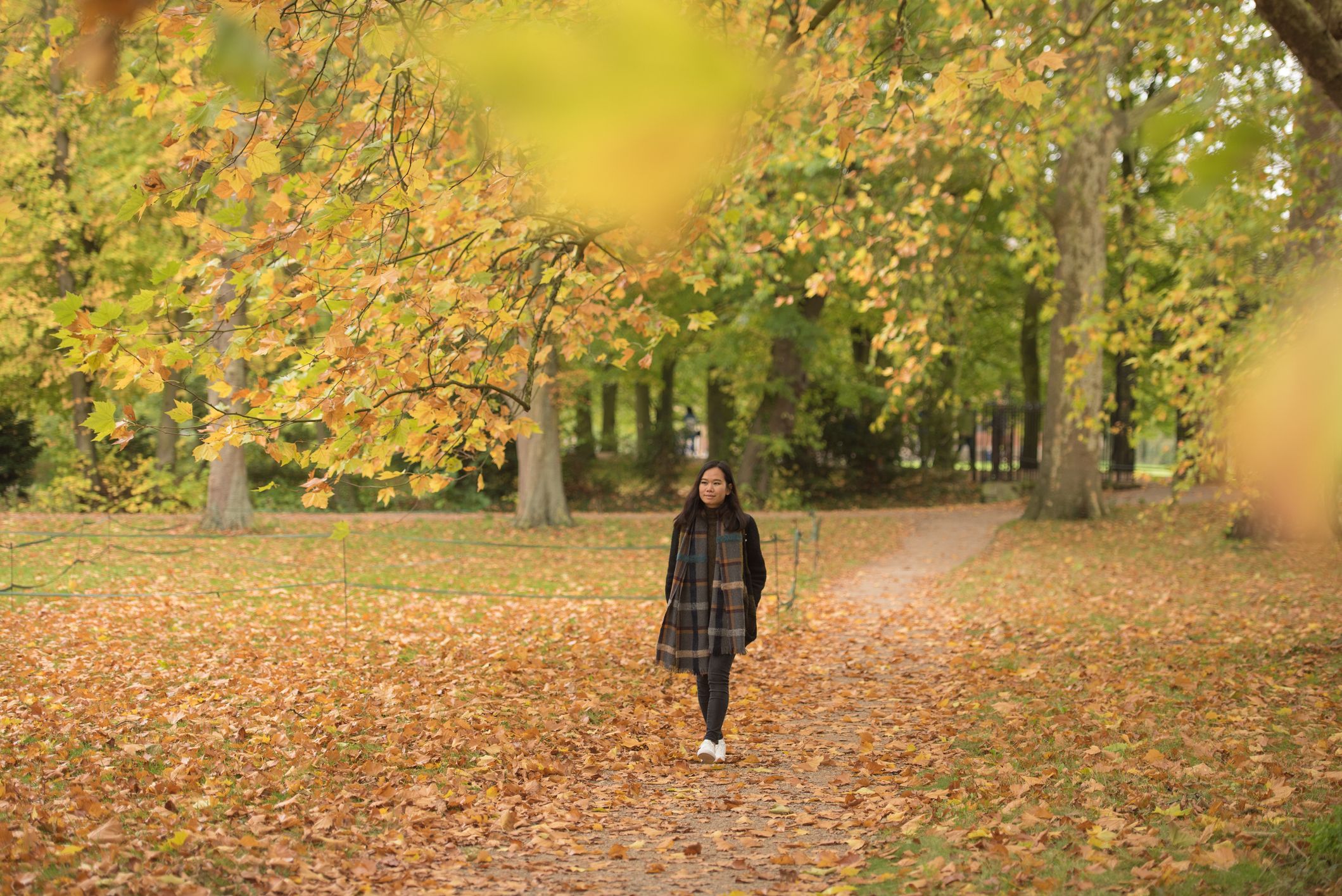 Teach your kids about body awareness with a simple exercise. While getting some fresh air, have your kids focus on the way their feet touch the ground and what it feels like. Try walking on different surfaces to add sensory learning to your meditation exercises.
Learn More: Wildmind Meditation
34. Mindfulness Adventure Walk
Add some meditation to your next park visit! Ask your kids to count every animal or insect they see, stop to smell some flowers, or simply sit and listen to the sounds around them. These activities build observation skills for more advanced meditation techniques.
Learn More: Very Special Tales
35. Rainbow Walk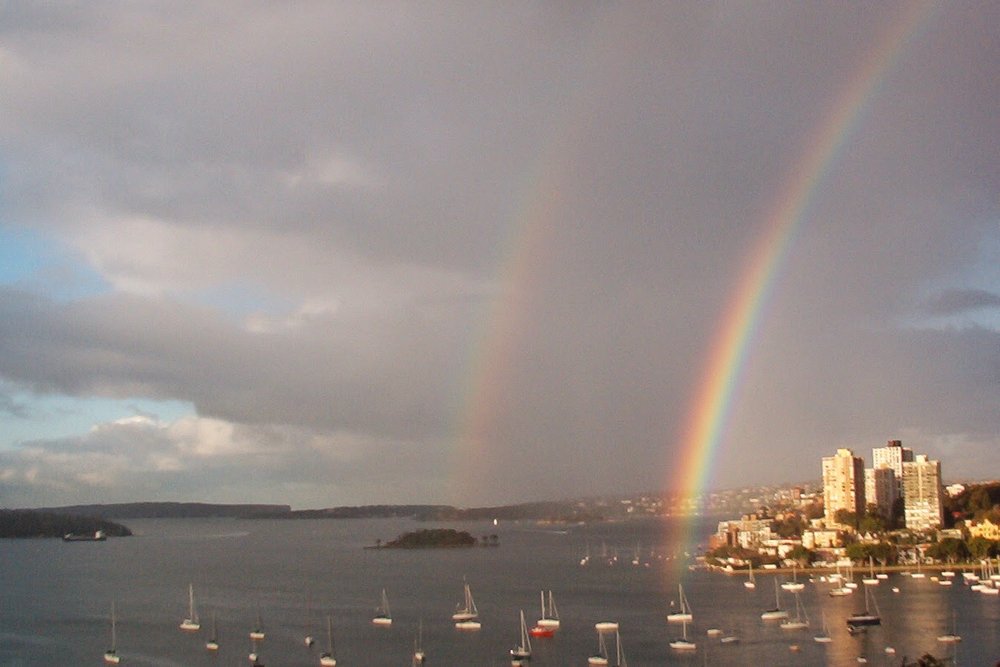 Focus on color during your meditation walks. As you walk, find an object for each color of the rainbow. Go in order and repeat until your walk is over. When you get back, sketch something in each color and talk about the different things everyone focused on.
Learn More: Mindful Teachers
36. Labyrinth Meditation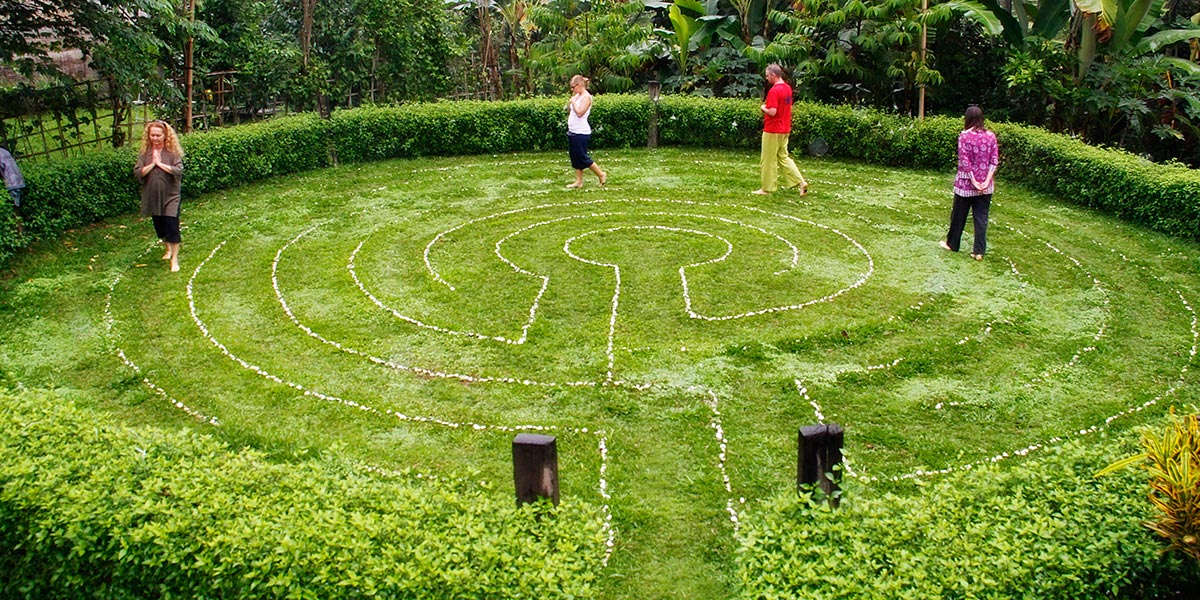 Don't confuse these beautiful walking paths for mazes! The single, winding path guides your kids toward the center; allowing them to reflect on the events of the day and their emotions. If you can't find one near you, create your own with chalk or sidewalk paint!
Learn More: Education's Voices
37. Finger Labyrinths
If you don't live near a labyrinth, you can get the same benefits through finger labyrinths! Print the templates and let your kids either color their way through or trace the path with their fingers. Be sure to find the pattern best suited for your meditation intentions.
Learn More: Relax 4 Life
38. Meditative Coloring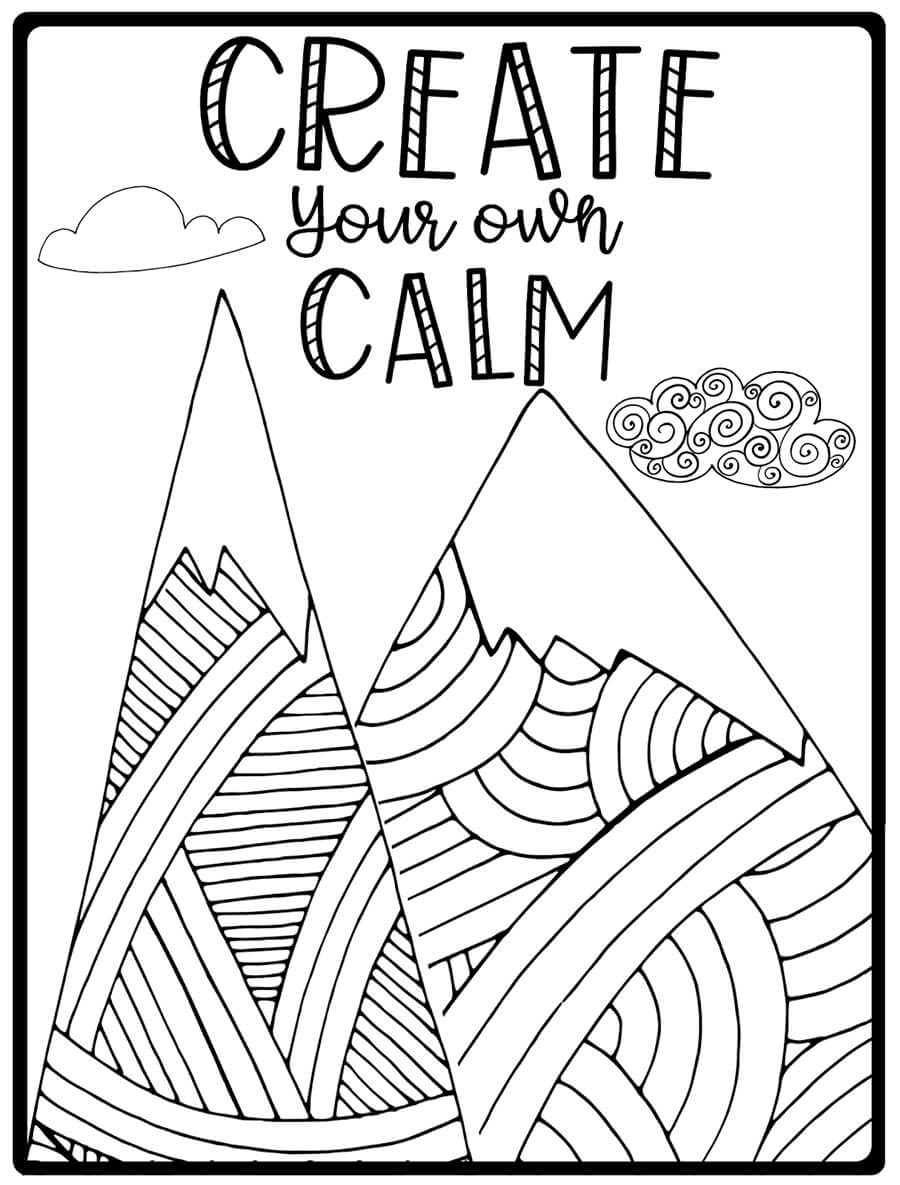 Meditative coloring is a great form of art therapy that is easily adaptable to all age groups. You can choose to print coloring sheets for your kids to color or allow them to freestyle. They'll have so much fun coloring that they won't even know they're practicing meditation!
Learn More: Coloring Only
39. Balloon Meditation Worksheet
During times of change and schedule disruption, this worksheet can help kids navigate their negative feelings. Encourage your kids to draw or write their worries and concerns in the balloon. Then, they can imagine them getting smaller and smaller as they float away.
Learn More: Zena's Suitcase
40. Mediation Workbook
Ignite your kids' meditation journey with a beautifully designed workbook. Geared toward middle and high schoolers, each lesson is carefully crafted to build self-confidence while learning to communicate honestly and express feelings.
Learn More: Making Mindfulness Fun
41. Grounding Exercise
Combat stress and anxiety with grounding exercises! The 5-4-3-2-1 technique is super easy to learn and engages all 5 senses. Kids will learn to observe their surroundings and focus on the moment instead of their worries.
Learn More: The Monday Campaigns
42. Be Still Like a Frog
Teach your little ones to anchor themselves in the here and now. Create a quiet "lily pad" for them to sit on. Then, ask them to sit still and breathe; just like a frog! Talk about the benefits of being still and how it saves energy for fun activities later.
Learn More: Teaching Kids to Thrive
43. Mindfulness Breathe Boards
Mindfulness breath boards are geared toward beginners. The boards can help your little ones visually understand what it means to control their breathing. Once they can control their breathing, you can begin to build deeper, more introspective meditation practices.
Learn More: Teachers Pay Teachers
44. Breathing Exercise Cards
Give your kids the resources to practice meditation on their own. These simple breathing exercise cards provide a wide range of styles and intentions for their practices. Go over them together to ensure your kids master the proper technique before trying it on their own.
Learn More: Childhood 101
45. Balloon Breathing 
No balloons are required for this form of meditation! Kids imagine that their belly is a balloon. As they breathe in and out, have them picture their balloons inflating and deflating. Learning proper breathing techniques will help kids discover ways to calm down by themselves.
Learn More: Proud to be Primary
46. Bumblebee Breathing
Ease your kids into meditation. Bumblebee breathing is a simple practice that's perfect for toddlers and preschoolers. Have them sit comfortably and place a finger in each ear before breathing in. Then, tell them to hum softly as they breathe out; buzzing calmly like a bee!
Learn More: Pinterest
47. Snake Breathing
This printable breathing worksheet is perfect for teaching proper breathing techniques. Stimulating breath practices keep kids focused on their meditation. You can easily substitute different animal noises all week long to keep the exercise interesting.
Learn More: Etsy
48. Back Breathing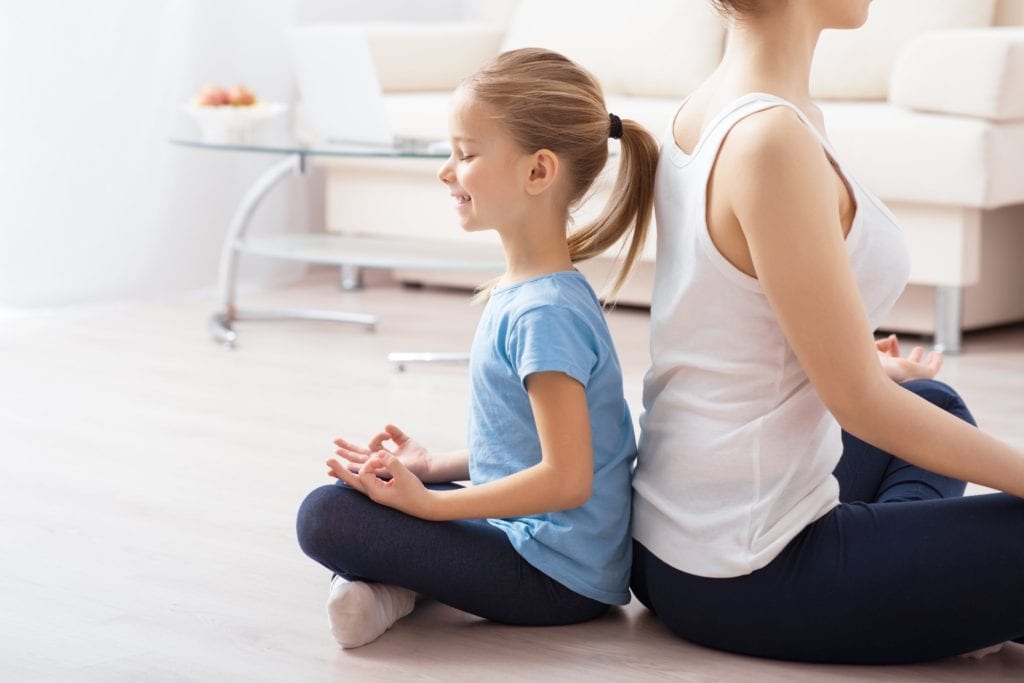 This partner activity is a fun way for kids to calm down and focus. They can sit back to back and try to match each other's breathing. When the partners think they've matched, have them point their thumbs up on their knees!
Learn More: Kumarah Yoga
49. Breathing Bracelets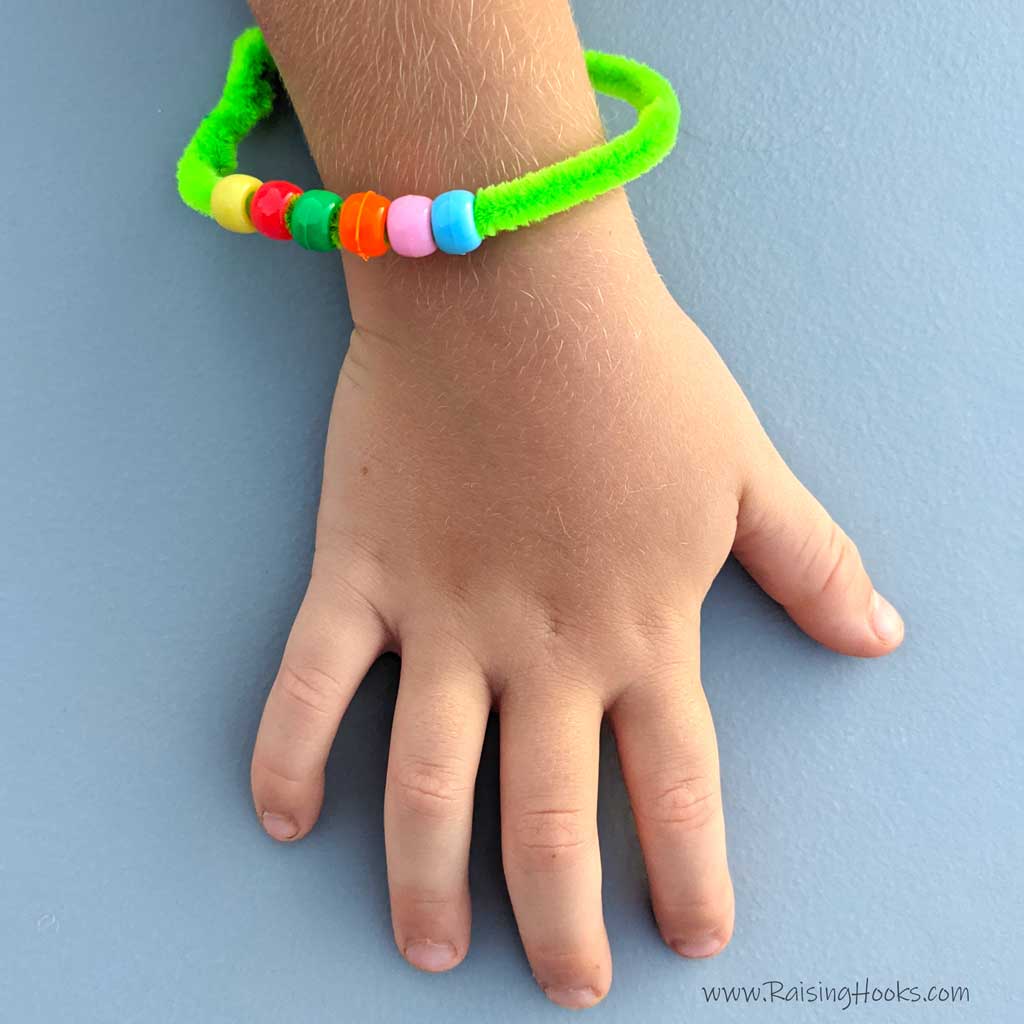 String 6 beads onto a pipe cleaner and twist them into a bracelet. When your kids have finished their cute bracelets, they can use them as a guide for breathing meditations. They can move the beads one by one around the bracelet- breathing in and out with each bead.
Learn More: Raising Hooks
50. Chakra Beads
If you're short on time, check out these gorgeous chakra meditation bracelets. They're an excellent meditation tool for anxious kids. They can roll the beads between their fingers and focus on the sensations while sitting in silent meditation.
Learn More: Amazon
51. Calming Stones
Incorporate some art therapy into your mindfulness exercises. All you need is some polymer clay! Let your kids mix and match their favorite colors to create meditation stones. Encourage them to be mindful of what the clay feels, smells, and looks like.
Learn More: Hands-On Teaching Ideas
52. Calm Down Sensory Bottles
With some soap, water, sequins, and glitter, your kids can practice mindfulness on the go. As kids flip their bottles over, have them take deep breaths in time with the moving glitter and sequins. An awesome centering tool for kids with anxiety disorders!
Learn More: Mama Instincts
53. Zen Gardening
Take a break from a busy day of lessons in your very own zen garden. The simple practice of tracing lines in the sand is great for mental health. Use a shallow baking dish and a small bowl as a water feature. Decorate with rocks and greenery.
Learn More: Sunny Day Family
54. Mindful Gardening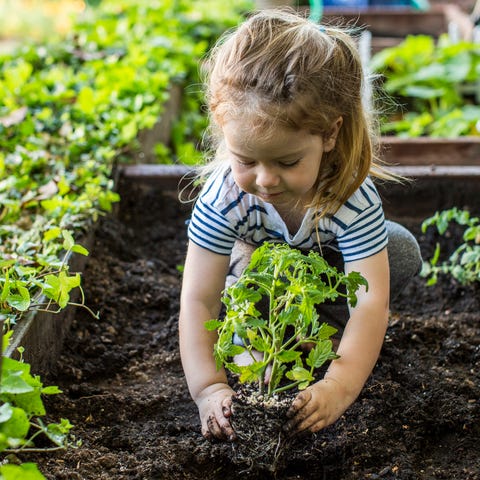 Relax and get your hands dirty with some gardening exercises. Whether it's outside in a garden or inside with potted plants, kids will love exercising their green thumbs. Be sure to stop and take time to smell the roses while working in the garden.
Learn More: Confident Counselors
55. Bubble Blowing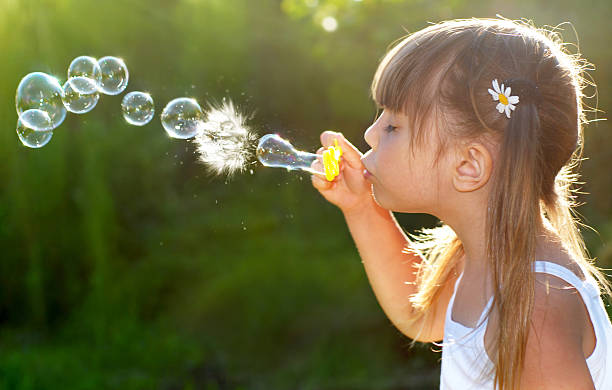 Turn a favorite activity into a mindfulness practice. Encourage your kids to take deep breaths and exhale slowly while blowing their bubbles. Then watch as they float away. The sensory experience is a fantastic break from more analytical styles of learning.
Learn More: Kids Activities Blog
56. Blow Painting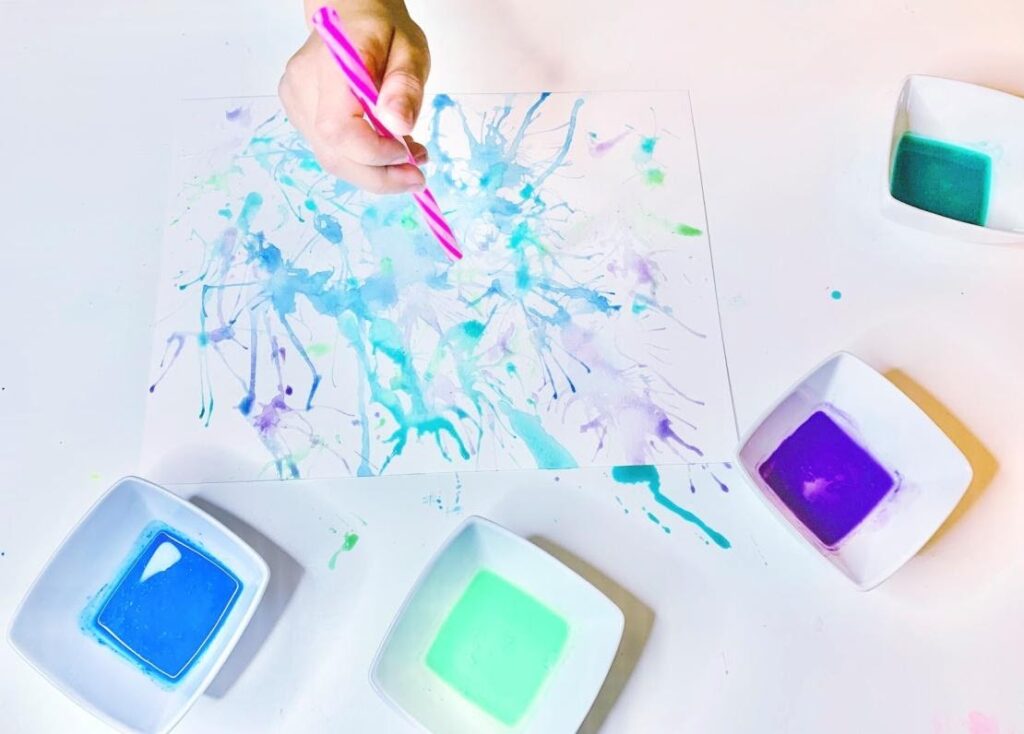 Grab some watercolors and straws for this colorful mindfulness practice. Blowing paint across paper is an easy way to get kids to focus on their breathing instead of their worries. Have them take deep, slow breaths as they blow the paint. Then, display their awesome artwork!
Learn More: Lightly Sketched
57. Listening Game
Use this activity to transition from loud activities to meditation time. Grab a bell, chime, or sound bowl. Then, have your kids breathe in and out with the sound. For older students, add a yoga position for them to hold for the duration of the chime.
Learn More: Go Go Yoga Kids
58. Peaceful Piggy Meditation
Add meditation to story hour. This beautifully illustrated book introduces kids to different types of meditation, finding the perfect spot, and how to make meditation a daily practice.
Learn More: Amazon