Quick Games with Everyday Objects for Any Age!
In this fast-paced world, kids thrive on fun and immediate gratification. Whether you have 10 seconds or 3-5 minutes, you can create learning games that will enhance dexterity and logic, and provide incredible entertainment along the way! From old classics like the three-legged race or egg toss to modern classics; we've got 30 activities your middle schoolers will love!
1. ABC Game
Easy, peasy! Create a list using each letter of the alphabet and then give your learners a category! The person/team that can come up with the most category-appropriate words that begin with the specified letter, without any repeats, wins!
2. Who Would You Be?
A great way to reinforce literary or historical concepts- pick a movie or story and then decide who each character would best represent in that movie. For example, who would be Mufasa if you've just studied the American Revolution and chose "The Lion King"?
3. Balance or Topple
Balance games are easy to organize as you can use any objects such as blocks, coins, or toys. Players have to then balance them on a body part or a flat surface. To up the stakes, try balancing the objects on a moveable surface! Try balancing erasers on your head, sticking markers together in a line, or even stacking pencils.
4. Fill My Bucket
Great for hot summer days, there are tons of variations on water games. The premise is to have two buckets; one full of water and one empty. The winning team is the team who transfers the most water in a given time period. Try using sponges, rags, spoons, hands, etc., to transfer the water; and include a relay element to involve everyone!
5. Snowball Sweep
Blindfolded, players must use large kitchen spoons to swipe as many cotton balls or pom poms as they can into a bowl within a given period of time. It's simple, inexpensive, and wildly entertaining!
6. Left Brain – Right Brain
This one follows the premise of the ol' 3-legged race. You have two people put their dominant hand behind their backs and then complete a task together that requires two hands. They must communicate impeccably to complete the task, especially if a time limit is given.
7. Hot Air Balloon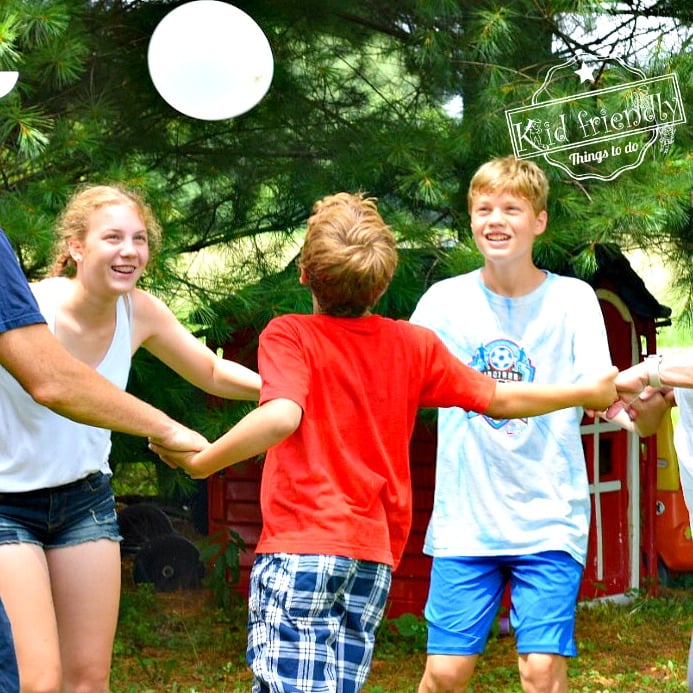 Straws and balloons- it's as easy as that! How long can one person, two people, or even a team keep a balloon from in the air by only blowing air? Change it up by allowing them to tap the balloon with a straw in their mouth, but be sure not to use any hands!
8. High Drop
Standing on a chair, players must drop a small object like a clothespin or an eraser into a slightly larger object. You can add extra rules like arms should be completely stretched above the dropper's head before releasing the object.
9. Drawing Directions
A great listening activity! Divide your learners into partners and give everyone the same picture. One person is blindfolded and has to replicate the drawing by following the directions given by their partner.
10. Cannonball Shake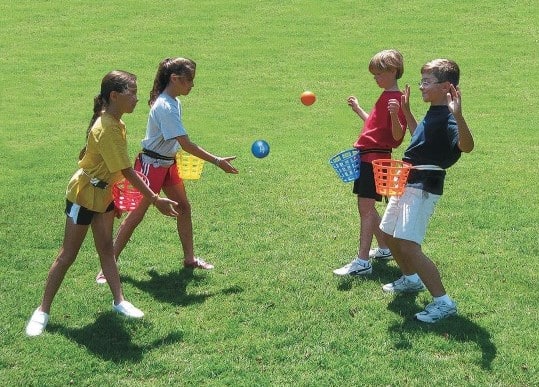 Hook a basket to the back of another kid's waist and have them try to catch objects being thrown at them. Conversely, you can fill the basket full of an object and put on some great dance music! They've got to shake out the objects without tipping the basket!
11. Tipsy Tower
Create a pile of objects in the center of the room and have kids work to create the tallest tower without tipping it over in a certain time limit. Just watch out for the topple!
12. Pass Out
Passing games are also a great option and can be accomplished with two tools- one to carry the object and the other, the object being passed. You can carry spoons, utensils, cups, chopsticks; you name it! Fun objects to pass include; pom poms, cookies, gummy candies, or even bouncy balls.
13. Dunk It
An old favorite- all you need is a receptacle and something to function as a ball. You can increase the difficulty with trick shots or types of balls, but the basic premise is the same. Make it more challenging by incorporating learning questions that the learners must answer correctly before they can shoot.
14. New Use
Finding a new way to use a common object is a great way to create your own game. For example, if it's the holiday season, use a gift box as a fan to wind-power an ornament from a starting point to an ending point.
15. Wet Paper
This works well with paper towels, regular printing paper, construction paper, and even cardstock if you're going for the ultimate challenge. The wetter paper gets, the more likely it is to break. The object is to alternate spritzing and loading the paper with various objects- each worth a different point value! The team with the most points when their paper breaks, wins! Great objects include marbles, nuts, and bolts, pennies, and paper clips.
16. Pile of Fun
Using random objects from your room, create a pile in the middle of the floor. Then pose a task, such as moving a balloon, and have the kids choose one object to use that will help them do so.
17. Sticky Note
Sticky notes are a great tool to use in order to create challenges. From creating a picture or a game board to sticking them on someone's face, they certainly are wonderful manipulatives. Challenge students by writing answers on the notes so that as you ask questions, the first team to fill up their board with correct answers, wins!
18. Sensory Deprivation
This one is easy- choose a sense and tell your learners they can't use it. Sight is the easiest one and your students can use blindfolds to complete a task- either under the guidance of a partner or on their own. Earmuffs and tongue twisters make for some real fun, as do nose plugs which can be used to block out smells when tasting foods!
19. Flip the Bottle
Have a row of bottles; each with a different amount of water in them. The idea is to complete your row by flipping the bottle in the air so that it lands upright. The team that can completely flip their row the fastest, wins.
20. Moose Balloons
Kids begin at one side of the room and stuff one balloon into the leg of a pair of pantyhose. Someone then puts it on their head and runs to the other side of the room to switch with a partner who repeats the process. The game ends after a time limit is reached or when no more balloons are left!
21. Eat Me
Eating games are fun, but be on the lookout for choking hazards! From doughnuts on a string to circle-cereal on a necklace and candy-coated chocolates on a table, kids will place their hands behind their backs and begin eating to see who can devour the food the fastest.
22. En Guarde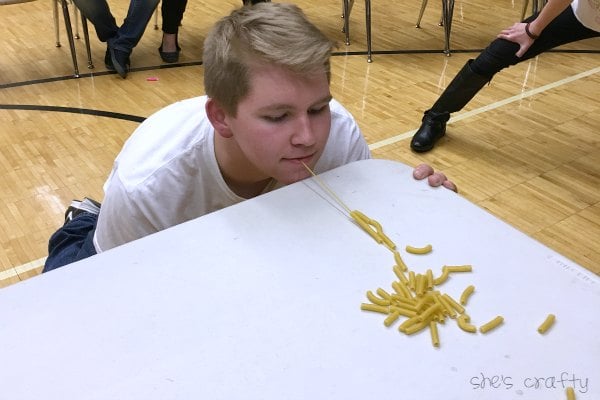 This one can be completed using any straight object such as a pencil, a chopstick, or a piece of spaghetti, together with any ring-like object. Great options include circle-shaped cereal, pasta with holes, circle gummies, and circle-shaped hard candies. The object is to spear as many as you can in a minute while holding the "spear" in your mouth.
23. Suck It
The power of suction can be used in a number of ways to create challenges. Using straws, kids can move paper, marshmallows, or cereal from one place to another. They can even sort colors or stack items up to build a tower.
24. Marshmallow Engineers
Using marshmallows and toothpicks, or marshmallows and pretzel sticks, build the tallest tower, build a structure that holds weight, or recreate images.
25. Solo Stack
Most cup games involve only stacking a tower, but cups can be collapsed to create one giant column as well. To add an educational element to all the fun, have your learners answer a question before stacking a cup.
26. Sticky Solution
Let your learners try their hand at a transfer game. They can use Vaseline to pick up a cotton ball or slime to pick up and transfer an object from one container to another.
27. Empty the Bottle
Take an empty 2-liter bottle and fill it with objects of different sizes. To win, players have to empty their entire bottle by shaking it. To increase difficulty, tell the kids they cannot use their hands to shake the bottle!
28. Wind Power
Fill up a balloon with air and let your students use that wind power to push things across the room, through an obstacle course, or into a goal.
29. Spelling Challenge
Combine many of the above games with spelling practice for extra practice! For example, have them use their spelling words and each spell one letter as they trade tasks.
30. Clean Up Race!
An oldie but a goodie! Challenge students to tidy up a mess in record time. Not only does it create a fun competition, but the classroom will look good as new in no time!