Challenge students to explore the amazing world of color! These hands-on activities are perfect for kids of all ages and abilities. Learn all about primary and secondary colors, how to craft a color mixing chart, and then break out the art supplies! Whether you decide to create puddles of paint or stick to watercolor paints, you're sure to find a new favorite color-mixing activity here!
1. Color Wheel
Begin your color activities with this great video! It explains the difference between primary and secondary colors, what colors are warm and cool, and how to create a color wheel! It's the perfect addition to any classroom instruction on colors.
Learn More: Room of Plastic Flowers
2. Color Theory Worksheet
Assess how well your students understood the color theory video with this easy worksheet. The simple tasks reinforce lessons about the color wheel, complimentary colors, and analogous colors. It's an amazing resource that students can use all year long.
Learn More: Kitchen Table Classroom
3. STEM Color Wheel
This dazzling activity is a combination of science and art! All you need is some food dye, warm water, and paper towels. Add red, blue, and yellow dye to 3 glasses. Place paper towels in the colored water, drape the other side in the clear water, and see what happens!
Learn More: Everyday Art
4. Color Mixing Anchor Charts
A color wheel poster is perfect for any classroom. This wheel shows students' primary, secondary, and tertiary colors. Anchor charts are wonderful learning resources and can help students visualize your lessons. It also adds a pop of color to your classroom!
Learn More: Zazzle
5. Color Word Identification
Build your little ones' vocabulary with colors! Not only will they learn the names of the colors, but they'll also see which ones mix to make new colors. Add this cute video to your preschool learning activities for tons of educational fun.
Learn More: English Singsing
6. Color Mixing Sensory Bags
This activity is great for kindergarten students. The simple set-up requires clear zip bags and tempera paint. Add two primary colors to a bag and seal well. Place in a clear bucket and let your little one squeeze and squish the colors together!
Learn More: The Keeper of the Memories
7. Coloring Mixing Worksheet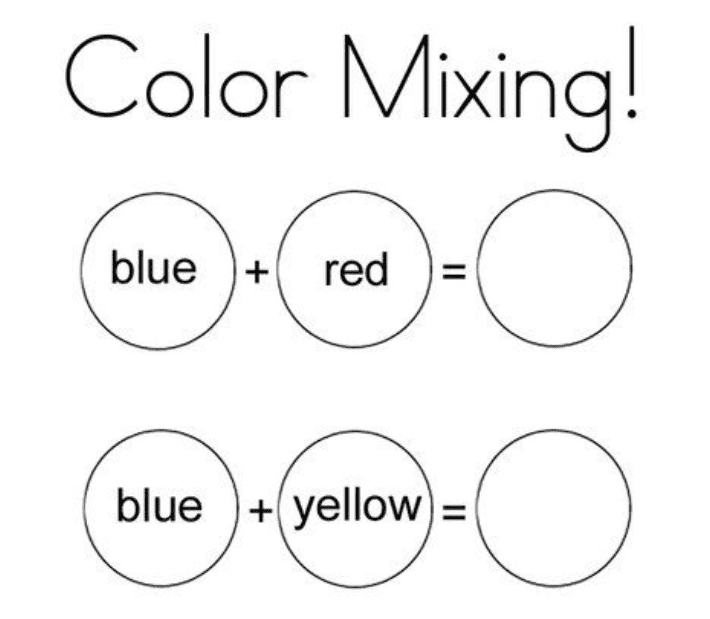 Grab your finger paints or paintbrushes for this easy worksheet. Place a blob of paint on the circle that matches the color. Then, swirl the two colors in the empty circle to see what happens! Practice spelling and penmanship afterward by writing out the colors' names.
Learn More: Pinterest
8. Color Puzzles
Puzzle out what colors make other colors! Print and cut out the small puzzles. For younger students, stick to simple colors. However, make it a challenge for students in upper grades by having them create their own puzzles or adding pastels and neons!
Learn More: Tot Schooling
9. Finger Painting
Kids love finger painting! This simple recipe ensures you'll never run out of paint during activity time. Your little ones will build fine motor skills, creativity, and confidence as they blend colors together to create beautiful pictures for your fridge.
Learn More: Life Over C's
10. Color-Changing Magic Milk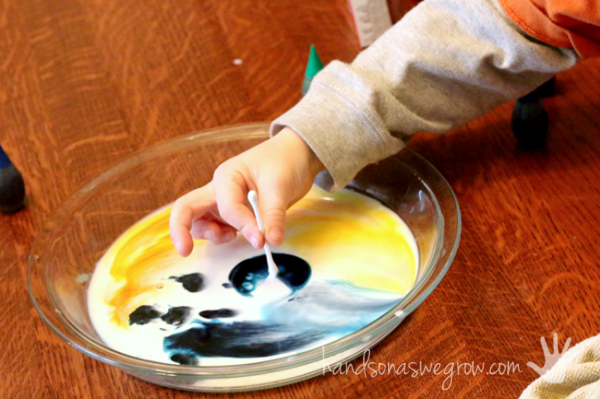 Blend milk with dish soap for this dazzling activity. Add drops of food coloring to the mix; be careful to not let them touch. Give your kids some cotton swabs and watch as they swirl the colors together to create mini galaxies and starry skies!
Learn More: Hands-On as We Grow
11. Colorful Volcanos
Color white vinegar for this bubbly color experiment. Fill a tray with baking soda and slowly drip the vinegar mixture onto it. Watch as the fizzy colors move toward one another and make new colors. Place the mixture in a volcano for a surprisingly colorful eruption!
Learn More: Pinay Homeschooler
12. Colorful Snow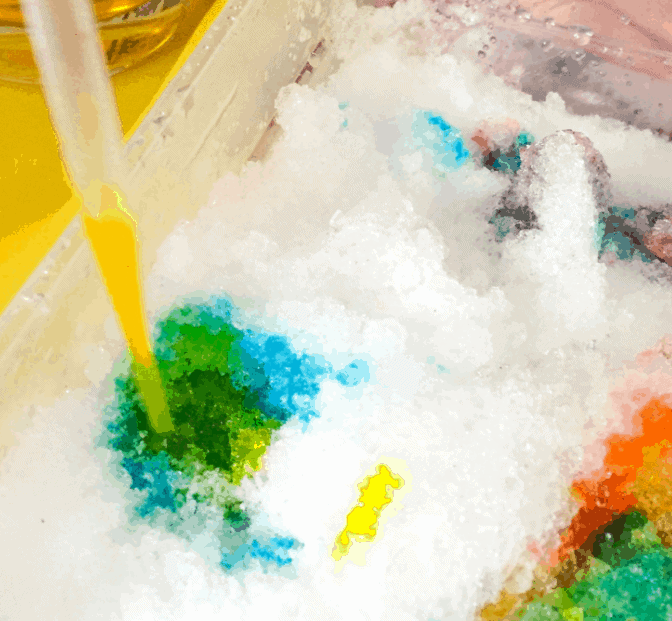 Break up the bleak days of Winter! All you need is droppers filled with colored water and a bucket of snow. Kids can choose to slowly drip or quickly squirt their colors onto the snow. Drop colors on top of one another to discover how quickly the snow goes from white to black!
Learn More: Views from a Step Stool
13. Skittles Rainbow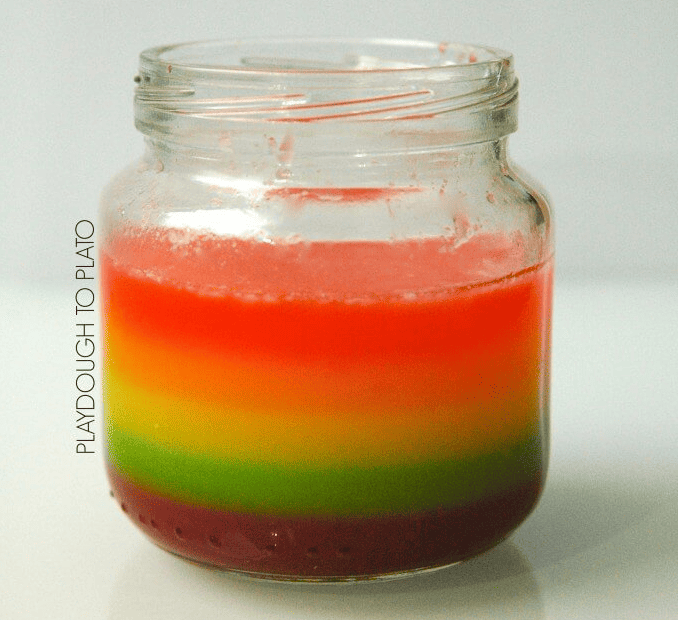 This tasty experiment is great to build rainbows or mix colors! Dissolve different colored skittles in glasses of hot water. Once cooled, pour into a jar to create a layered rainbow. Keep the water at different temperatures to mix the colors together!
Learn More: Playdough to Plato
14. Mix It Up
This is an essential read for your color-themed lesson. Tullet's invitation to mix up colors is a whimsical and wonderful adventure for all ages. Use it as a jumping-off point to study color theory and build your learner's artistic confidence.
Learn More: Goodreads
15. Inventing Colors
Let your kids create colors of their own! Place blobs of paint on a paper plate or butcher paper. Remind them of basic color theory before they start mixing. Encourage them to create shades of the same color and then brainstorm fun color names!
Learn More: Buggy and Buddy
16. Bubble Wrap Painting
You'll need some eye droppers and large bubble wrap for this stimulating activity. Hang the bubble wrap on a window so that light will shine through. Carefully pop an eye dropper full of colored water into a bubble. Add another color to see what you make!
Learn More: Teach Beside Me
17. Light Table Mess-Free Color Mixing
Keep your classroom tidy with this cool activity. Mix drops of food coloring with some clear hair gel and seal in a bag. Place them on top of a light table and swirl the colors together. The glowing colors will keep kids entertained for hours!
Learn More: Kitchen Floor Crafts
18. Foaming Dough
Foaming dough is a great resource for sensory play! Made with cornstarch and shaving cream, it's easy to clean up once your kids finish their color exploration. Once they've mixed and molded the foam, add water and watch it dissolve!
Learn More: The OT Toolbox
19. Interactive Spin Art Color Mixing
Say goodbye to your salad spinner. Line the basket with a coffee filter. Add squeezes of paint and seal the lid. Give the basket a spin and then lift the lid to reveal the new shades you've created!
Learn More: Ana Dziengel
20. Sidewalk Paint
Enjoy the great outdoors with some DIY chalk. Blend cornstarch, water, and food coloring. For deeper pigments, add more drops of coloring. Give your kids the assorted colors and admire the incredible things they design!
Learn More: My Homebased Life
21. Color Theory Ornaments
Brighten up the holidays with these beautiful ornaments. Give your kids primary color paints to mix on three ornaments: red and yellow to make orange, blue and yellow for green, and red and blue for purple. It makes a great holiday gift!
Learn More: Mama Papa Bubba
22. Oil and Water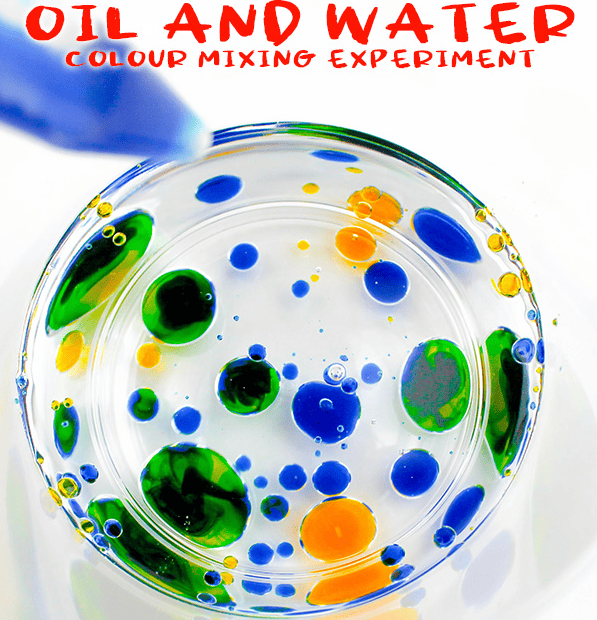 Turn your STEM activity into a STEAM activity with this groovy activity. Mix some food coloring with water. Then, carefully add drops of the colored water to clear the baby oil. Observe what happens and encourage your kids to describe their scientific observations to you.
Learn More: Steam-Powered Family
23. Rainbow Shaving Cream
Keep this messy activity contained with some zip bags. Add different colored paints and shaving cream into a bag. Then, let your kids smoosh them together to create new colors. It's also a great sensory activity for preschoolers!
Learn More: Capturing Parenthood
24. Color Diffusion
Upcycle used zip bags for this colorful craft. Make sure the bags are clean, then color one side of the bag with washable markers. Move the bag and place the white paper down. Dampen the paper, flip the bag over, and press it on the paper for dazzling diffusions of color.
Learn More: 123 Homeschool 4 Me
25. Color Mixing Coffee Filters
You can use watercolors or watered-down paint for this craft. Employing some eye droppers, drip the paint onto coffee filters. Stick to primary colors to ensure the best color-mixing experiment possible!
Learn More: Messy Little Monster
26. Colored Tissue Paper
This no-mess color mixing activity is perfect for classrooms. Cut out shapes of primary colored tissue paper. Then, give them to your kids to slide over and under each other to see color mixing in action.
Learn More: Miss Kit Lang
27. Color Lenses
See the world through red, yellow, blue, or mixed-colored lenses! Create some giant lenses with cardstock and colored cellophane. Assemble the lenses and head outside to see how the primary colors alter how we see the world.
Learn More: Rainy Day Mum
28. Color Mixing Lights
Don't let rainy days stop your color fun! Tape colored cellophane over the tops of flashlights. Next, turn off the lights and watch the beams of light mix with one another. See what it takes to make white light!
Learn More: Teach Beside Me
29. Melting Colored Ice Cubes
Create some primary-colored ice cubes in advance. When it's time to experiment, give your kids the cubes, some colored water, and coffee filters. Dip the filters to dye them. Lastly, rub the ice on top and observe the awesome changes.
Learn More: Creative Family Fun
30. Guessing Colors
Test your kid's color-mixing knowledge. Place two different colors on a divided plate. Before they can mix them together, ask them to name the new color that will appear in the third space. Give them a prize for every right answer!
Learn More: Pinterest
31. Handprint Color Mixing
Take finger painting to the next level! Let your kids dip each of their hands in a color of paint. Place a handprint on each side of a piece of paper. Make a second print, then switch hands and rub them around to mix the colors!
Learn More: Teach Preschool
32. Frozen Paint
Keep cool on those hot summer days. Pour some paint and water into ice cube trays. Add popsicle sticks for easy handling. Head outside and let the sun do its work! Place the cubes on a canvas and create your very own masterpiece!
Learn More: Hands-On as We Grow
33. Color Mixing Surprise Game
Incorporate color mixing into your Valentine's Day party. Cut out and fold hearts for your students to paint. Use one color on each side and let dry. Then, paint the other side with mixed colors. Fold close and have the kids guess which colors made the one on the outside!
Learn More: Toddler Approved
34. Marble Painting
Create your own abstract artwork! Dip marbles in different colors of paint. Place a piece of paper inside a container. Next, roll the marbles around to create dazzling and dizzying arrays of mixed colors.
Learn More: Kids Craft Room
35. Water Balloon Color Mixing
Make the summer a colorful one! Fill some water balloons with different watercolors. Then, let your kids stomp, squeeze, or throw them to make amazing rainbows! Color coordinate your balloons and the watercolor inside for easy recognition.
Learn More: I Can Teach My Child