Dr. Martin Luther King Jr. was a powerful civil rights advocate who fought against racial inequality and inspired millions around the world with his iconic, "I Have a Dream" speech. By studying his life and legacy, students can learn about the power of perseverance as well as the impact of heartfelt words and non-violent resistance in the face of injustice. This collection of 20 writing activities features poems, book responses, craft-based writing prompts, flap books, and web quests to help students connect with Dr. King's transformative message.
1. I Have A Dream Writing Activity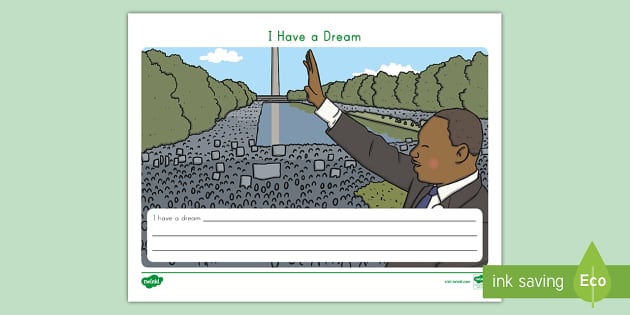 In this classic writing activity, students are asked to reflect on their personal aspirations for a better world, focusing on themes like equality, justice, and peace. Not only will it help spark their imaginations, but also promote critical thinking while developing their communication skills.
Learn More: Twinkl
2. MLK's Diary Writing Exercise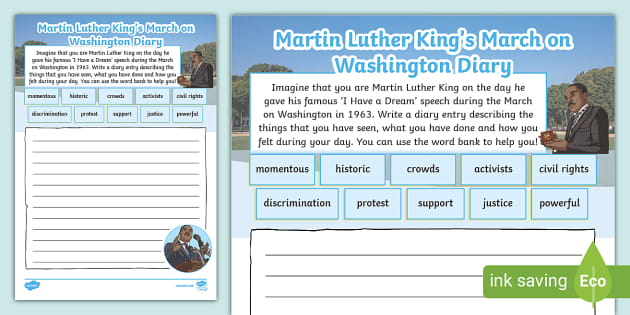 This engaging writing activity invites students to imagine and explore the thoughts, emotions, and experiences of Dr. Martin Luther King Jr. on the day he delivered his iconic "I Have a Dream" speech. By deepening their connection to MLK's legacy, students will build empathy, enhance their creative thinking and develop historical understanding.
Learn More: Twinkl
3. "Let Freedom Ring" Writing Assignment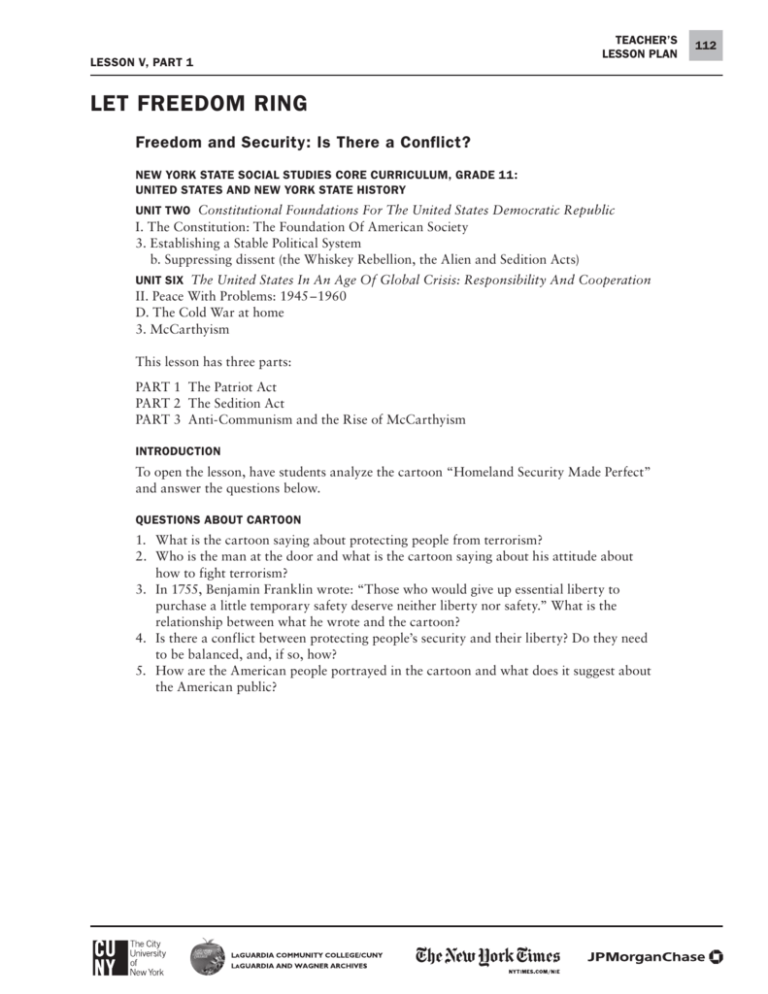 This writing activity invites students to analyze the use of allusion in Dr. Martin Luther King Jr.'s famous "I Have a Dream" speech and its connections to the song "My Country 'Tis of Thee." Apart from developing their logical analysis by comparing and contrasting, it helps students appreciate the power of allusion and the creative ways that speakers and writers can use language to convey their messages.
Learn More: Education
4. MLK Writing Activity Worksheet
This graphic-organizer-based writing activity encourages students to make connections between Martin Luther King Jr.'s guiding beliefs and his actions. It's a fantastic way to foster an appreciation for MLK's life, legacy, and contributions to the civil rights movement.
Learn More: Education
5. MLK Writing and Research Project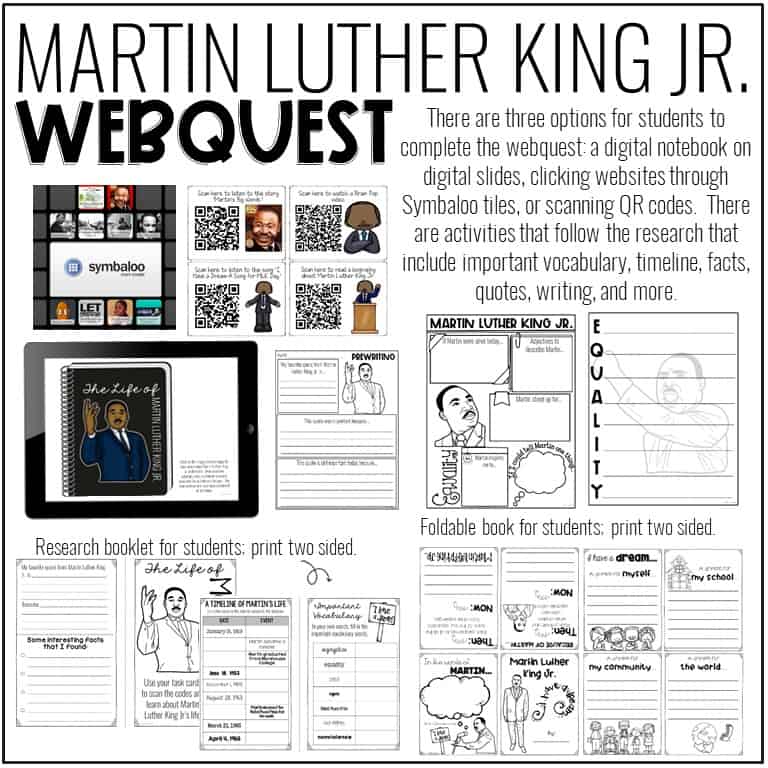 This digital activity leads students on an online quest through songs, read-aloud stories, biographies, and timelines before inviting them to share their favorite quotes and interesting facts about Dr. King. It makes for a great group project, helping to build teamwork and communication skills.
Learn More: Teachers Pay Teachers
6. MLK Jr.-Themed Informative Writing Activity
After reading an informational text about Martin Luther King Jr., students apply their understanding by creating their own newspaper and timeline based on his life. Featuring several writing templates and options for line spacing, it's a great option to accommodate students with varying writing abilities.
Learn More: Teachers Pay Teachers
7. Themed Reading and Writing Activity
After learning about the legacy of MLK, students are invited to brainstorm ways that they can also contribute to a better world. Apart from developing empathy and critical thinking skills, this is a great prompt to encourage acts of service and kindness in the classroom and school community.
Learn More: 123 Teacher Blog
8. Writing Center Activity
After reading and annotating a passage about MLK, students work together on a jigsaw activity to answer questions related to the text, helping to promote reading comprehension and collaboration.
Learn More: Life Between Summers
9. Writing and Reading Lesson
After reading MLK's iconic speech and Giovanni's follow-up poem, students write reflections on King's dream in contemporary society and Giovanni's response, helping them connect historical events with their current implications and inspiring them to become active agents of change in the world.
Learn More: Read Write Think
10. Write an Acrostic Poem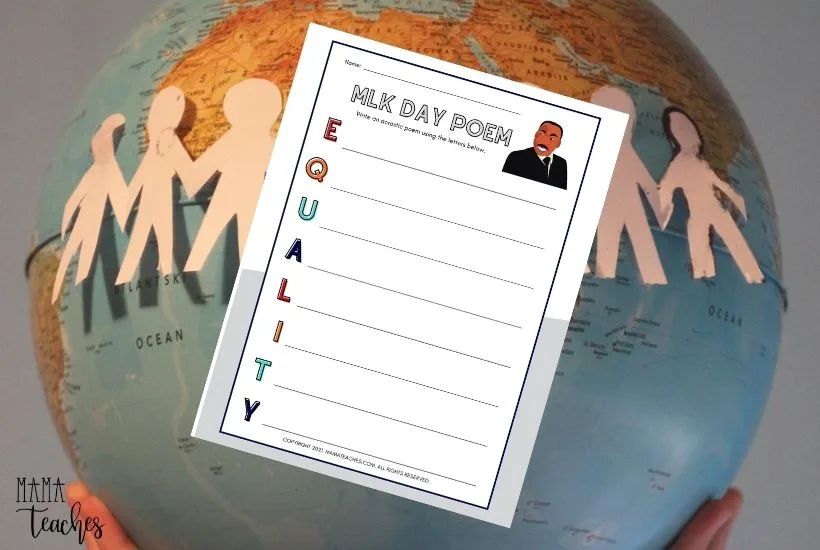 This MLK-based acrostic poem template helps students write about equality and what they have learned about Dr. King's role in the Civil Rights Movement. It's a wonderful way to encourage creative expression while introducing students to the power of poetry.
Learn More: Mama Teaches
11. Peace-Themed MLK Writing Prompt
What better way to teach about peace than by studying Dr. King's non-violent resistance movement? By writing about what peace means to them, students are encouraged to make connections between their everyday actions and greater peace in the world.
Learn More: Just Wild About Teaching
12. Writing a Reflection on Service
By creating a written response to Dr. King's famous quote, "What are you doing for others?'" students can reflect on kindness and social justice, as well as how these values can be applied in their daily lives.
Learn More: Don't Eat The Paste
13. Write a Picture Book Reflection
After reading the beautifully illustrated and inspiring picture book, Martin's Dream, students complete a KWL graphic organizer and reflect on what they know, wonder, and have learned as well as the ways in which they personally connect with Dr. King's message.
Learn More: The Wise Owl Factory
14. If I Met MLK Writing Prompt
This multi-part writing template encourages students to reflect on what they would say, do or share with MLK if they met him in person. As a simple extension activity, why not encourage them to share their answers in groups to encourage oral communication skills?
Learn More: Lyndsey Kuster
15. Craft-Based Writing Activity
This activity, inspired by the legacy of Dr. King, combines art and expository writing and provides students with an outlet to share their own hopes and dreams for the world.
Learn More: No Time For Flashcards
16. Writing Prompt About MLK's Character
There's no doubt that MLK's character was a driving force in his success as a civil rights leader. Not only was he courageous, honest, and articulate, but he also possessed the boldness to persevere in the face of tremendous injustice. By reflecting on Dr. King's strong personality, students are sure to gain a deeper understanding of how to create change in their own lives.
Learn More: First-Grade Wow
17. Write About How We Are All The Same
This creative writing activity begins by gathering apples and talking about how, just like people, they may appear different on the outside but are fundamentally the same on the inside. Reflecting on the fact that all people long for safety, freedom, and happiness makes for a great writing prompt on Dr. King's legacy of equality and justice for all races.
Learn More: First-Grade Wow
18. Write Your Own Speech Like MLK
Inviting students to write their own I Have a Dream speech is a fantastic way to develop their persuasive writing skills while reflecting on the problems in their country and how they can be solved. Sharing their speeches with their classmates and answering questions can further their self-expression ability by exposing them to counterarguments and other points of view.
Learn More: LHS Here's How
19. MLK Word-Bank Writing Activity
This graphic-organizer-based writing activity provides students with a collection of relevant words they can use to inspire and expand their writing abilities. Dividing their work into an initial draft and a final good copy encourages students to revise and review their work before sharing it with others.
Learn More: Sailing Through First Grade
20. Flap Book Writing Activity
After reading a selection of non-fiction books about the life of MLK, have students complete this flap book writing activity that covers the major milestones of his life including his education, relationships, and formative experiences, reflecting on how they contributed to his powerful legacy.
Learn More: Amy Lemons