The mysterious nature of the moon has fascinated many over the years, and these 23 easy and enjoyable crafts for kids can help to nurture and enhance that interest in a fun, educational manner.
This collection of moon activities will teach littles about the surface and phases of the moon, space, and much more! Most importantly, these out-of-this-world crafts will allow you and your little ones to have many lunar conversations while you work to replicate the Earth's natural satellite.
1. Night Sky Moon Craft
Create this unique night sky background and moon in this excitingly simple craft. This beautiful moon project can be created using construction paper, cotton balls, and glitter. This craft can be used in a lunar unit, a diversion to constellations, or shortly after reading a moon-themed book.
Learn More: Made to be a Momma
2. Moon Bread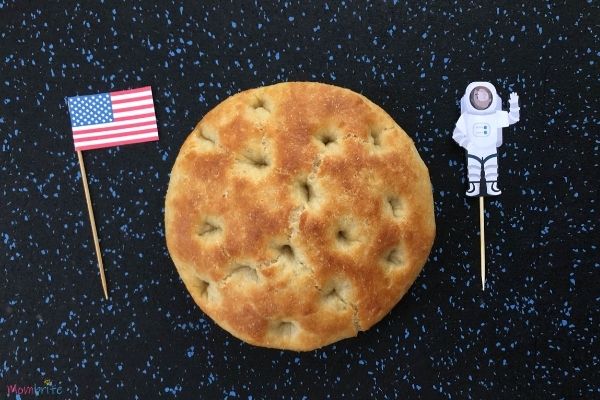 Take your littles on a culinary tour of the moon. This straightforward recipe will allow you to make the craters in this lunar loaf while also understanding the important properties of baking and yeast. This beautiful moon craft is simply "dough-lightful"!
Learn More: Mombrite
3. Moon Sand
Recreate lunar terrain with this two-step moon sand. You will need vegetable oil and all-purpose flour to create the topography of the moon. This fun moon art goes well with a discussion on the differences between Earth and the moon.
Learn More: Happy Mothering
4. Moon Phase Box
Use this moon phase box to teach the dark moon phases and differing shapes of the moon. This surprisingly simple shoebox craft is interactive and allows your students to track the phases of your moon with the real moon outside. This is a shoo-in for learning about the moon!
Learn More: Pinterest
5. Footprints on the Moon Sensory Activity
Take your first steps on the moon with this wonderfully creative moon craft. This fun activity is created using just flour and baking tins and can be used to teach about the stillness on the moon or the moon landing. One small step in the sand…one giant leap to understand!
Learn More: Homeschool Rebecca Reid
6. Paper Plate Half-Moon Craft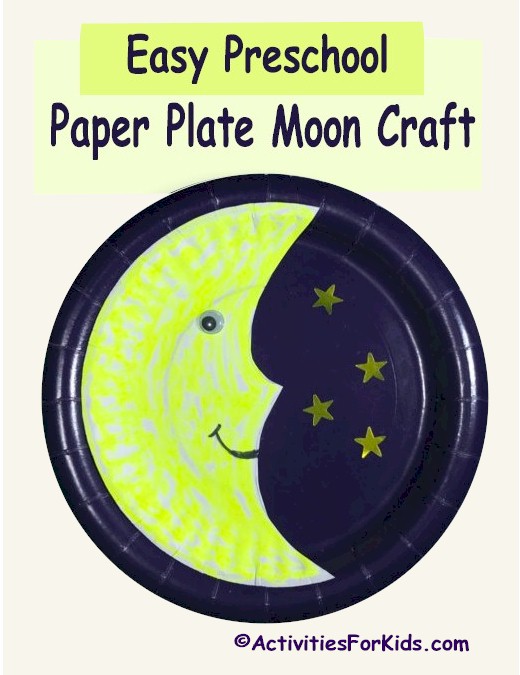 Use this paper plate craft to easily shape a toddler-friendly project. This can easily showcase your student's creative side, and it goes well with a moon study. To elevate this cute moon art, simply add cardboard stars and a googly eye!
Learn More: Activities for Kids
7. Puffy Paint Moon
Build this beautiful moon art project with puffy paint, glue, and shaving cream! It's as fun to create the craters as it is to touch once it dries! This hands-on learning experience is sure to create a lasting impression.
Learn More: No Time for Flashcards
8. Galaxy Moon Rocks
Get creative with this galaxy moon rock craft. Create this cool moon rocks with baking soda and water. Just add glitter and food coloring to make these otherworldly rocks pop and be prepared to get a little messy!
Learn More: The Crafting Chicks
9. Marshmallow Constellations
To the moon and beyond! Utilize these marshmallow constellations to supplement your discussions of the moon and stars. They are easy to assemble and even tastier to eat! This activity is not only entertaining, but it can be very effective in teaching constellations.
Learn More: Pinterest
10. Phases of the Moon Craft
Explore the phases of the moon with Oreo cookies in this hands-on science project that will leave a lasting impression. Use this craft to discuss the reasons why there are different phases of the moon. The best part? Learners can eat the leftover moon pieces!
Learn More: Kidsstoppress
11. DIY Moon Lamp
Create a celestial masterpiece with this DIY bright moon lamp that can be placed on display when finished. Using a balloon and tissues, illuminate this glowing moon to illustrate the differing textures of the moon and create a cozy radiance wherever you go!
Learn More: Crafts Junction
12. Touch and Feel Textured Moon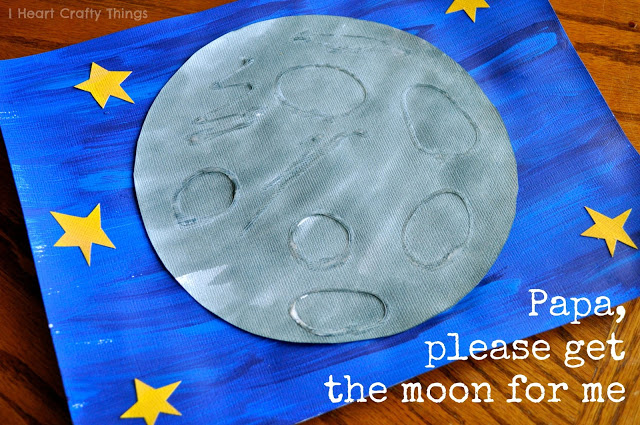 Create a rugged, textured moon with this simple-to-set-up craft. To create this colossal moon craft, you will need cardstock, glue, and watercolors. Add as many textures as you want by painting extra glue onto your moon.
Learn More: I Heart Crafty Things
13. Tin Foil Moon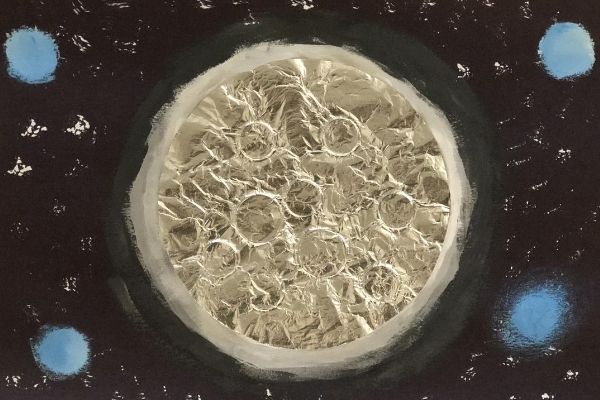 Show off the craters and textures of the moon with this shiny moon craft. Grab some tin foil and coins to get started! This quick project, made entirely from household items, is a fun and effective way to learn about the different textures and craters on the surface of the moon.
Learn More: Mombrite
14. Paper Mache Moon
Elevate your space exploration experience with this paper mache dazzling moon. You can use virtually anything to create the textures of the moon with this project, and it goes great with a discussion of the Apollo 11 lunar mission.
Learn More: Kid Made Modern
15. Magic Mud Moon
Learn about the trajectory of asteroids and how they can impact the surface of the moon in this fun moon project. Use cornstarch, water, and food coloring to create an impressionable lunar surface. Add small rocks, or small fingers, to mimic the craters of the moon.
Learn More: Gift of Curiosity
16. Playdough Moon Phases
Use play dough to teach about the clever moon phases in this colorful and engaging craft. The template is already provided so you just need to explain the new lunar vocabulary when using this fun moon craft.
Learn More: Islam from the Start
17. Moon Phases Interactive Chart
Apply your educational moon phases with this easy-to-use, interactive moon phase chart. After creating your moon on simple black paper, add another sheet to pull across slowly to track the different stages of the moon.
Learn More: Cinta and Co.
18. Orbits of the Earth and Moon Craft
Help your littles grasp the concept of trajectory and orbit with this simple Earth and moon celebration. This visual guide will demonstrate the orbit of the Earth around the sun and the moon around the Earth.
Learn More: Liza Dora Books
19. DIY Crescent Moon Mirror
Liven up your household decorations with this DIY moon model mirror. Simply use clay to shape the crescent moon and add textures to your new-looking glass.
Learn More: COLLEEN CHAN
20. Erupting Moon Rocks
Use vinegar to erupt these intriguing moon rocks after you create them. This fun science activity is sure to excite with multiple fascinating methods of interaction.
Learn More: Learn Play Imagine
21. Simple Crater Experiment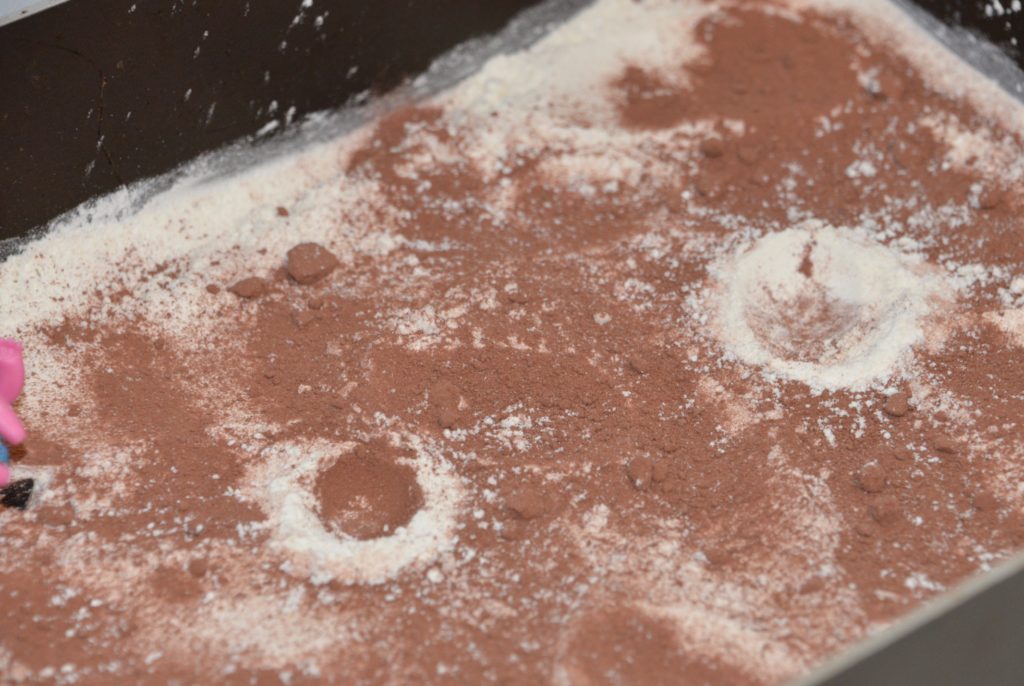 Imitate a meteorite soaring through the cosmos and impacting the surface of the moon with this inventive craft. You only need all-purpose flour and chocolate drinking powder to create your surface. Then, just add marbles or other spherical objects to represent meteorites!
Learn More: Science Sparks
22. Smashing Moon Rocks Activity
Create and smash moon rocks with this stimulating and imaginative craft. These rocks are as fun to create as they are to smash. Made with household materials, these moon rocks will not leave a mess, and they can help active children spark discussions on lunar rock compositions.
Learn More: Pre-K Pages
23. Moon and Stars Homemade Telescope
Learn about the stars and the moon with this homemade telescope. Children will love customizing these toiler paper roll spyglasses to make them unique and personal. Paired together with another moon activity, your little astronomers will soar among the stars.
Learn More: Things to Share and Remember