When Mother's Day rolls around each year, teachers and other caregivers are looking for ways to create something that is easy enough for a toddler to make, but that is also going to be a keepsake. Here are a variety of activities using all different materials and are useful for more than just Mother's Day. Most require little prep as well, which is great if you have a room full of 3-year-olds to worry about. Have fun and get ready for some adorable creations!
There's a reason this is #1. It is the perfect gift for any mom and I adore the poem that you can print to add on and the setup is minimal. Also, with them being small, they are great for those that don't have much space, like myself. I've gotten some projects from school that I have no idea where to put them.
Learn more: Red Ted Art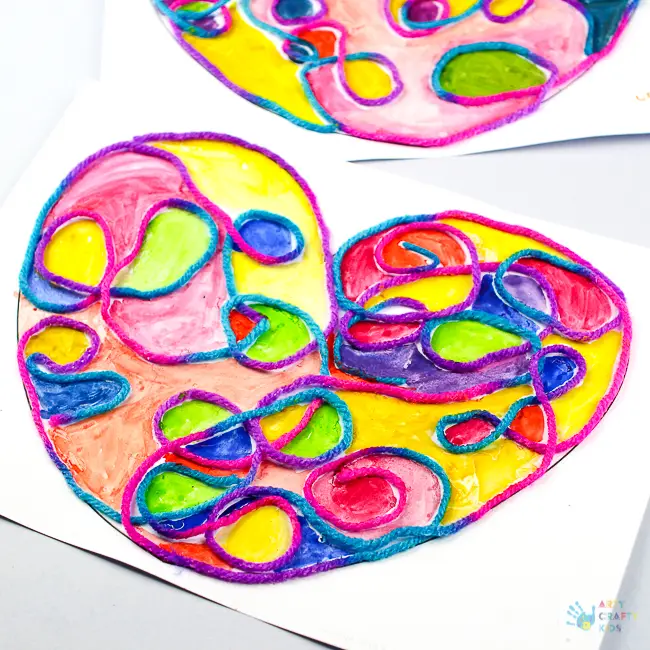 Sometimes we are looking for a fun activity that leaves us with an awesome kid-made gift, and this project won't disappoint. Toddlers may need some assistance with the yarn and it has the potential to be very messy, but definitely worth it.  I'm torn on whether to set up the yarn for them ahead of time or not. I guess it would depend on the kids you're working with and how much time you have for it.
Learn more: Arty Crafty Kids
3. Heart Handprint Painting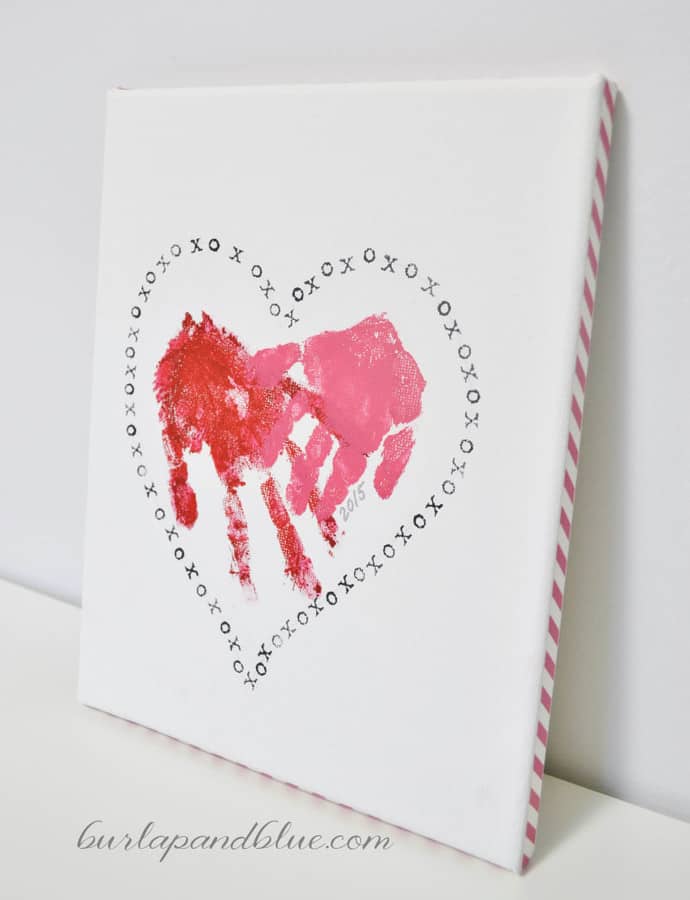 These are the kinds of gifts for moms that are treasured for a lifetime. It is simple to create, with most of the time required being for the paint to dry. I would have to find wall space for this one immediately. It's perfect for siblings to create together or for a mother and child as well.
Learn more: Burlap + Blue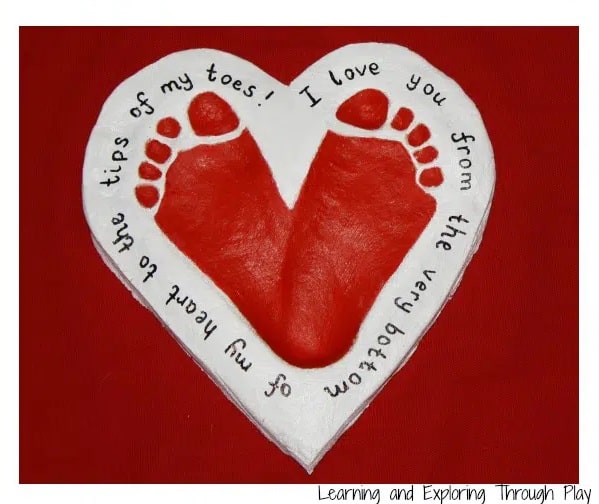 Another amazing gift for mom, salt dough footprints are something to cherish forever. I remember making a handprint when I was in preschool for my mom and she still has it today. If they are cared for, they will last a lifetime.
Learn more: Red Ted Art
I received this as a gift this past Mother's Day from my son and I absolutely adore it! It's hanging on the fridge right now, but I will keep this forever. It's such a simple project, but the impact is huge. I like it with the flower pot colored or mounted on colored paper, but you can do whatever works best for you.
Learn more: Crafty Morning
6. Celery Stamped Flowers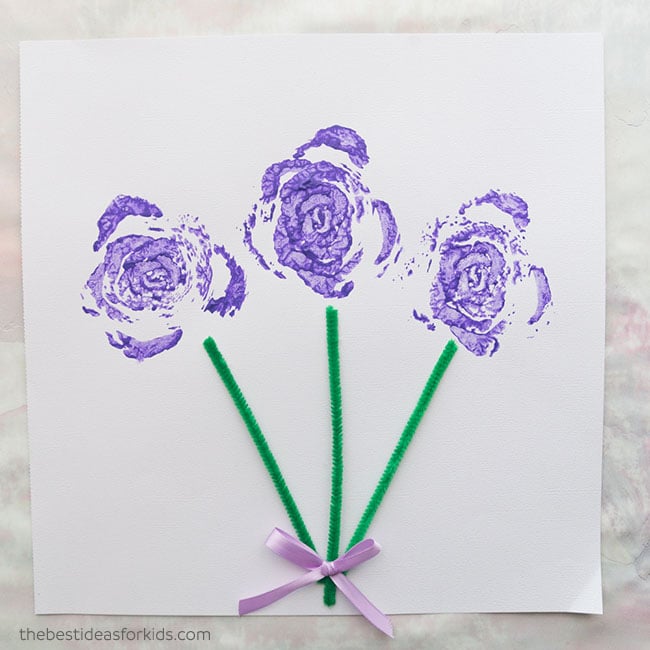 I've often looked at the part of the celery that is cut off and discarded and wondered if there was something to reuse it for. When I saw this, I just knew it would be the perfect project for something that is usually thrown away. The addition of pipe cleaners adds some dimension as well.
Learn more: The Best Ideas for Kids
This is another easy gift for kids to make and it's "turtley" cute too. All you need is some paint, cupcake liners, and a fine point Sharpie and you get a cute card. Make sure you take your time with this one, slow and steady wins the race.
Learn more: Coffee Cups and Crayons
3D cards are great gifts for kids to make. It's a simple craft that packs a big punch and is something most kids will love to make. It doesn't have to be a rainbow either, you can change the colors to suit your likes or available supplies.
Learn more: Twitchetts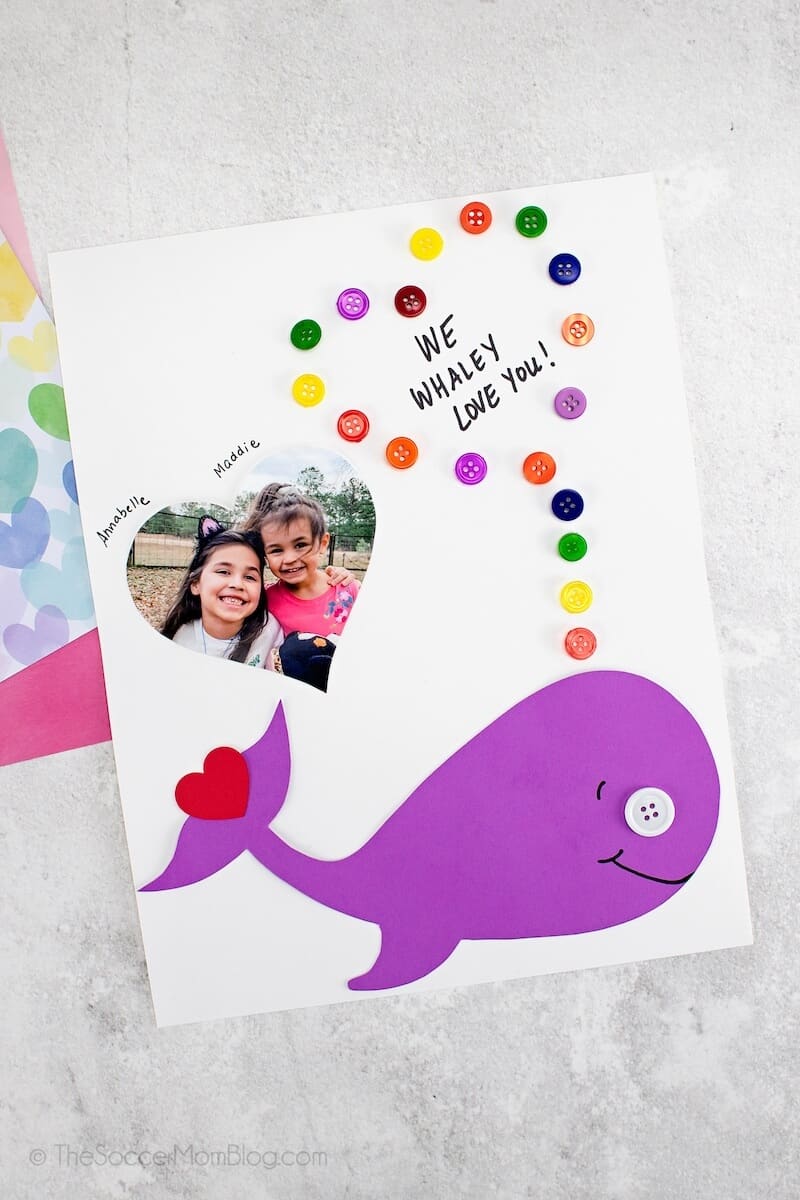 This mixed-material card is adorable! I love the use of buttons and the added photo makes for the perfect card for mom. The whale is available as a free printable template, so you won't have to worry about creating this card.
Learn more: The Soccer Mom Blog
I love, love, love butterflies and actually want to get a tattoo using my kid's footprints as the wings, just like this project! This is a homemade gift guaranteed to please any recipient and can be customized in so many ways.
Learn more: Plain Vanilla Mom
A Mother's Day gift that is useful too. It's such a sweet gift and can be done with one or many kids. I'd be afraid to use it because I wouldn't want it to get dirty (I can't be trusted with anything white). My grandmother would adore this!
Learn more: Chirping Moms
12. Flowers on a String Necklace
Finally, the perfect flowers to gift mom. They will last forever and can be made using any color. Fresh flowers are nice, but die too quickly, so this is an amazing alternative. Fine motor skills will get a workout stringing the flowers on as well.
Learn more: Toddler Approved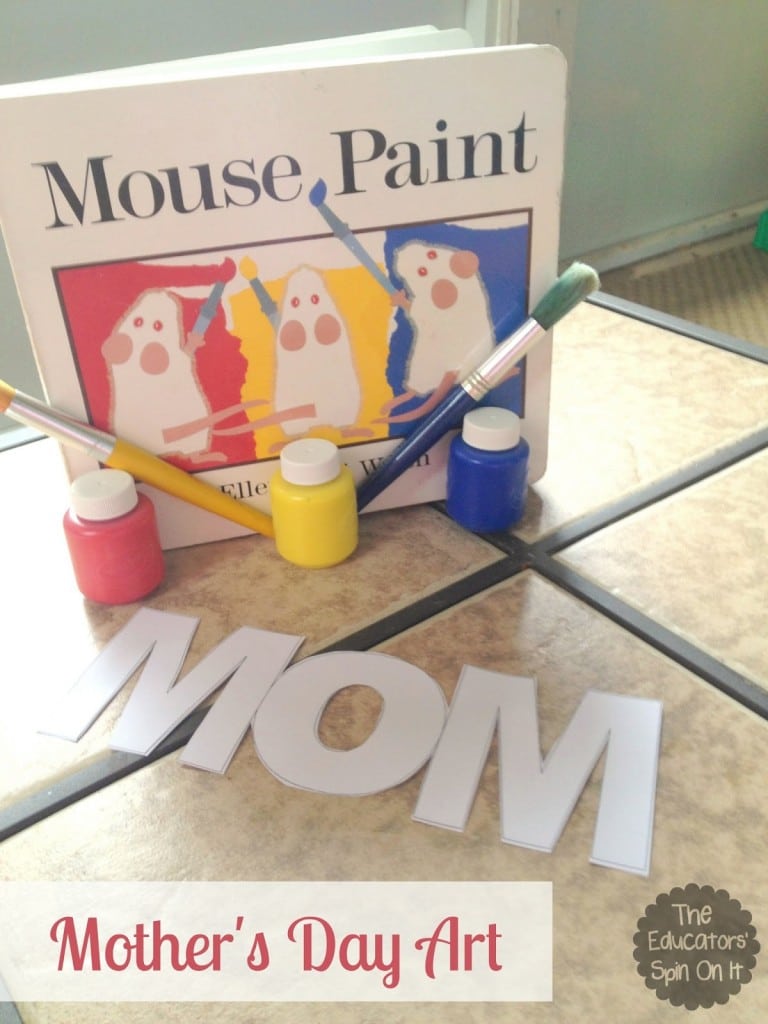 I made a similar craft last year with my kids to gift to their grandma and they were a big hit. I put the canvases in zipper bags to contain the mess with my little one, who was 18 months old at the time, but either way works. I cut the letters out of vinyl, but you could also get bulletin board letters and tape them onto the canvases too.
Learn more: The Educators' Spin On It
14. Pour Painting Flower Pots
Paint pouring videos have been all over social media recently, so these flower pots are the perfect project. I would imagine that they take some time to dry, so don't leave them for the last minute. You may want to add the plants as well.
Learn more: Messy Little Monster
15. Watercolor Resist Painting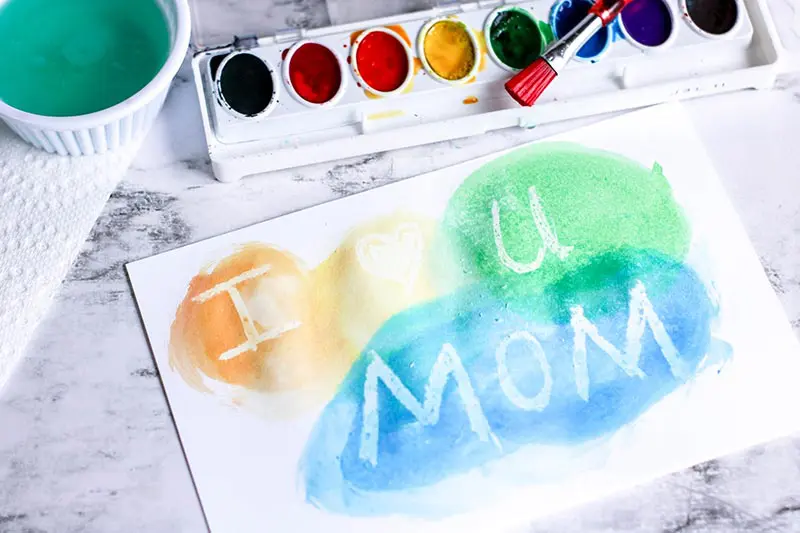 Use white crayons to produce a cute gift for anyone to receive and is easy to create as well. If your child can't write yet, try hand over hand or tracing. If all else fails, you can do the writing and tell them they are finding a mystery message.
Learn more: Darcy and Brian
Original artwork is always a great choice for handmade gifts from kids. All you need are some potholders and fabric markers. Kids can draw whatever they want and produce this amazing personalized gift.
Learn more: I Can Teach My Child
34. Shrinky Dinks Keychain
Such a cute idea and I didn't realize these were so easy to make. You just need to get the special plastic and supervise younger kids with Sharpies. I would let them use any colors they want. It's also great fine motor skill practice.
Learn more: Messy Little Monster
A simple card that will take minimal time to prep and make, and it will be well loved. The rotini pasta is the perfect shape to use for sun rays too.
Learn more: Crafty Morning
36. Fingerprint Flower Card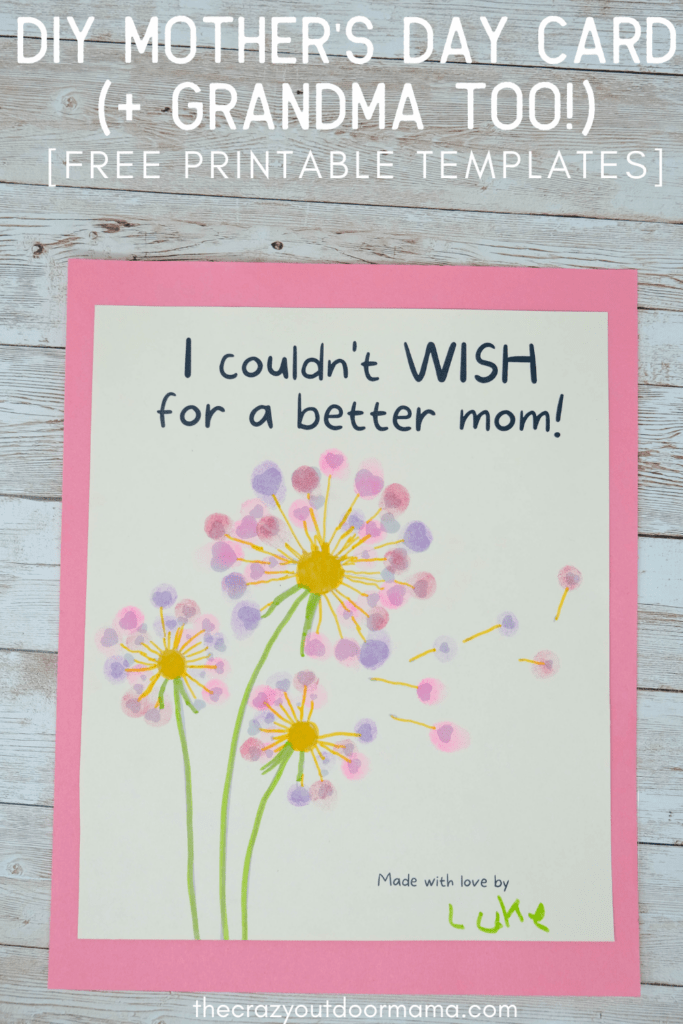 This sweet card will take longer than some others, but it totally worth it. There are a lot of little fingerprints needed here, so if your child or students will need patience. This sweet card will take longer than some others, but it totally worth it. There are a lot of little fingerprints needed here, so if your child or students will need patience.
Learn more: The Crazy Outdoor Mama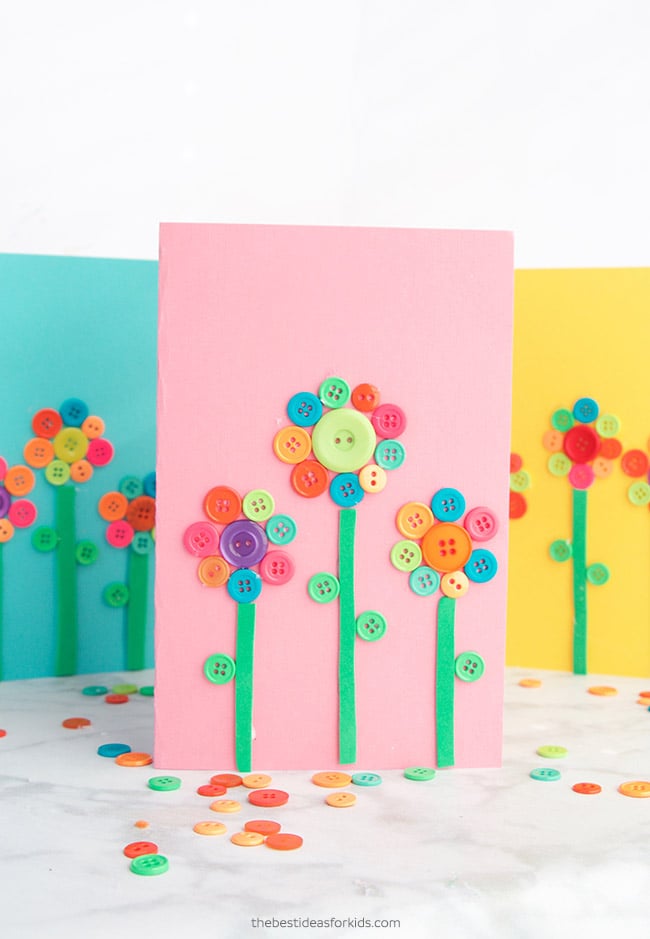 Button art is always cute and helps with motor skill development too. Craft glue works best to hold them on, but regular school glue should work as well.
Learn more: The Best Ideas for Kids
Another easy project, kids can paint on cardstock, then you can cut out the flower shapes and add magnets. I would laminate them as well to help preserve them for longer.
Learn more: Teaching 2 and 3-Year-Olds
39. Handprint Cactus Card
For the cactus lover in your life, these cards are the perfect cards to make. I would use stickers for the flowers, but they could be drawn or glued on as well.
Learn more: Simple Everyday Mom
This is another favorite of mine, I just wish there was a way to display them on the window without them fading. Kids can use any colors they like and the lettering can be varied as well.
Learn more: Hands On As We Grow