Another fun game to use in math centers is this fun dominoes game. In groups of 2 to 4 players, have students practice multiplying the numbers shown on the dominoes. Add this to your repertoire of fun multiplication games to use on rainy days!
Learn more: Luminous Learning
26. Multiplication Tic-Tac-Toe
Have students review their multiplication skills by playing tic-tac-toe! Before they can dab a spot on the card, they have to correctly answer the equation. This is a fun activity to have at math centers because only two students are needed per game sheet.
Learn more: Schooltime Snippets
27. Minnie's Diner: A Multiplying Menu by Dayle Ann Dodds
Full of fun rhymes and characters that are all twice as hungry as the previous, this cute book teaches multiplication in a cute, whimsical way. They will be on the edges of their seats as they wait to see how Papa McFay reacts to all his sons being lured by the sweet smells coming from Minnie's kitchen.
28. The Best of Times: Math Strategies that Multiply by Greg Tang
From award-winning author Greg Tang comes a fun way to go over multiplication facts with quirky rhymes and engaging illustrations. Keep this in your library of elementary math books to use year after year to solidify those tricky math concepts.
29. 2 X 2 = Boo!: A Set of Spooky Multiplication Stories by Loreen Leedy
With stories covering multiplication equations for numbers 1 through 5, students will be entertained by the different Halloween-themed creatures--like witches and vampires. It will be math time without students even realizing it!
30. The Times Machine!: Learn Multiplication and Division. . . Like, Yesterday! by Danika McKellar 
This fun book with Mr. Mouse and Ms. Squirrel teaches both multiplication and division skills. Many parents tout this book as being one that has helped their children get over math anxiety by teaching simple methods to complete multiplication equations.
31. Multiply on the Fly by Suzanne Slade
Children love creepy, crawly bugs. Use their fascination with these creatures to teach them multiplication while also learning cool things about different types of bugs. In the end, there are other activities to engage them in learning about both bugs and numbers.
32. Around the World Math
Teach geography at the same time you teach multiplication with this fun worksheet. As students figure out the multiplication questions, they will also figure out which color to color each country on the map. When they are done, they will have a color-coded map of the world!
Learn more: Mr. Nussbaum
 33. Fidget Spinner Math Game
Turn multiplication worksheets into games with fidget spinners. Have students spin their fidget spinner and then answer as many equations as possible by the time it stops spinning! It puts a whole new "spin" on timed multiplication tests!
Learn more: Super Teacher Worksheets
 34. Color by Number Multiplication Worksheets
Dadsworksheets.com has a ton of color by number worksheets available. The site offers different worksheets for different holidays, leaving you with plenty of materials to use all year long!
Learn more: Dads Worksheets
Kids will have fun completing their mazes by finding their way from the math equations to the solutions. Have them use a different color for each different equation.
Learn more: K12 Math Worksheets
Students will love spinning a paperclip to create a multiplication sentence. Then they can illustrate their multiplication knowledge and solve each. When they are finished, they can have a little extra fun and color the cute characters on the worksheet!
Learn more: Moffatt Girls
Worksheetfun.com offers multiple worksheets featuring circular times tables. Once students master an easier multiplication, they can move on to harder numbers, even double digits! Pass out a different one for each morning for everyday multiplication practice.
Learn more: Worksheet Fun
38. Paper Craft: Multiplication Flower
Watch the attached video to learn how to make a cute hands-on multiplication craft. Kids can practice their fine motor skills as they go through the process of cutting out their petals and gluing the different parts of their flowers together. Then write multiplication sentences on the petals and have them find the answers. You can even hang this colorful math craft around your classroom after students are finished!
Learn more: Simis Crafty World
39. Multiplication House Math Craft
Follow the instructions at the link above to create multiplication math houses. Choose a fact family to focus on for each different house you create. Students will enjoy being creative while learning critical math skills.
Learn more: Really Good Stuff
Create multiplication math books with your students. The great thing about these books is that you can give advanced math students advanced math problems while those who are still struggling with the concepts can complete simpler multiplication problems in their books, and nobody is the wiser! You can even use these books as math portfolios and continually use them throughout the year for different concepts.
Learn more: Multicultural Motherhood
41. Spring Multiplication Craft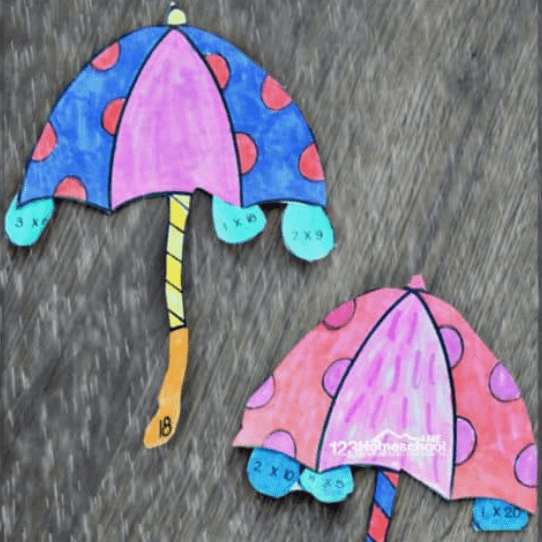 Teach children multiplication by having them glue raindrops to umbrellas! They will have fun matching the correct equations with their answers. After, you can display all of their decorated umbrellas on a math wall in your classroom.
Learn more: Free Homeschool Deals
In the craft activity above, students go through the steps to create multiplication array cities! Struggling learners enjoy the visual representations, and all students enjoy creating their own buildings to contribute to your classroom city! Make multiplication fun for even the most resistant learners!
Learn more: Mathemativity
 43. Multiplication by 8 Spiders
Recently read Charlotte's Web? Combine reading the book about the loveable spider with creating multiplication spiders. Students will have fun using different colored beads to decorate the legs of their spiders while at the same time practicing their eights times table.
Learn more: Thriving STEM