Our brains are not wired to multitask, but the 21st century relies on this skill now more than ever! Luckily, you can practice multitasking with groups of learners- even if the result of the tasks is proving how much concentration is required to multitask. Check out this comprehensive list of 20 group multitasking activities to learn more about how to guide your learners through a series of activities in a balanced and comprehensive manner.
1. The Balance Game
Using sticky notes, write letters and stick them to your wall. Have kids stand on one foot or on a balance board. Another child says a letter, and the balancer must throw a ball at that letter while maintaining balance.
Learn More: Starfish Therapies
2. Jumping Alphabet
Use painter's tape to write letters in capital and lowercase forms on the ground. Call out the name of a letter and an exercise – like "J – Jumping Jacks". Kids must then run to the letter and perform the exercise until you say the next option.
Learn More: No Time for Flashcards
3. Tummy & Head
Challenge kids to stand facing each other while performing this task to create a mirror image. They can begin by rubbing their tummies. Then, instruct them to stop and have them pat their heads. Now, combine the two actions so that they simultaneously pat and rub!
Learn More: Royal Institution
4. Circle & Square
Have kids sit together with one piece of paper and a marker in each hand. Instruct them to draw a circle with their right hand and a triangle with their left. Let them attempt this a few times and then switch up the shapes.
Learn More: Happy Toddler Playtime
5. Blind Mice
Set up an obstacle course outside or inside. Then, blindfold one of the kids and have a partner guide them through it. This challenges their listening skills and spatial awareness as well as builds trust between the teammates.
6. The Human Knot
Have kids stand in a circle holding hands. Challenge them to create the craziest human knot they can while simultaneously singing a song. Once they're knotted, they must detangle themselves while continuing to sing.
Learn More: Book Widgets
7. Blind Artist
Each child draws a creative picture without the other seeing it. Then, have them sit back to back and blindfold the person drawing. The other describes their picture so that the drawer can replicate it. Compare after a certain amount of time!
Learn More: Kid Minds
8. Paper Chain Race
Kids compete to construct the longest paper chain, but they must also complete another task at the same time. Ideas include writing a pattern on the rings or linking them in rainbow order. Set a time limit for more fun!
Learn More: The Math Chick
9. Balloon Walk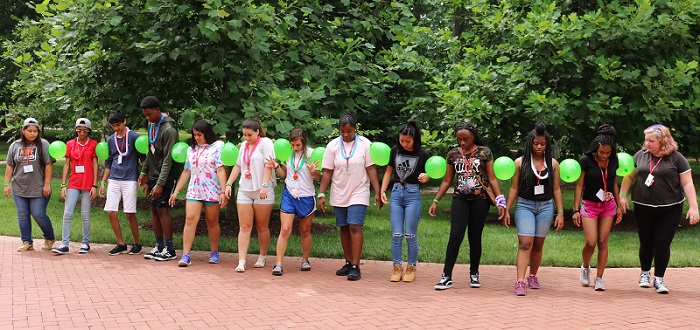 Have kids stand side-by-side and put a balloon in between their shoulders. Have them complete tasks without letting the balloon drop. They can complete tasks such as walking over obstacles or wrapping a gift.
Learn More: Guide Inc.
10. Ball Flow
Test pattern memory and physical dexterity with this game. Position kids in a circle and give them a ball. Each person must touch the ball once to complete one cycle. Let them pass the ball around once and then introduce more balls to up the ante!
Learn More: Webflow
11. Spoons
Place spoons in the middle of a table, but not enough for every player. Deal out an entire deck of cards. Play begins with everyone simultaneously passing one card to their right. If learners collect four of the same card they can grab a spoon.
Learn More: It's Always Autumn
12. No-Hands Cup-Stack Challenge
Each player gets one length of the string – all varying lengths – and the group gets a rubber band. They each tie one knot onto the rubber band. Together, they must figure out how to stack as many cups as possible by working as a team.
Learn More: Cornucopia Learning Network
13. Group Juggling
With kids positioned in a circle, begin the juggle by tossing in one ball. They must continually pass the ball to another player while watching for a new ball to enter. Toss in another ball of a different size. Continue until there are multiple balls being passed around.
Learn More: Icebreakers
14. Simon Says…Times Two!
A classic game with a twist- there are two Simons! Simons must give commands in rapid succession- until commands are just about at the same time. The other players must keep track of what their commands are and which Simon didn't say, "Simon says…" before giving a command.
Learn More: The Genius of Play
15. Pattern Copy Cat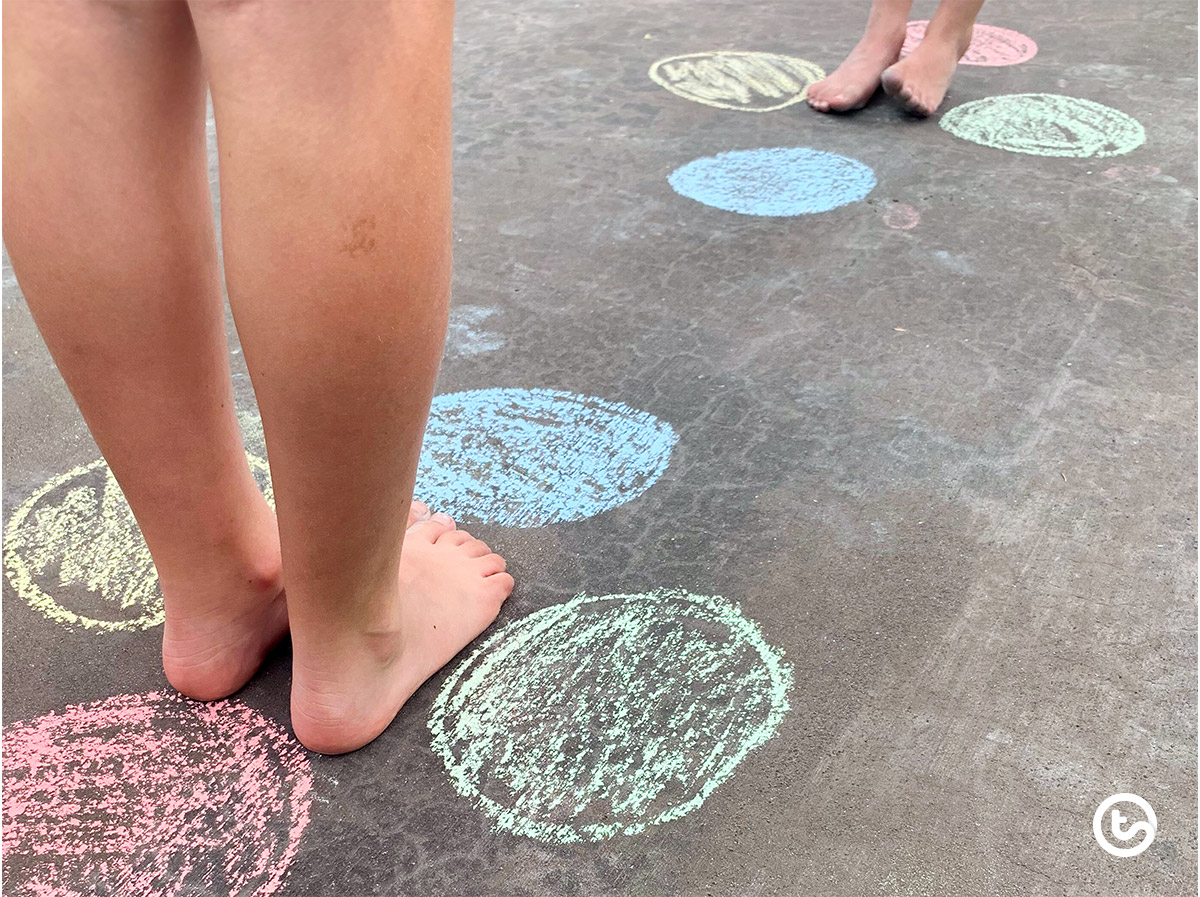 Draw four colored circles on the ground outside with chalk. As players toss a ball back and forth, one player moves their feet in a specific sequence, stepping on the colored circles. The other players must then imitate the pattern to see if they can match.
Learn More: Teach Starter
16. Stroop Effect Game

Give the kids a list of color words that are written in different colors. For example, the word "RED" would be written with a green marker. Have them read the words to you first, and then switch to see if they can tell you the colors, not the word.
Learn More: Neuroscience for Kids
17. Two-Hand Tapping
For the musically inclined, teach your kids the musical notes and what they mean in a time signature. Then, show them a staff; marking the top as the right hand and the bottom as the left hand. Have them practice tapping each separately and then combine them for a layered rhythm.
Learn More: Talent Playground
18. Rhythmic Trip to the Moon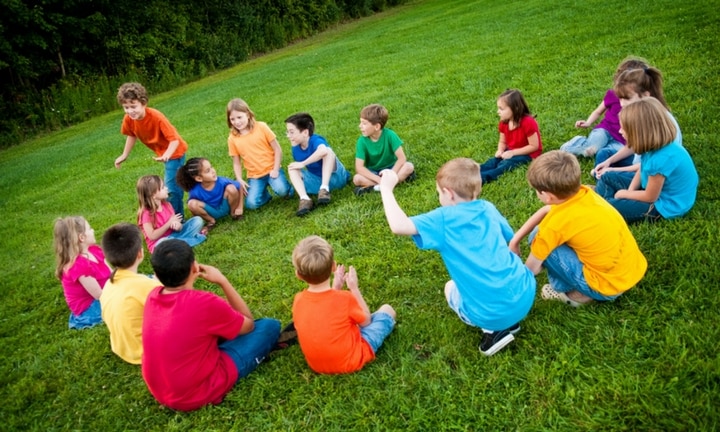 Combine the "I Went to the Moon and Took a…" game with a changing rhythmic beat. Kids take turns saying what they are bringing to the moon, also listing in succession the past items. The speaker can change the rhythm that the group taps in their laps with their hands.
Learn More: Empowered Parents
19. River & Bank
Make a line down the middle of the floor with kids standing on one side- representing a bank and the other side a river. Whatever the leader calls, the kids jump to the opposite side on one foot and balance. If the leader yells "Riverbank!" they must straddle the line.
Learn More: JAP's Pad
20. Keepy Uppy
Combine this balloon-bouncing game with a clean-up task for extra fun. Kids must keep a balloon in the air while picking up a toy to put in the bin. Include multiple kids and multiple balloons for extra fun.
Learn More: Bluey