Students often learn best when they see and experience what they are learning. However, what do you do when teaching about the muscular system inside of our bodies? Students may likely think something like magic brings movement to their bodies. Since we can't see beneath our own skin, making models and diving into simulations will help students understand such a complex system. Here are 22 muscular system resources for teachers to check out!
1. Muscles Contract
This article provides a series of activities for young students to learn about how muscles give us the ability to move. First, students feel their own bicep move and contract and then create an arm muscle model using pins and a pull lever to represent how muscles give our arms motion!
Learn more: Spell Out Loud
2. Pancakes and Cookies or Muscles and Bones?
If you're looking for a unit introduction for beginner learners, this activity proves both muscles and bones are necessary by using pancakes and cookies! Your students will love eating the tasty treats after discovering why both muscles and bones must work together.
Learn more: I Can Teach My Child
3. A Low-Price Look at the Human Body
This project uses cost-effective materials to model the human body! With a translucent tablecloth, cardboard, and paper models of bones, your students can create a visual of what the inside of our bodies looks like!
Learn more: The Home Teacher
4. How Muscles Work
This worksheet provides a simple overview of the muscular system for beginner learners. After a hands-on activity, informational reading is a great way to solidify knowledge about complex topics like information traveling between nerves, muscles, and the brain!
Learn more: Education.com
5. Dissecting Muscles
Great for fourth and fifth graders, this unit plan first provides several lessons on bone structure and then dives into labeling and dissecting muscles. Your students will analyze lightly cooked meat strips while discussing how muscles function.
Learn more: Hub Pages
6. The Magic School Bus Flexes its Muscles
Magic School Bus episodes are always great to give students an inside look at how the functions of the bodywork. The characters learn how bones and muscles work together in order to create their own robot.
Learn more: Victor's Nelvana Shows
7. The Muscular System Unit Study
Great for third graders, this is a multidisciplinary unit plan that teaches learners about the muscular system. Your students can complete activities that involve labeling diagrams, physical exercise, and lessons that promote a healthy lifestyle.
Learn more: Three Boys and a Dog
8. Human Muscular System Lesson
This website includes several anatomy videos to watch with your students and an excellent activity to model the relationship between bones and muscles using crayons and rubber bands! Show your students how it would be impossible for our bodies to work with just one of these structures.
Learn more: Meet Penny
9. Muscular System Notebook Pages
Great for upper grades, these notebook pages guide students to write down the most important information about the muscular system. With several diagrams and labeled images, students will have a better understanding of such a complex topic.
Learn more: Cynce's Place
10. Create a Model of an Arm
This article provides a series of short animated videos demonstrating what jobs muscles perform in our bodies. There are textbook connections, light readings, and Ipad suggestions. Then, students will enjoy the final project by creating a model of an arm!
Learn more: Ms. Palmer's Classroom
11. Anatomy Games
This website provides a series of matching games to strengthen students' anatomy skills. With levels that increase with difficulty, this is a great way for students to solidify their knowledge before a test!
Learn more: Real Body Work
12. Musculoskeletal System Puzzle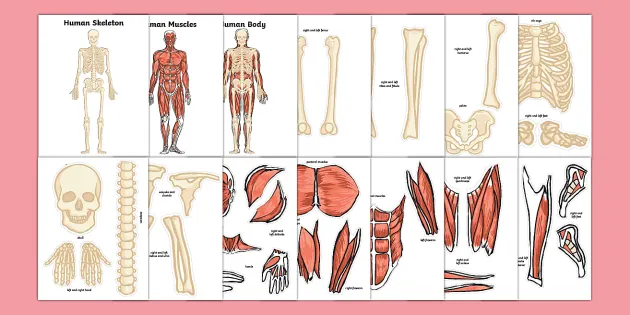 This resource provides several PDFs with the different parts of the body. Students can cut out parts and put them together like a puzzle. Then, students can see how the muscular system fits right over to protect the skeletal system.
Learn more: Twinkl
13. Muscular System Web Quest
This is a great tool for fifth graders to explore the functions of the muscular system before being directly taught. This will allow your students to practice research skills and help give them background knowledge and visuals before diving deeper into the study.
Learn more: Classroom
14. Project All Hands on Deck
This is a week-long STEM challenge that teaches students about the amazing human hand and the technology that goes into making a prosthetic hand. Students become "prosthetic researchers" as they work in groups to make a model hand that can pick up objects.
Learn more: Teachers Pay Teachers
15. Body Systems Escape Room
Great for fourth through eighth graders, this activity allows students to prove their knowledge of several body systems. You can choose from eight puzzles that students must solve in order to "escape" before time is up!
Learn more: Teachers Pay Teachers
16. Inquiry Lab
Perfect for middle school students, these hands-on activities are modified for different-level learners. Each group will dissect a chicken wing in order to understand the muscular system accompanied by reading passages and knowledge checks.
Learn more: Kesler Science
17. HandCraft
Students will investigate how muscles help us produce voluntary movements by creating their own movable hand! This article provides you with all of the background knowledge you need and a "hands-on" activity to solidify student knowledge!
Learn more: Living Life and Learning
18. Muscular System Game
Test your students' knowledge of all of the muscles in our body with this interactive game! Students can manipulate the size of the body and choose from a drop-down menu of options to guess the name of the highlighted part.
Learn more: Natural Sciences
19. The Muscular System
This live worksheet brings life to classic fill-in-the-blank activities! Students are provided with visuals, the most important information, and easy-to-navigate facts with important vocabulary highlighted. Then, there are knowledge checks right on the website that grades their answers instantaneously!
Learn more: Live Worksheets
20. Muscle Games
How much do your learners know about the muscles? Check their knowledge with these varied leveled online games! These games are great for before and after lessons to show students how much they have learned.
Learn more: Science Trek
21. The Human Body Game
Great for primary learners, this article includes three lessons with an interactive simulation that takes students inside the human body. The simulation provides information on several body systems and includes knowledge checks and games as students work their way through.
Learn more: STEM Learning
22. Bill Nye Bones and Muscles
Perfect for all ages, Bill Nye presents this episode on how we use bones and muscles to move. He dives into how muscles pull in tension, how bones push in compression, and bones and muscles can be strengthened through exercise. This resource is also complete with background knowledge and fun facts!
Learn more: Bill Nye