Regardless of whether you are hosting a party, looking for ways to spruce up your curriculum, or looking to get kids moving with the music, you will want to add these unique activities to your repertoire! Adding music to your activities, or basing them around music will provide kids with a variety of skills and intelligence that are vital to brain development. Check out these awesome 20 examples of activities that incorporate music into your days.
1. Tape Ball
This cool idea has players sit in a circle and the music starts as the person attempts to unwrap as much of the package as possible, collecting small gifts hidden within, until the music stops. When it stops the person must pass the ball to the next who repeats the process.
Learn more: Stuff n Nonsense & ASMR with Annie
2. Musical Hula Hoops
This clever twist on musical chairs has multiple "levels" of gameplay. Kids of all ages will be able to understand and participate in this fun way to get moving to the music!
Learn more: Harmony Lodge Music
3. GoNoodle
Ask any elementary student what their favorite brain breaks are and they'll tell you that they enjoy dancing along with these cool cats! Easy dance moves for kids to follow and they do a good job of getting little ones to move their bodies and get their blood pumping!
Learn more: GoNoodle | Get Moving
4. Just Dance Now!
Turn your living room into a dance floor with one of the most popular games out there. Just Dance has a version available that doesn't require gaming consoles- just an internet connection and a screen will have your kids dancing in no time!
Learn more: Just Dance Now
5. Karaoke Party
Give kids the chance to express themselves and have a good time as they belt out their favorites! With a wide variety of price points, there is a karaoke setup perfect for everyone.
Learn more: Karaoke Party
6. Virtual Drumming
Kids can challenge each other to match the same beat patterns and more with this interactive drum set that can be played on a smartphone or computer.
Learn more: Virtual Drumming
7. Music Memory
Turn your tablet into a musical memory game where kids recreate the patterns they hear as they get progressively harder. This app helps promote memory, attention skills, and coordination skills.
Learn more: Apple
8. Fire and Ice Freeze Dance
Encourage kids to get up and move with a friendly game of Fire and Ice Freeze Dance! This fun activity promotes listening skills and increases activity levels if you are looking to tire the kids out.
Learn more: Danny Go!
9. Musical Dress Up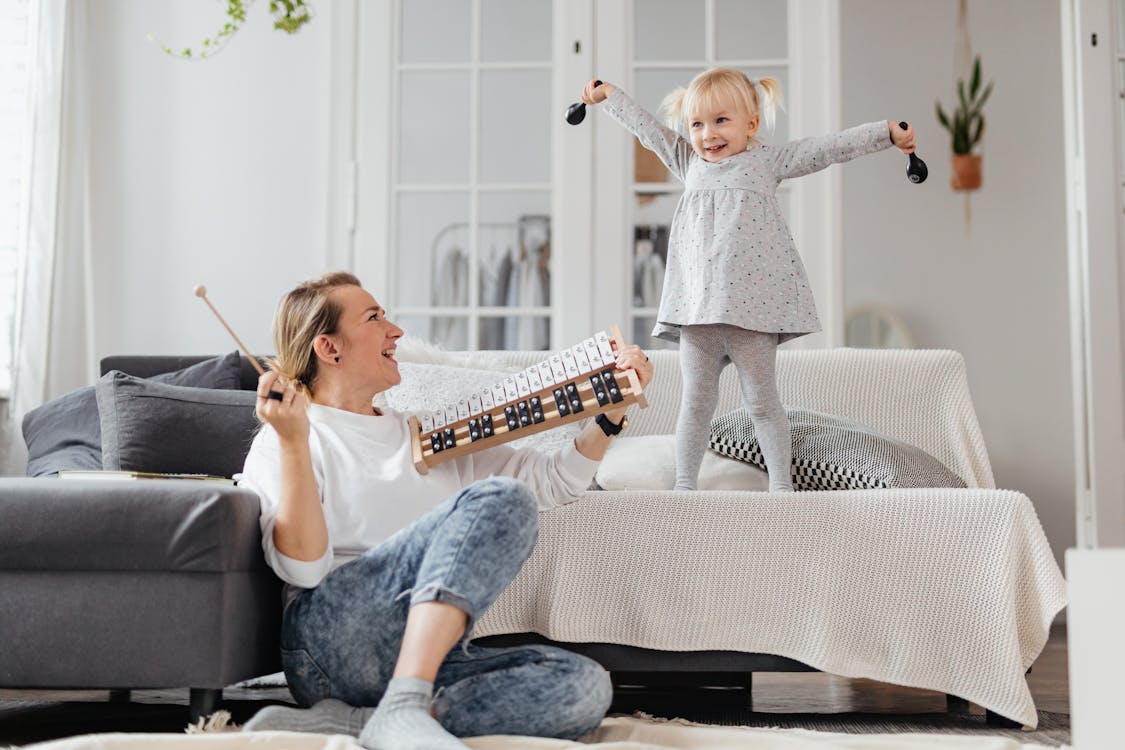 This hilarious musical activity has kids pass a bag of random dress-up items around and when the music stops, they have to pull out an item and put it on. A fantastic activity for parties that will leave your kids in stitches of laughter!
Learn more: Easy Party Ideas and Games
10. Make a Creative Band
Creating musical instruments is an activity younger aged children will love. It can be the perfect exploratory activity as they experiment with different ways to put together their instruments and then engage in a fun performance with their friends- helping them develop their social skills!
Learn more: Bow Tie Music
11. Name That Tune
The Crosby family shows us Name That Tune. If you want to use it in the classroom, you can split your class into teams and have them create cool team names before getting started.
Learn more: The Crosbys
12. Charades (The Musical Version)
Charades is a classic game that works for any occasion. It enhances communication and critical thinking skills. Be sure to make a list of well-known music to make it more appealing.
Learn more: Confessions of Parenting
13. Create a Step Club
Step promotes social skills and is a great way to introduce students to the rhythm. Kids will beat rhythms on their legs, with their feet, and through clapping. It has a long-standing history with college fraternities and sororities. 
Learn more: Martha O'Bryan
14. Name That Instrument
This fun classroom game can get kids interested in music and offer exposure to instruments in music or primary classroom. Kids are offered images along with sound clips of distinct instruments that they will then have to decide between. 
Learn more: New Victory Theater
15. Create Musical Drawings
Using classical, rock, and other engaging songs you can have students utilize music and listening skills as inspiration for their artistry. This simple activity does not have to take up a lot of time or use a lot of tools to drive home how artists can be inspired.
Learn more: Teach Rock
16. Create Your Own Music
The Chrome Music Lab is the perfect digital tool to get kids experimenting with basic rhythms, beats, sounds, and tempo and introduces them to fun with music on their own terms. They'll be able to compose a song with this app that is both visual and offers a variety of sounds. 
Learn more: Chrome Music Lab
17. Soda Bottle Organ Activity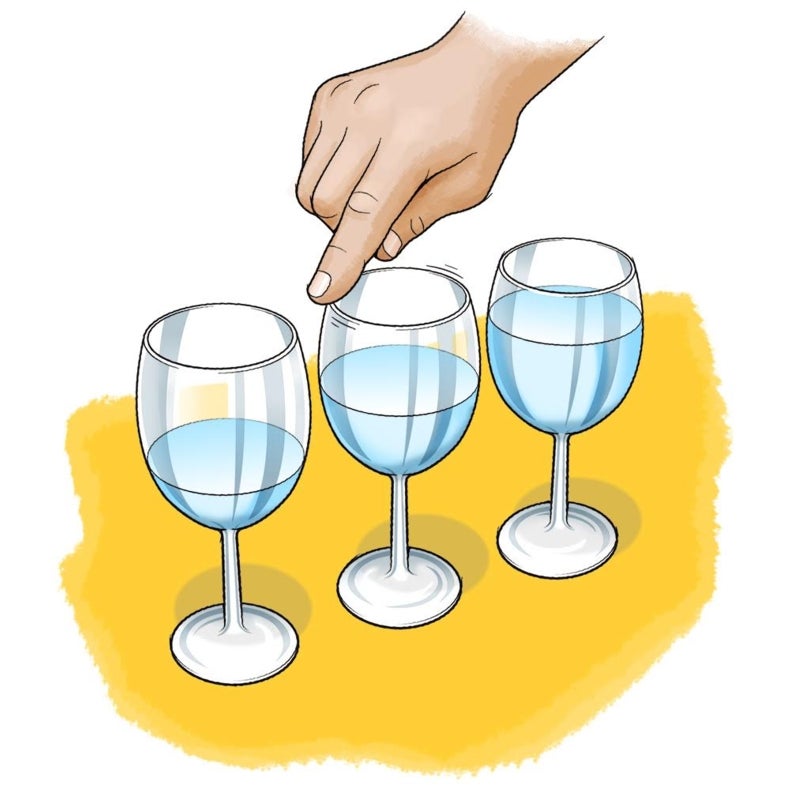 Combine science and music as kids learn how to play a variety of musical notes using old soda bottles, various levels of water, and a stick. This game is perfect for classroom environments because it uses very few resources and is sure to impress students!
Learn more: How Stuff Works
18. Bucket Drum Club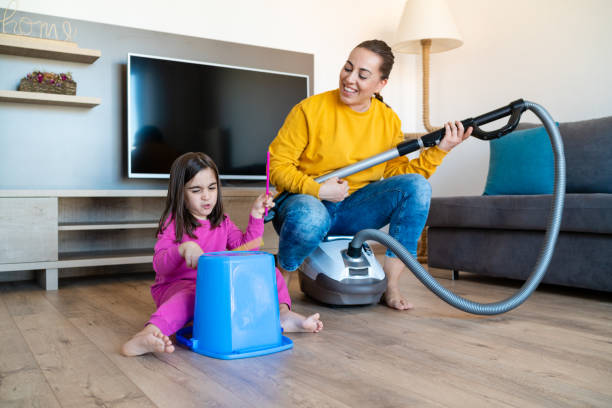 Start a bucket drumming club and help nurture auditory-motor development in kids. If your school doesn't have a bunch of instruments lying around or has the budget for a band or a music program, this is a way to utilize the idea of homemade drums and still offer something fun. Percussive instruments are always popular with kids because who doesn't like drumming?
Learn more: Teachers Pay Teachers
19. Musical Hot Potato
This is a fun way to utilize some funky music and either a real potato or simply a ball of scrunched paper. As kids pass around the potato when the music stops whoever gets stuck with the potato must run a lap or complete another task depending on what you want to do.
Learn more: Paul Fischenich
20. Tie Reading to Music
Practice understanding the concept of syllables with a variety of improvised instruments. You can get creative with it and have students put together sets of words to create a beat to perform for the class.
Learn more: Solfeg.io