Engage your little ones' senses with these awesome sensory activity boxes! Grab random objects and place them in decorated shoe boxes. Let your kids feel around and make non-visual observations as they play guessing games to name the objects. These fun kids' activities are perfect for learning about the five senses, building descriptive vocabulary, and taking time for a tasty snack!
1. Mystery Box Game
Pass a rainy day with this fun activity. Cut a large hole in a box and cover it with colorful paper. Place everyday items inside the box and have your kids take turns guessing what all the different items are. Whoever gets the most right, wins!
Learn More: Lydia's Handmade Life
2. Tissue Feely Boxes
Add a touch of nature to your mystery box activities! Place one nature item in each tissue box. Then, give your kids picture cards to match with the correct box. Afterward, discuss how to make observations of the properties of objects.
Learn More: Prekinders
3. Feel and Find
Teach your kindergarteners about their sense of touch! Place some of their favorite items in a box. Let them take each item out one by one to see how it feels. Place the items back in the box and then see if they can pull out the one you ask for.
Learn More: Little Learning Club
4. Mystery Book Bins
Inspire a love of reading with a mystery bin of books! Wrap a wide selection of books in wrapping paper and then decorate with bows and ribbons. Kids can then select a book for storytime. Read out loud or let them practice their reading skills by reading to you.
Learn More: Inner Child Fun
5. Mystery Writing Boxes
Practice creative writing skills with this crafty activity. Have your kids decorate small paper mache boxes with fun mystery symbols. Place a mystery item in each box. Kids can then select a box and write a story based on their item! Younger kids can tell you their stories instead of writing them.
Learn More: Walking By The Way
6. Mystery Story Writing
Your kids can create their own wonderous stories with this easy activity. Place different characters, settings, and situations in separate boxes or bags. Pull one card out of each bag, and get writing! Share the stories with the class afterward.
Learn More: Enjoy Teaching
7. Alphabet Mystery Box
Have fun learning the alphabet! Place letter magnets and pictures in a box along with items that start with the letter of the day. Take each object out one by one to practice pronouncing the letter and words. Work on handwriting skills by writing the letters afterward.
Learn More: A Dash Of Learning
8. Halloween Mystery Boxes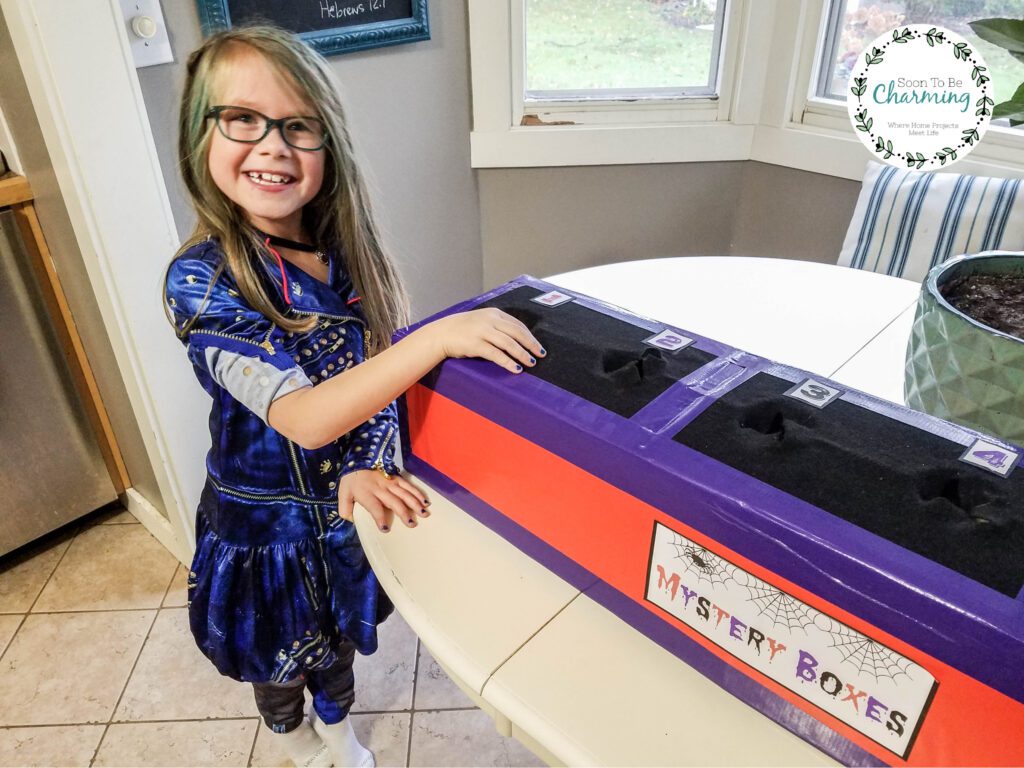 Brains, eyeballs, witches' nails, and monster teeth all work! Cut holes in a long box and cover it with fringed felt. Place containers of food under each hole. Dare your kids to reach in and guess each creepy, crawly Halloween potion ingredient!
Learn More: Soon To Be Charming
9. Christmas Mystery Box
Get in the holiday spirit with a festive mystery box! Have your kids wrap and decorate a recycled tissue box like a present. Place holiday bows, candy, ornaments, and more in a box. Your little ones can then take turns pulling out items and sharing holiday memories associated with each one.
Learn More: B-Inspired Mama
10. Sound Tubes
Engage your little ones' sense of hearing. Place different noisy objects in boxes or tubes and seal the openings. Your kids must then shake the boxes or tubes and guess what's making the noise. If they're having trouble, give them simple clues to solve the mystery.
Learn More: Teachers Pay Teachers
11. Science Inquiry Boxes
Place different textured items in separate boxes or bags. Students must feel the objects and then write down their observations. Have them use inductive reasoning to guess what's inside. After they open the boxes, discuss the role of observation in the scientific process.
Learn More: The Applicious Teacher
12. Mystery Box Pets
Use your little ones' favorite stuffed animals for this adorable activity. Place an animal in a box and describe it to your kids. See if they can correctly guess what the animal is! Alternatively, they can describe the animal to you to build vocabulary.
Learn More: Tea Time Monkeys
13. What's In The Box
This group mystery game is awesome for learning about adjectives. Have one student stand behind the box and then place a variety of items in the box. Other students choose one item to describe and take turns saying a description word while the finder tries to identify it!
Learn More: How Wee Learn
14. Mystery Smells
Put those noses to work! Place familiar foods in different boxes. Blindfold your kids and have them smell each box before guessing what it is. Talk about how losing one of our senses helps heighten the others!
Learn More: Learn Play Imagine
15. Crocodile Crocodile
A great activity for the whole class! Each student takes turns pulling a mystery letter out of the box and saying it out loud. Place the correctly read cards in a pile. If someone pulls a snap card, all the cards go back into the box.
Learn More: Growing Kinders
16. Touch Descriptions
This extension activity is great for building descriptive vocabulary. After your kids pull an item out of their mystery box, have them place it on the word which best matches its description. Handling and observing objects helps kids construct meanings for words.
Learn More: Butterflo Kids
17. Teaching Inference
Pass the mystery box around the class. Have your kids guess what's inside based on its weight and sounds. Afterward, give some clues to help them figure out what's in the box. They then draw what they think it is before the item is revealed!
Learn More: Babbling Abby
18. Divided Mystery Box
Divide your box in two and place an object on each side. Have your kids feel each object and compare them to each other. Make it a challenge with similar feels but different smells or sounds!
Learn More: 5-Minutes Crafts Recycle
19. Mystery Snack Boxes
Blindfold your kids and have them guess what they're eating! You can choose to have them taste different spices, sauces, or their favorite candies. Experiment with sweet, sour, and bitter flavors.
Learn More: Etsy
20. Mystery Box Adventures
Add a mystery game to your next family game night! Choose a theme suited to your kids' preferences. Then, solve puzzles, crack codes, and follow the twisting plots to find the answer to your mystery questions!
Learn More: Mail Order Mysteries